BMW X6 M COMPETITION AND BMW X6 M50I – ENGINES, FACTS AND DIMENSIONS.
The key facts and figures for the BMW X6 M Competition and BMW X6 M50i at a glance: find out all about engines, consumption, CO2 emissions and dimensions of the various BMW X6 M Models. Compare impressive performance data such as displacement, hp, Nm and acceleration – and discover which of these exceptional sportscars suits you best.
Read more
ENGINES AND TECHNICAL DATA OF THE BMW X6 M AUTOMOBILES.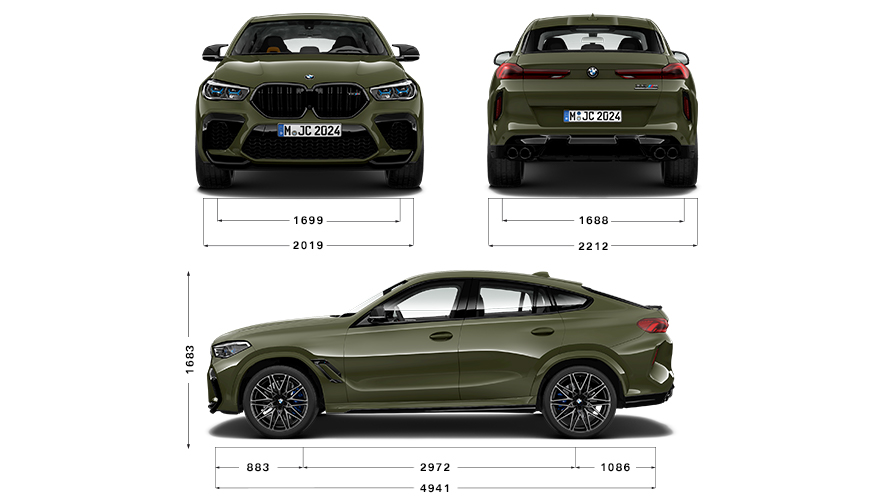 Weight

| | |
| --- | --- |
| Unladen weight EU in kg | 2,395-2,370 |
| Max. permissible weight in kg | 3,000 |
| Permitted load in kg | 680-705 |
| Permitted axle load front/rear in kg | 1,410/1,630 |
| Luggage capacity min. (seats up or roof down) in l | 580 |
| Luggage capacity max. (seats down or roof up) in l | 1,530 |
| Trailer load (unbraked) in kg | 750 |
| Trailer load 8% (braked) in kg | 2,700-3,000 |
| Trailer load 12% (braked) in kg | 2,700-3,000 |
Engine

| | |
| --- | --- |
| Cylinders/valves | 8/4 |
| Capacity in ccm | 4,395 |
| Stroke/bore in mm | 88.3/89.0 |
| Engine power in kW (hp) at 1/min | 441-460 (600-625)/6,000 |
| Engine torque (Nm) at 1/min | 750/1,800-5,850 - 1,800-5,600 |
| Compression ratio : 1 | 10.0 |
Performance

| | |
| --- | --- |
| Top speed in km/h | 250-290 |
| Acceleration 0–100 km/h in s | 3.9-3.8 |
Fuel consumption

| | |
| --- | --- |
| Urban in l/100 km | 17.1 |
| Extra–urban in l/100 km | 9.8 |
| Combined in l/100 km | 12.5 |
| CO2 combined emissions in g/km | 285 |
| Tank capacity, approx. in l | 83 |
Wheels

| | |
| --- | --- |
| Tyre dimensions front | 295/35 ZR21 107 Y ZL |
| Tyre dimensions rear | 315/30 ZR22 107 Y XL |
| Wheel dimensions and material front | 10,5 J x 21 inches, light-alloy |
| Wheel dimensions and material rear | 11,5 J x 22 inches, light-alloy |
Weight

| | |
| --- | --- |
| Unladen weight EU in kg | 2,395-2,370 |
| Max. permissible weight in kg | 3,000 |
| Permitted load in kg | 680-705 |
| Permitted axle load front/rear in kg | 1,410/1,630 |
| Luggage capacity min. (seats up or roof down) in l | 580 |
| Luggage capacity max. (seats down or roof up) in l | 1,530 |
| Trailer load (unbraked) in kg | 750 |
| Trailer load 8% (braked) in kg | 2,700-3,000 |
| Trailer load 12% (braked) in kg | 2,700-3,000 |
Engine

| | |
| --- | --- |
| Cylinders/valves | 8/4 |
| Capacity in ccm | 4,395 |
| Stroke/bore in mm | 88.3/89.0 |
| Engine power in kW (hp) at 1/min | 441-460 (600-625)/6,000 |
| Engine torque (Nm) at 1/min | 750/1,800-5,850 - 1,800-5,600 |
| Compression ratio : 1 | 10.0 |
Performance

| | |
| --- | --- |
| Top speed in km/h | 250-290 |
| Acceleration 0–100 km/h in s | 3.9-3.8 |
Fuel consumption

| | |
| --- | --- |
| Urban in l/100 km | 17.1 |
| Extra–urban in l/100 km | 9.8 |
| Combined in l/100 km | 12.5 |
| CO2 combined emissions in g/km | 285 |
| Tank capacity, approx. in l | 83 |
Wheels

| | |
| --- | --- |
| Tyre dimensions front | 295/35 ZR21 107 Y ZL |
| Tyre dimensions rear | 315/30 ZR22 107 Y XL |
| Wheel dimensions and material front | 10,5 J x 21 inches, light-alloy |
| Wheel dimensions and material rear | 11,5 J x 22 inches, light-alloy |
Weight

| | |
| --- | --- |
| Unladen weight EU in kg | 2.315-2.310 |
| Max. permissible weight in kg | 2.980 |
| Permitted load in kg | 740-745 |
| Permitted axle load front/rear in kg | 1.430/1.620-1.625 |
| Luggage capacity min. (seats up or roof down) in l | 580.0 |
| Luggage capacity max. (seats down or roof up) in l | 1,530 |
| Trailer load (unbraked) in kg | 750.0 |
| Trailer load 8% (braked) in kg | 2,700-3,500 |
| Trailer load 12% (braked) in kg | 2,700-3,500 |
Engine

| | |
| --- | --- |
| Cylinders/valves | 8/4 |
| Capacity in ccm | 4,395 |
| Stroke/bore in mm | 88.3/89.0 |
| Engine power in kW (hp) at 1/min | 390 (530)/5,500-6,000 |
| Engine torque (Nm) at 1/min | 750/1,800-4,600 |
| Compression ratio : 1 | 10.5 |
Performance

| | |
| --- | --- |
| Top speed in km/h | 250.0 |
| Acceleration 0–100 km/h in s | 4.3 |
Fuel consumption

| | |
| --- | --- |
| Urban in l/100 km | 15.2 |
| Extra–urban in l/100 km | 9.4 |
| Combined in l/100 km | 11.5 |
| CO2 combined emissions in g/km | 263 |
| Tank capacity, approx. in l | 83.0 |
Wheels

| | |
| --- | --- |
| Tyre dimensions front | 275/40 R21 107 Y XL |
| Tyre dimensions rear | 315/35 R21 111 Y XL |
| Wheel dimensions and material front | 9.5 J x 21 inches, light-alloy |
| Wheel dimensions and material rear | 10.5 J x 21 inches, light-alloy |
Weight

| | |
| --- | --- |
| Unladen weight EU in kg | 2.335 |
| Max. permissible weight in kg | 3,010 |
| Permitted load in kg | 750.0 |
| Permitted axle load front/rear in kg | 1,395/1,670 |
| Luggage capacity min. (seats up or roof down) in l | 580.0 |
| Luggage capacity max. (seats down or roof up) in l | 1,530 |
| Trailer load (unbraked) in kg | 750.0 |
| Trailer load 8% (braked) in kg | 2,700-3,500 |
| Trailer load 12% (braked) in kg | 2,700-3,500 |
Engine

| | |
| --- | --- |
| Cylinders/valves | 6/4 |
| Capacity in ccm | 2.993 |
| Stroke/bore in mm | 90.0/84.0 |
| Engine power in kW (hp) at 1/min | 294 (400)/4,400 |
| Engine torque (Nm) at 1/min | 760/2,000-3,000 |
| Compression ratio : 1 | 16.0 |
Performance

| | |
| --- | --- |
| Top speed in km/h | 250.0 |
| Acceleration 0–100 km/h in s | 5.2 |
Fuel consumption

| | |
| --- | --- |
| Urban in l/100 km | 8.9-8.0 |
| Extra–urban in l/100 km | 7.3-7.1 |
| Combined in l/100 km | 7.8-7.5 |
| CO2 combined emissions in g/km | 205-198 |
| Tank capacity, approx. in l | 80.0 |
Wheels

| | |
| --- | --- |
| Tyre dimensions front | 275/40 R21 107 Y XL |
| Tyre dimensions rear | 315/35 R21 111 Y XL |
| Wheel dimensions and material front | 9.5 J x 21 inches, light-alloy |
| Wheel dimensions and material rear | 10.5 J x 21 inches, light-alloy |