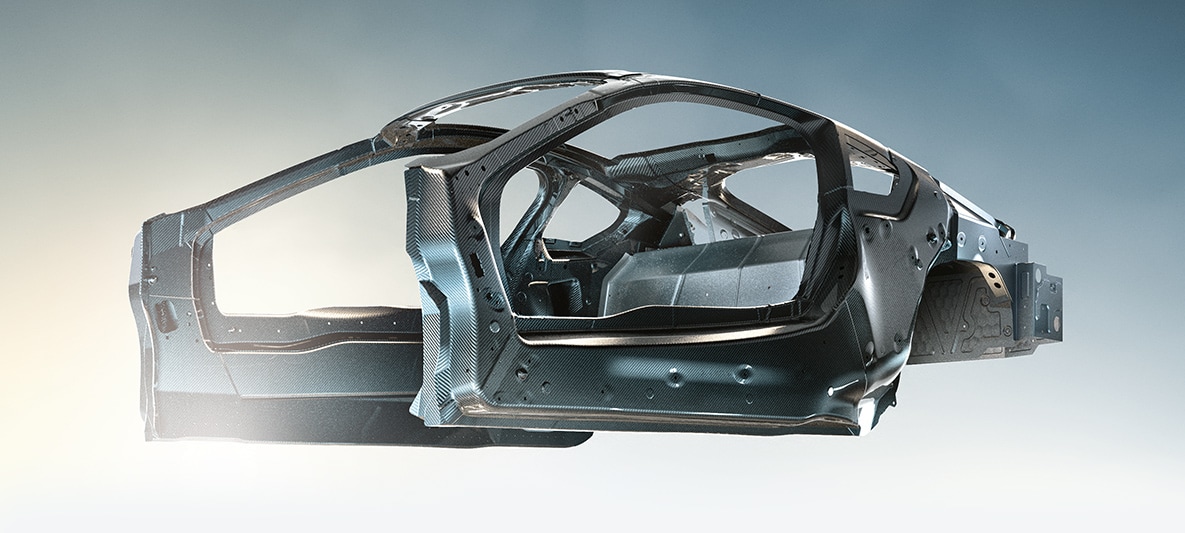 BMW EFFICIENT LIGHTWEIGHT – THE INTELLIGENT LIGHTWEIGHT CONSTRUCTION FROM BMW.
BMW EfficientLightweight is a showcase example of how efficient and dynamic driving combine perfectly. Thanks to the use of especially lightweight and stiff materials, such as carbon in the passenger cell, aluminium in the chassis, high-strength steel in the body or ultra modern magnesium alloys in the engine, fuel consumption is reduced while at the same time driving performance and dynamics are improved.
With the first series-produced passenger cells made of carbon, BMW i has revolutionised automotive engineering, and set new standards for BMW in lightweight construction. Thanks to its high strength, the material offers passengers the best possible protection in accidents yet is still light enough to balance out the additional weight of the HV battery. The result is greater safety combined with a generous and comfortable level of spaciousness, which simultaneously saves weight – and thus further enhances dynamics.
The BMW i3 and BMW i8 are the first vehicles in which the high-tech material carbon has ever been used for large-scale series production. For a long time, the use of carbon was limited because it had to be produced manually. Today the BMW Group produces the carbon fibres and carbon fibre plates itself, which makes large-scale series production possible.


AERODYNAMICS.
Efficiency-enhancing aerodynamic measures from BMW EfficientDynamics.
Good ideas don't always have to be complicated: thanks to targeted aerodynamic measures such as air vent control and the Air Curtain in the front apron, the Air Performance wheels or the Air Breather behind the front wheel arches, your BMW is able to achieve an optimised drag coefficient. Added to this are an aerodynamically optimised underbody and the streamlined vehicle proportions defined by the AERO GENES. This has a positive effect on efficiency and driving stability while also reducing the noise level in the cabin.

Read more
BMW DRIVE CONCEPTS.
Future-oriented drive systems for maximum efficiency and sustainability.
When developing its vehicles, BMW constantly relies on new and innovative drive concepts. Explore efficient drive options such as plug-in hybrid, eDrive, hydrogen drive or the new mild hybrid technology.

Read more
BMW PLUG-IN-HYBRID.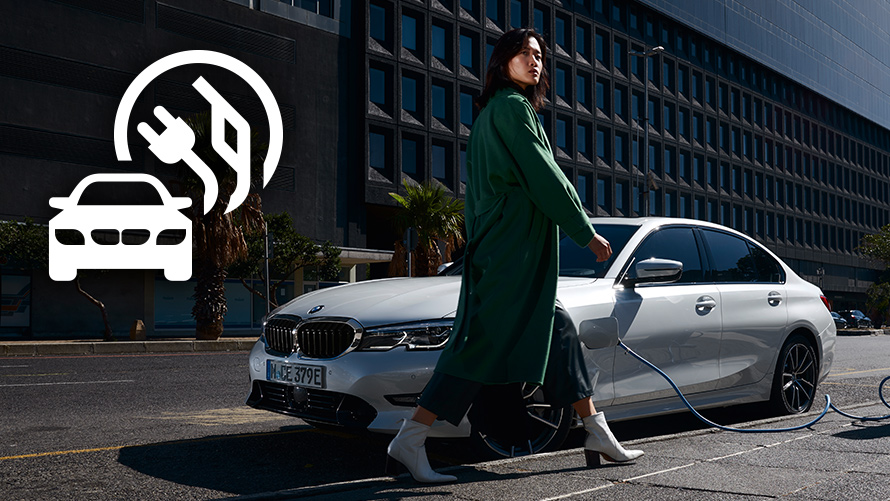 Efficient combination of combustion engine and electric motor.
BMW vehicles with hybrid drive – also known as plug-in hybrids – have two drive systems: a combustion engine and an electric motor. In connection with state-of-the-art lithium-ion high-performance batteries, this not only leads to an increased range but also to extra power and dynamics. Recharging the battery can be carried out via normal sockets and charging stations or also by means of brake energy regeneration. In the process known as recuperation, the kinetic energy of the vehicle is converted back into electrical energy during the braking process and fed into the battery.

BMW ELECTRIC DRIVE.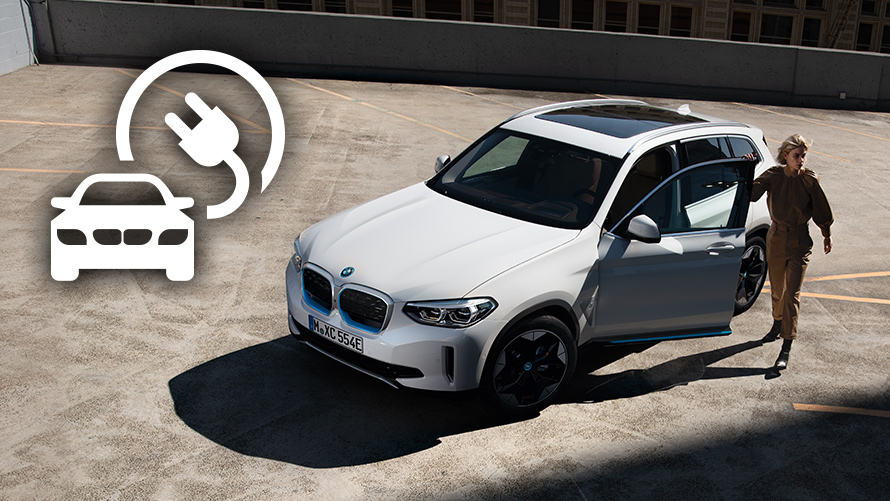 Purely electric vehicles with eDrive – for maximum range and efficiency.
The future-oriented BMW electric vehicles with eDrive are powered exclusively by electricity. The all-electric drive concept manages without a combustion engine and does not need any fossil fuel to propel the vehicle. As a result, the BMW electric cars are locally emission-free in the actual driving mode. The electricity required is stored in a battery which determines the electric range. Charging can take place from a normal socket, at BMW Wallboxes or at public charging stations.

BMW HYDROGEN DRIVE.
Hydrogen fuel cell vehicles: the future of unrestricted, emission-free mobility.

After four years in development, the first hydrogen-operated BMW iX5 Hydrogen models are hitting the roads. Hydrogen cars are propelled by an electric motor, which is why they are also classified as electric cars. The crucial difference to other electric vehicles: hydrogen vehicles produce the electricity themselves and do not obtain it from an integrated battery that has to be recharged from an external power source. Instead, hydrogen vehicles have their own efficient power plant directly on board in the form of a fuel cell. This produces purely electric energy from hydrogen and oxygen. The Hydrogen Fuel cell technology guarantees fast refilling but provides also all adavantages of electric driving with great acceleration, zero emissions as well as a smooth and silent ride.