Around the world with Google Street View
Nowadays, anyone can measure the world. Thanks to modern technology such as 360-degree cameras and services like Google Maps, users are able to share their images with the world – as long as there is a good internet connection. Friends and family can even see live where you are, no matter how far away from home.
Since 2007, people have been using Google Street View to explore distant cities around the globe using the internet. 3D photography makes it possible. Street View cars travel the world to capture their surroundings – primarily in urban areas. When it comes to covering rural and remote areas, however, Google Street View has by no means photographed everything yet. 
BMW is helping speed up that trend together with Lee Abbamonte. The American globetrotter is taking a BMW X5 on a 2,000-kilometer "Roadtrip to Happiness" from India to Bhutan. During his trip, the blogger snaps 3D photographs and uploads them to Google Street View. Read on to find out how that works.    

A virtual adventure
To capture the best possible Street View images, Abbamonte attached an Insta360 pro panorama camera to the roof of his BMW X5. The camera is connected to his smartphone. That's all the preparation he needs. On a two-kilometre street near Kathmandu, the capital of Nepal, he takes a 3D image every 200 metres. The high-resolution images offer a good impression of the environment, the natural surroundings and the unpaved roads that Lee travels. The photos are then uploaded to Google Street View. All the pictures from Lee's trip can now be seen on Street View and Google Maps, so that everyone can now take the same virtual journey.    

How does Google Street View work?
Using the Street View app, anyone can upload a 360° image to Google and publish it. The only requirement is a camera that can take 360° images. That means a smartphone camera is sufficient, but a Google camera can take higher quality photographs. The preferred method is to connect a special panoramic camera to the app. There are many different cameras available. Prices go higher and higher depending on make, model and options. Still, there are beginner cameras, like the Ricoh Theta S, which already deliver much higher quality than smartphone cameras. If, instead, you go for the Ricoh Theta V, you can even take 360° videos in 4K.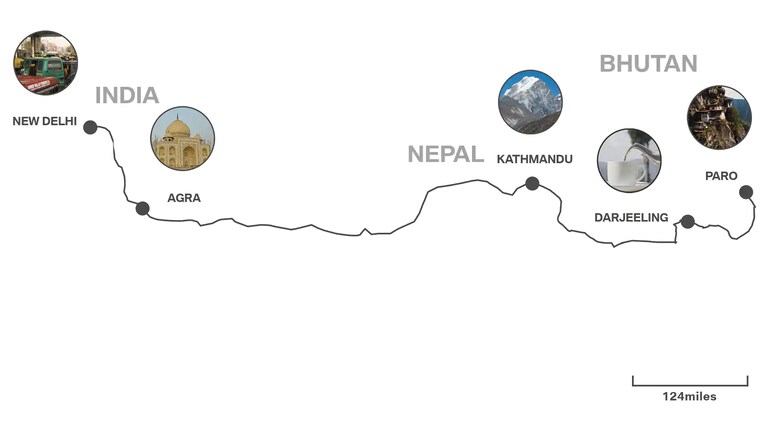 On his trip from New Delhi to Bhutan, Lee Abbamonte uses a panoramic camera that is especially equipped for Street View pictures and can even take 8K photos: the Insta360 Pro. It is attached to the roof, instantly tranforming the SAV into a Street View car. Now you can just take some pictures and upload them with the app.