Many things in life require making a choice. "Star Wars" or "Star Trek?" Cats or dogs? However, the most important choice of all is whether to drive a BMW or a Mercedes. Hard core fans will tell you that both is simply not an option.
But now, the two German car makers have joined forces by merging car sharing companies DriveNow (BMW Group) and Car2Go (Daimler) to create SHARE NOW. As a result, the more than four million car share users worldwide will now have a much bigger number of vehicles to choose from.

This newly created fleet also builds bridges. Now even diehard BMW and Mercedes fans can test drive the other brand without a hassle. This is the exact challenge that we set up for two of our car sharing users for BMW.com.

Daniel M. is a passionate BMW fan who stepped up to accept the challenge of driving a Mercedes GLA from Car2Go's fleet for us. Katharina K. is a true blue Mercedes girl who selflessly volunteered to try out a BMW X2 from DriveNow.

We're not just writing this as click bait – you really won't believe what happened! But we'll let them tell you their stories themselves…

I would give up my job and all my money before giving up my car brand. I chose my driving school specifically because they used BMWs. I never get into a taxi with one of those stars on the hood unless it's a dire emergency (like when it's raining cats and dogs). Driving a BMW is one of the great joys of my life!
But my decades-old weltanschauung is starting to come apart at the seams: BMW and Mercedes have joined forces, at least as far as car sharing goes. And because the writers at BMW.com asked me so nicely, I decided to bite the bullet and find out what a Mercedes GLA can do.

My first impression of the outside was pretty good, but what I really liked when I got in were the sweet leather seats. Not the washable fake kind they have in taxis that I usually associate with Mercedeses (is that even a word?) Even cooler were the propellers in the air vents, which made me feel right at home in this foreign land. And lo, what have we here? An ignition switch. How quaint! It makes me a little nostalgic to see one of these. It reminds me of my first car – an E46 with a proper ignition switch.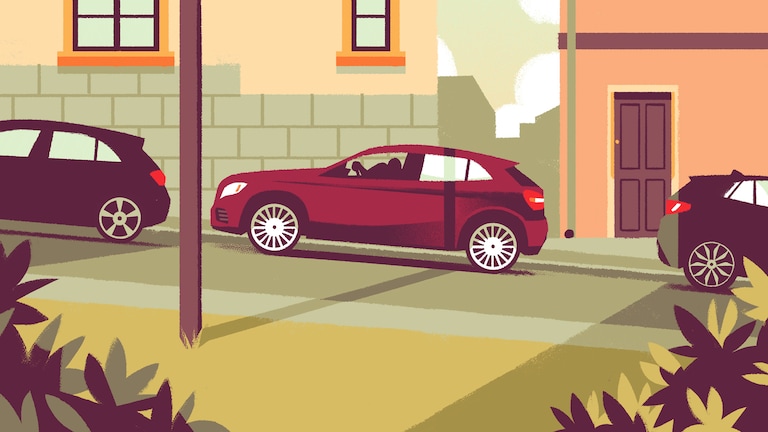 Here's where the problems start. In my BMW 330i, everything is where it's supposed to be. The Mercedes GLA has carelessly relocated many features. As I'm diligently looking around for the parking brake, I discover it in the form of an extra pedal way off in the left field. In a stick shift, that would mean a total of four pedals. Gives a whole new meaning to "four on the floor," doesn't it? Add one or two more of those and you've got yourself a nice little organ there.
I'm not ready to head downtown just yet though because I still haven't found everything on this fun little scavenger hunt. I do discover that the blinker switch is where the wipers should be, but I drive a Bimmer, so who needs a blinker? It's like they didn't want me to find the windshield wipers.

Finally, I've found all the relevant parts and I set off. And you know what? I'm surprised at how comfortable a ride this is. Now I understand why Mercedes buyers are two years older on average than BMW buyers. Is that maybe why the teenager at the drive-through window of "my" Car2Go Mercedes is yelling at me like I'm half deaf?

I have to admit that the GLA is a really smooth and fun ride. I'm even considering buying myself a Daimler – in 20 or 30 years maybe. So there's my test drive at an end. It was fun. But it would have been better without the rain and me having to constantly deal with the blinker/wiper conundrum. After I was born, my father, who naturally worked for Daimler, brought me home from the hospital in our Mercedes 300 D. When I was a teenager, he told me that I was never to bring home a boyfriend who drove a BMW. Such a thing would have never crossed my mind anyway. Honestly. It's not like one day you root for Harvard and the next for Yale. I'm a Benz girl through and through.
So this will be my first fling with a car with the white and blue propeller on it. My first thought as I walk up to the BMW X2 is that I like the cool gold metallic color. I walk around the car and see BMW logos glaring back at me seemingly everywhere I look. Nothing like subtlety and understatement, is there? It's not really surprising if you think about it; Bavarians are known for their, ah, well-developed sense of self-worth.

Once I'm inside, however, I must admit that the interior is pretty chic. Sitting behind the wheel, I'm starting to feel the perfidy of my actions. Am I compromising myself? Is this the start of something bigger than the both of us? I tell myself that I'm just helping out the nice DriveNow car sharing company people and I will explain it all to my dad later. To help calm my nerves, I carefully place a Mercedes sticker over the BMW logo on the steering wheel. Much better.
At this point, I'm ready to get this BMW X2 out on the road, but nothing seems to be in the same place as in my Mercedes A Class. After an extensive search, I find everything, including the blinker. I'd always wondered if BMWs had blinker switches! And amazingly, the right blinker works perfectly fine too – even though only Bernie Sanders is more determined to stay on the left than a BMW driver on the highway.
After the first few miles, I have to say that it really hugs the curves, which makes it fun to drive. Now I am personally acquainted with every manhole cover in this city – driving the BMW X2 is a bit more bracing than I'm used to. But what I want to know is this: If BMW builds such great race cars, why were they only Formula 1 world champions that one time in 1983? Mercedes manages to win the title every year –  just saying.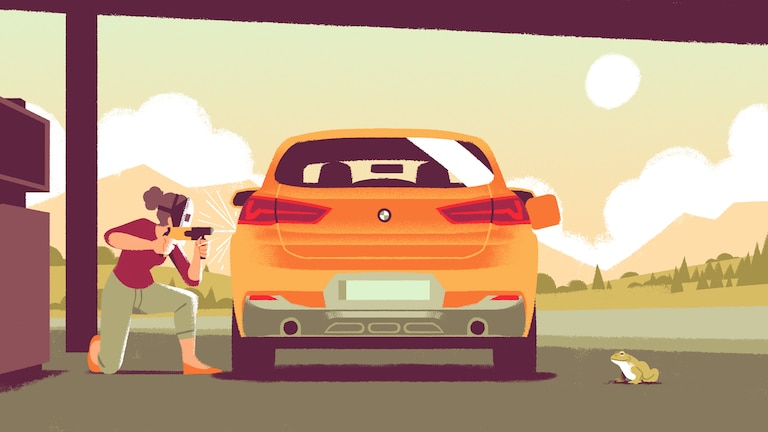 After being bounced around like Lewis Hamilton in Monaco, my BMW adventure finally ends at a gas station. But it's not completely over because as I go to fill the tank, I find nothing. I panicked a little and considered drilling a hole for the tank nozzle.. Maybe that's why they have two extra BMW logos towards the back: to remind Mercedes SHARE NOW customers that the tank is on the other side. All in all, it was a truly novel experience. Thank you shary much!
Illustrations: Tommy Parker