His dream begins with pain. The first move is a classic pirouette – a quick spin on the spot, on your toes. When done correctly, it's very elegant. Then, as Luis Fernando Rego does a wide lunge, he seems to be momentarily suspended above the wooden floor.
Perfection is no gift – you have to push your own limits
Luis knows what it means to have limited opportunities. To start out life with the cards stacked against you. For him, ballet has always been his one shot at a real chance to succeed in life. It means leaving behind his life of poverty in a favela in Rio de Janeiro. His first step on the road to a better life was being accepted into the Bolshoi Ballet's only dance school outside of Moscow – the academy in Joinville, in the southern Brazilian state of Santa Catarina.
Luis intends to dance his way to a better future, even if that means beating his body into submission. If he manages to become a professional dancer, his struggle to raise himself out of the slums will be over. What other people take for granted – a self-determined life – is nothing short of a rebirth for Luis. But now it's all up to him.
Luis is a small, wiry and incredibly flexible 18-year-old ballet dancer. He's one of the best in his class, and is currently training for the final recital that marks the end of his training. The dancers' performance in the recital will determine who will go pro and who will go home.
Luis smiles a lot these days, and not only when he's on stage. "Nice to meet you, nice to meet you…" he repeats as he greets new people, and you can see that he means it. But is being a nice guy with talent enough? Does he have the mentality of a winner? Is he a genuine master of his art?
From the barre to the stage
During the break in training for the final recital, Luis goes to the barre, a pole attached to the wall that ballet dancers use to balance themselves on when practicing. He stands in front of the barre, clasps his hands behind his head and pushes his elbows back.
Luis needs to be flexible in all aspects of his life. He was born in the Complexo do Alemão favela in Rio de Janeiro and grew up among its tiny, unkempt houses, the stench of open sewers and streets with no names. It's a place where drug gangs wage war against one another and the police. Where innocent residents get caught in the crossfire and were killed by stray bullets. It's not a place for dreams. But Luis has had enough of this struggle to survive, and is determined to make a better life for himself.
Growing up in a favela
Drugs and violence are problems in the favela, as are the poor schools and inadequate health care. "I didn't know what I wanted to do with my life," explains Luis, who has seven siblings. "I didn't like going to school." Luis sounds as if he's talking about an earlier life that he couldn't be further away from than he is right now. He knew he wanted more from life, but couldn't define what that meant. He had the drive of a teenager, but nowhere to channel his energy. Usually parents and teachers are the ones to guide and support kids. But if you live in a favela like Luis, most adults are in no position to help.
Now that Luis has found a goal in life, he can become who he was meant to be. The person no one thought he could become. But first he had to find out what it was he wanted to do. Six years ago his sister started ballet at a social dance project in the favela. As Luis watched the girls at their lesson, he fell in love … with dance. He had always liked dancing to music, such as classical samba or modern Brazilian rap. But this was something else. So graceful, such airy movements, the harmony created between the music and body language – Luis had never seen anything like it. This was his calling. Now that he had a dream, he had to figure out how to make it come true.
Relentlessly pursuing his dream
But where should he start? The best place is abroad, because only there can he earn a decent living as a ballet dancer, "I went on a tour to California once. I visited the San Francisco Ballet. I would really like to start there," says Luis.
Luis has spent six hours every day shaping his raw talent into the true skill of an artist. Watching him effortlessly perform the complicated lifting techniques, where his dance partner stands on his shoulder and his bent arm until the last note on the piano has died away, is truly inspiring.
"Luis has come such a long way. It's rare to see the sheer amount of willpower he has. Lots of people have talent, but you need true grit to make it with us," says Maikon Golini, the teacher for the senior division in men's dance.
Golini used to be a ballet dancer himself. He was in the first class held by the Bolshoi when they set up the academy in Joinville 20 years ago. Today there are 116 applicants for one spot at the academy. Everybody wants it. But there is a world of difference between knowing how to do something in theory and actually being able to do it.
BMW supports Bolshoi Brazil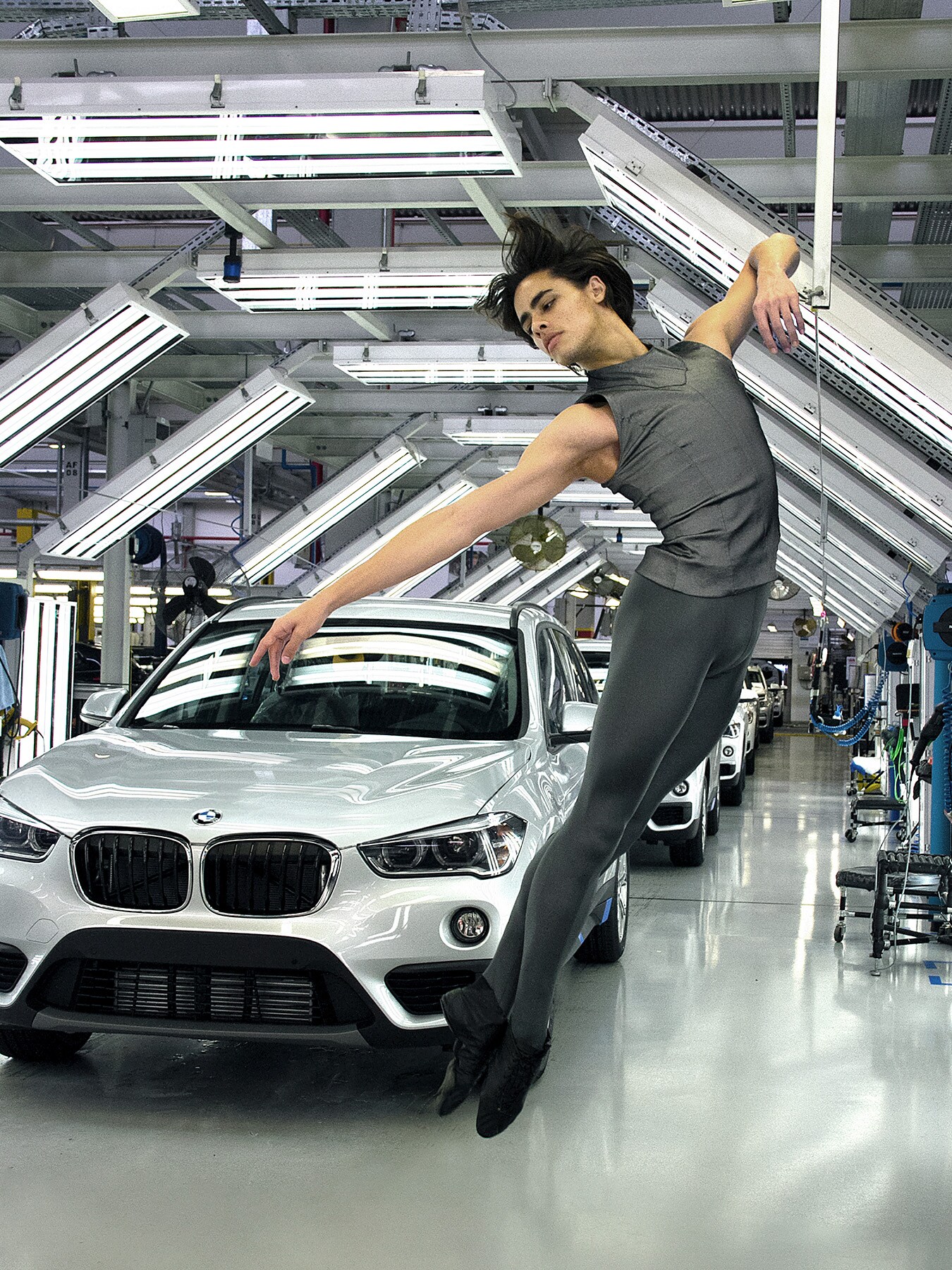 BMW has been a partner of the Brazilian Bolshoi Academy since 2015. The ballet school allocates the funds to different areas, such as buying costumes, food for daily lunches and health care for the dancers. In addition, BMW will supply the financial resources to provide three students from low-income backgrounds with a full scholarship as part of the "Adopt a Student" program. BMW is involved in many ways in Brazil. In addition to its corporate giving, BMW also invests in Brazil as a production center. It opened a factory in Araquari in October 2014, which has been wholly powered by sustainable electricity resources since 2018. BMW has had its own sales organization in Brazil since 1995.
Bolshoi in Brazil?
So just how did Brazil end up with a Bolshoi Academy? Back in 1996, the Moscow Ballet was touring Brazil and went to perform at the annual dance festival in Joinville. After the performance, the mayor spoke with the Russian director, saying, "We really ought to..."
It was from that conversation that the concrete idea for a satellite of the Moscow Theater was born. Somehow there was chemistry between the Russians and the Brazilians. Since it was first set up, 360 ballet dancers, male and female, have graduated from the elite school in Joinville.
Dancing instead of surfing
Luis is about to graduate. His sister didn't take ballet for long, but he couldn't get enough. Back then he spent a lot of time surfing on the beaches of Rio. So that's what he told his mother he was doing when he first started going to classes. Then he began to dream.
His mother always supported him in whatever he wanted to do. But she had a hard time raising all of her children. His father viewed everything from a certain distance. As Luis's talent quickly became evident, he spent several years dancing at the Teatro Municipal in Rio, the only forum for ballet in the city.
This meant that everyone realized what his dream was, though. At school he was mercilessly teased about how "real men don't do ballet!", along with plenty of other, less innocuous taunts. "Those days taught me to be strong on the inside. Those experiences still help me to remain focused even now." Then, three years ago, he was accepted into the Joinville Academy and left his home in Rio to make the near 600-mile (1,000 km) move down to the southern Brazilian city.
Practice, and then practice some more
If you observe the dancers in the junior year at Bolshoi Brazil, you will notice a difference in skill. Even though the junior year dancers are only one year behind, they aren't as powerful or as graceful yet. And they have to work to keep their smiles up as well. One is constantly rubbing his ankle because he hurt it. Muscles and therabands are constantly in use in ballet. But the school offers physiotherapy and healthy meals for the students.
The students do not pay for their training or these benefits. And those that come from poverty-stricken homes are particularly ambitious – on this almost all of the Russian dance teachers agree.
Modern ballet
Luis is a huge fan of modern, contemporary ballet. For the audition for the season finale, he dances without a shirt, wearing a type of leather loincloth. He and his classmate roll across the floor, intertwining their bodies and performing classic moves such as pirouettes and arabesques. The floor vibrates to the beat of a heart-thumping bass.
If you ask Luis about his future, he can become somewhat exasperated. What is his plan B if dancing falls through? "What would you do if someone took your camera away? Would you stop taking photos?" he shoots back. This is where he reveals some of the diva attitude he has in his DNA. Even so, he knows that perfection is only achieved through hard work, because everyone at the school has talent.
A couch for a room
The next morning, in a high-rise development on the outskirts of Joinville. There are no poor people here. In other countries this would be a gated community. Today there is a chocolate cake for breakfast, although normally ballet dancers are on a strict diet. Living the dream means sacrifice.
Luis looks utterly determined. He is very excited about the approaching finale. He wants to prove that he can do it.
Every night he sleeps on the sofa in the living room. His host mother, who also looks after him, rented the apartment a couple of years ago. Her daughter is also a student at the Bolshoi. This is the only way that Luis can live in Joinville. Luis's own mother, who arrived from Rio yesterday, wants to be there to see her son perform tomorrow – the day that will hopefully change Luis's life forever. "I scraped and saved so that I could pay for his ballet shoes and all the other things he needed. I've always supported him, even when it took everything I had," says Tania Cristina Daniel, aged 52.
Final rehearsal and show: it's going to be close
As is often the case with such things, the evening rehearsal for the big final performance does not go well. Before they go on stage the next day, the 22 senior year students form a circle and pray. Today they will be able to celebrate their new life or hang up their shoes and hopes for a career in ballet forever.
In this sense, the finale is both a beginning and an end. A beginning for those who win through, and an end for those who don't make the cut. This is not just about a career in ballet, this is about survival. Especially for those who, like Luis, have bet everything on ballet. Everyone is in this for themselves.
The dancers float across the stage at the beginning of the show, and the next minute they are practically stomping on the floor. They caress the air with their hands, smile and cling to one another as they dance to classical music such as Rachmaninov or Albeniz, or thumping modern beats. It's the little things that reveal which students have crafted their talent to perfection: a facial expression during a pose, the angle of a leg, hands held steady.
Luis looks good on the stage. And very regal. His best scene is the one in which he turns his dance partner around like a screw and twirls her through the air. This evening, the 18-year old proves that he can be both powerful and tender. Luis brings to his performance everything that has been pent up in him: his love of dance, his drive to make his dream come true and the fight for a new life. After the performance, the dancers all fall into one another's arms. The stage fills with dancers in a state of delirium after the dance is over. Everyone is still waiting to see who will continue and who will not.
The decision
Luis is understandably nervous. This is it. If he doesn't make it, his future is empty. Two days later, Luis's name is listed on the Bolshoi website and on a list tacked onto the front door of the school.
He has been accepted for one year into a Bolshoi Brazil company that travels the world. Luis is relieved and happy to be able to start living his dream life. And this is the ideal opportunity to show the major ballet companies what he can do. And to earn his first salary. "I have faith in myself. I will make it in San Francisco," he says.
He wants to bring his mother to the States and build her a new house. That would make two more people who have made it out of poverty.
Photos: Evgeny Makarov; Author: Christoph Wöhrle