Still a fledgling photographer, Brooklyn shot a Burberry Brit campaign at the age of 16, has shot some great editorials and has already published a photography book of his younger images with Rizzoli, titled "What I See". His passion for photography gets under his own skin. Literally. Brooklyn Beckham has a camera tattooed on his left arm.
The 20-year-old loves portraits. And like his dad, he loves cool cars. That's why we decided to let him direct a personal photoshoot in Palm Springs – with a particular protagonist: the BMW Z4. Watch Brooklyn Beckham jump behind the wheel, put his camera on the passenger seat and switch his focus from the lens to the road.
While taking the roadster for a spin near Coachella, the scenic Parker Hotel and the Thermal Club racetrack; Brooklyn Beckham chats in the interview about the last picture that touched him deeply, what he believes makes a good photograph and which superhero he would love to be for a day.

Brooklyn, quick guess: Can you guess how many photos you have taken in your life so far?
Brooklyn Beckham: Let me check. I have around 45,000 photos on my phone and 10,000 on my other camera. So, as matters stand now, that makes it approximately 55,000.

Among this 55,000, what was the last picture that touched you emotionally? And why?
Brooklyn Beckham: One of my favorite photos is one that I took in the dark with a ring flash of my dad's tattoos. I love that one because I'm obsessed with tattoos and I love my dad's tattoos. And, you know, just the contrast in that photo touches me every time I look at it. It's like a really dark photo and then just the tattoo and the black ink pops out.
When you see something worth capturing, you have to think of taking a picture at that moment before it's gone. How did that start with you? Do you remember the first picture you ever took?
Brooklyn Beckham: The first picture I ever took was in L.A. on the beach at Malibu. I just shot the water, the sun and the sand on a film camera.
Speaking of your photography equipment: How many cameras do you own and what's your favorite one right now?
Brooklyn Beckham: I own a few cameras. My favorite one is the Hasselblad 503.
What do you prefer, analog or digital photography?
Brooklyn Beckham: Analog. Always!

You've been interested in photography for a few years now. What drew you to it and how did you discover it?
Brooklyn Beckham: Well, my dad was into photography and he was always taking pictures of all of us when I was young. One day, he got me my first camera and I started taking pictures and posting them. People began liking them, you know, and that's how it really started. Ever since then, I was into photography. I take my camera everywhere.
You can't take pictures without a camera, so you must have built up some kind of relationship with yours. Could you finish the sentence for us: For me, my camera is like…
Brooklyn Beckham: …a part of me. My camera is my travel companion. It's always with me, and together, we experience and capture moments.
Who are your favorite photographers? Who inspires you?
Brooklyn Beckham: I love Alasdair McLellan for his work on film. I think Mert and Marcus and Nick Knight are incredible, and of course Steven Meisel. I also love what David Yarrow does. I mean I've really started to get into his work and I went away with him a few weeks ago. He's a cool wildlife photographer.

I've never photographed a car like that before.
And the subjects? Do you prefer shooting portraits, objects or landscapes?
Brooklyn Beckham: I love shooting people and self-portraits. But I've just recently started getting into wildlife photography and learnt so much when I was with David Yarrow. I really enjoy that. But yeah, my main passion are portraits of people in black and white. I love that photography style.
Since you like portraits so much, is there a single person – living or dead – you would like to take a portrait of?
Brooklyn Beckham: I'd love to take a portrait of the Oasis brothers Liam and Noel Gallagher if they get back together, hopefully, one day. They're such cool people and Oasis were one of the biggest bands in the world. It's just my dream to photograph them.
The way we see pictures in general has changed since the rise of social media. Does it play a role in shaping your own work?
Brooklyn Beckham: Yes. Instagram really helps me to get my photography style out there and that's kind of how I use my photos. I can get in touch with my followers. Anyone can look at my work. It's easy to share and receive feedback.
Speaking of your pictures: How often are you satisfied with a picture? Are you very self-critical?
Brooklyn Beckham: I'm very hard on myself. Even if I take a picture and I'm like: "Oh, that's kind of nice." I'm basically always looking for ways to improve and learn.
Following the career path, you've chosen isn't always easy. What advice would you give someone that's starting out in photography?
Brooklyn Beckham: How to become a photographer? Just take out the camera and start shooting. Find a subject that you're interested in. Have fun, try, develop, fail, start again, succeed, learn from the incredible number of talented photographers out there. Like me, I'm always assisting and interning whenever I get the opportunity.
Could you describe a little how much work and planning is behind your pictures?
Brooklyn Beckham: Funnily enough, there's not much planning, really. When I see something interesting, I shoot it. Of course, unless it's an actual editorial or commercial production – then I do mood boards and talk to the teams for a long while before the actual shoot. But if it's just everyday, like on my Instagram, I take pictures very spontaneously. And I try to not edit too much. All I add is some contrast – if it's in color. But I prefer black and white. That is what I mostly shoot on.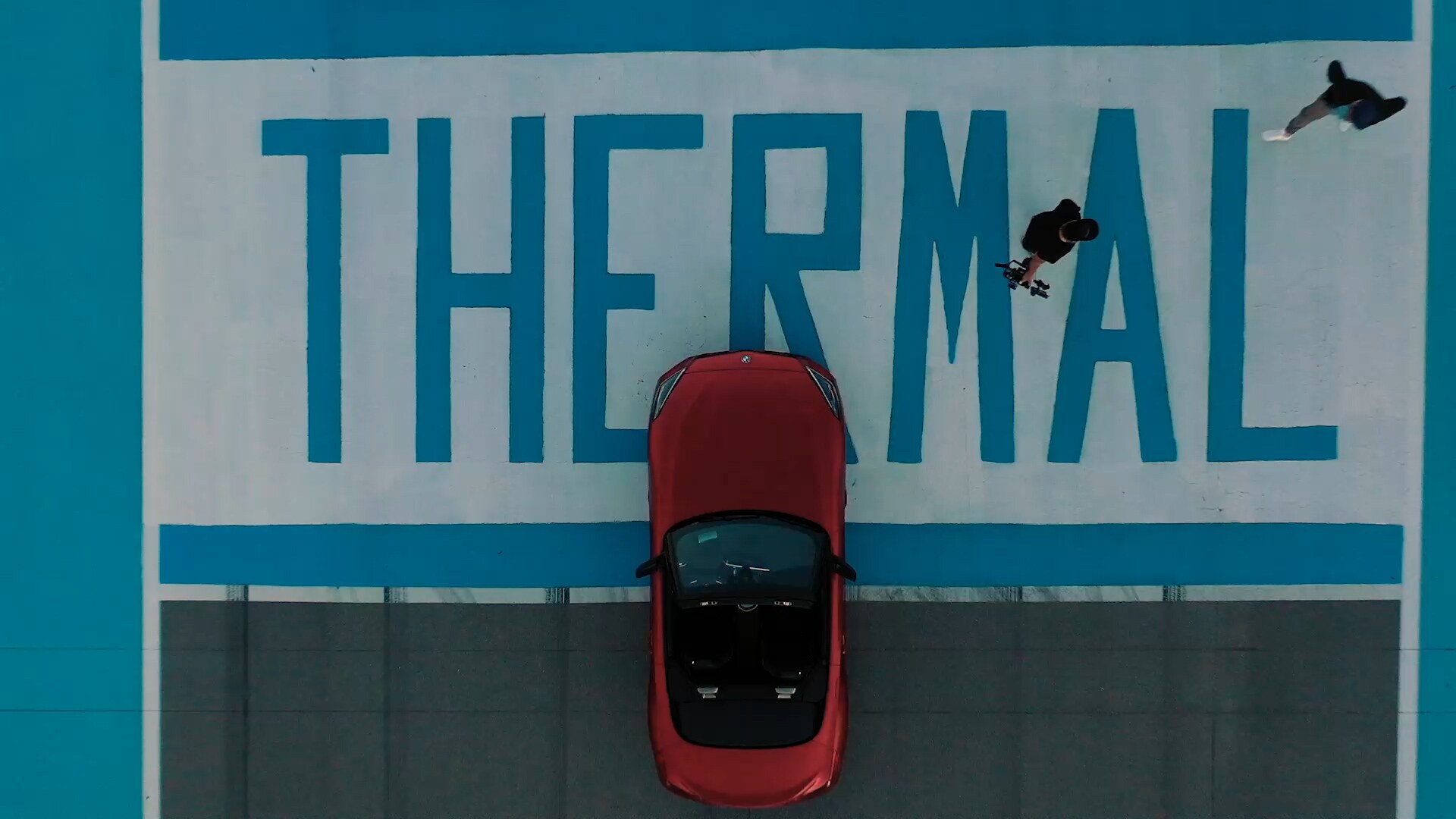 The lighting was great. We did it in the middle of the Coachella Valley desert.
In Palm Springs you did a very exceptional portrait: You photographed a car. What was the setup that you used to shoot the BMW Z4 with your camera?
Brooklyn Beckham: Well, my plan was to do a full-on film, which I did. And I think they came out well. You know, the lighting was great. We did it in the middle of the Coachella Valley desert. But I wanted to do it in a self-portrait mode with my Hasselblad. I got myself in some of the pictures. It's different, I think. I've never seen someone do car photography like that on film.
In conclusion: Which memories of the car portrait shooting in Palm Springs stuck in your head?
Brooklyn Beckham: I wanted it to go in the dirt with the BMW Z4. So we just did that cool driving experience. And the pictures turned out really well.  My favorite location was the Thermal Club racetrack. We had the whole race track to ourselves and it was just like: golden hour. The light was amazing. I had my board with me and started skating – even around the car. Everyone got a bit nervous because I was skating really close to it, jumping in and out. But it turned out well. In the end, it was a challenge as well as a great experience. You know, I've never photographed a car like that before. But it was a great car to photograph because it's such a cool, mean-looking car.
What would be your perfect song to listen to while driving the BMW in and around Palm Springs?
It'd be a playlist of my favorite band, the Stone Roses. So, I'd play the entire Stone Roses album.
If you could be a superhero for a day, who would it be?
Probably Flash! Because of his speed. I'm not good in tight outfits like that, though.
What was the last TV show you binge-watched?
Have you seen "Big Mouth"? It's a cartoon show for adults about kids going through puberty and their hormone monster. It's really inappropriate, but it's so funny.
What dish would you cook for us if we visited you at home?
Crab linguine. Seven or eight years ago, I did a cooking class in Italy with my dad and learned how to cook this delicious dish.