It took Colin Furze only four weeks to build what is probably the only rolling BMW Jacuzzi in the world. And the way the 1989 BMW 325i Convertible looks right now absolutely satisfies the English inventor: "To be fair, it's an awesome machine!"
Now check out in the video how the crazy BMW spa car goes for an amazing joyride.
An unusual trip to the car wash
Like driving a boat – just not on water
When asked if the driving Jacuzzi would pass inspection, Colin simply replies: "Why wouldn't it? Everything on the car works. Okay, the switches for the lights aren't in the car, they're under the hood. But, hey, there are no rules that say where the switches have to be located. They just have to work. And they do."
According to Colin, a ride in the spa car feels like driving a boat – just not on water. "You've got to drive rather careful, because the car not only accelerates slower but needs a longer distance to stop due to the extra weight." Around 150 to 200 litres of water fit into the car, which takes Colin 40 minutes to fill. The water drains via two pipes – one on each side of the car's underbody – that are camouflaged as exhaust pipes.
But before he pulls the plug, Colin enjoys some splashing in the whirlpool. Does he have a favourite bubble bath? "Of course, engine oil!"
Who is Colin Furze?
His 14-metre long motorcycle: world record. His motorised pram with a top speed of 86 km/h: world record – recognized by the Guinness Book of Records. And, of course, the BMW Spa Car. YouTube star Colin Furze has made a name for himself on the internet with his mad inventions.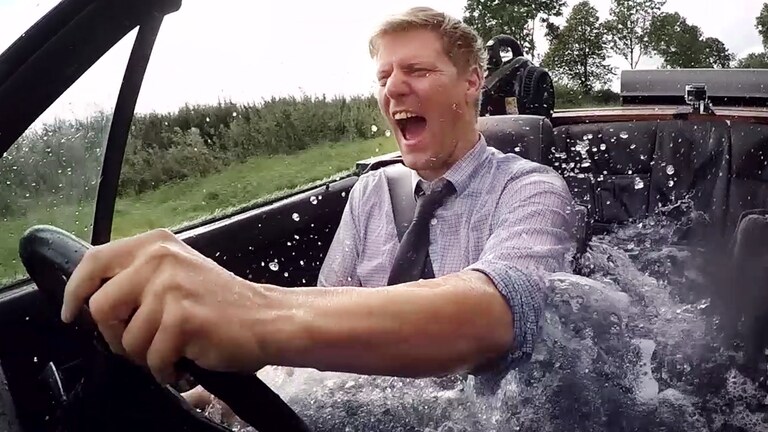 Born in 1979 in Stamford, Lincolnshire, Britain, he actually trained as a plumber. Furze is now using his skills and experience as a plumber to implement his own ideas.
Furze, in describing his work, says he works with tools that real engineers would only laugh at. "But I am proof that you don't need an expensive lathe or a giant welding machine to create something amazing." Rather, it's important to know two kinds of people. On the one hand, people you can ask for help. On the other hand, people who keep telling you, "It will never work!" They really get Furze going!
Since 2007, he has been publishing videos of his inventions on his YouTube channel, which is named after him. As of early 2018, more than 5.7 million users follow him.
Things were not always as professional as they are today. Furze says, "In the beginning, it was pretty crazy. I had to do everything in my bedroom, where I even had a lathe. And it was so old and dirty that oil regularly splashed on the walls." Neat!
In his youth, Colin Furze rode a BMX instead of a BMW. This sport awoke in him an interest in video shootings – and documenting his cool tricks.
BMW modifications that will blow you away

The infamous "not official" X2
This modification looks like it came straight from a cyberpunk blockbuster. For the mini-monster truck, the BMW mad-modders of "Sin City BMW" in Las Vegas married two BMW classics from different decades: a BMW 2002 body from 1972 sits enthroned on the chassis of a 1989 BMW 325ix.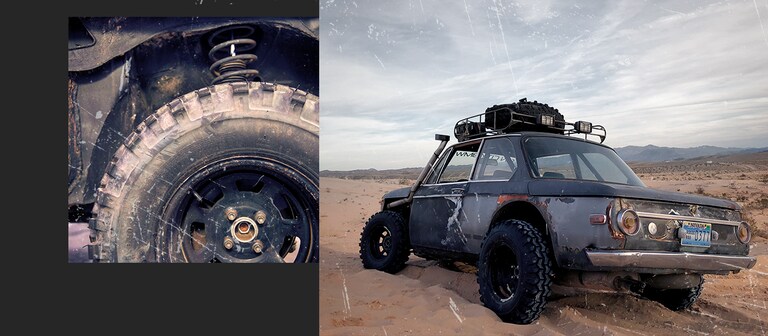 Thanks to off-road tires and an all-wheel drive, the desert king masters any rough terrain. The professionals at "Sin City BMW" even managed to get a road license for the crazy vehicle. Viva Las Vegas!


What a transformation: a BMW 3 Series Coupe from 2011 is turned into a gigantic robot. An awesome project. It shows what is possible when car expertise and endurance meet absolute insanity.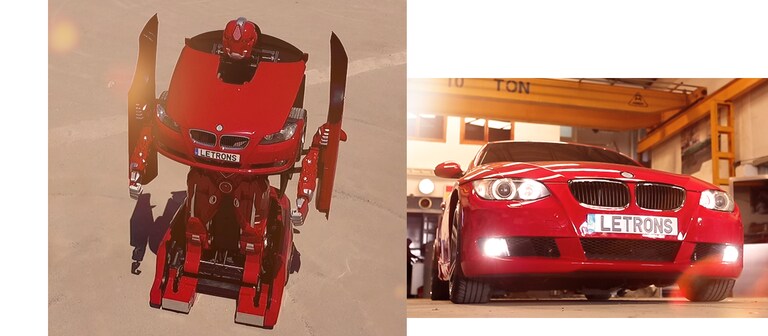 The 16-man crew from Ankara in Turkey worked sixteen hours a day for a year on "Letrons". With this BMW modification, they have earned their place among the Olympians of the BMW Mad Mods.


BMW Mad Mods
Most people want one thing above all in a BMW: enjoy driving pleasure. But for some people out there, there's something else that comes before the driving pleasure. They want to disassemble a BMW into its individual parts – and then weld, solder, saw, flange and fill it until something completely new has been created: a BMW Mad Mod. These inventors, engineers and tinkerers are artists in their own right – a BMW in factory condition is their raw material.