John Gourley, you're not only the mastermind of your band Portugal. The Man. As a graphic designer you're also doing the bands artwork. How did you come in contact with drawing?
I've been drawing and painting since I was a kid, that's what I did all day long. We lived in a place called Icy Lake, and it was literally an icy lake. When you grow up in a cabin in the woods in Alaska, your imagination is your escape. 
You're not the loud and talkative rockstar-type on stage. But your designs are is big, loud and colorful. Have you channeled this side of yourself into drawing?
I'm generally pretty introverted, I've always been very shy growing up. Drawing is my way of visually expressing myself. I don't talk much on stage, I was never good in speaking in front of the class – but I could draw and make big bright pictures people could talk about without me necessarily needed to be there.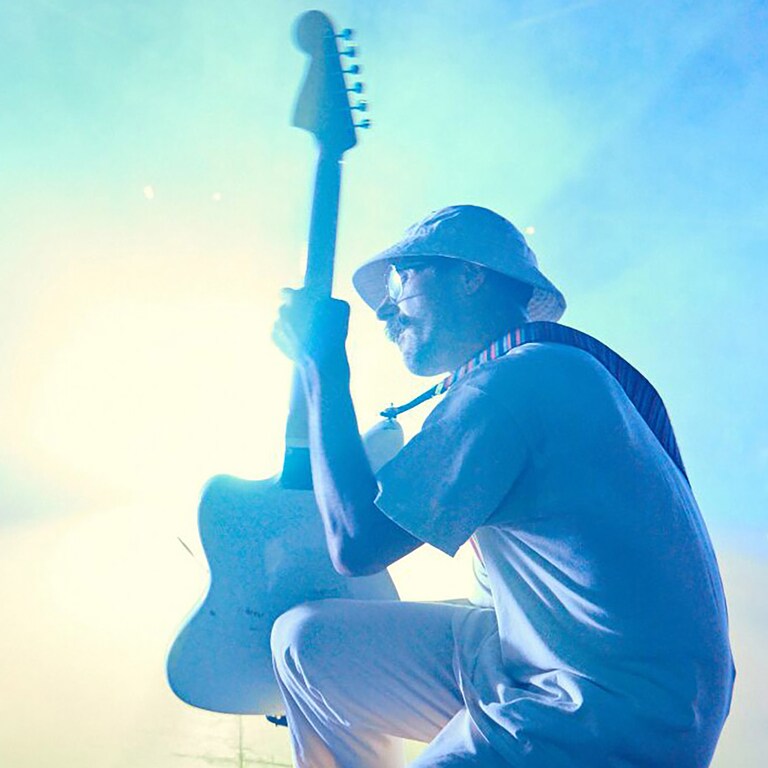 When you grow up in a cabin in the woods, your imagination is your escape.
What are your role models?
The Beatles. It was always the Beatles, always about the imagination and creativity, there's no structure, there's no genre restriction.
You are also doing all the bands artwork. Can you describe your definition of creativity?
Creativity, to me, is supposed to be free. When I think about scrambled eggs, then it's in the lyrics, let's go with it and change it if we need to. It's just flowing, a representation of that certain moment – and tomorrow I create something different, not even thinking of what I did yesterday. For me, creativity is not an intellectual process, it's more like: This is what I'm feeling today. 
You designed the car wrapping of three BMW i models that will be shown at the Festival. What connects you to these cars?
What drew me to the BMW i8, i3 and i8 Roadster, is sustainability, the eco-friendly side of these cars. As an Alaskan, that means more to me than anything. I grew up with nature. Part of what we learn growing up in Alaska: Take only what you need, respect the environment, respect the world that we live in.
Looking at these three cars: Do you have a favorite?
It's the design of the BMW i8 that drew me in, so sleek. Again, so far away of what I grew up with in the woods, my parents doing dog mushing. So this car just looks like the future to me.

You used bold lines and big bright colors for the car design. Why did you choose this approach?
I wanted it to feel like a kid seeing that car for the first time. What would I wanted as a kid? I wanted to have that feeling of: Wow, this is different. When I was creating the design for this car, I wanted it to be loud and expressive. And to draw attention to sustainability and the beauty of this car.
At the work for your Band Portugal. The Man, what comes first: Lyrics, music or artwork?
Everything I create is about contrast. Sometimes a song will start with the lyrics and that will inspire and form the rest of the music. And then the visual comes next. Sometimes, I also sit down and start painting and this is inspiring me to write a song that fits this image.
You just brought out your seventh album, you're touring a lot. With more than 15 years playing in this band, what's your secret of still having fun?
We had a lot of big things happen this year. As exiting this all is, we're still the band we were when we started. It's still just kidding up on stage with my friends, playing music. And there's nothing cooler than being invited back to a festival that you never thought you'd be invited in the first place.

A BMW i8 and a BMW i3 in the desert of California on their road to Coachella. John Gourley, the lead singer and mastermind of the Portland-based band Portugal. The Man, has painted them.
On two successive weekends in April music fans come to the town of Indio,
 125 miles to the east of Los Angeles to Coachella, named after the valley in the Californian desert. Almost 19 years since its inception Coachella has progressed from a "mere" music festival to a hangout for hipsters and fashionistas – and can probably boast the greatest celebrity density of any festival in the world.