To create an architectural symbol for BMW's vision of the future, Viennese Professor of Architecture Karl Schwanzer decided in 1968 to submit this idea for the new BMW headquarters. In the end, Munich received a new landmark: a futuristic suspension construction with four cylinder-shaped main elements and a symbol for the internal combustion engine.

The new vision: electromobility
The visual reference to the Four-Cylinder engine was fully in line with the company's vision at the time: increasingly powerful internal combustion engines powered by gasoline and diesel, which promised driving pleasure. Today, one of BMW's great visions is electromobility.
"Electromobility is no longer just a buzzword of the future; it is already the new normal," says Dirk Arnold, BMW i Product Manager and Head of Electromobility. In a spectacular installation, the BMW Four-Cylinder engine is therefore transformed for a short time into an emblem of electromobility – projected over 22 floors. 
Photographer BMW Four-Cylinder projection: Ralph Larmann

The naming rights from BMW i1 to BMW i9 secured
"Electromobility and BMW fit together perfectly," says BMW CEO Harald Krüger, confirming the company's vision. "All-in-all we already have 200,000 electrified vehicles on the street. More than 90,000 of those are the fully-electric BMW i3."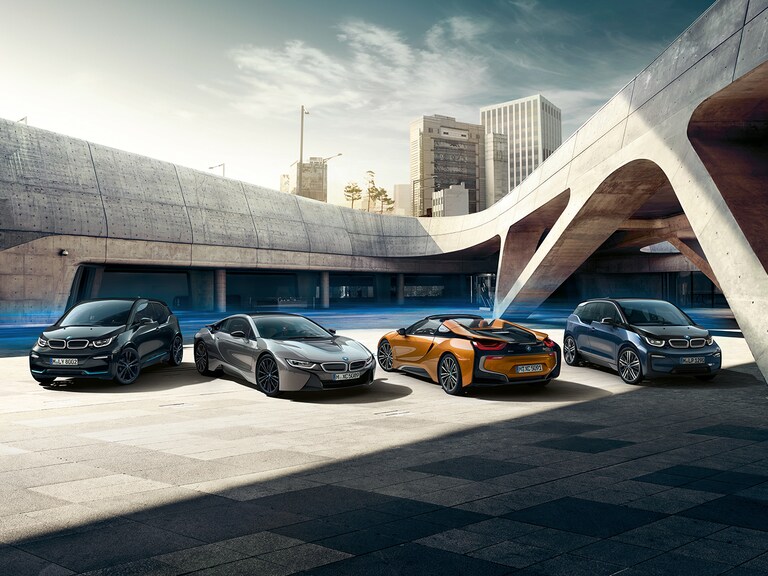 Once someone has decided to buy an e-car, they stick with it. We only need to 'electrify' the customer once.
And there will be many more in the years to come. "Our BMW i story is starting the next chapter! We have not only secured the naming rights for the BMW i from BMW i1 to BMW i9. We also own the rights for BMW X – from BMW iX1 to BMW iX9.

"By 2025 we will offer a total of 25 electrified models and twelve of those will be purely electric," explains Dirk Arnold. The market is there for it, adds Krüger, because: "Once someone has decided to buy an e-car, they stick with it. We only need to 'electrify' the customer once."
And what's next? Dirk Arnold answers the question on what comes after electromobility: "The next step, which is not so far away, will be the connection of innovative topics like the interior of the future with a BMW i car."
One key to this is BMW Connected, which is already indispensable today. In the future, it will be even more important, "not only to be connected over mobile devices, particularly when our cars are operated autonomously."