The future of mobility is electric. If you've ever driven an electric car (➜ Electric cars and plug-in hybrids explained), you'll understand the attraction. Powerful acceleration in almost complete silence and a clear conscience about the environment speak for themselves. With an e-scooter or e-bike, you get the very same benefits. User numbers are growing fast: There were 85,000 electric scooters available to rent in around 100 US cities as of December 2018. Battery-powered rideables are clearly on the up.
More and more different electric rideables are coming onto the market, from the electric scooter to the monowheel and e-skateboards. Many of these would be convenient solutions for the last mile (➜ The key concepts of "shared mobility") – in other words, those inner-city short journeys such as from the car park to the city center or from the subway station to your hotel. And they all promise one thing: lots of fun.

But which electric rideable is best for what purpose? What are the pros and cons of each type? Here's an introduction to the six main options in electric urban mobility and a description of their pros and cons.
Click here to go straight to our lowdown on each of the six key concepts in micro mobility:
Are scooters fun? Millions of children all over the world would answer this question with a clear "Yeah!" every single day. Three-year-olds are already racing around corners on modern versions of the good old kick scooter, covering considerable distances at breakneck speed. For once, this is a chance for the kids to play role model for the grown-ups. Combined with an electric motor, the humble scooter becomes the ideal way to beat traffic in congested cities with their crowded roads, buses and subways.
Another great thing about an electric scooter, or e-scooter, is that riding it is literally child's play. Just hop on, apply the electric throttle (usually by turning the handlebars) and steer. As the ride height is low, falls are generally minor. The brake is usually also located on the handlebar, often supported by a rear brake operated by foot. Tip: The larger the tires, the smoother and safer the ride.
E-scooters are purely battery-powered; riders are not expected to contribute to momentum the way they would be on a pedelec. That means the range of an electric scooter depends almost entirely on the capacity of its battery. Depending on the model, you can expect 6 to 30 miles from a full charge. Flexibility in everyday life depends to a large extent on two factors: size and weight, of which the latter ranges from around 15 to over 45 pounds. The models that you can fold are especially convenient. These are easiest to pop in the trunk of your car or take into train or the subway.
The top speed of an electric scooter is limited not only by technical factors but also country-specific regulations, with 12 miles per hour being a common standard. Countries and states also have different rules for insurance and compulsory helmets, not to mention the thorny issue of what part of the road these vehicles belong on (i.e. sidewalk, bike path or road).

The bottom line is that scooters, whether battery-powered or self-propelled, are a very useful addition to inner-city transport. They will replace some walking and transit journeys. And if you have any doubts about the fun of riding them, just ask your kids.
SUMMARY:

Urban suitability     ###
Range                         ##
Value for money      ##
Riding fun factor    ###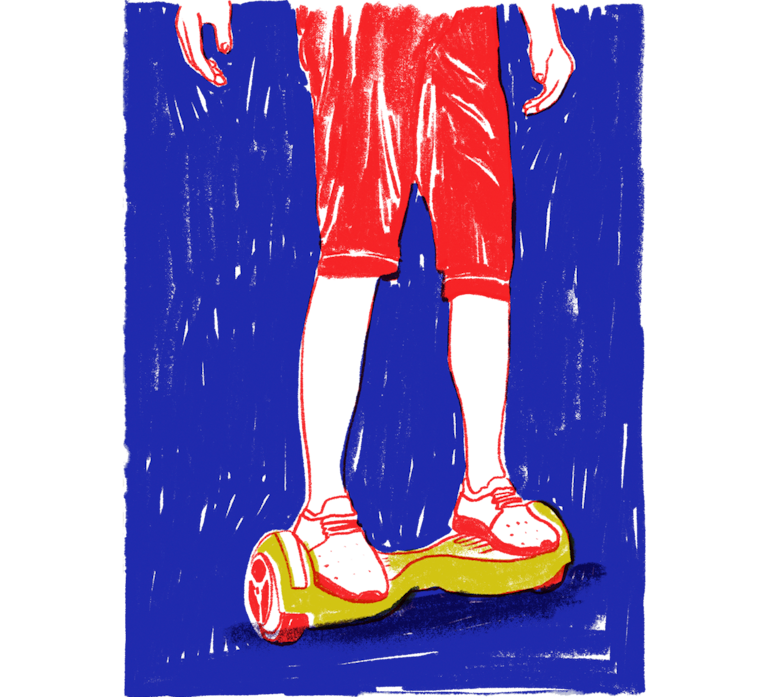 Marty McFly rode one. We saw the hero of the "Back to the Future" movies on a hoverboard back in 1989, although what he rode was a flying skateboard, whereas the hoverboard of today is more like a Segway without handlebars.
Like on a Segway, hoverboard riders tilt their body to go forward, steer and stop; but with the notable challenge of having nothing to hold on to. This feature means that today, the hoverboard is seen as more of a fun gadget than a practical means of transport, proving particularly popular among children. The hoverboard's biggest strength is its maneuverability. Comfort, on the other hand, is hampered in part by the frequently mounted hard rubber tires.

The top speed of a hoverboard is around 9 mph. These battery-powered boards differ mainly in terms of their weight (approx. 22 to 30 pounds) and range (9 to 12 miles).

Thanks to its compact size and low weight, a hoverboard is easy to bring along on other means of transportation. Another plus is the cost: you can get your hands on a cheap hoverboard for just 225 US Dollars, the kind of price only an electric scooter can compete with.
SUMMARY:

Urban suitability     ###
Range                         ##
Value for money      ##
Riding fun factor    ###
The electric bicycle is here to stay, having long since established itself on the micromobility scene. One particularly popular form of e-bike is the pedelec (short for pedal electric cycle), where the motor is merely an aid and the rider still has to pedal.
The e-bike enjoys a major advantage – if you can ride a normal bicycle, you'll be fine on an an electric bicycle too. That said, you do need to be reasonably competent on a bike to be able to handle the momentum of a battery-powered start, not to mention the higher speeds these bikes provide. The top speed is also often subject to local regulations, with 16 miles per hour being a common limit. Any e-bike faster than that is often classified as a moped.

The range of an e-bike depends on many factors, in particular the capacity of the battery and how it is used. With a pedelec, for example, you can adjust how much assistance the electric motor should provide. In most cases the range is between 30 and 60 miles, so well beyond the last mile. That means an electric bicycle is also useful for trips outside the city or for covering the entire way to the office.

The size and weight of an e-bike (approx. 29 to 55 pounds) means that there is limited appeal to taking it on public transportation or into your car. Only a foldable e-bike is a sensible option in that regard. All in all, a battery-powered bike is likely to replace car and transit journeys entirely rather than complement them like an electric kick scooter.

With the potential for savings on fuel or expensive train tickets, investing in an e-bike can quickly pay off. Depending on the type of motor, an e-bike will cost around 600 to 2,200 US Dollars more than its non-electric equivalent. If you choose a pedelec, you're still guaranteed the free exercise, but the power boost from the electric motor means you won't arrive at the office a sweaty mess.
SUMMARY:

Urban suitability     #
Range                         ###
Value for money      ##
Riding fun factor    ##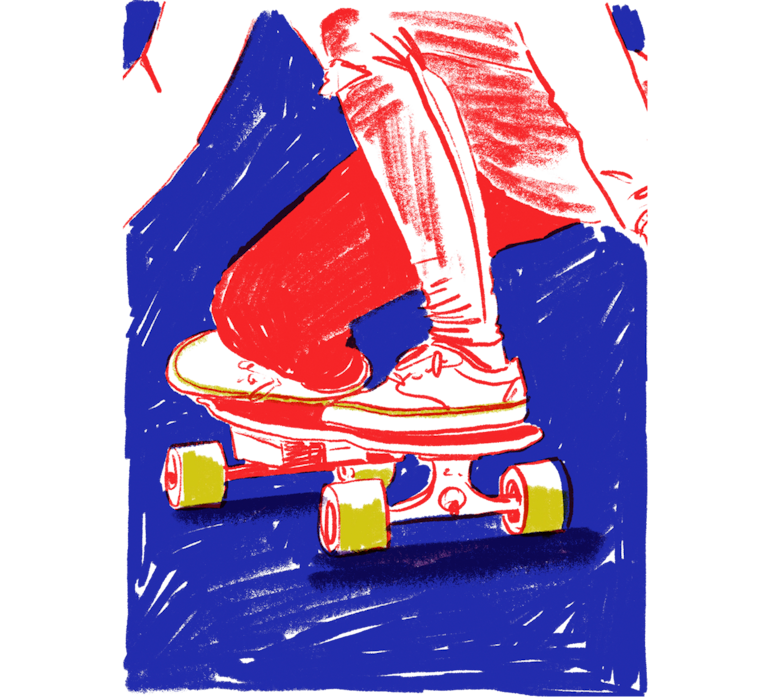 News flash: You don't have to be a teenager to ride a skateboard. The electronic upgrading of skateboards has been a complete game-changer in that respect. As an e-skateboard, this rideable has been transformed from must-have sporting accessory and plaything for teenagers to an enjoyable last mile transport solution for everyone. It's e-mobility in microcosm.
Yet for the average user, skateboarding doesn't come as naturally as, say, riding a kick scooter. Steering by shifting your body weight and remote-operated braking and accelerating take a little getting used to. Its ride comfort also has room for improvement: The relatively small wheels on a skateboard mean there's little to absorb shocks and vibrations.

One big plus for an e-skateboard, though, is variety. A used board can easily be converted into an electric skateboard, and you can also change the wheels, making them as hard or as soft as you like. The range depends on the model and riding style: a good 13 miles is generally attainable, which should be more than enough for your daily travel needs.

As with all other electric rideables, the price range is large, from a few hundred dollars to well into the thousands. What every e-skateboard has in common is that it's really easy to transport: Just ride to the train station or bus stop, pop the board under you arm and hop on!
SUMMARY:

Urban suitability     ###
Range                         #
Value for money      ##
Riding fun factor    ##
Lean forward and off you go – it only takes a few seconds to understand how a Segway works. These personal transporters with electric motors are kept in balance by tilt sensors. If you lean to the left, the Segway goes left. When you lean backwards, it brakes. It couldn't be simpler.
The practicality of a Segway is limited, however. As highly maneuverable as these battery-powered personal transporters may be – they can do a full revolution on the spot – their weight of over 110 pounds severely restricts where you can use them. You can't just spontaneously decide to take a Segway on a train. Nor can you hide it away in a small, unobtrusive spot in your garage.

The range of this personal light electric vehicle (PLEV) is around 20 miles higher than required for most micro mobility needs. Price-wise, the machines range from around 450 US Dollars to well over 2,200; which may also explain why Segways are more likely to be borrowed than bought. Their main use is currently in guided city tours for tourists. Moreover, in many countries there is no clear regulation as to whether and where Segways are allowed to be used. In some inner-city areas such as Prague, they are even completely prohibited. All in all, we can't give a sweeping recommendation of Segways for those last mile journeys.
SUMMARY:

Urban suitability     ##
Range                         ##
Value for money      #
Riding fun factor    #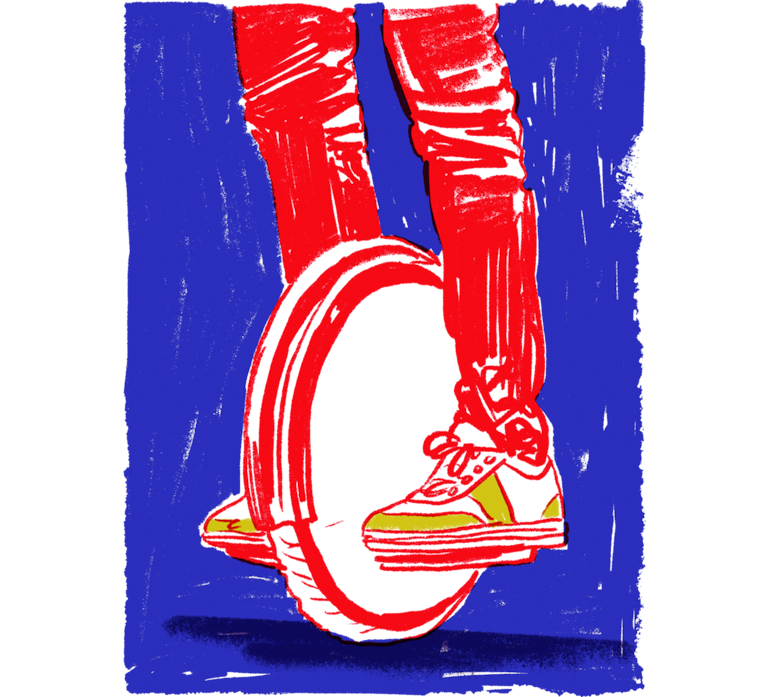 From a distance, riding a monowheel looks a bit like levitating. After all, these battery-powered vehicles are less than 20 inches high. You position yourself on folding steps mounted to the right and left of the wheel axle. In principle, you operate a monowheel like a hoverboard – by shifting your body weight. A little courage is needed when you first start leaning into bends, but once you get the hang of it, it's really fun.
The monowheel, too, is expected to be part of the e-revolution in urban mobility. The compact size of these devices means that maneuverability is their greatest strength. An e-monowheel is smaller and handier than an e-scooter or e-bike, making it easy to take on public transportation. A fixed carrying handle or extendable trolley handle also adds to their convenience.

As with any electric vehicle, however, the battery in a monowheel adds considerable weight. So, despite their small size, even a saddleless unicycle will weigh in at over 22 pounds. Their range varies, depending on model and usage, between 15 and 25 miles. So the monowheel, too, will play its part in bringing about the mobility of the future. Prices for monowheels start at around 350 US Dollars. As ever, there isn't really an upper limit…
SUMMARY:

Urban suitability     ###
Range                         ##
Value for money      #
Riding fun factor    ##
E-mobility: riding fun as standard
All the e-rideables we've covered have a range that is easily enough for the last mile. They're also all easy to charge. Either you remove the battery, like with an e-bike or certain electric scooters, or, for a smaller vehicle like a monowheel or e-skateboard, simply take the rideable to a socket and plug it in. The key differentiators are size and weight – these are the determining factors for everyday practicality.
Whatever e-vehicle you opt for, there's one thing you're sure to get as standard: fun. Sometimes in spades, sometimes a little less. This makes these small electrical vehicles the optimal combination of covering that last mile fast and doing it in a fun way. And if you need to go for a longer stretch, just hop in an e-car (➜ Electric cars and plug-in hybrids explained) and keep your environmental creds intact.
Illustrations: Holly Wales