With new inspirations every day, contagious energy and exciting impetus, major cities in a constant state of change like Berlin are a source of creativity. At home in the Prenzlauer Berg district, Nina Bungers and her husband spent many years living right at the heart of this environment: the perfect setting which promotes both work life and leisure time. The mother of three is a content creator and freelance Pinterest strategy consultant. She creates and curates interior design ideas, favorite products, children's books, travel tips and useful decorating and crafting projects on Pinterest and her blog pinspiration for families to try out. One thing lies first and foremost behind the inspiration: organization. The morning drive to kindergarten and school is swiftly followed by time at the laptop and behind the camera. Developing concepts, taking photos, compiling images, planning social media posts. Because as soon as the kids are back home, the focus switches completely to them, Bungers admits. Nothing would happen without multitasking. It's the recipe for a way of life that works. She emphasizes that it is precisely in this flexibility of being independent and organizing her own working schedule that she finds the greatest joy.
CO2 emissions 140 - 154 g/km (combined)
Fuel consumption 6,2 – 6,8 l/100 km (combined)
Always discovering something new is not only the theme running through her work. This working mom also wants to think outside the box in everyday family life; to think and plan for the long term, shop more consciously, live more sustainably.
She takes on challenges with gusto. Because there are always turning points on the road to happiness, curves, one-way streets and even dead ends: in short, challenges to overcome, explains Bungers, not only on the road in the BMW 2 Series Active Tourer, but also figuratively in everyday life. In fact, it is precisely these life-changing moments that are also starting points of hope for the mother of three: "Change always brings opportunities. You have to have the courage to embrace them. Even if we're often not sure exactly how they will change our lives." For Bungers, the birth of their third child, Marlene, was also the birth of a wish: to make a fresh new start.
As parents and as a family, we value freedom, more space, nature, and tranquility while still being close to the big city. We had found all this in our three-room apartment in Prenzlauer Berg. The apartment was beautiful, but the five of us couldn't envisage the three children growing up together all in one bedroom. We had outgrown the apartment. And my oldest son, Friedrich, was due to start school. Everything pointed toward change (➜ Read more: Sara al Madani – risks pay off) and we were ready, open and flexible for something new."
But just how big should this change for the whole family be? "We thought long and hard about it, and then it became clear: It had to be a clean break. The dream to live by the water had been in the background for a long time anyway, so we just made the decision together to start completely anew, unsure how we would all get along in our new home. It was an attitude I learned from my mother: Always look on the bright side. Don't let fear rule your life, but take new steps with courage. So we plunged headlong into the change and moved to Caputh on Lake Schwielowsee in Brandenburg, near Berlin. We knew Caputh from our hikes. The place ticked all the boxes we longed for after eight years in the big city: freedom, more space, nature, tranquility and still close enough to the cultural urban spaces in nearby Potsdam and Berlin. Friedrich could be enrolled in school in Caputh, the girls would have their kindergarten on the lake within walking distance. Caputh is a small but beautiful reset that also gives the kids and us parents the space to grow into a new circle of friends and still be close to the family and friends we already had from Berlin."

Nina Bungers: These things represent special moments in life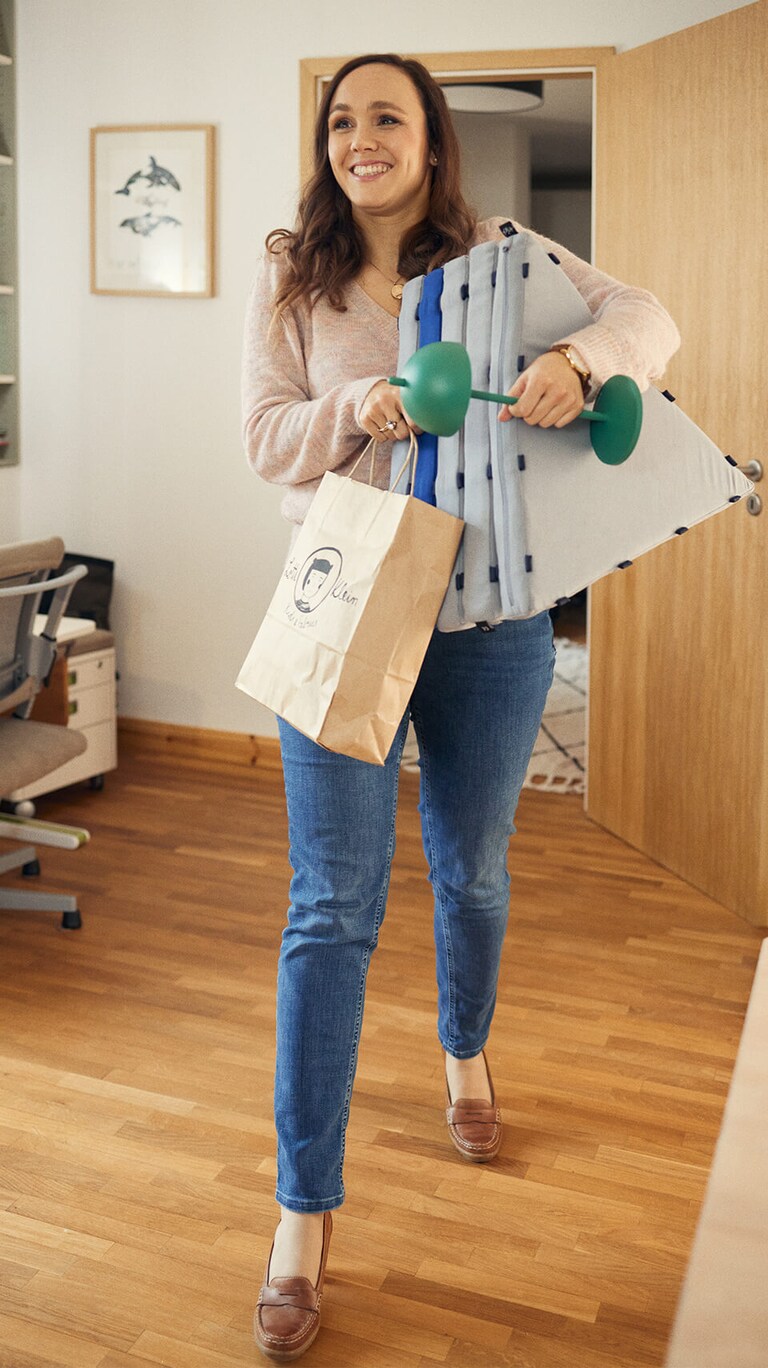 Nina Bungers takes us around her new home and introduces us to objects that, for her, represent inspiration and new possibilities. Because these are what she used to furnish son Friedrich's new bedroom.
Dreaming in a unique piece: the handmade loft bed
"Friedrich's loft bed, the room's centerpiece, was sturdily built by a local master carpenter to our specifications and design drawing – a one-off rather than mass-produced. Fashioned by a team that is truly in love with their craft and by whose efforts we know for sure that we support a long-lasting handmade product and the people behind it. I love durable and evolving designs that do not constrain creativity and freedom and that invite children to discover and co-create here."
An alcove feeling: curtain fabric for a loft bed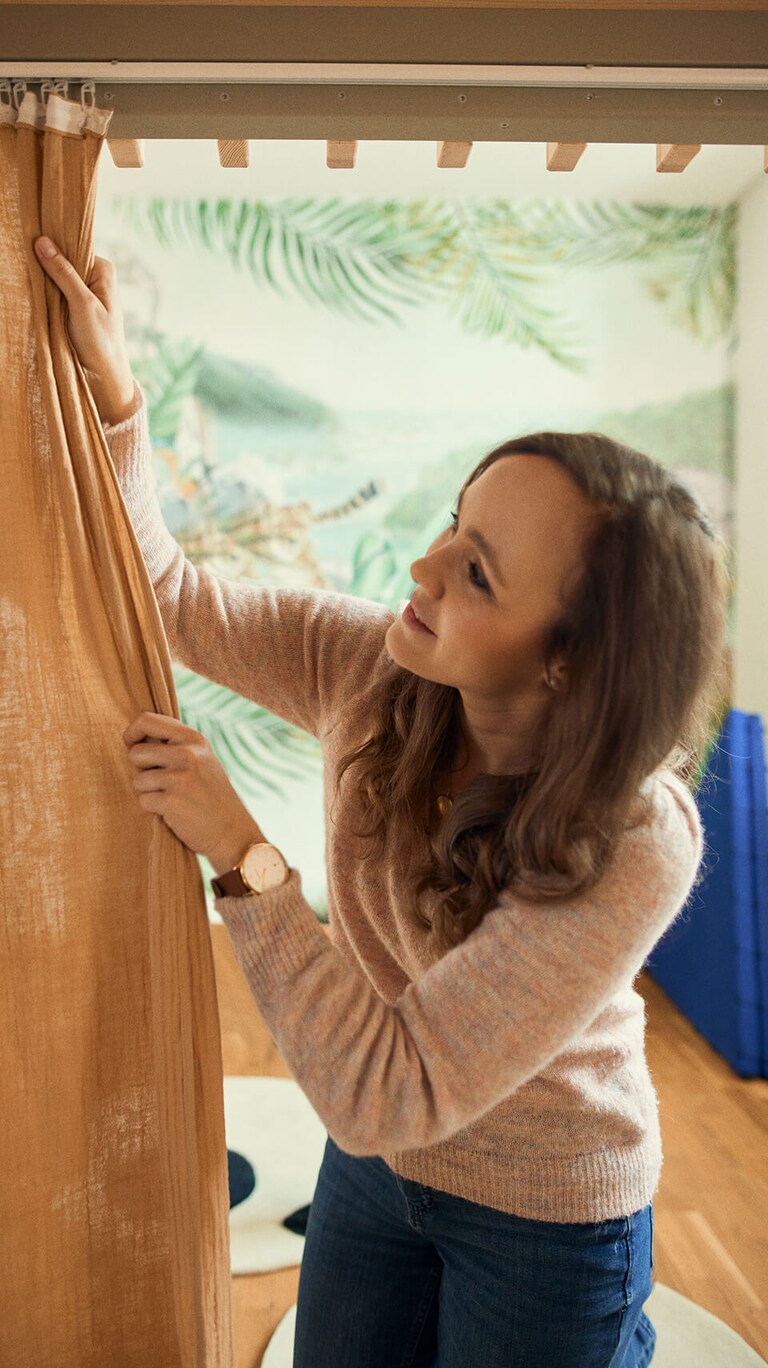 "When it comes to decorating, I really like to support small owner-operated stores too. You can see the passion for environmentally friendly products, feel the attention to detail and durable quality. The curtain gives the loft bed its alcove character, transforming it into a retreat: curtain closed, privacy on."
Well-thought-out seating: the multifunctional sofa
"The Danish folding sofa is a sofa, guest bed and play mat all in one. The cover and the cold foam used in the seating furniture have both been tested for harmful substances according to the OEKO-TEX® Standard 100 and are therefore a healthy and versatile feature in a children's room. Thoughtful, creative, sustainable – such an inspiring formula!"
Walls like a nature movie: the jungle wallpaper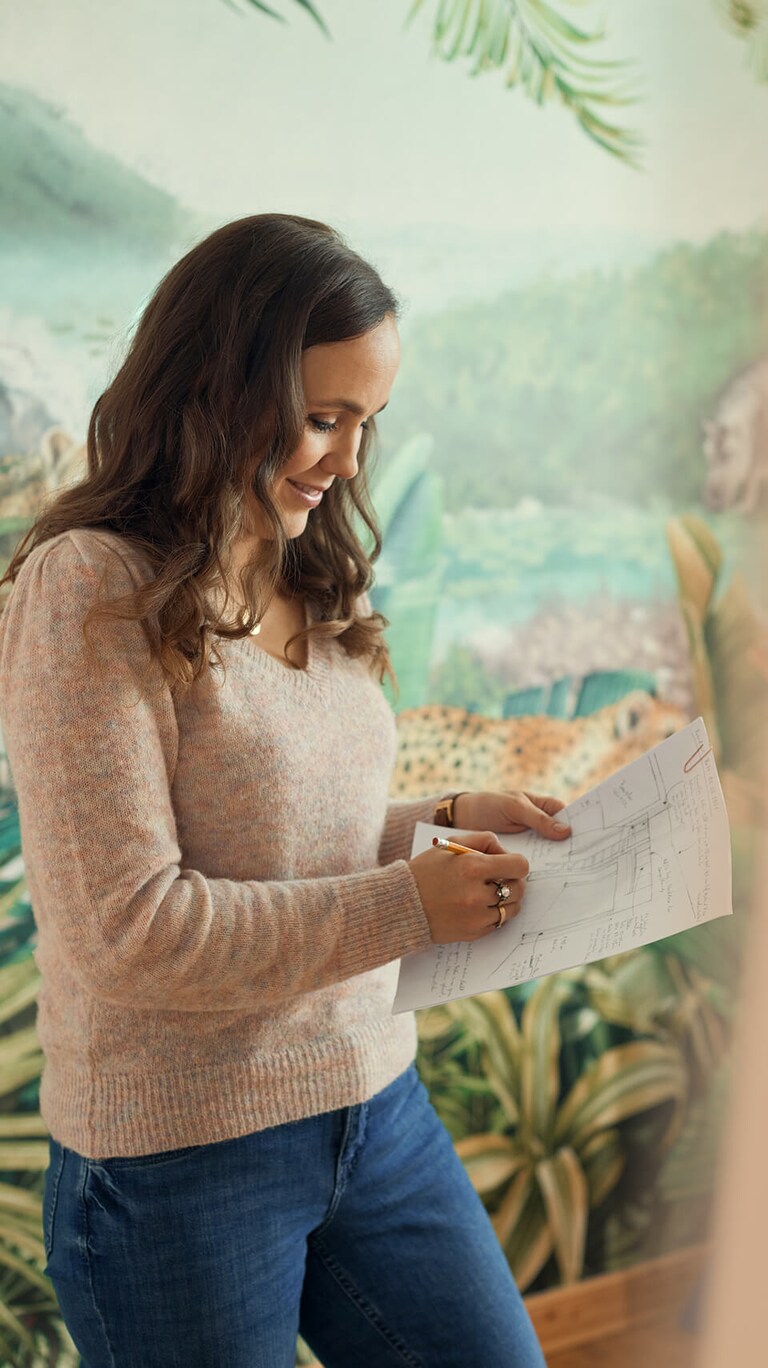 "No stereotypical light blue or superhero motifs would make it anywhere near the final design of Friedrich's room. We love nature, and the jungle wallpaper portrays this, enlarging the perspective of the room. The best part of it is that each motif of photo wallpaper from Sweden can be customized to fit your own walls."
Everything green: the nature poster
"A poster that features one of the most beautiful, enchanting, dreamy greenery scenes I know: We managed to decoratively integrate this reference to nature here too, and I'm always delighted to see that the space in front of it has become Friedrich's favorite place to read."
Grounded in creativity: the children's carpet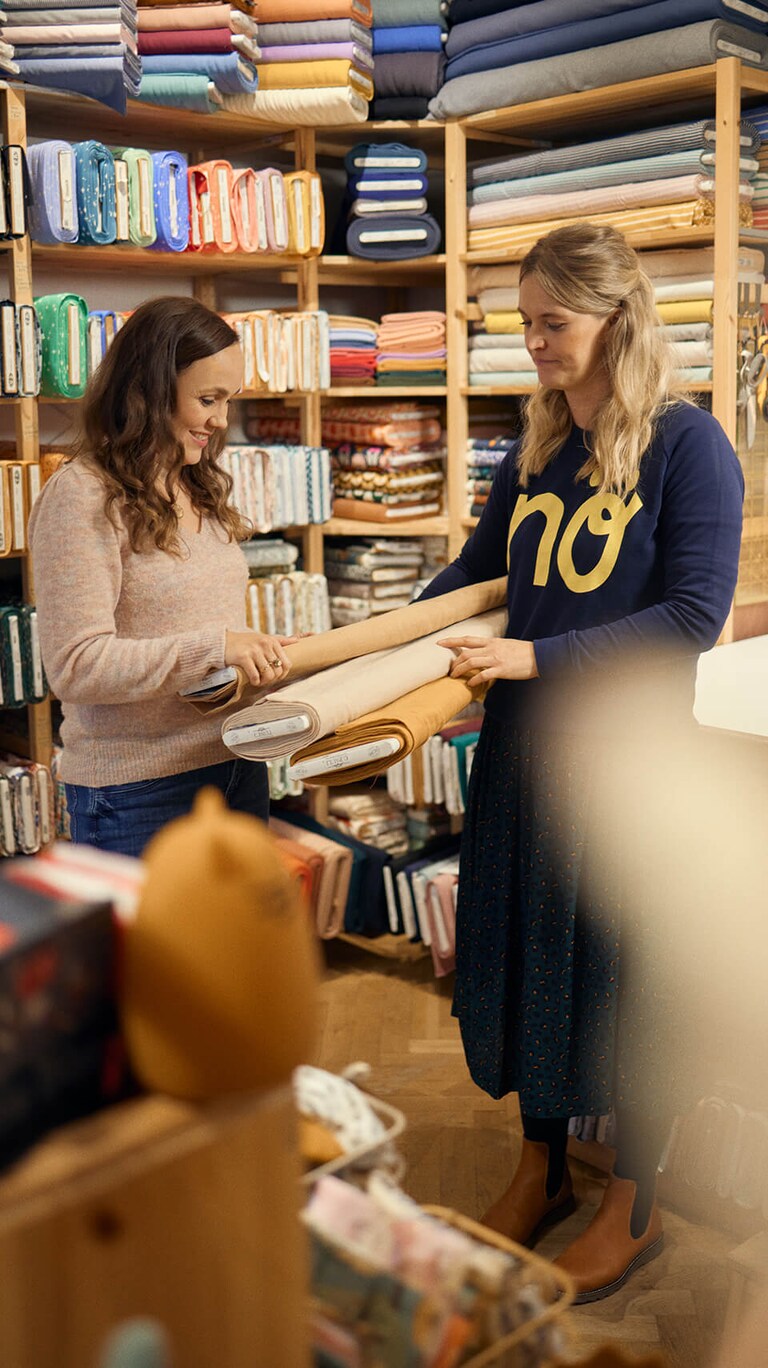 "We have also consciously chosen fair trade and sustainability for the carpet. The really special part about it is that the carpet design is hand-tufted from 100 percent New Zealand virgin wool in low-high pile. Certification: GoodWeave Label. This guarantees that no child labor is used and that appropriate working conditions are maintained."
Light to go: the LED outdoor and indoor lamp
"Long-term and versatile thinking are the magic words here. An outdoors lamp runs without a power cord with many hours of battery life, is usually dimmable, lightweight, splash-proof and can be taken anywhere. Perfect for the nursery, outdoor adventures in the tent – or the tree house we are planning."
We need a car that supports us in our everyday endeavors and integrates seamlessly with our needs – a car like the BMW 2 Series Active Tourer.
An automobile for Bungers is now something for out of town (➜ Read more: The five best big cities for a kayak tour), but one thing above all: freedom. "An automobile is also a personal place for me and my family. The destination is then the journey itself. Infotainment, space, comfort, safety and technology are all important. In short: We need a car (➜ Read more: You need to know these car apps) that supports us in our everyday endeavors and integrates seamlessly with our needs – a car like the BMW 2 Series Active Tourer. The car also often gets promoted to a short-term outdoor home office for me in my life as a working mom. A spontaneous safe haven for professional communication. Or to take short breaks and rests on my journeys. Above all, it's also a key means to an end, for example to get around to do the really big errands or longer distances comfortably and safely."
Ultimately, agility and courage are among the values that provide fresh momentum offline for Bungers. Every change of perspective opens up new impressions that strengthen the personality and inspire you to tread new paths.
Author: Markus Löblein; Photos: Stefan Grau; Video: BMW