Always stay up to date
Innovative mobility, exciting trends for the future and high RPMs: Subscribe now to get notified of new content.
Subscription successful.
Subscription failed. If you need help follow the link for support.
BMW Group PRIDE is the forum for the queer community within the BMW Group and is dedicated to promoting inclusion at all levels. Find out who they are and how a small shout-out in a queer magazine brought so many people together.
The message in the bottle
In 1999, as a new millennium dawned, the world was preparing for big changes. But for a single BMW employee who thought he was the only queer member of the multinational car company, it was also the beginning of something even bigger: a supporting network that would unite a large queer community around the world. So, he made a plea in a magazine "Am I the only homosexual at BMW or are there more?"
As awareness has been raised over time, it now seems normal to be queer in a tolerant workplace. But back in 1999, the path had not yet been laid, and it would have taken a lot of courage to officially come out. Members initially only met informally outside the company as a regular after-work get-together. But like a river making its way through the rocks, they found a way forward and started to grow.
Love, lunch, cars: the special ingredients for a thriving network
In 2004, members finally began meeting for lunch in the BMW cafeteria. The world was changing for the better, and although there were still many struggles for the queer community, hope took hold through food and laughter. The network eventually found its voice and recognized opportunities to paint its flag with additional colors.
In 2014, the network evolved from a homosexual community to an LGBT+ network, representing more queer community members. They also became politically active: With a new name and logo, BMW Group PRIDE participated in the Munich Gay Pride Parade for the first time that same year – with around 35 members. After that, the network grew quickly and became more visible over the years. Today, the BMW Group PRIDE network has over 500 members worldwide and regularly participates in pride parades and diversity weeks, loud and proud.
All out, all proud
With the goal of creating a positive, tolerant, and open working environment where no one must hide because of their sexual identity, the network seeks to make all queer colleagues proud to be a valuable part of the company by acknowledging and embracing their sexual identity.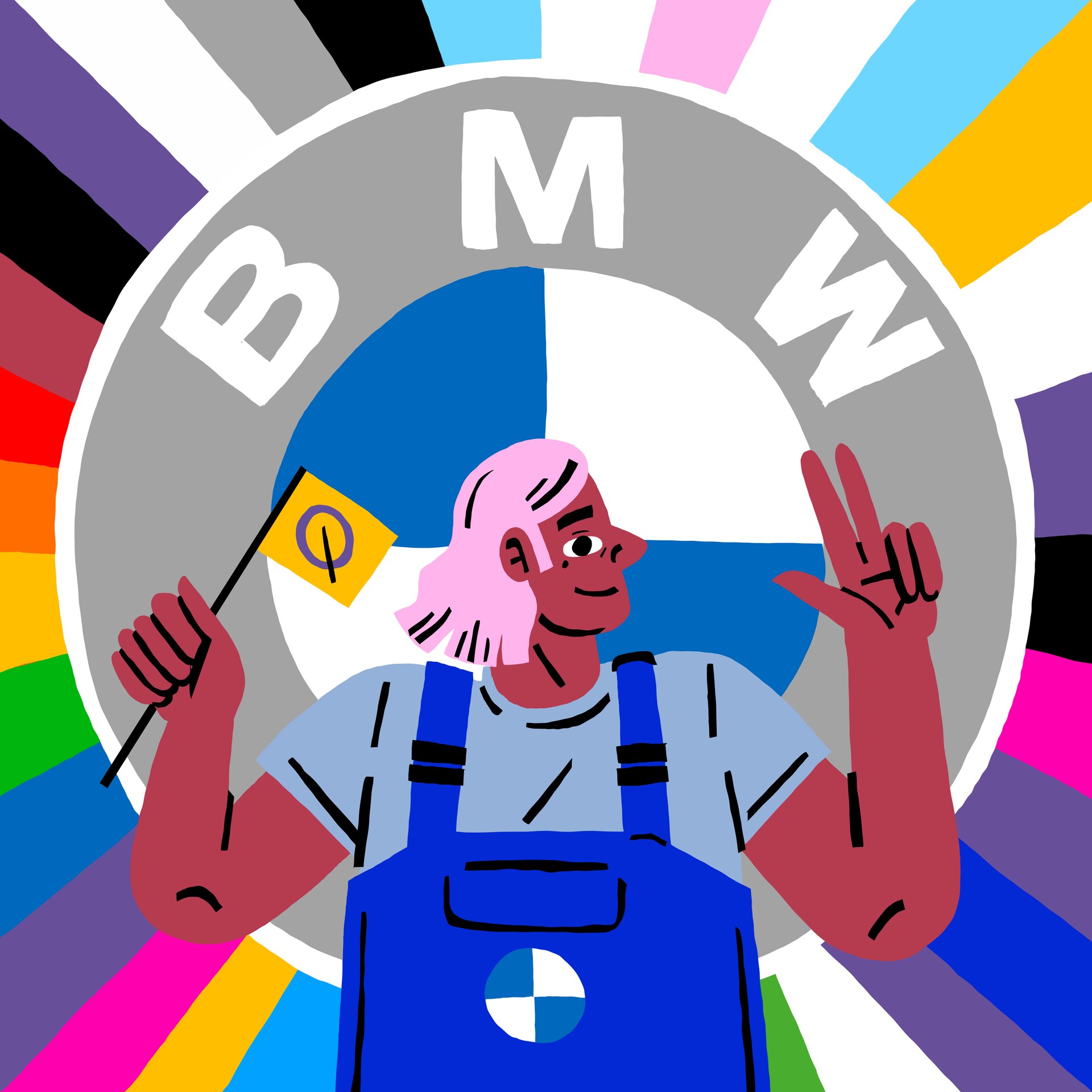 We believe in the power of diversity!
The BMW Group PRIDE network is now the company's central hub for all questions related to sexual identity, queer awareness, and more. It is also the go-to resource for its members on all matters related to sexual identity and the workplace.With its accomplishments, BMW Group PRIDE aims to take more responsibility within the BMW Group as a role model and supporter of the queer community.
The path to a green future is colorful
The network in this way also serves a fundamental and increasingly important function within the company. Focusing on shaping a sustainable future for individual mobility (➜ Read also: BMW takes environmental responsibility seriously), BMW works to combine all of its colors together to light up the path ahead. In other words: The work to create a sustainable future for coming generations' mobility demands is best done by embracing diversity and leveraging its many benefits. That is why the BMW Group is committed to diversity in all sectors and has set itself clear social responsibility targets.
German diversity day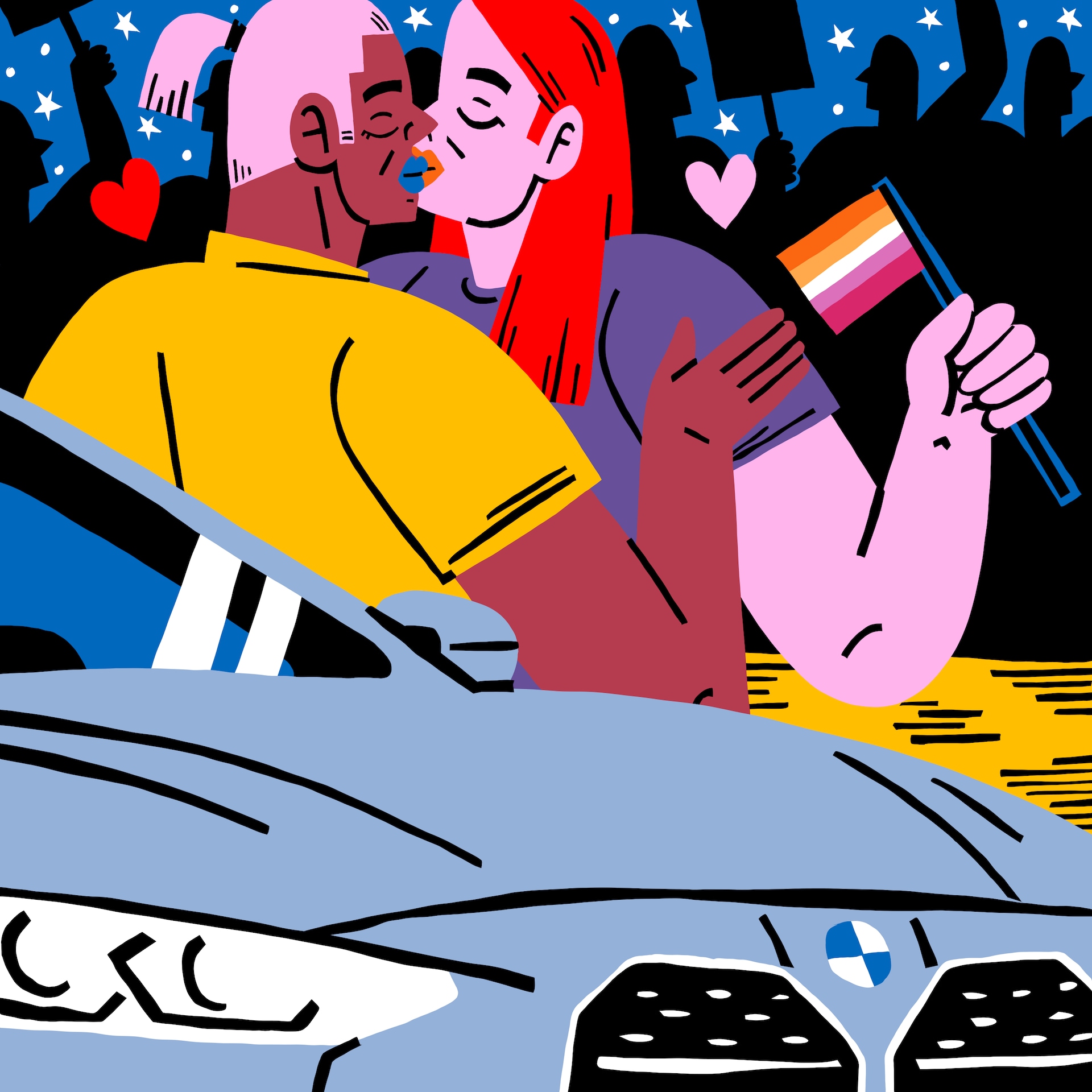 Interacting with a wide variety of customers, suppliers and investors around the world is only possible with a truly diverse team that enables the company to understand and reflect better on the different needs of stakeholders from around the globe.
Since 2011, the BMW Group has been involved in the Charta der Vielfalt, a corporate initiative to promote diversity in companies and institutions, and aimed at promoting the recognition, appreciation, and integration of diversity into Germany's business culture.  As a signatory and supporting member of the Diversity Charter, the BMW Group has also been participating in German Diversity Day activities.
By signing the charter, the BMW Group has committed itself to create a working environment that is free of prejudice.  With 140,000 employees from over 110 nations worldwide, this is no small feat.

Diversity is the foundation of our success. A working environment free of prejudice, combined with respectful coexistence, are important requirements for this.
Ilka Horstmeier 
Member of the Board of Management of the BMW AG 
The BMW Group is also ranked within the top five of the DAX 30 LGBT+ Diversity Index 2020 and is a member of PrOut at Work, a leading German think tank offering advice on LGBT*IQ topics at the workplace. These are just a few steps towards a bigger goal, but there are still many more to go.
Passion knows no right or wrong
Freude ("joy") can have a thousand meanings. There are as many different perceptions of joy as there are people on earth. For BMW, joy also means creating a working environment in which everyone can truly be themselves and feel they are free of prejudice. To achieve this, it is crucial to promote and nurture real inclusion, and make sure that everyone feels accepted, regardless of who they are – or who they love. The BMW Group PRIDE network has been a long time in the making already – and its role remains crucial to the story of BMW (➜ Read also: 10 years BMW i: the success story of a vision) as a company and employer, past, present, and future.
Author: Narges Derakhshan; Art: Shin Miura, Madita O'Sullivan; Illustrations: Fredde Lanka; Video: BMW