The world is full of unexplored paths to discover. Wherever your journey takes you, maintain your grip with Genuine BMW Star-Mark Tyres and Wheels that offer unparalleled assurance at every twist and turn in the road. Be inspired by tailor-made, proven, durable and economical performers - when they perfectly harmonise with BMW chassis components and adaptive systems for maximum grip and performance. #MadeToMatch, they perfectly match your needs. Become part of zero-emission mobility and enjoy pure driving pleasure.
Read more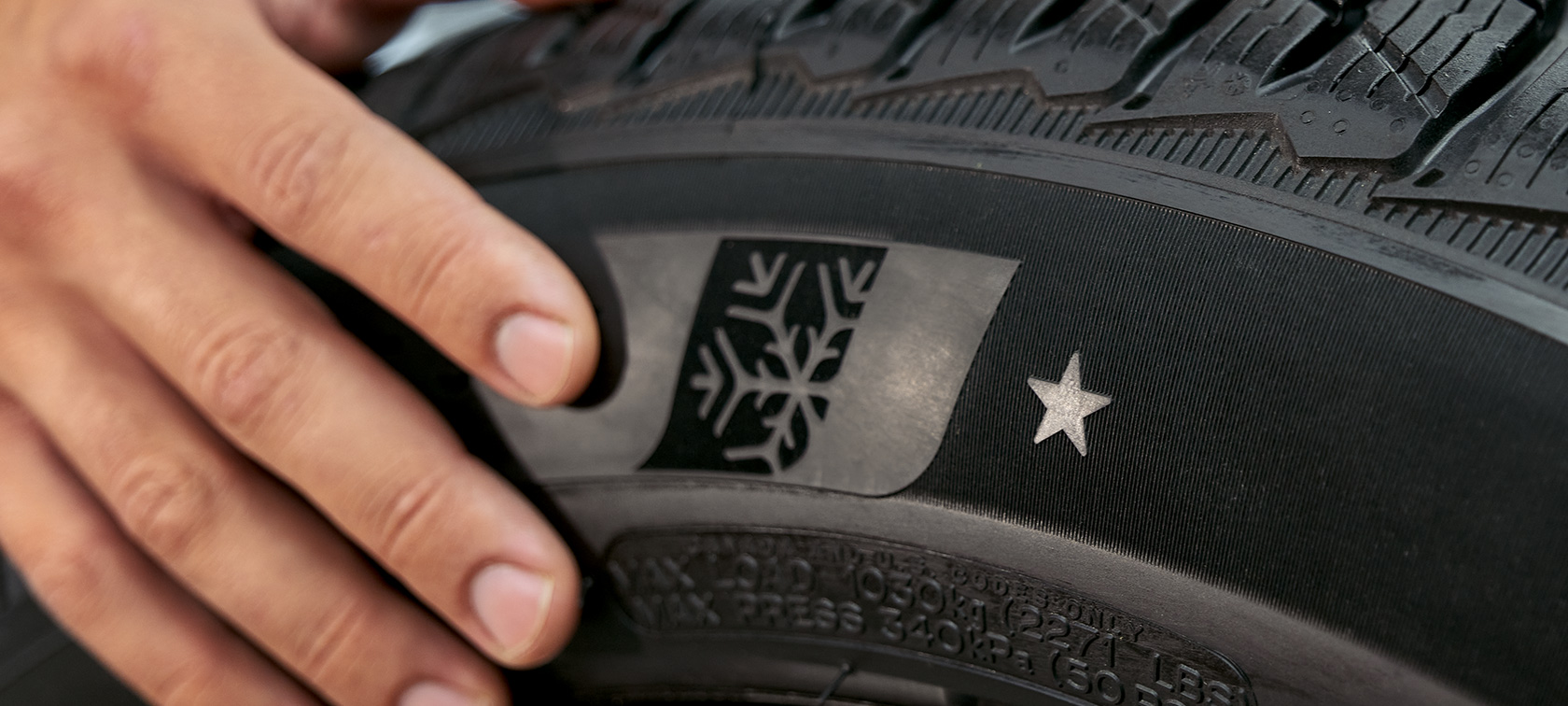 BMW STAR MARKED TYRES WITH QUALITY AND SAFETY ASSURANCE.
MOVE LIKE AN ALL-STAR.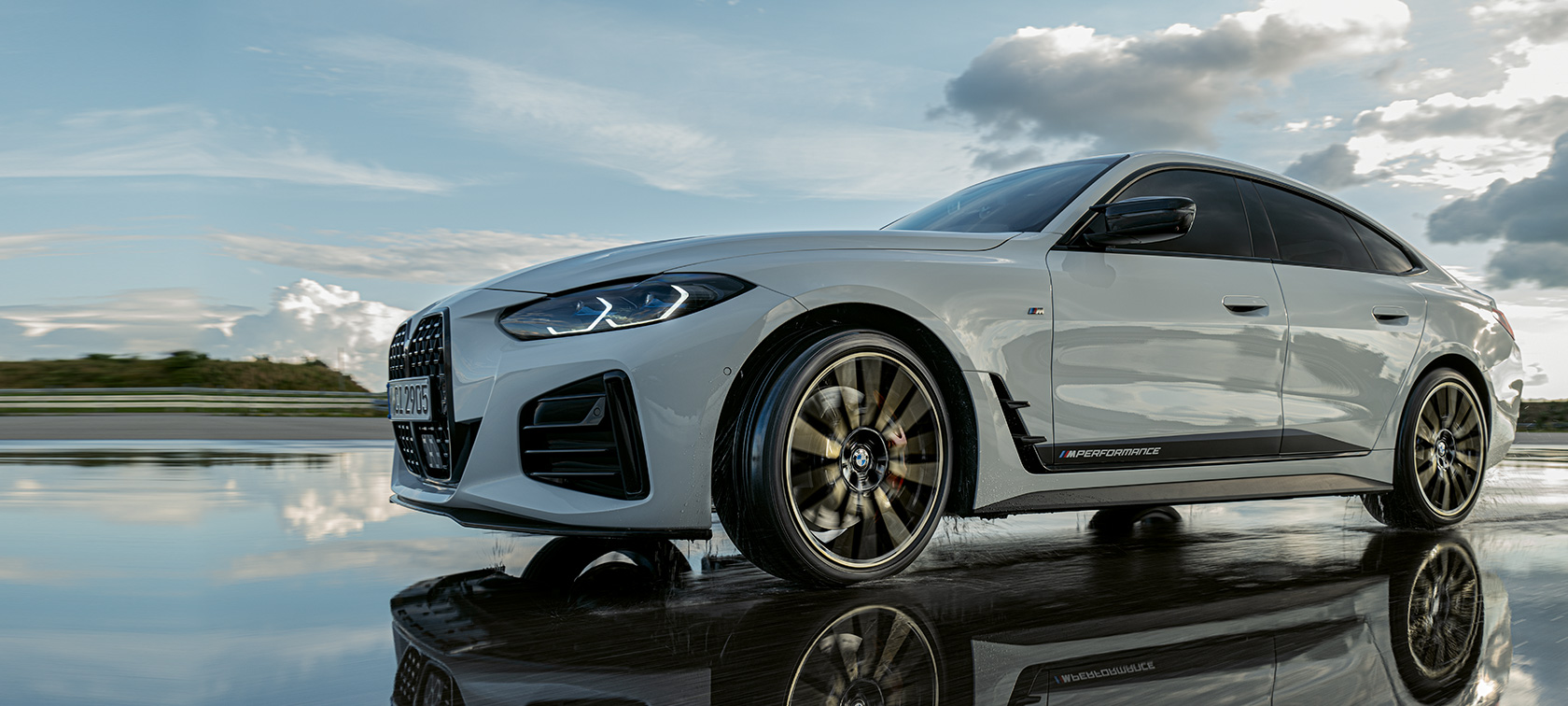 COMPLETE BMW WHEELS
& STAR-MARK TYRES
DRIVE SMOOTH. FEEL SAFE. ENJOY THE RIDE.
THE IMPORTANCE OF THE RIGHT TYRES FOR ALL OCCASIONS.
DISCOVER GENUINE BMW WHEELS & ACCESSORIES.
BMW Complete Wheels
Genuine BMW Accessories
DISCOVER THE BEST BMW WHEEL FOR YOUR VEHICLE.
DESIGNED TO BE AN EYE-CATCHER.
22-inch M Performance aerodynamic wheels carbon Y-spoke style 1022 M Bicolor.
22-inch M Performance aerodynamic wheels carbon Y-spoke style 1022 M in Bicolor Jet Black, gloss-milled. Complete wheel set with tyre pressure monitor.
To the product
20-inch BMW aerodynamic wheel Double-spoke style 1002 Lightning Grey.
20-inch BMW aerodynamic wheel Double-spoke style 1002 in Lightning Grey. Complete wheel with tyre pressure monitor.
To the product
19-inch M light alloy wheel Y-spoke style 859 M Bicolor.
Exclusive 19" M light alloy wheel Y-spoke style 859 M in Bicolor Jet Black, gloss-lathed. Complete front wheel with tyre pressure monitor.
To the product
20-inch M Performance light alloy wheel Double-spoke style 868 M Bicolor.
Exclusive 20-inch M Performance light alloy wheels Double-spoke style 868 M in Bicolor Night Gold, gloss-milled. Complete wheel set with tyre pressure monitor.
To the product
PRODUCTION.
THIS IS WHERE THE JOURNEY BEGINS.
We do not want to reinvent the wheel, but rather bring it to perfection. This spirit is vivid in each Genuine BMW Wheel. Each wheel is a reflection of our high demands on durability and limits of dynamic, static and simulation testing that goes far beyond legal requirements. The result is a high-quality wheel that you can rely on in every situation – elegant in style, uncompromising in substance.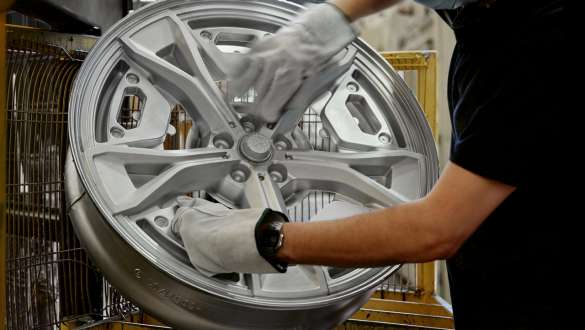 Casting.
Genuine BMW Wheels are cast from molten aluminium. The liquid metal is filled into a mold where it cools before it is removed, strictly monitored by the latest computer technology which guarantees the high quality of our wheels. This casting process reduces costs and allows a high degree of precision and freedom of design. Cast wheels are low in weight and high in stiffness.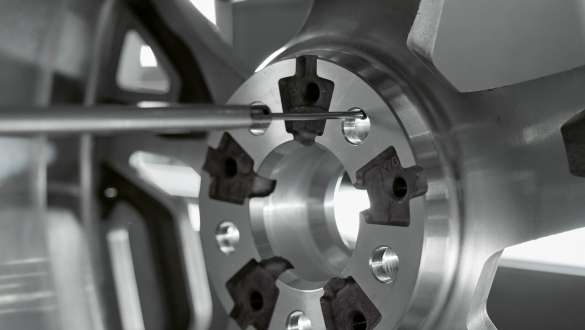 Forging and Milling.
In the forging process, the wheel is forged from the solid piece of aluminum. The high-end option is to mill the entire spoke design after forging the base material. Forged aluminium wheels are 10 to 20 per cent lighter in weight than aluminium cast wheels and allow a more delicate design of the spokes.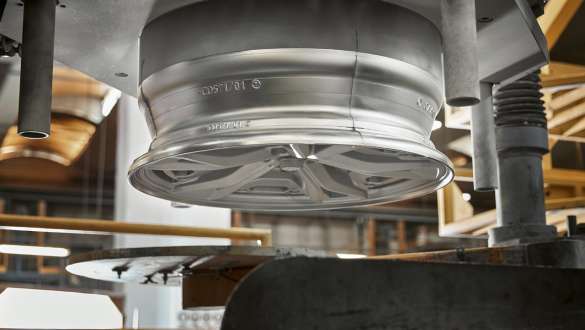 Flow forming.
Cylindrical flow forming is a pressure forming process. While spinning, pressure is applied to the inner barrel of the cast wheel. This process stretches and compresses the aluminum, which increases tensile strength and makes it possible to achieve particularly low wall thicknesses for the rim. The result is a very light-weight and strong wheel with significant benefits in terms of shock resistance, elongation and load capacity.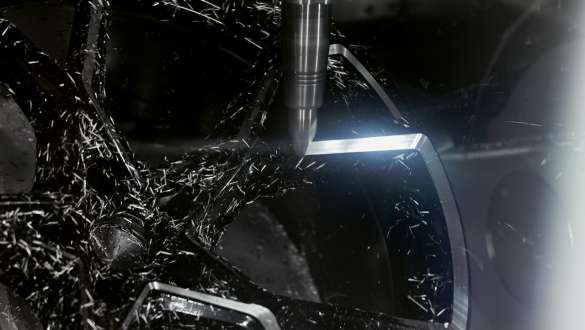 Undercutting.
This method can also be used for both forged and cast wheels. Here, non-structurally relevant mass on the wheel is reduced by machining of material from the spokes. This further reduces the wheel weight and creates premium styling effects as undercutting between the spoke connection and the well base gives the rim styling a three-dimensional appearance.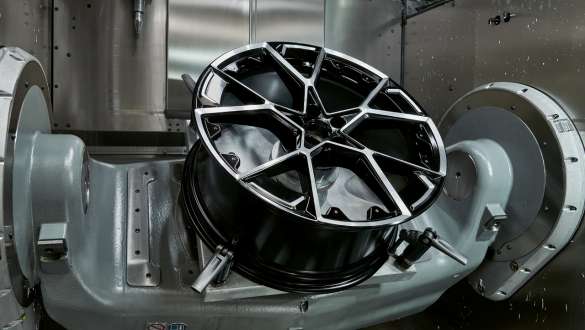 Surface Design.
Regardless of which manufacturing technologies are used, the surfaces of Genuine BMW Light Alloy Wheels can be finished in a variety of ways. The basic method – powder coating – makes the wheel resistant to environmental factors such as corrosive de-icing salt. In the past, light alloy wheels were often painted silver with a clear lacquer coating. Today, the BMW portfolio includes numerous designs and refinements that require an elaborate finishing process.
MORE INFORMATION.
DISCOVER FASCINATING TECHNOLOGIES.
LESS NOISE, MORE DRIVING PLEASURE.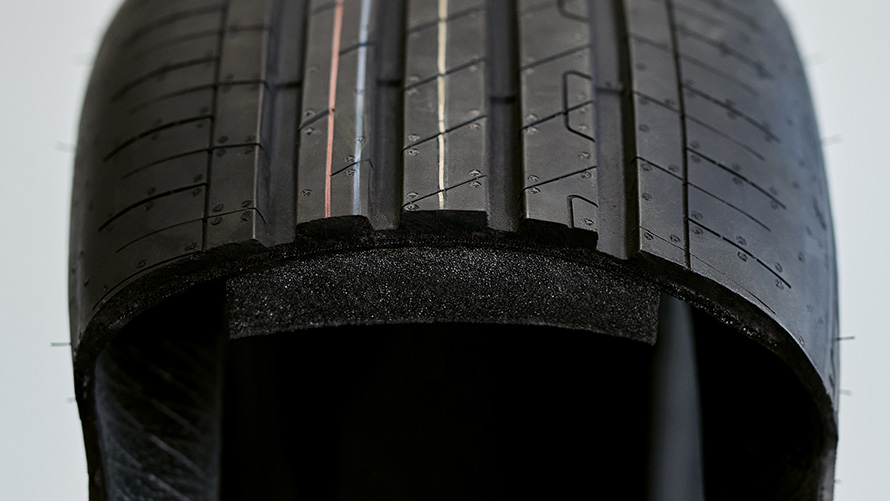 Genuine BMW light-alloy wheels are fitted with innovative tyres and feature integral noise dampening for excellent acoustic comfort. A layer of foam on the tyre's inner surface absorbs the noise produced by vibrations within the tyre's cavity, which is filled with air causing it to act as a resonator. This leads to a substantial reduction in the level of tyre noise reaching the cabin.
AERODYNAMICALLY OPTIMIZED, SOPHISTICATED ELEGANCE.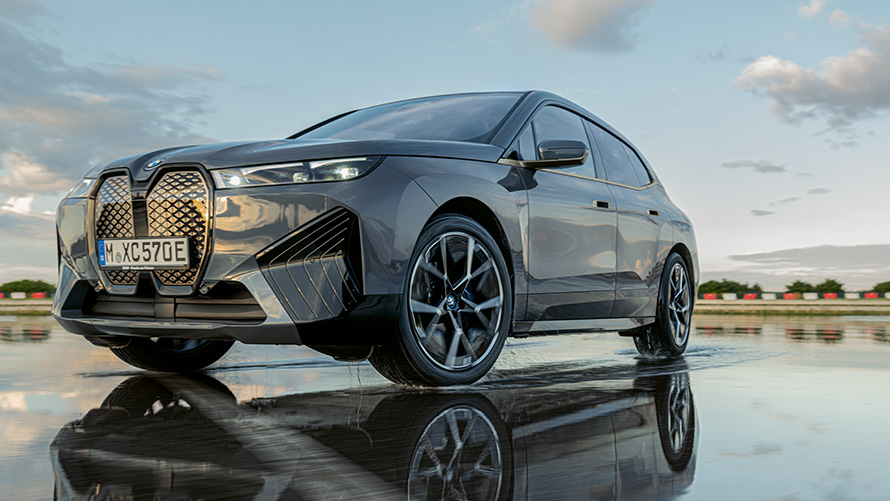 Aerodynamically optimized light-alloy wheels contribute to the lightweight construction and reduce air resistance, further adding to the efficiency of your BMW. Their mostly enclosed surfaces bring about an effective reduction in the amount of air turbulence produced around the wheels. The Air Performance Wheels help to reduce drag in a very innovative way and unite optimised aerodynamic properties with a sophisticated sense of sporty elegance.
BMW DIGITAL TYRE DIAGNOSIS.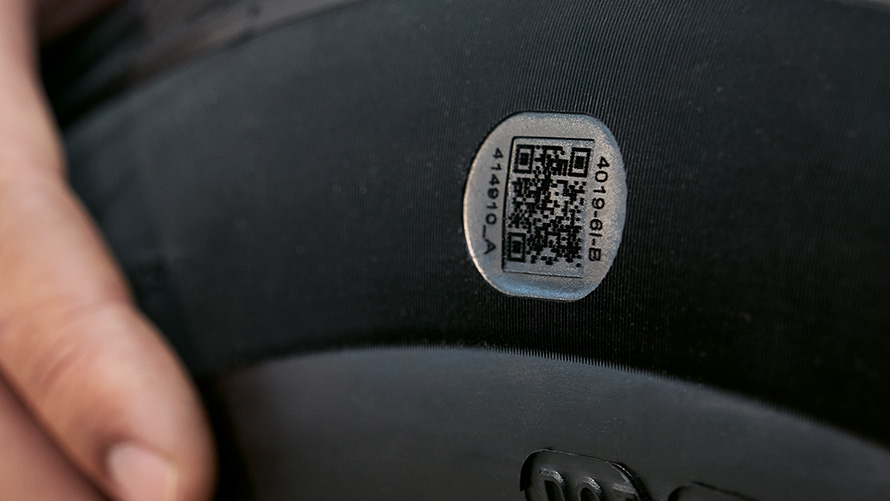 BMW Digital Tyre Diagnosis provides intelligent calculation of the tyre condition to keep you mobile at any time (Genuine BMW Star-Mark Tyres and QR code required). The system's sensors relay data on tyre pressure, temperature and wheel speed readings to forecast the remaining tyre life for each individual wheel. The corresponding information is then shown in the control display as well as in the My BMW App. This complements the functionality of the Tyre Pressure Monitor by picking up any indications of tyre damage and slow pressure losses, thus minimizing the risk of punctures. The Tyre Pressure Monitor factors furthermore in specific data on the tyres fitted, including manufacturer, dimensions and production date, which can be scanned from a QR code at the factory or service partner.
GOOD TO KNOW.
FREQUENTLY ASKED QUESTIONS.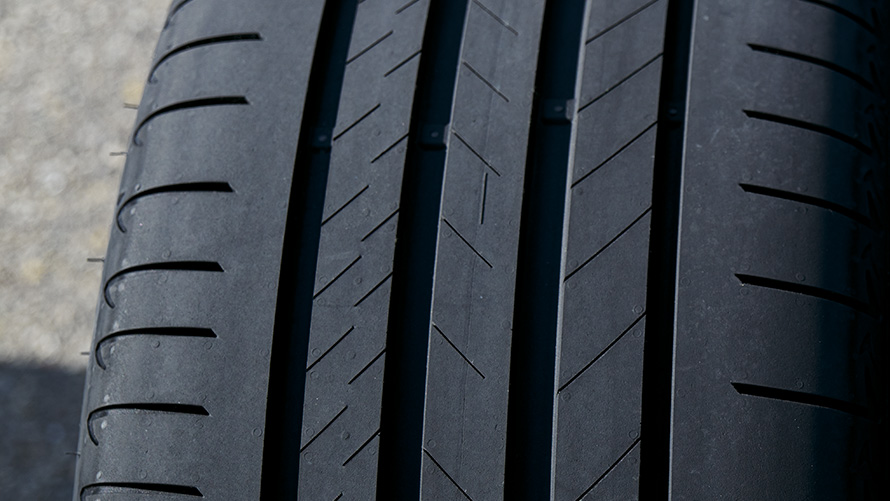 The grip and handling of your tyres depends heavily on their tread depth. BMW recommends a tread depth of 3mm to ensure a safe and pleasant driving experience. With many longitudinal groove, large tread blocks, an optimal rubber compound and adequate tread depth, Genuine BMW Star-Mark Tyres are the best choice for your BMW.

Read more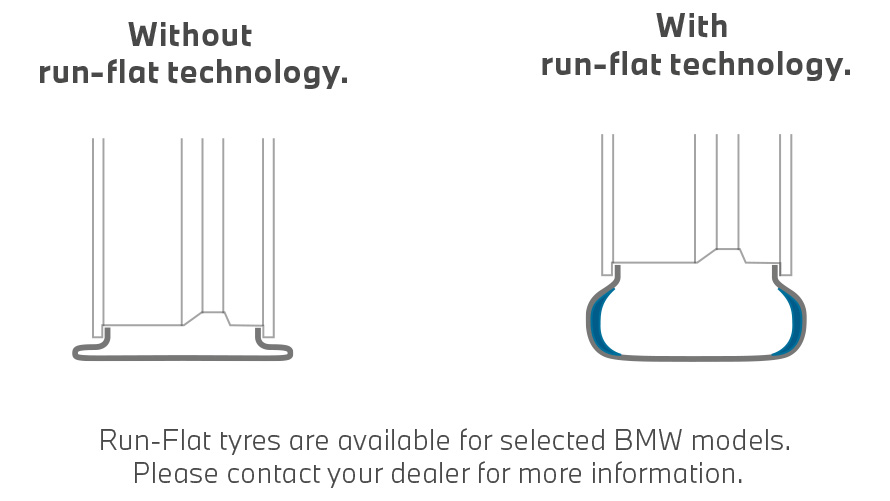 BMW Run-Flat Tyres will never let you down, even if you have a puncture. The Tyre Pressure Monitoring device that is installed on your BMW alerts you, and instead of stopping, it allows you to drive at up to 80 km/h for another 80 km. The strengthened sides of the tyres stabilize your vehicle, keeping you on track and allowing you to safely reach the nearest BMW Service Partner.
Read more
WE GOT THE ANSWERS TO YOUR TYRE QUESTIONS.
What is the right tyre pressure?

When and how often should I check my tyre pressure?

What are BMW star marked tyres?

How do I find the correct tyres for my vehicle?

How do I clean my wheels?
BMW SERVICES.
SERVICE AND ASSISTANCE FOR THE BMW WHEELS AND TYRES.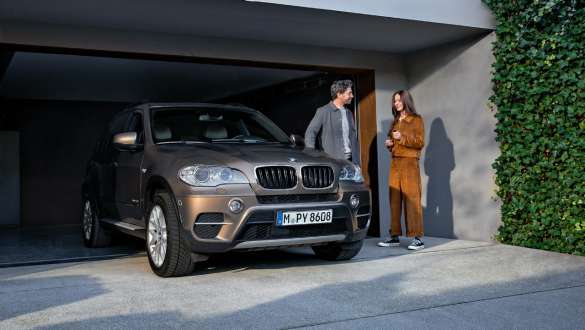 BMW Service Inclusive.
Sign up once. Save for the long term. With BMW Service Inclusive. Enjoy great savings with our service package at an attractive one-off fee. Our attractive service package covers all Original BMW Services for a one-off fee and offers great savings in comparison to individually paid services.
Find out more about BMW Service Inclusive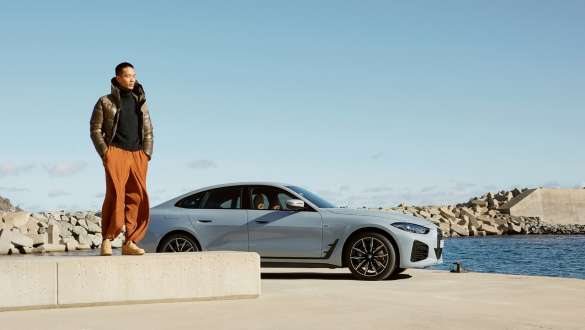 BMW Value Service.
Something to count on: BMW Value Service. Whether it is the brakes, oil or microfilter, one thing is clear: with BMW Value Service, parts and service time are included in one attractive and transparent price. This top-class offer is for all BMW models that are five years or older – because the older your vehicle, the more attractive our conditions of service.
Find out more about BMW Value Service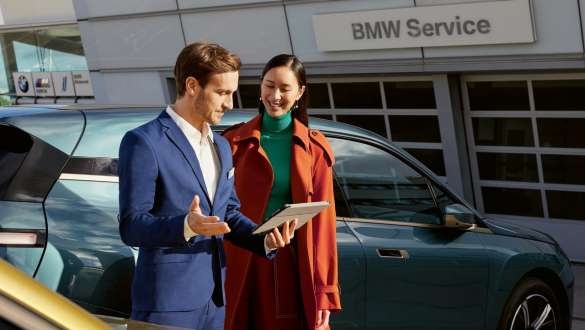 BMW Contactless Service.
At any time and no matter where you are: you can book and keep track of many services from BMW conveniently online. And make the most of your time for the really important things in life.
Find out more about BMW Contactless Service
BMW 530e**:
Fuel consumption in l/100 km (combined): 1.7–1.3
CO2 emissions in g/km (combined): 39–30
Official figures for fuel consumption, CO2 emissions, electricity consumption and electric range were determined in accordance with the prescribed measurement procedure and comply with Regulation (EU) 715/2007 as amended. WLTP figures take into account any optional equipment in the case of ranges. For vehicles newly type-approved since 01.01.2021, the official specifications exist only according to WLTP. Further information on the NEDC and WLTP measurement methods can be found at www.bmw.de/wltp
** At temperatures below 0 degrees Celsius, purely electric driving mode of this plug-in hybrid will not be available until the battery has warmed up to an operational condition after the vehicle has travelled a few kilometers.
Read more