Always stay up to date
Innovative mobility, exciting trends for the future and high RPMs: Subscribe now to get notified of new content.
Subscription successful.
Subscription failed. If you need help follow the link for support.
We're stuck. Well and truly. All four wheels spin, but that's all they can do, as our vehicle's undercarriage is resting fully on the snow in the middle of the road. It's one in the morning, and the gale-force-8 wind is blowing the snow horizontally across the wide expanses around us. We have 250 of today's planned 270 miles (400 out of 430 kilometers) behind us. The little town of Olafsfjordur, our destination, is only about six miles (10 kilometers) away as the crow flies. Up to a short while before, we were able to marvel at the stars, the full moon, and the unconvincing Northern Lights. There was no problem driving on the roads. Yet, in the space of a few miles, the weather completely changed. At first it was only small snowdrifts that the wind amassed on the roads. Then the snow slowly got higher. But thanks to the BMW X3's xDrive all-wheel drive system, advancing was never a problem (➜ Read more: How to drive safely on snow and ice) – as long as there was still road to advance on.
Icelanders are usually masters of keeping their roads clear, but the road clearance service clocks off at midnight. 20 miles (30 kilometers) to go! The road has for a long while been a single lane; to the left and right the machine-dug walls of snow tower up to the height of a man. The noose tightens. We pass a small settlement and continue to follow the single lane through the deep snow when it comes to an abrupt end. At this point, it seems even the snow plow hit reverse gear.
Beware of the snow plow
We would gladly do the same, but from our trailer hitch hangs a yellow-gray mini-caravan intended to act as our hotel room for the next week of ski touring. Should we turn around? Impossible. Theoretically we could just crawl straight into the caravan where it is, throw on the auxiliary heating, and hope for better times – but in practice we don't dare, as snowfall and wind would quickly render us "invisible" to the next snow plow.
So what we actually do is this: we dig our avalanche shovels out of our bags, put on our ski goggles, and face the elements. The first aim is to create space for the uncoupled trailer and then to remove the snow around the BMW X3 so that we can turn it. After an hour of hard work in the whiteout, we have finally managed to turn the SAV 180 degrees on the road, where the snow continues to fall.
When we re-enter our destination into the sat nav, we select the "safe" route inland. The system instructs us to drive an extra 110 miles (180 kilometers). Oh great. Iceland in winter takes its toll. So we finally arrive in Olafsfjordur around 3:30 in the morning. The storm that halted our progress on the other side of the mountains is raging here too, but not with the same irrepressible intensity. Time for us all to get in the camper and say good night.
The fact there's a website named www.road.is, that provides near real-time information about all open and closed roads in Iceland, was something we missed in the hecticness of our journey. In the days that followed, we didn't get behind the wheel without first consulting this indispensable resource.
Camping in winter?
When we made our plans for a trip to Iceland in an Alpine winter that was once again quite poor in terms of snow, we had no idea that the winter in the High North would show its unpredictable side. The reason for this was the enormously strong polar vortex over the North Pole, which bundles up the low pressure areas over Greenland and sends them to Iceland like a string of pearls. As a result, it felt like it snowed right through from December to February and the snow still stretches right down to the sea, where the waves gnaw on a blanket of snow that is 16 feet (5 meter) deep in places.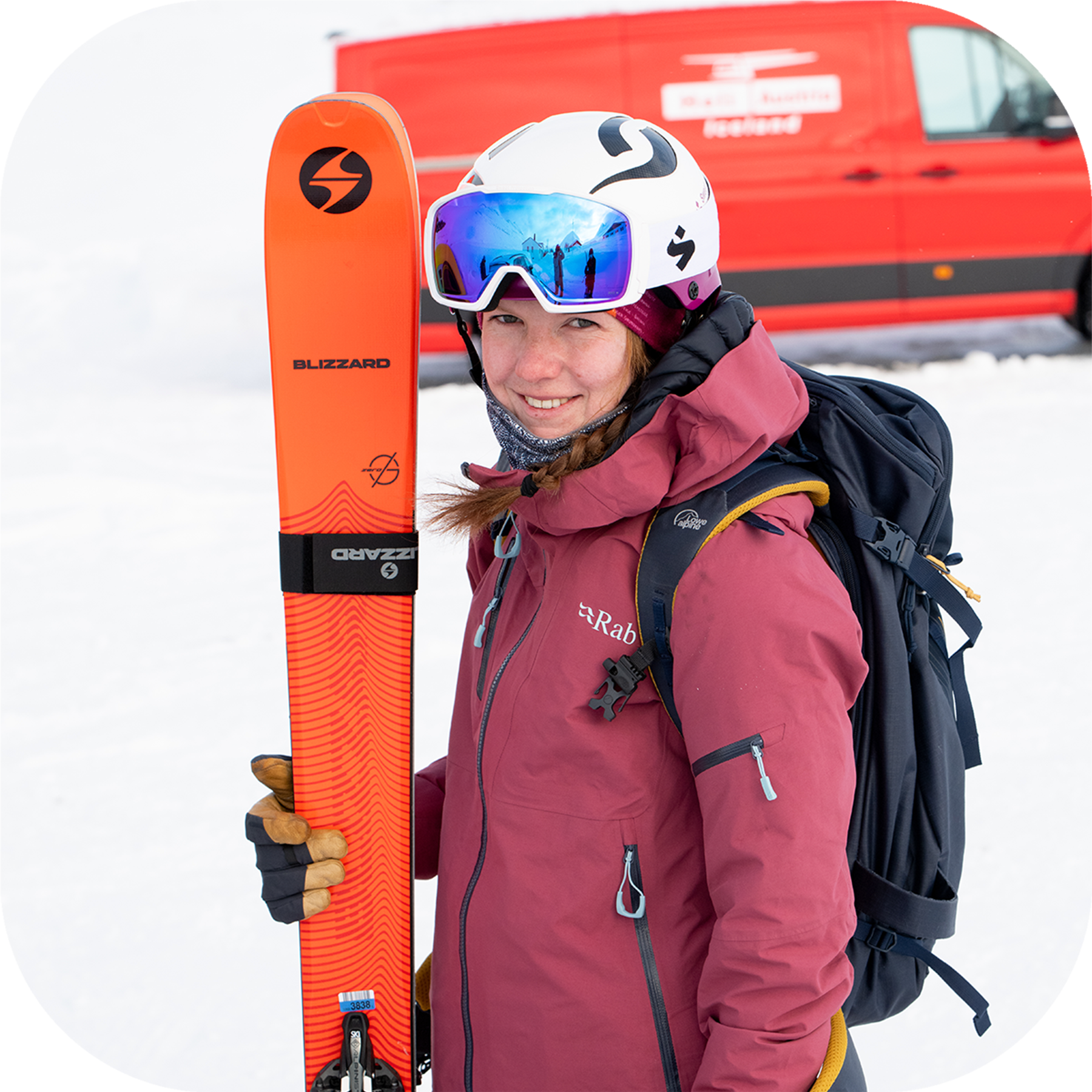 Annika Schlachter is currently studying in Innsbruck, Austria. After a career in alpine ski racing, the native of the mountainous Allgäu region that straddles the Austro-German border, now prefers to compete in freeride events. She managed to win her first event, the "Pitztal Wildface 2019". As a state-certified ski instructor the 22-year-old also does her bit to train the next generation.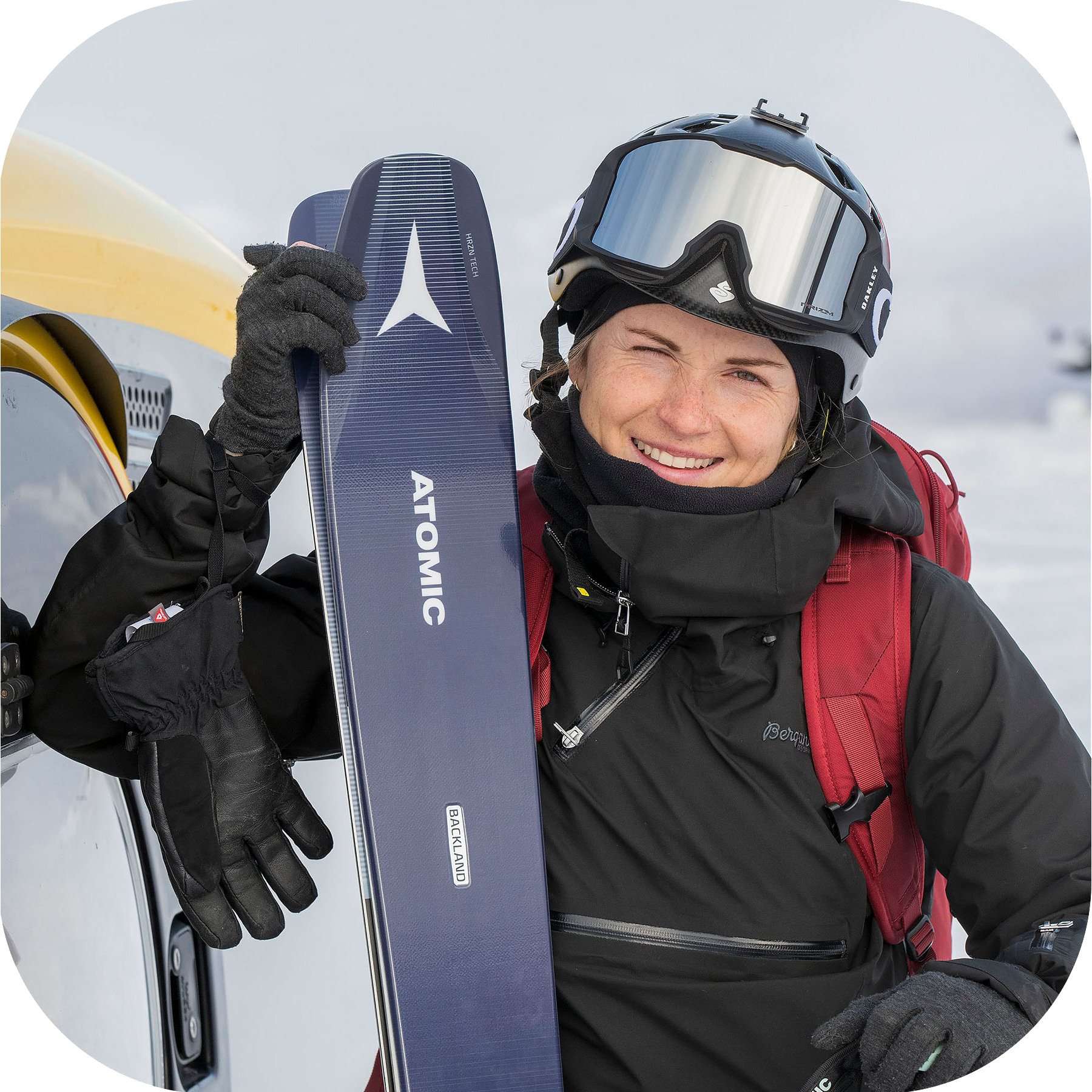 Born in Tromsø but now living in Lillehammer, the 31-year-old Norwegian Marthe Kristofferson was a long-time successful cross-country skier, who also represented her country at the 2010 Winter Olympics in Vancouver, Canada. However, she has long since hung up her narrow cross-country skis to switch to the wider, downhill version – and hardly a day goes by in winter where she doesn't climb a mountain with them.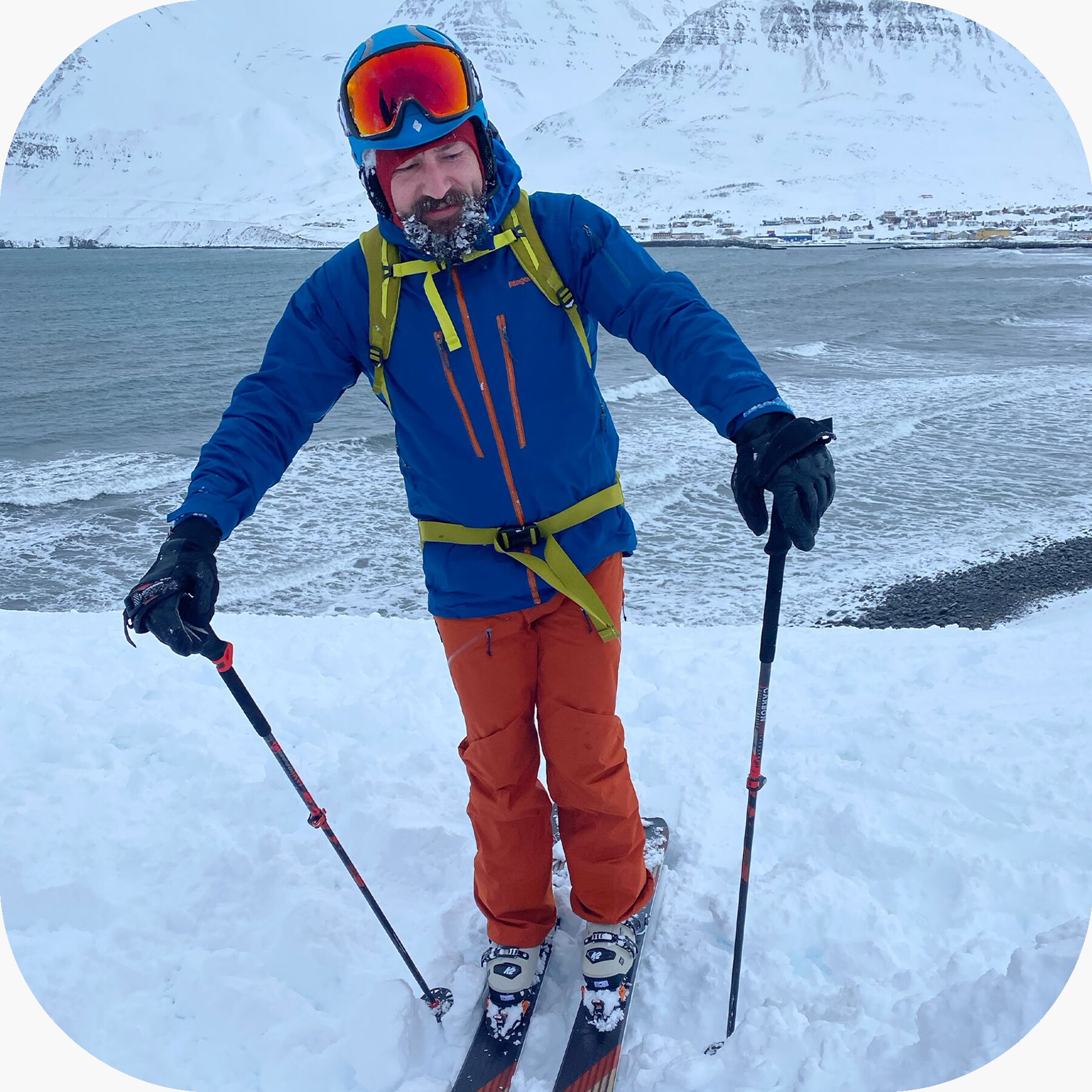 The Wolfratshausen, Bavaria native Matze Brustmann (41) is a man with many talents – be it in a whitewater kayak, as a musician with his band Balloon Pilot, or on skis. From his first ski turns as a three-year-old at Brauneck near Munich, Matze can look back on over 40 accident-free years on mountains and in canyons around the world.
Our night in the camper is short and stormy – but incredibly cozy. Essentially, the camper is a bed on wheels with an exterior kitchen. A dream in summer; maybe not first choice in winter. At least not in such a nasty one. When we booked the camper, what we had in mind was something like the following: we would park up close to one of Iceland's many hot springs, the auxiliary heating would be keeping the inside toasty, while our battered bodies would be resting on the latex mattress after a long ski tour as we admired the Northern Lights through the glass roof. Without giving everything away… we were not even close.
The constantly falling snow is one thing, but the storm that comes with it is much more exciting. The doors can only be opened very cautiously, a maneuver that also brings with it a serving of drift snow onto the down comforter. If you nevertheless have to brave the cold for a bathroom break, you feel like Captain Scott on his way to the South Pole – except that you do at least get to come home again.
New plan needed
So, on just day two of our Iceland tour, we retreat from our camper plan and rent a small log cabin in Olafsfjordur. From now on, the camper will only be used to transport our lavishly dimensioned ski equipment (➜ Read more: 5 tips on how to pack a car properly). This small town is located right on the sea, between Akureyri and Varmahlid, on what is known as the Troll Peninsula, and is surrounded by Iceland's best mountains for ski touring. Wherever you look there are ascents and descents in all aspects, from around 5,000 feet (1,500 meters) above sea level right down to the sea. Just five minutes on Google Earth is enough to reveal the enormous potential of the region, and you quickly have your first tour wish list. If you wanted to you could even bring a surfboard, as the fjord is considered Iceland's best surfing spot, and has achieved worldwide fame thanks to the 2017 Chris Burkard film "Under an Arctic Sky".
Day three also begins with a veritable snow storm and minimal visibility. So we get into the BMW X3, thinking maybe conditions are better inland. We want to pay a visit to the Myvatn region, which is characterized by active volcanicity. After a stop at Godafoss, the most photographed waterfall in Northern Iceland, we start a short ski tour near the Grjótagjá cave. The cave houses a hot spring and is well known to fans of the TV series "Game of Thrones": in one episode of season three, series hero Jon Snow splashes around here with the wildling woman, Ygritte.
A walk on skis
Our destination is the tuff ring of Hverfjall, which is part of the volcanic system of nearby Krafla. In icy temperatures and a cutting wind, we march across the snow desert and enjoy the exercise. Although the summit is only 525 feet (160 meters) high and almost blown clean by the wind, a walk on skis through such a lunar landscape also has its charms. We just have to watch out for the fumarole, the hot gases of which soften the snow cover in places and repeatedly lead to it suddenly giving way. Sometimes this is four inches (10 centimeter), sometimes two feet (50 centimeter). We take it in good humor and hope that the next crack isn't any deeper.
Afterwards we make a detour to Husavik. This city by the sea, famed across Iceland for its whale watching, has a new attraction that particularly stands out in winter: the GeoSea thermal baths, which are spectacularly integrated into a cliff. The baths are said to offer the chance to enjoy the most beautiful sunsets in Iceland while floating around in 102 degree fahrenheit (39 degree celsius) water. We can confirm the temperature. The view? Not so much – once again we had a snow storm to look at. We can only just make out the outline of a lighthouse 60 feet (20 meters) away, and when we decide to go back to our BMW X3 after two hours of pleasant relaxation we are led through the side exit. Apparently the caretaker has clocked off for the day and the main entrance is under 3 feet (1 meter) of snowdrift!
Going bananas!
Back in Olafsfjordur, the snow misadventures continue. In fact, for a day and a half we get snowed in. Despite this, in the meantime we do go on a ski tour… to the supermarket. It's time for bananas. Kitted out like polar explorers, we march through the blizzard. The wind is blowing at hurricane strength and has already turned our BMW X3 into a snowdrift by our cabin (➜ Read more: How to winterize your car). The rest of the time we enjoy the elemental force of nature with a good book in bed while the wind rattles the facade outside, or else we jump into the cabin's very own hot tub on the veranda. If it gets too hot in there, you can always dive into the 3-feet-deep (1 meter) snow in front of our cabin!
Only on the fifth day does the storm relent and the mountains around Olafsfjordur emerge from the mass of cloud. Show time! We are quickly in our ski boots and out of the cabin. It is less than ten minutes on skis to the starting point of our ski tour just at the edge of town. Since it is difficult to assess the risk of avalanches after all the snow and wind, we choose a very conservative route for our ascent. The special magic of ski touring hits us again with every gain in altitude. At first you're just trying to get your breath and find your rhythm, but there comes a point where the view overpowers your feeling of exertion and drives you on more and more. And there really is a lot to see here on the Troll Peninsula. As the colorful Olafsfjordur shrinks to Legoland size, the exposed summit ridge feels more conquerable with every step we come closer to it. And isn't that a whale over in the fjord there?
After three hours and a height gain of around 4,000 feet (1,200 meters), we reach the summit. This is where the second part of the joy begins. As we ascended, we chose a descent and memorized the key landmarks that can be identified from above for orientation purposes. And so, one after the other, we make our mark on the snow heading down the mountain. As fluid as possible, sweeping broadly, making perfect use of the gradient, without sharp corners and unnecessary slowing down, an escape route always to hand should an avalanche break out unexpectedly. Even days later our tracks will showcase to everyone, like a painting, the fun and respect we had for the mountain.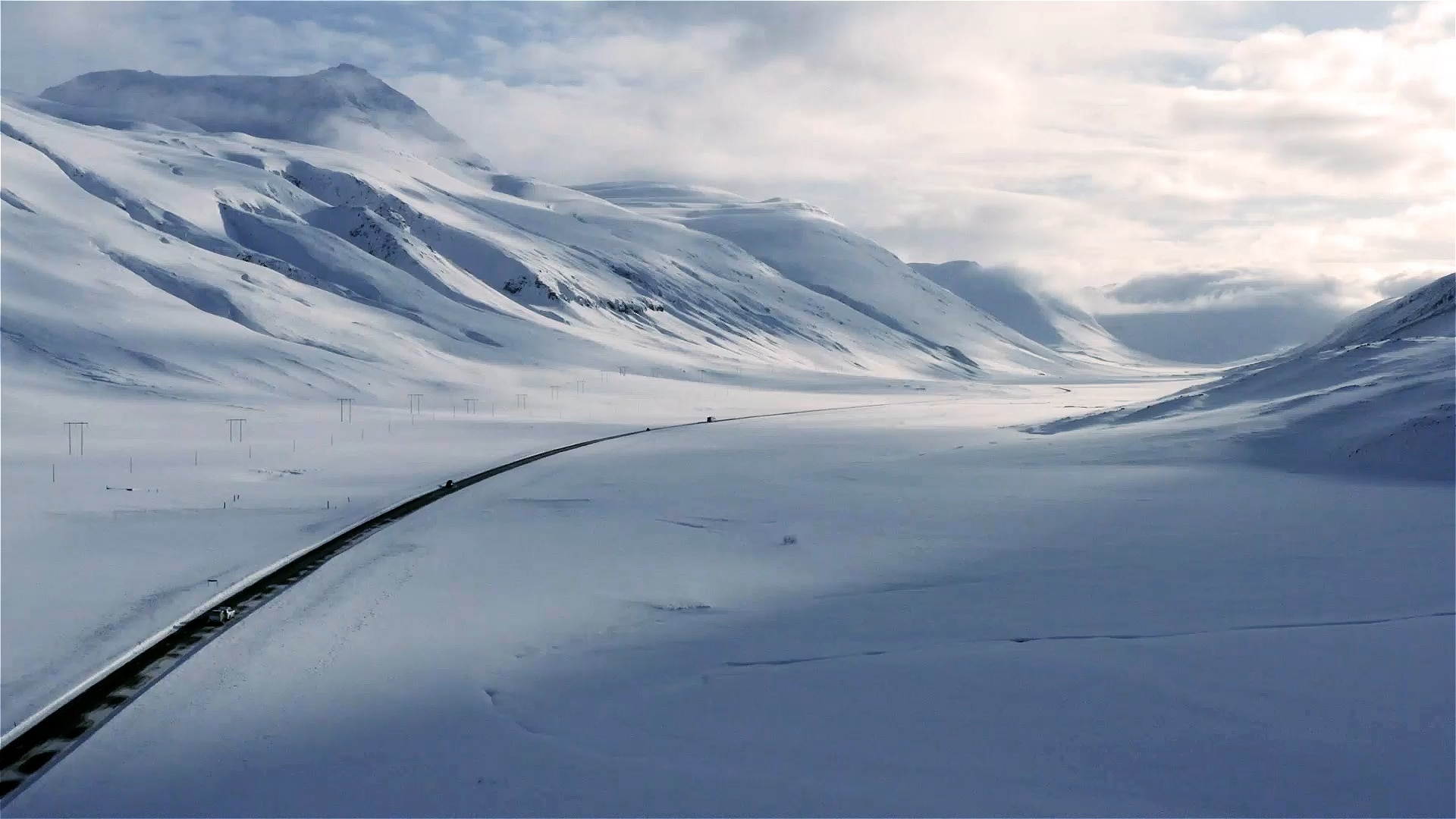 Emergency equipment: Air con and heated seats are all well and good, but if you're traveling by car in Iceland in winter, you should always have a set of winter clothing, including high winter boots, in the car (you can also use ski boots, of course). Because you can get stuck at any time here, and that will call for action.
Max out your baggage allowance: Given the high food prices in Iceland, it's quite understandable if you max out your airline baggage allowance with muesli bars, etc. But you should use baggage scales at home… it's no good finding out at the airport that what you thought was 50 pounds (23 kilograms) is actually more like 60 pounds (27 kilograms)!
Check road conditions regularly: At www.road.is you can find out up-to-the-minute what the passability of your selected route is. Checking this website should be regarded as a compulsory exercise before starting your journey. Even so, snowdrifts can make a road that has just been cleared impassable again within minutes – if in doubt, take your foot off the gas.
Fill 'er up! Fill your gas tank at every opportunity. Outside the built-up areas of Reykjavik and Akureyri, gas stations are definitely not to be found every few miles. You should therefore seize every chance to fill your tank, especially when driving cross-country.
Food and drink: As with gas stations, the range of good and inexpensive restaurants is limited outside the built-up areas. It is therefore wise to rent self-catering accommodation. And there's nowhere better to stock up for that end-of-day beer or a nice bottle of red than in the duty-free supermarket next to the baggage claim area at the airport.
Maximizing the descent – with technical assistance
The only disadvantage of a ski tour like this? Compared to the going up, you always get down far too quickly. And so, we get to the last day of our trip, and it's time to play our trump card: Arctic Heli-Skiing. The company of the same name is based in nearby Dalvik, where Joküll Bergmann founded Iceland's first heli-skiing company over a decade ago. Bergmann offers the full program, from a taster day to a one-week luxury trip with full board in the company's own lodge, and is still flexible enough to free up a slot in his flight schedule for us, disguised ski tourers, within twelve hours. This way, we finally make up the vertical height gain we missed due to bad weather… with some technical assistance.
On the Troll Peninsula, the distances between the starting point and the summit are short, so less than five minutes after we have taken our seats in the helicopter, we are around 4,000 feet (1,200 meters) above sea level. As far as the eye can see there are perfect descents with all aspects and levels of difficulty. And plenty of snow. And there's an additional benefit too: as you start the downhill run, your thighs are still fresh.
Not long later we are flying down the slopes at a speed you would be scared to be doing on a bike. It is up to you to decide whether to make the shortest possible turns between start and finish, or string together wide arcs, with one perhaps every hundred feet (30 meters) of drop in altitude. For me, there's no movement more beautiful. Whereas when you're out jogging you always need something to get you into the "flow", when skiing deep snow this state is reached on the very first turn. You are immediately in the here and now, and all that matters is the next perfect turn. Since the avalanche situation is stable and the gradient is moderate, the guide also allows us to hit the slope together. Like small children we try to dust each other with powder while the helicopter, stationed down by the sea, gets closer far too quickly.
Iceland at its finest
We manage four unforgettable descents before the sea becomes cloudy and visibility deteriorates. Time's up! Without sun there is no contrast, and without contrast there's no joy in skiing – at least not on the wide, treeless slopes of Iceland. Five minutes later we're back in our cozy lodge. Ten minutes later we're showered and ready to depart. Our flight home leaves at seven o'clock tomorrow morning, unfortunately from the other end of the island.
As we head back to Reykjavik, Iceland once again pulls out all the stops in terms of light and landscape, while massaging seats, a panoramic sunroof and the Harman Kardon sound system make our journey all the sweeter. It will still be a while before the sun sets, and so we cruise – still inspired by a sometimes very adventurous week in this winter wonderland – on the empty (and perfectly cleared) ring road in the warm evening light of the south. There can be no finer end to a road trip (➜ Read more: Road Trip Essentials).
Photos/Video/Author: Michael Neumann; Illustrations: Madita O'Sullivan