Always stay up to date
Innovative mobility, exciting trends for the future and high RPMs: Subscribe now to get notified of new content.
Subscription successful.
Subscription failed. If you need help follow the link for support.
HOW DOES THIS SOUND?
You can also listen to this article via Changing Lanes, the official BMW podcast. 
Apart from this and other narrated articles, Changing Lanes offers you fresh new episodes every week, packed with exclusive insights on tech, lifestyle, design, cars, and more – brought to you by hosts Nicki and Jonathan. 
Find and subscribe to Changing Lanes on all major podcasting platforms.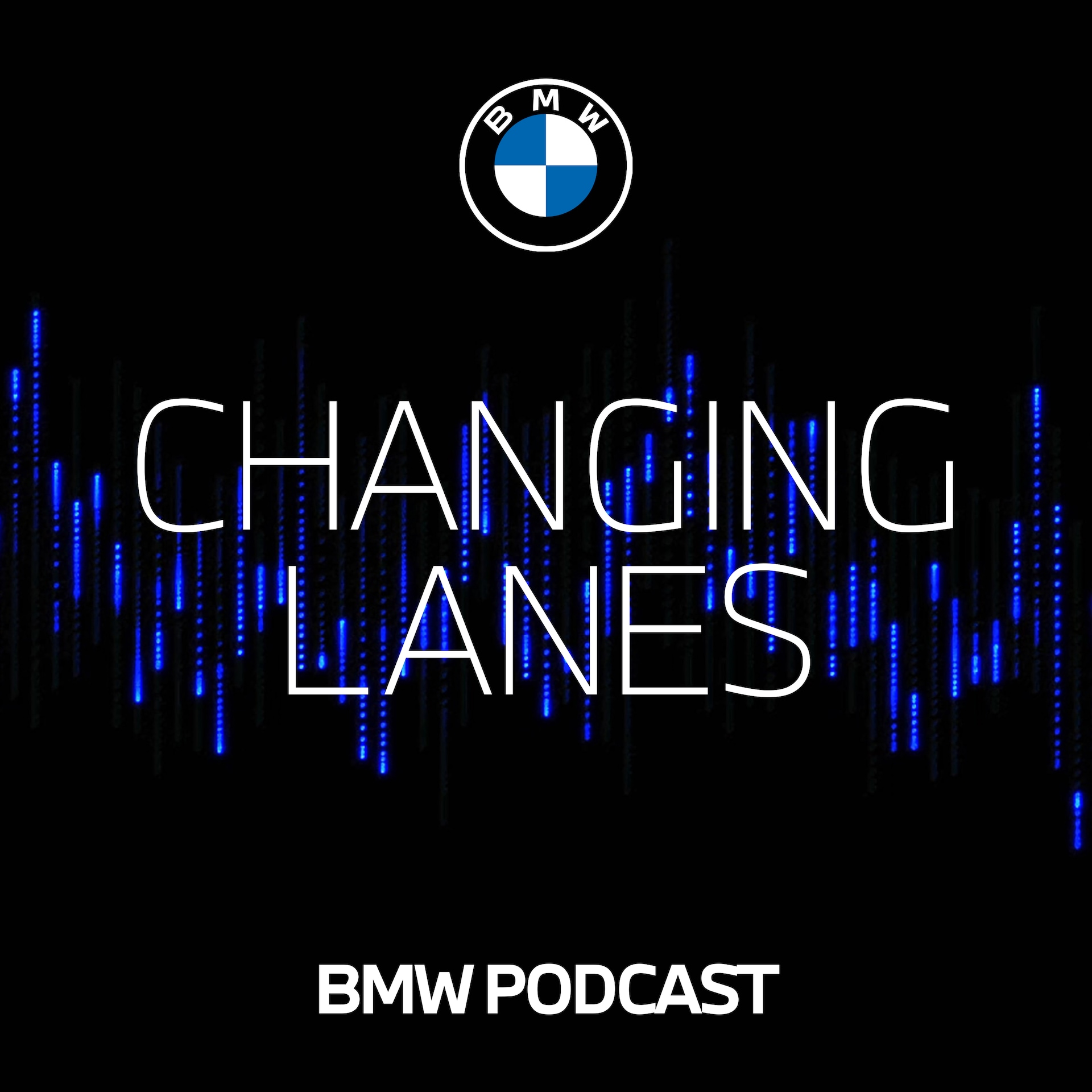 In the natural world, the combination of red and black enables animals to stand out from the crowd.
Robert Paxton
Professor of Zoology at the University of Halle
When black meets red, it's a powerful combination – both in the animal kingdom and in the BMW X5 and BMW X6 Black Vermilion edition. But why is this? What impact do these colours have? Most animals camouflage themselves to avoid ending up on predators' menus. But evolution has found a different, rather bold approach for some animals: standing out at all costs. By having black-and-red colouring, for example. Which brings us back to the Black Vermilion edition models from BMW, where the dominant colour, black, is set off by red accents. These provide a dramatic contrast to the dark Frozen Black paintwork.
Black and red might not seem the most practical colour combination in the animal world, given that it attracts attention. But this is the intended effect, as Robert Paxton, professor of zoology at the University of Halle, explains. Red is a vivid, luminous colour, and its impact is even stronger when combined with black. Animals with red-and-black skin, feathers, or scales stand out, sending a warning to beasts of prey. "Predators quickly learn to steer clear of these animals," Paxton says, because getting too close could be lethal. For animals with these colours, then, there's no reason to hide. Quite the opposite: their eye-catching appearance protects them.
Likewise, the BMW double-kidney grilles of the BMW X5 and BMW X6 Black Vermilion edition make observers sit up and pay attention. You don't need to be a predator to immediately spot the Chilli Red vertical slats. The Iconic Glow function illuminates the kidneys from within, adding to the sense of something special. And speaking of special: one animal that has made this bold colour scheme its own is the poison dart frog. This amphibian's colours send predators a clear message: "Don't get too close!" There's a glaringly obvious reason: this rare frog is one of the most poisonous animals on the planet.
CO2 emissions 251 − 242 g/km (combined)
Fuel consumption 10,9 − 10,5 l/100 km (combined)
Rare means exclusive – and this certainly applies to the Black Vermilion edition of the BMW X5 and BMW X6. The M Sport package adds to the exclusivity: the specially designed front and rear aprons are sure to impress any observer, as are the matt Orbit Grey 22-inch M light alloy wheels, which were exclusively designed for the edition models. With their mixed tyres and the M sport brakes' red brake calipers, which make a bold statement from behind the rims, the Black Vermilion versions are anything but inconspicuous. And they guarantee you the utmost in exclusivity.
In the case of the frogs, the vivid red colouring combined with the black also signalises dominance.
Evan Twomey
Researcher at the Goethe University Frankfurt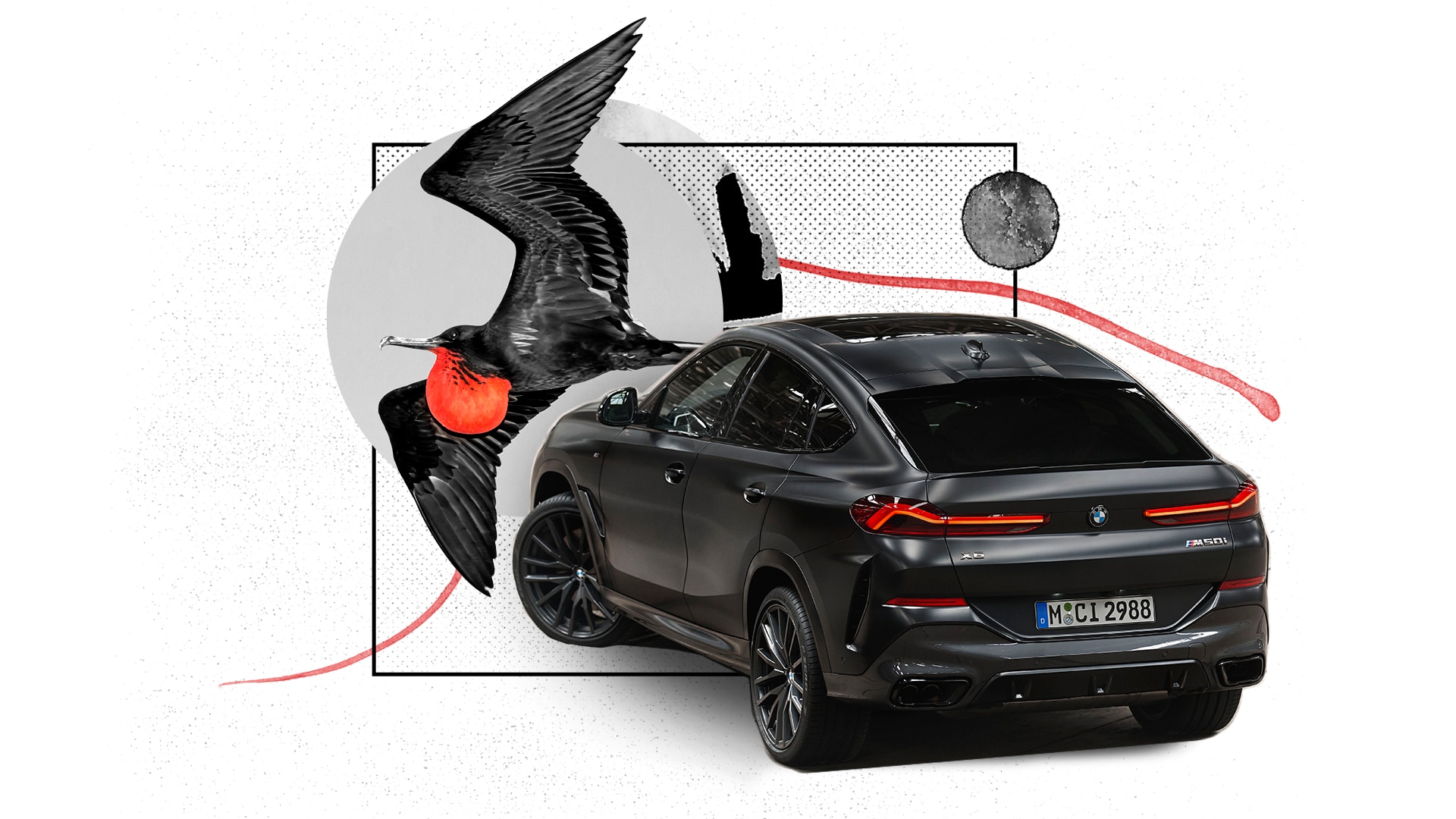 CO2 emissions 249 − 240 g/km (combined)
Fuel consumption 10,8 − 10,5 l/100 km (combined)
Black-and-red animals are as exclusive as the Black Vermilion edition. This is partly because in nature, red is a complex colour to produce, as Evan Twomey, a poisonous frog expert at the Goethe University Frankfurt, explains. With its distinctive red gular pouch, the male frigate bird is another of the animal kingdom's more unusual-looking creatures. It uses its eye-catching throat pouch to attack other birds and rob them of their prey. This isn't difficult, as the frigate bird boasts other characteristics that make it stand out from the competition, including a large wingspan and light bones, both of which make it an excellent flyer.
What's more, exclusivity plays an important role for animals when selecting a mate. After all, eye-catching colours increase visibility among potential mates, says Twomey: "The females of many bird species prefer males with brighter red colouring." And the brighter a colour is, the healthier the bird – a very attractive attribute in the animal kingdom.
The interior of the Black Vermilion models is equally attractive. The shimmering M headliner in Alcantara Anthracite, for example, exudes class. The Crafted Clarity glass application on the iDrive controller, automatic gear selector and start-stop button add further accents, as does the BMW Individual interior trim in Fineline black premium wood with aluminium inlays.
In the ocean depths, too, there are animals boasting arresting red-and-black colouring. Here, the purpose of this colour combination is not to protect, but to lure prey. For instance, the dragon fish lives in total darkness at depths of several hundred metres. Its special talent is producing a red light that attracts potential food. Dragon fish numbers are limited – just like BMW Black Vermilion models. The BMW Individual black all-leather interior only heightens the exclusivity. Features include red contrast stitching on the driver's and passenger seats in the BMW X5 and BMW X6 and red accents on the back seats in the BMW X5.
So there's no reason to hide. This applies to the BMW X5 and BMW X6 Black Vermilion edition models as much as it does to many black-and-red animals. After all, the latter know that they have few natural enemies. Take the coral snake. It moves with great self-confidence, if one can say that about animals. Thanks to its distinctive colour, it has nothing to fear. So along with their shared colouring and exclusivity, rare black-and-red animals resemble the BMW X5 and BMW X6 Black Vermilion edition in another sense: they all exude self-confidence.
Photos: BMW; Author: Nils Arnold; Illustrations: Carolin Wabra