My workshop is my living room. As I work, I enjoy the view of the vibrant city scene.
The Campiello del Sol is just a few minutes' walk from the famous Rialto Bridge. However, it's miles away from the Venice familiar to package tourists and day-trippers. Inconspicuous facades line the Campiello – or little square – in the district of San Polo. In one corner, a quiet pizzeria waits for its guests, while another recess of the square conceals the unremarkable workshop belonging to shoemaker Gabriele Gmeiner.
There, behind exposed brickwork and a large window, the Austrian-born Gmeiner has, for the past 16 years, been producing possibly the finest shoes in Venice. There's nothing of the city's gaudy palaces or glamorous festivals on display here, however. Instead, Gmeiner's workshop creates an almost archaic impression, with its traditional tools on the wall and solid wood furnishings. It's hard to believe that this is a place where custom shoes are made, costing between 2,500 and 12,000 euros a pair.

"The workshop is my living room," Gmeiner explains. "As I work, I enjoy the watching the vibrant city scene outside my window. Children play in the square. And when my neighbors walk past the window, they greet me with a wave."

Gabriele Gmeiner could be called a shoemaker. But that would be an understatement. Her handmade shoes are symphonies – symphonies in which the 46-year-old craftswoman attends to every single note.

Months of Waiting for a Lifelong Love
This care and love of detail is reflected in every stage of Gmeiner's work. After a preliminary discussion with her customer, Gmeiner measures each foot, both in sitting and standing position. Next, she carves the lasts from a beechwood billet over a period of four to five days. These molds, which mimic the shape of the feet, first provide the shape for a pair of trial shoes, which Gmeiner produces from second-grade materials and which the customer wears for two weeks. "It's very important that I see the trial shoe being worn to gain some insights," Gmeiner says. On this basis, she can then make tiny modifications, for example in places where the shoes appear to be pressing.
The production of the actual bespoke shoes can take up to 18 months. "It's not just the manual production process that takes so much time," Gmeiner explains. "The shoe also needs a long time to rest on the last." In addition, there may be a wait for the high-quality materials involved. For her welted shoes, Gmeiner uses mainly calf leather, which is tanned in a tanning agent made from bark and acorns. "This natural process is comparable to a Parmesan cheese that ripens for 48 months and develops special qualities in the process," she explains. Gmeiner sources the leather uppers from France and the leather linings from Pakistan. Sometimes she also uses Cordovan horse leather from Horween, a traditional factory in Chicago.

Handmade shoes are a very personal matter. My customers can feed in their wishes even during the production process.
High-quality materials with personality
Aside from one intern, Gabriele Gmeiner has no employees. She handles most of the manual processes herself, processing up to 20 jobs at any one time and therefore only completing two or three pairs of shoes a month. With regard to shape, color, and material, Gmeiner is guided by the wishes of her clients. "Handmade shoes are a very personal matter," the custom shoemaker explains. "Customers are welcome to get involved here in the workshop and feed in their wishes even during the production process."
Typically, her clients favor a more traditional and conservative design. Gentlemen prefer Oxford shoes, loafers, brogues, or Derby shoes. Men, in fact, make up around 85 per cent of Gmeiner's customers. "Women tend to look for a shopping experience," the shoemaker says in explaining this phenomenon. "Lots of men, on the other hand, appreciate the fact that they can order further pair of bespoke shoes without much effort, as they can be produced from their own personal lasts." Gabriele Gmeiner keeps every single last that she makes. Hundreds of examples are suspended from the ceiling in her workshop. When a customer orders an additional pair of welted shoes, production takes only a few months.

From artists to Arab princes
One of Gabriele Gmeiner's loyal customers is an Arab prince – from the Kingdom of Bahrain. "One time, he ordered ten pairs of shoes in one go. That pushed me to the limit of my abilities," Gmeiner recalls. Her clientele includes not just artists and royalty but businesspeople and executives. What unites these customers, however, is a special appreciation of shoes as something much more than a short-lived fashion item. The studio in which Gmeiner produces her custom-made shoes is therefore not the best place for keeping up with trends.
Gabriele Gmeiner comes from the mountainous Vorarlberg region in the west of Austria – from what she calls a "quite normal middle-class family." She originally wanted to be a sculptor. "But then I opted to study applied art, the art of shoemaking," she explains. Her career took her, in the early 1990s, to Cordwainers College, which is now part of the London School of Fashion, "cordwainer" being an old-fashioned word for a high-class shoemaker. Gmeiner's résumé also includes time spent in the London and Paris workshops of John Lobb, whose handmade shoes have been worn by the Prince of Wales, Frank Sinatra, and Enrico Caruso. In addition, Gmeiner also gained experience at Hermès in Paris.

Venice is a city for walking around.
The greatest luxury: standing on her own two feet
In 1997, Gabriele Gmeiner came to the Italian province of the Veneto and started to work for Rolando Segalin in Mestre, the city next door to Venice on the mainland. Segalin is one of the greatest of Italian shoemakers. After three years, he offered Gabriele Gmeiner the option of taking over his workshop. Instead, the then 31-year-old Austrian discovered the little studio in the Campiello del Sol and decided to set up on her own. While having her own workshop in Venice sounds like the fulfillment of a dream, for Gmeiner the decision was more a matter of common sense. Thanks to its strong appeal in terms of cultural tourism, Venice attracts the kind of clients who are willing and able to purchase custom-made shoes.
When Gabriele Gmeiner's customers visit her business, they can't simply drive up in their cars. Of course, as a car-free city, Venice, lends itself to particular modes of travel. People take the boat and walk around a lot, learning to appreciate the advantages of high-quality footwear.

For Gmeiner, welted shoes have something in common with premium automobiles. Wearers of her shoes – just like drivers of such cars – enjoy the refinement of their chosen mode of travel. For them, it's not just a matter of getting there. Whether wearing bespoke shoes, driving a top-class car, or traveling by boat, the focus is always on pleasure and the individual experience.

Like a second skin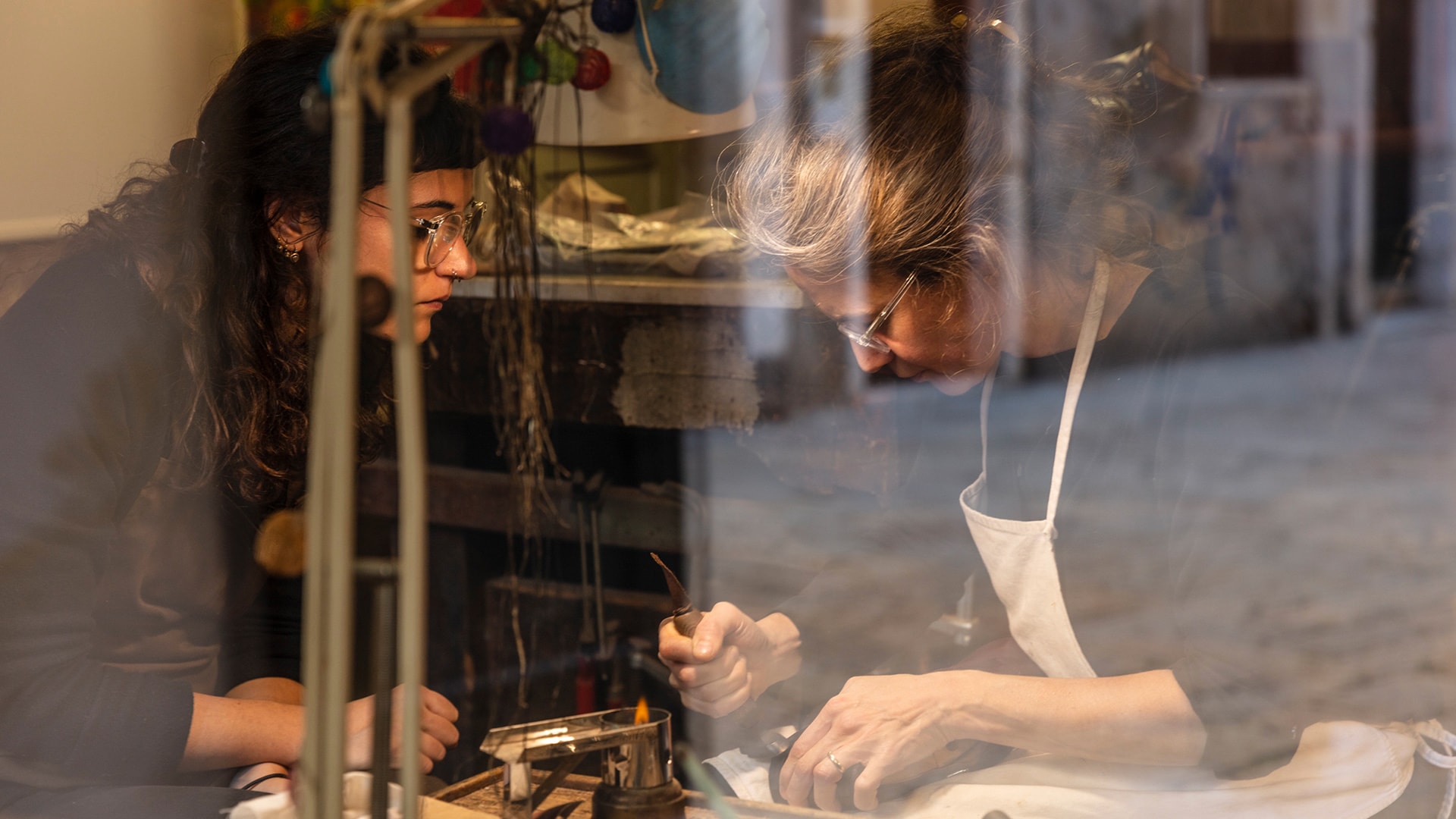 "Venice is a city for walking," says Gabriele Gmeiner.The custom shoemaker,  who is married to a local , depends on walk-in traffic in the truest sense of the term. The city's inhabitants, too, are stylish and fond of beautiful objects. However, they tend to have a rather lackadaisical attitude to their footwear in Gmeiner's view: "Lots of people simply wear sneakers."
While custom-made shoes are certainly a kind of luxury, for Gmeiner they are also a form of common sense. "If you have a bad posture or walk wrong, it will have an effect on your entire body," she explains. "Handmade shoes are like a second skin. Sneakers and ready-to-wear shoes give the feet too much room and provide little resistance. This means that the muscles of the feet don't have to work and start to degenerate." The consequences are often seen in the person's posture and can be felt particularly in the spine.

Sometimes, even the prospect of wearing handmade shoes seems to bring relief, as Gmeiner explains with a smile: "A famous cellist was battling with back problems and was hoping that custom-made shoes might help. While he then had to wait here in the workshop, he sat down on the hard wooden bench – and was instantly free of pain, at least for a moment."

Needless to say, Gabriele Gmeiner's son wears handmade shoes. His lasts hang directly above her workbench. As she walks with six-year-old Giacomo through the alleys of Venice, Gmeiner enjoys the atmosphere of the hidden nooks and crannies that are little known to tourists. Her favorite places include the southern part of La Giudecca and the former market garden island of Sant Erasmo.
Gabriele Gmeiner has found her perfect little microcosm in an very authentic part of the city of canals. Venice fascinates and inspires her time and again, especially with regard to the artistry of her craft. This inspiration, however, isn't only drawn from grand masters like Titian and Tintoretto. "Inspiration often comes when I'm not looking for it," Gmeiner explains. "For example, when I walk around the city or by the lagoon."  She does indeed enjoy letting herself drift through the city– not by boat, though, but on foot.

As well as high-quality shoes, many of Gabriele Gmeiner's guests look for a stylish place to stay as a break from their day-to-day cares and the tourist hubbub. Here are her five recommendations for the finest hotels in the city of canals.

Aman Venice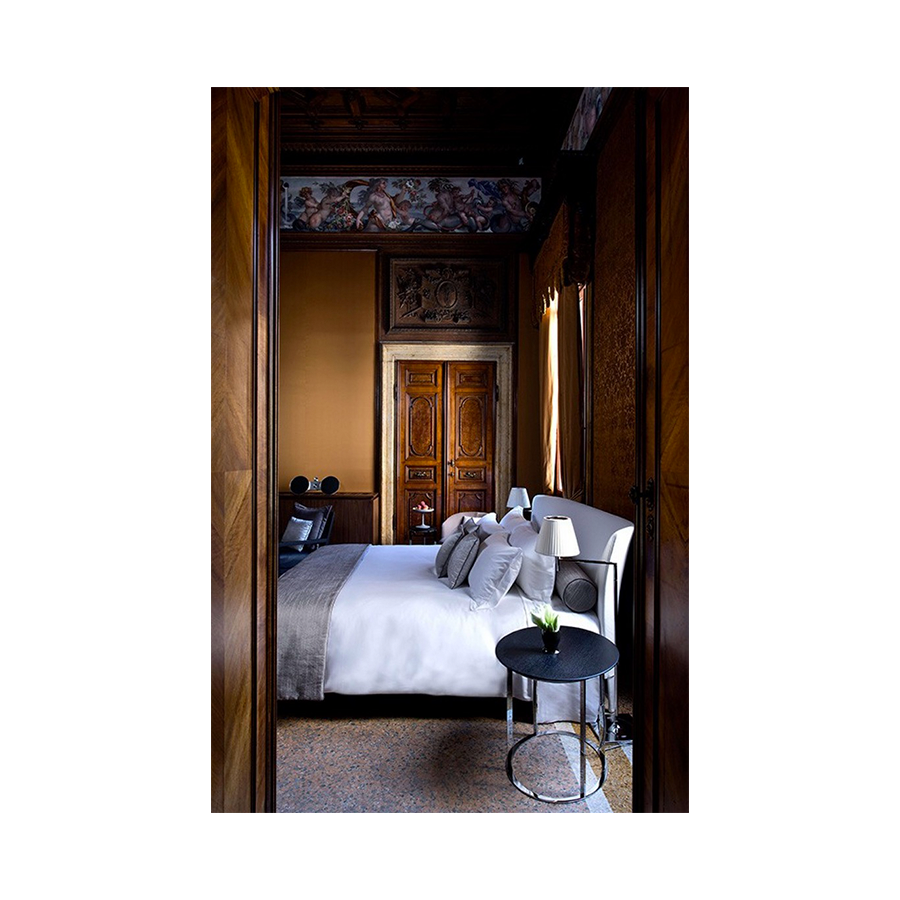 The Aman Venice luxury hotel is the go-to address for a luxury break in the city. The historic 16th century palazzo, with designs by Jacopo Sansovino and with frescoes by Tiepolo himself, was the place where George Clooney celebrated his wedding. On the bank of the Grand Canal, the hotel's 24 luxurious rooms and suites, along with a picturesque garden, are the perfect place for waterside relaxation. www.aman.com

Palazzo Venart Luxury Hotel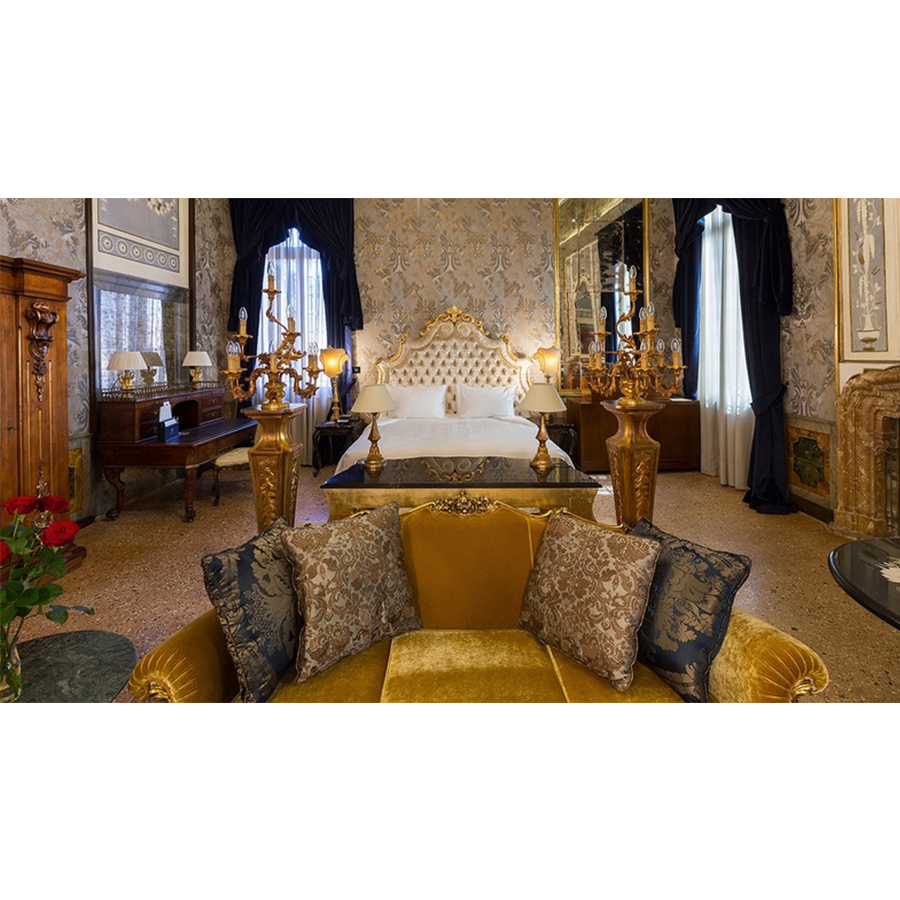 This five-star Venice hotel is also hidden in a 16th century palace. The Palazzo Venart, which is located in a somewhat quieter part of the Santa Croce district to the northwest of the Rialto Bridge, is a real oasis of luxury. My favorite spot: the elegant, symmetrically designed garden. From there, you enjoy a fantastic view over the Grand Canal as you sip your espresso or glass of wine. www.palazzovenart.com

Palazzo Abadessa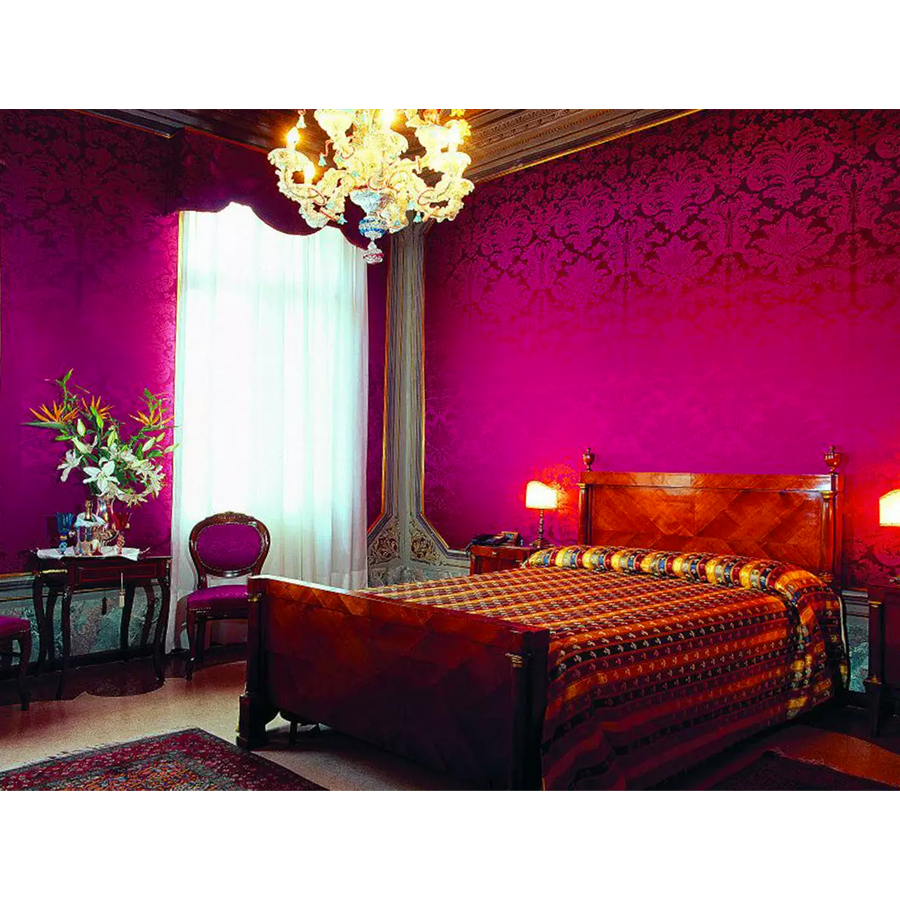 This is a stylish four-star Venice hotel close to the Ca d'Oro and north of the Rialto Bridge. With frescoes from the 16th century, furnishings from the 18th century, and an unusually generous garden by Venetian standards, the hotel is a haven of calm and inspiration. www.abadessa.com

Al Ponte Antico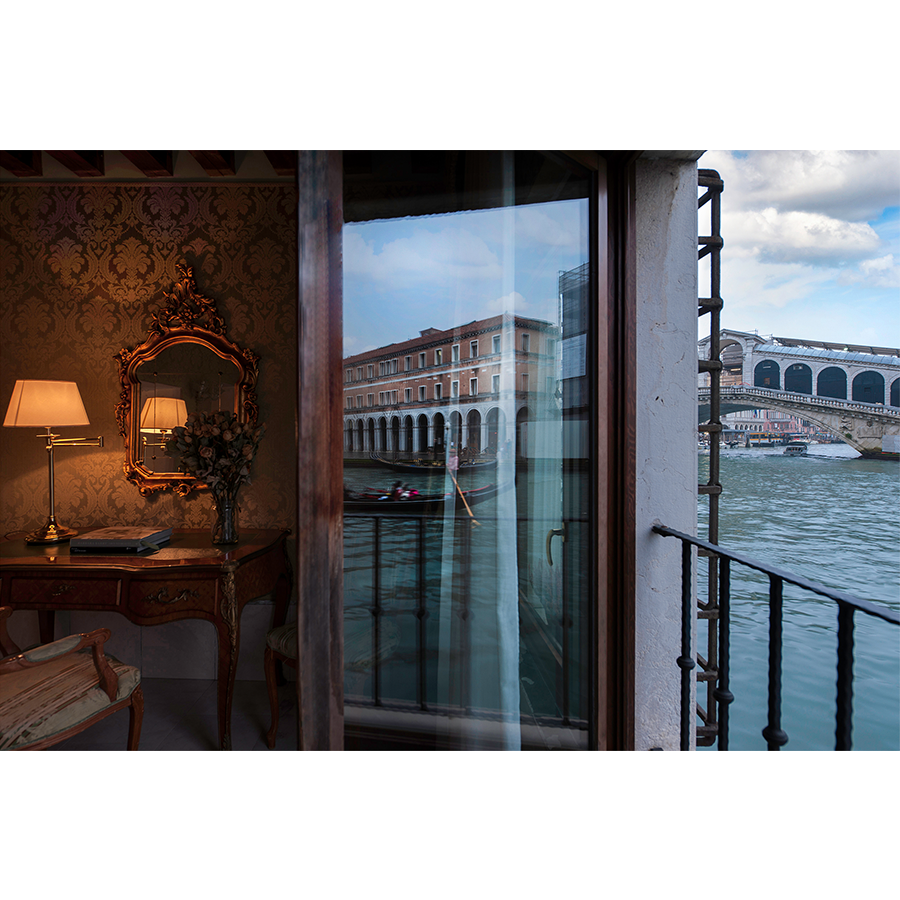 In the heart of the city and offering superb views, this very traditional Venice hotel stands on the Grand Canal. Just a few steps from the Rialto Bridge, guests can enjoy the famous landmark and enjoy top-class views. www.alponteantico.com

Hotel Heureka Venedig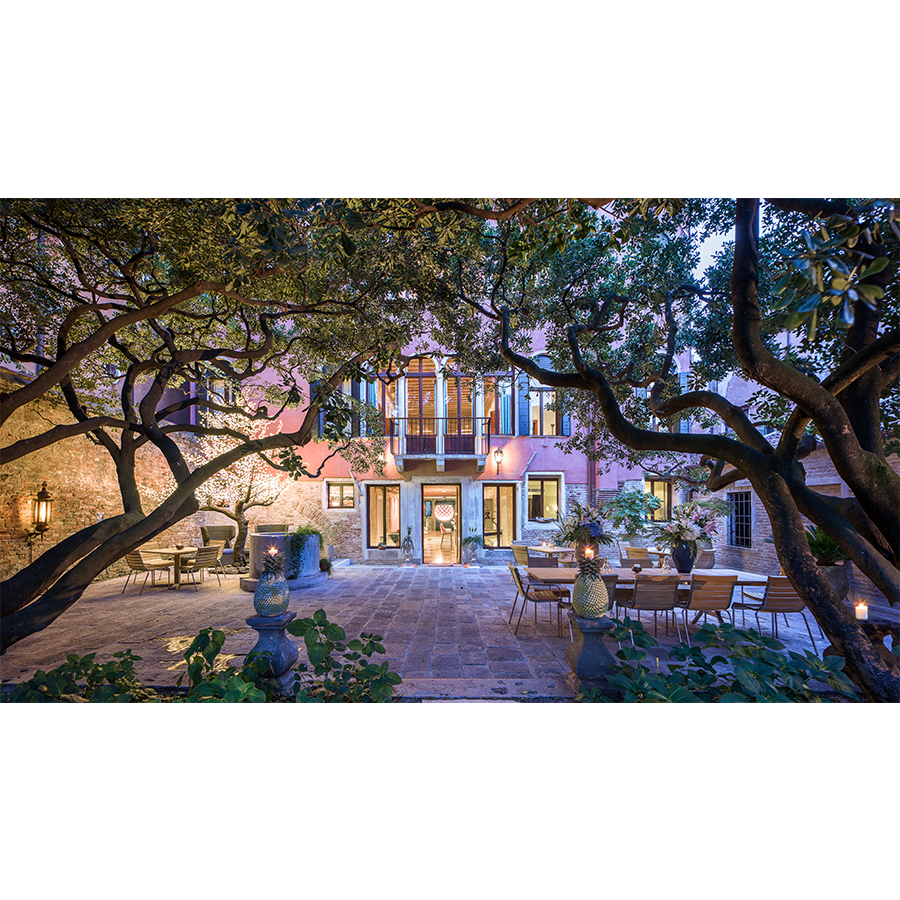 This enchanting combination of a Venetian palazzo and a luxury hotel is situated in the northern, very peaceful and authentic part of Venice close the church of the Madonna dell'Orto. It's perfect for visitors who are seeking accommodation away from the hustle and bustle and off the beaten track. www.hotel-heureka.com