Always stay up to date
Innovative mobility, exciting trends for the future and high RPMs: Subscribe now to get notified of new content.
Subscription successful.
Subscription failed. If you need help follow the link for support.
BMW carries the symbolic message in its very name: the M in the middle of the acronym stands for "Motoren," or engines. It stands for the beginning of the company, and for engine technology of the highest standard over many decades and for various means of transport. Be it for a plane, a motorcycle or an automobile, BMW pioneers new technologies. So we've chosen not one legendary BMW engine for you, but twelve. And we've done it as objectively as possible, but as subjectively as necessary. We make no claim to completeness. Ultimately, every gearhead has a different focus – so this list is the perfect debate starter.
How does this sound?
You can also listen to this article via Changing Lanes, the official BMW podcast. Apart from this and other narrated articles, Changing Lanes offers you fresh new episodes every week, packed with exclusive insights on tech, lifestyle, design, cars, and more – brought to you by hosts Sara and Jonathan. Find and subscribe to Changing Lanes on all major podcasting platforms.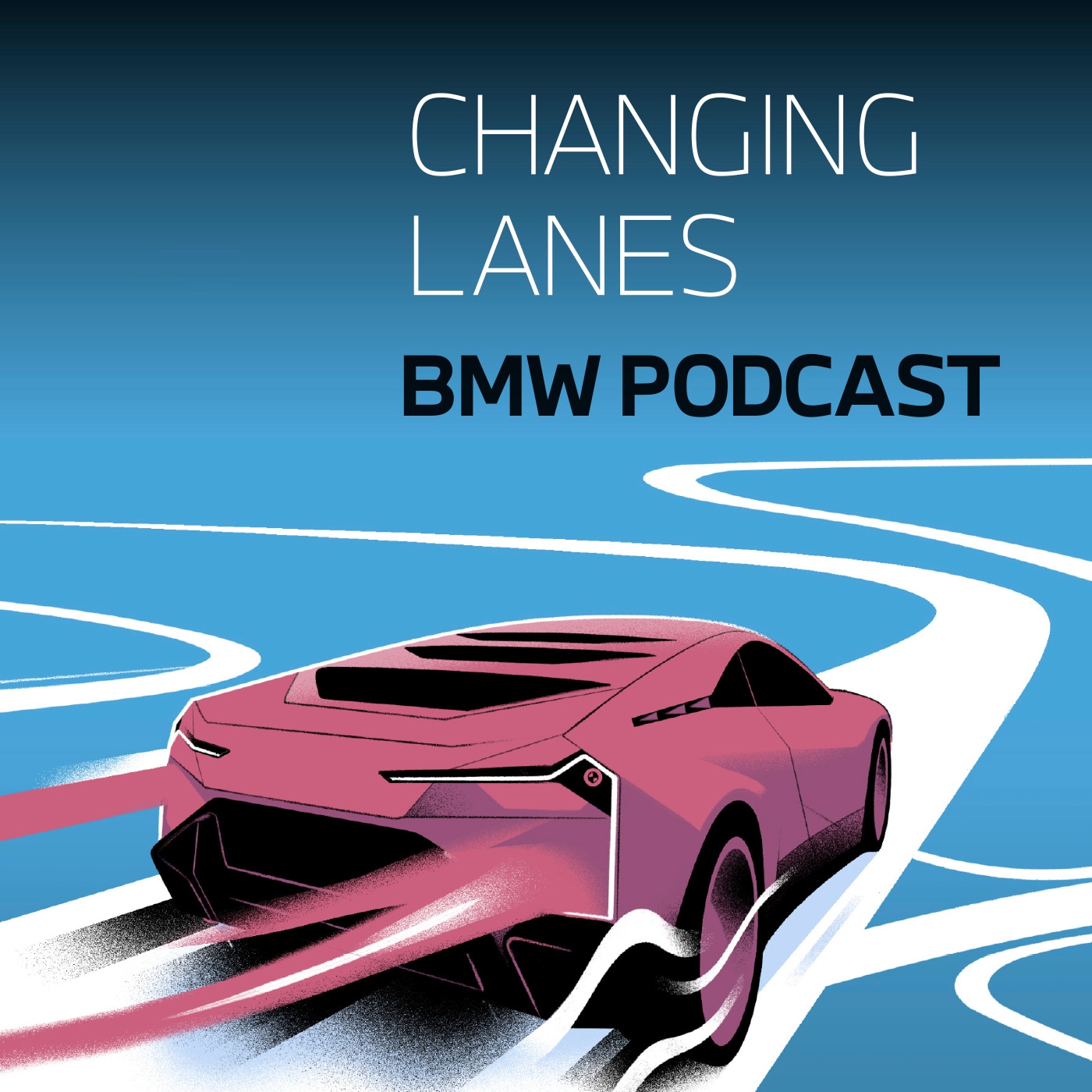 The inline 6-cylinder BMW Illa aircraft engine (1917)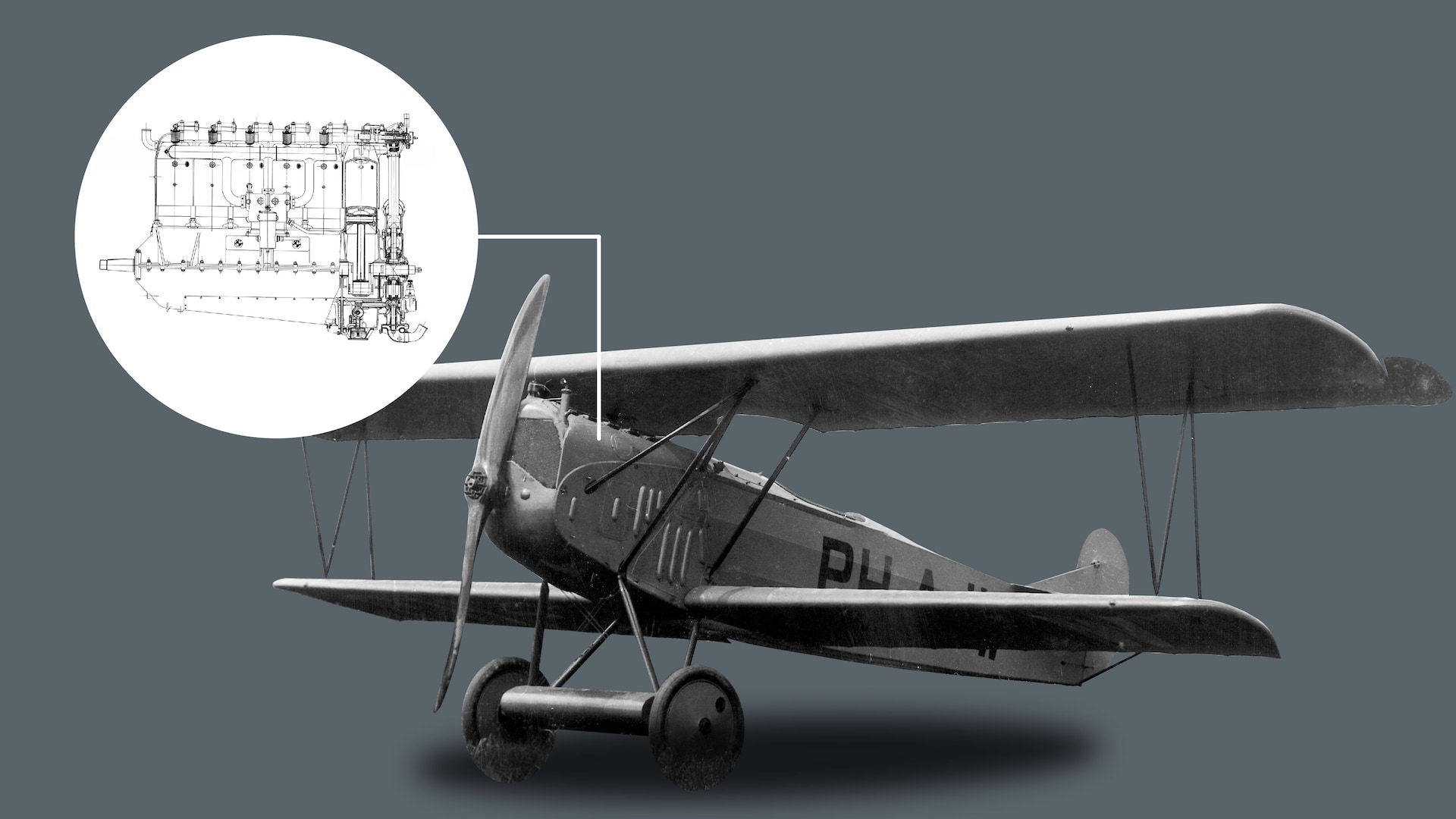 BMW stands for "Sheer Driving Pleasure" – on two wheels or four. They could have used "Sheer Flying Pleasure" originally, because shortly after the foundation of the Bavarian Engine Works – or "Bayerische Motoren Werke," better known to us by the acronym BMW – engineers developed the company's first engine in 1917: the BMW IIIa aircraft engine. The engine is characterized by its sophisticated technical design, which prevents loss of performance at great heights. With the enhanced Motor IV model, BMW even set an unofficial altitude record of 32,021 feet (or 9,760 meters) in 1919. This pioneering work and the reliability of the assembly enabled the young BMW to take up a leading position right from the start.
Facts and figures: 
Water-cooled, inline 6 cylinder engine with carburetor
Engine displacement of 1,163 cubic inches (19.1 liters)
Power output 140 kW (185 hp)
The 2-cylinder boxer engine in the BMW R 5 motorcycle (1936)
From aircraft to motorcycle engines: even today, biking enthusiasts still go all misty-eyed at the mention of the BMW R 5. This machine is powered by a 30-cubic-inch (500 cc) boxer engine with an impressive power output for the time of 24 hp. A notable technical feature here is the valve control via two camshafts. The R 5 quickly earned a reputation for being particularly reliable and robust. Incidentally, gear-shifting on the R 5 was by foot – a novelty at the time that then established itself as the standard. The idea of the R 5 lives on in today's BMW motorcycles, for example in the R 18. The engine and valve covers on the R 5 served as a visual model for the design of the corresponding parts of the BMW cruiser.
Facts and figures:
2-cylinder boxer engine
Engine displacement of 30.5 cubic inches (0.5 liters)
Power output 18 kW (24 hp)
The inline 6-cylinder engine in the BMW 328 (1936)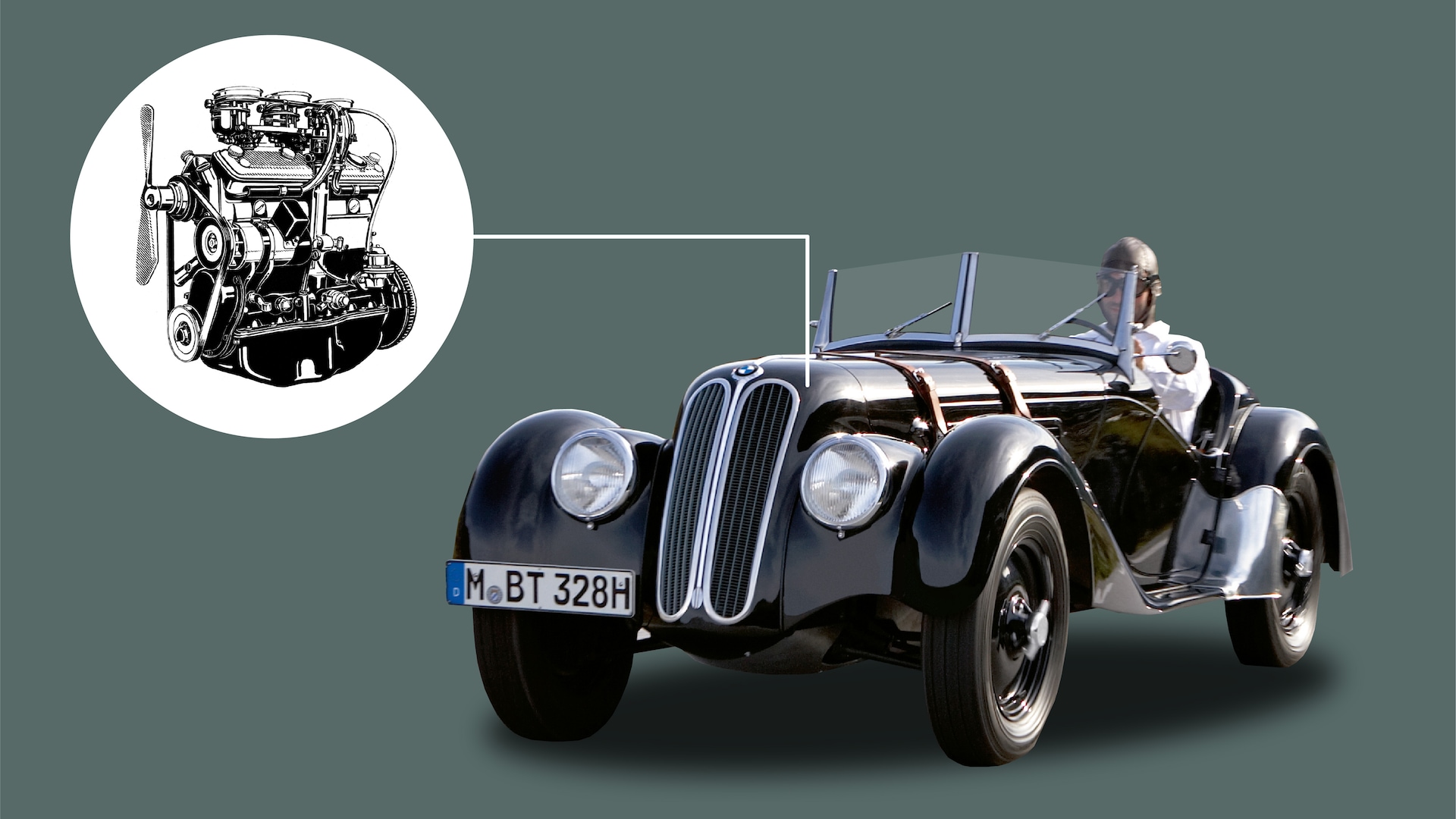 The legendary engine of the BMW 328 established the reputation that has preceded BMW ever since: the German drive units are considered to be particularly sporty. And in this regard the BMW 6-cylinder engine, as used in the BMW 326 model way back in 1936, is another outstanding example. The engine from the BMW 326 was given a modern aluminum cylinder head and then delivered around 80 hp in the BMW 328 – and above all was able to hit up to 5,000 rpm. Thanks to the rear-wheel drive and the low weight of just over 1,800 pounds (around 800 kilogramm), this sports car was a real driving machine – more than 80 years ago!

Facts and figures:
6-cylinder inline engine
Engine displacement of 122 cubic inches (2.0 liters)
Power output 59 kW (80 hp)
The V8-cylinder engine in the BMW 502 (1954)
Due to its curved body and sweeping lines, the BMW 502 is popularly known as the "Baroque Angel." But there's nothing Baroque about its BMW V8 engine. In fact, the world's first mass-produced V8 aluminum alloy engine was very much high-tech at the time, as were the brake booster, the power clutch and the disc brakes, the last of which would later be fitted as standard. The authorities, too, were impressed by this car's reliability, and police and fire departments used the BMW 502 as an emergency vehicle. But the most striking feature of the BMW 502 is, and will always be, the gratifying BMW V8 engine.
Facts and figures:
8-cylinder V engine with carburetor
Engine displacement of 158.7 cubic inches (2.6 liters)
Power output 74 kW (100 hp)
The 4-cylinder turbo engine in the BMW 2002 Turbo (E20) (1973)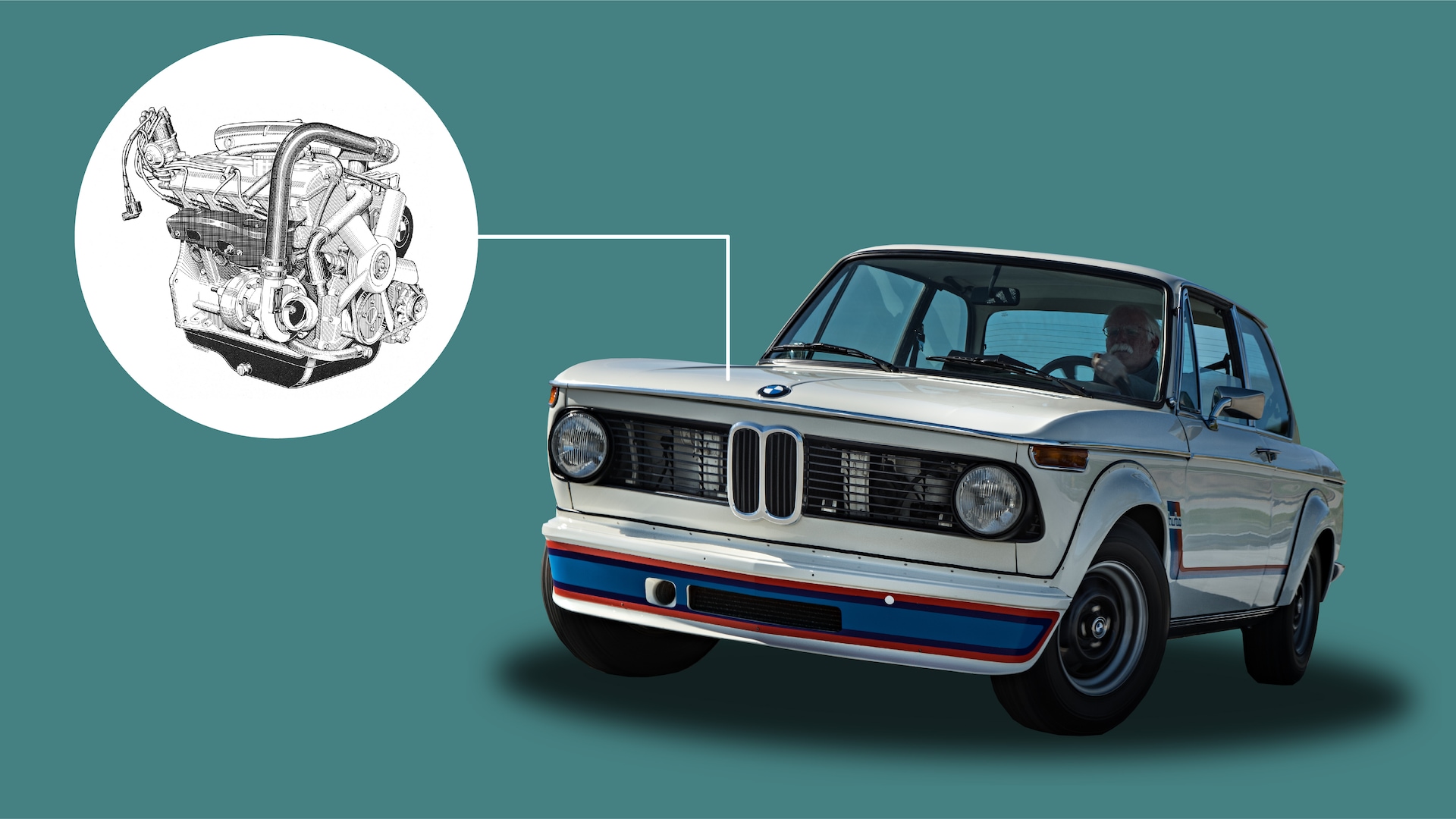 A production engine with turbochargers? 50 years ago, that was as rare as a four-speed manual transmission today. Pithy phrases from days gone by such as, "Turbo on, gas gone" or the "Turbo commemorative second" (for the delay there used to be before the power from a turbocharger kicked in) have also virtually disappeared from automotive vernacular. However, the enthusiasm for turbocharged engines has not. This 122-cubic-inch (two-liter) turbo produced what for 1973 was an incredible 170 hp, which also pushed the BMW 2002 Turbo into the real sports car bracket, with a top speed of 131 mph (211 km/h). This model was also the first mass-produced European car with a turbocharger. Today, the turbocharger is an important technology to make car engines even more efficient.
Facts and figures:
4-cylinder engine with turbocharger
Engine displacement of 122 cubic inches (2.0 liters)
Power output 125 kW (170 hp)
The inline 6-cylinder engine in the BMW 3.0 CSL racing coupe (E9) (1974)
At the end of the 1980s, the "multi-valve" became popular: the four-valve technology from auto racing was increasingly used in mass production. This made it possible to increase the power output of the engines, like with the engine in the legendary BMW 3.0 CSL racing coupe from 1974. While the production version was a two-valve that produced up to 206 hp, the racing version could reach 440 hp – not least thanks to the four-valve cylinder head and a greater engine displacement of 213.5 cubic inches (3.5 liters). In the meantime, multi-valves have now become standard in engine design and help us save resources as we drive. An aspect whose importance is becoming ever more important.
Facts and figures:
Four-valve, inline 6-cylinder engine
Engine displacement of 213.5 cubic inches (3.5 liters)
Power output 324 kW (440 hp)
The 4-cylinder turbo engine in the BMW Formula 1 racing car (1983)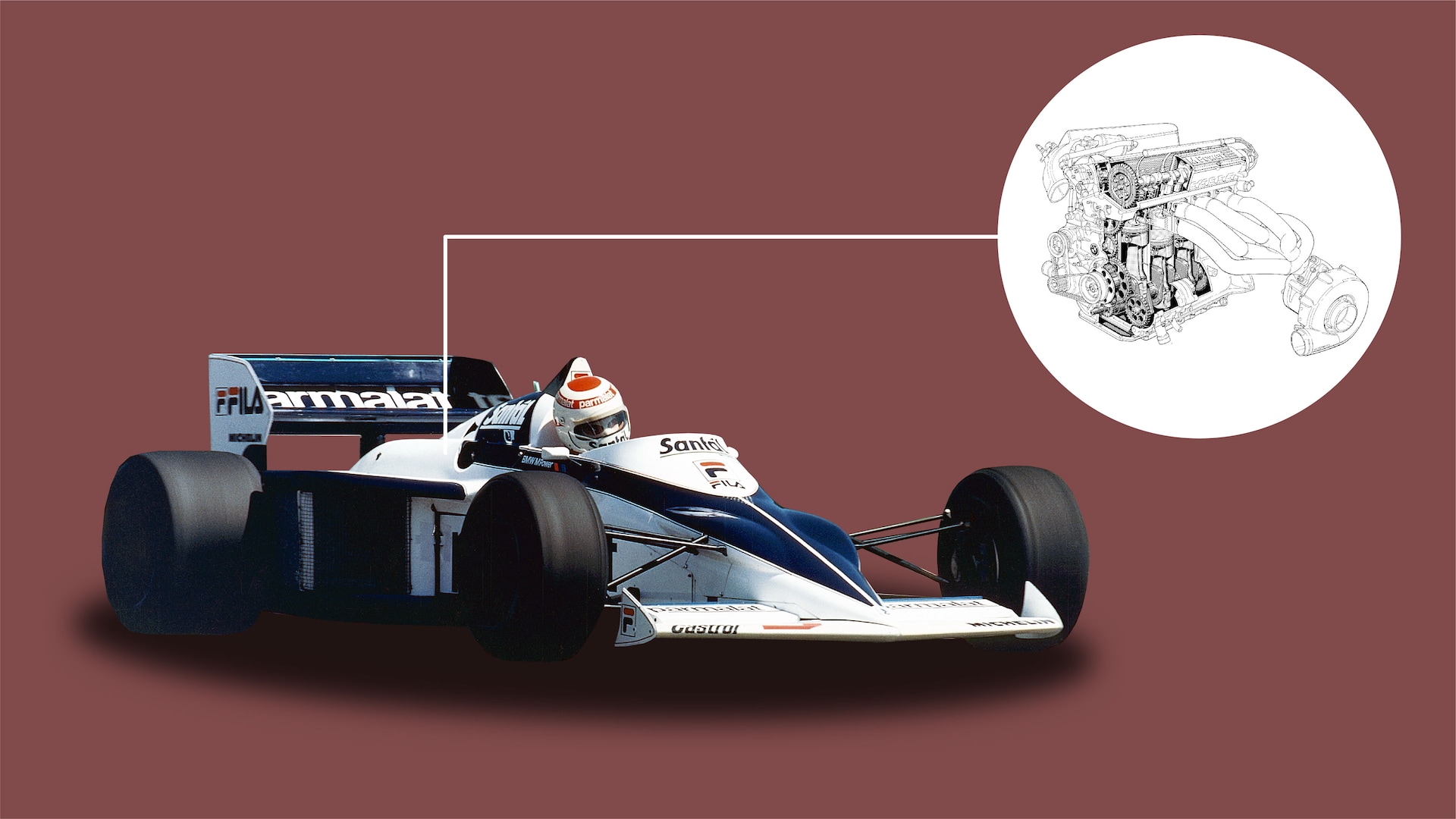 From large-volume power units to small, souped-up engines. Although it's only the 92 cubic inch (1.5-liter) engine displacement that is "small" here, as the power output of this 1980s BMW Formula 1 engine was enormous. It's rumored that the power in versions used in training sessions reached up to 1,200 hp. Such an explosion in performance was a challenge for any Formula 1 driver. Especially in the days before electronic driver assistance systems. Time and again, motorsports technology finds its way into mass production vehicles. And so it is that this BMW Formula 1 engine can undoubtedly be seen as the forerunner of today's downsizing method (shrinking the size of engines without losing performance and simultaneously reducing consumption).
Facts and figures:
4-cylinder engine with turbocharger
Engine displacement of 92 cubic inches (1.5 liters)
Power output up to 1,200 hp (in F1 training sessions)
The 6-cylinder diesel engine in the BMW 524td (E28) (1983)
After more than 60 years of engine-making, the time had come for BMW's first mass-production diesel engine to make its bow in the BMW 5 Series. And it did so with impressive performance data: 115 hp and 210 Nm of torque were outstanding for a diesel of the time. This means that this diesel engine, too, offers sheer driving pleasure, and is our pick for the best BMW diesel engine. Once only used in trucks and tractors, diesel now became socially acceptable for cars. The BMW 524td was thus a precursor to the powerful, comfortable and above all economical and clean diesel engines of today.
Facts and figures:
6-cylinder diesel engine with turbocharger
Engine displacement of 146.5 cubic inches (2.4 liters)
Power output 85 kW (115 hp)
The V12-cylinder engine in the BMW 750i (E32) (1987)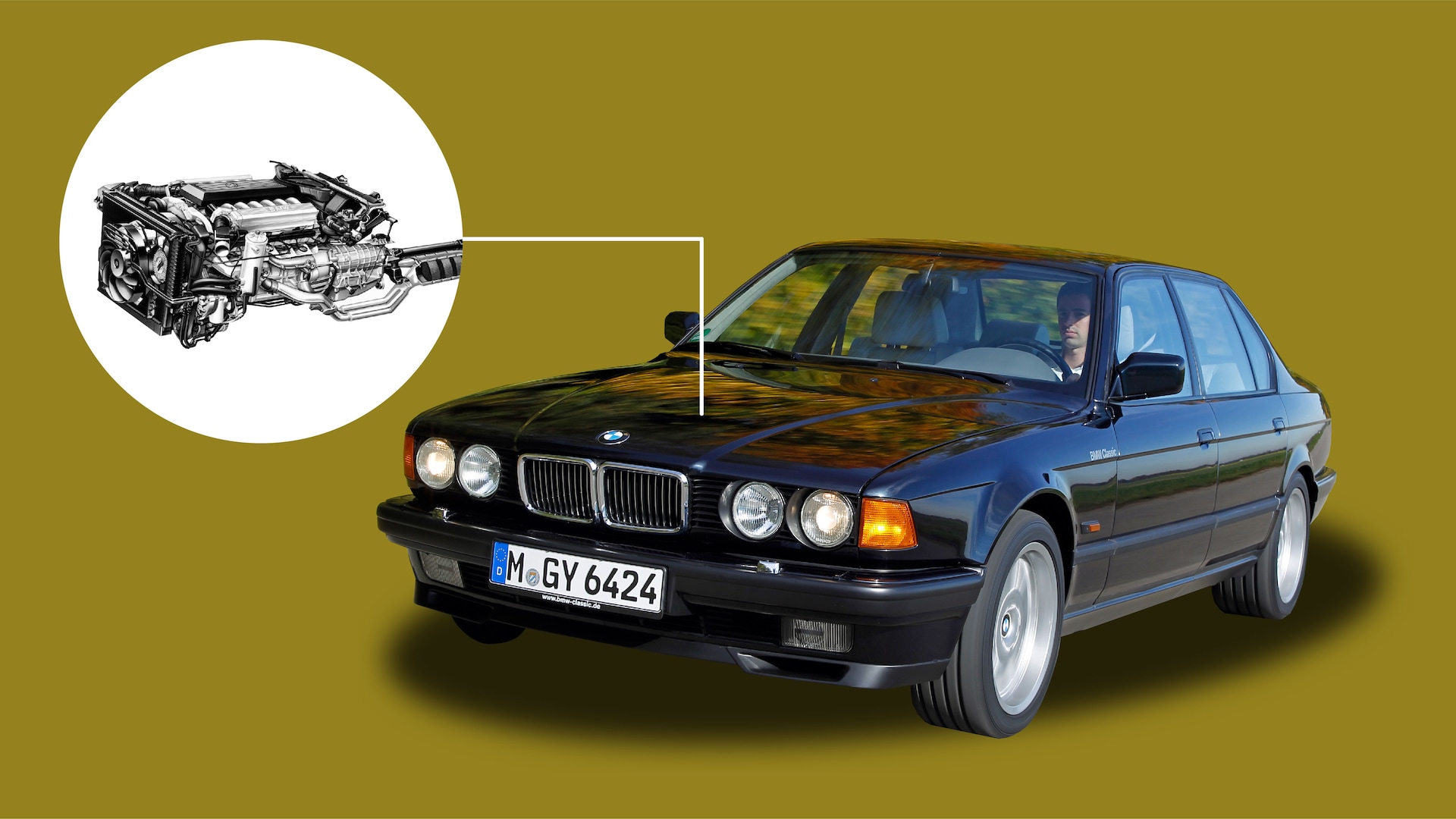 At that time, the twelve-cylinder engine was the absolute bee's knees. The BMW V12 engine still stands for perfection in engine smoothness and power in abundance. Especially since the BMW 750i boasted the first German production engine to feature a dozen cylinders since WWII. The BMW 750i's V12 engine helps the car achieve outstanding driving performance with great comfort and without compromising on understatement. In order to demonstrate the incredible smooth running of the BMW V12 engine, a coin was placed on its edge on the engine. It did not fall over when the engine was running. This set the tone for the electric engines (see below), where "engine smoothness" is one of the salient features.
Facts and figures:
V12-cylinder engine
Engine displacement of 305 cubic inches (5.0 liters)
Power output 220 kW (300 hp)
The V10-cylinder engine in the BMW M5 (E60) (2004)
From a twelve-cylinder engine to a ten-cylinder model, i.e. from a comfort-oriented engine to a sports engine. The statistics speak for themselves: the completely redesigned power train provides 500 hp at 7,750 rpm. If it sounds like motorsports that's because it is – transplanted and wrapped up in the body of a BMW 5 Series (M5, as well as in the M6 (E63/E64)). Inspired by Formula 1, which also used ten-cylinder engines at the time. This engine, known internally as the S85, is the only ten-cylinder in BMW history (to date). And that makes it a highlight of the glorious engine history of the Bavarian luxury carmaker.
Facts and figures:
V10-cylinder engine
Engine displacement of 305 cubic inches (5.0 liters)
Power output 373 kW (507 hp)
The electric engine in the BMW i3 (I01) (2013)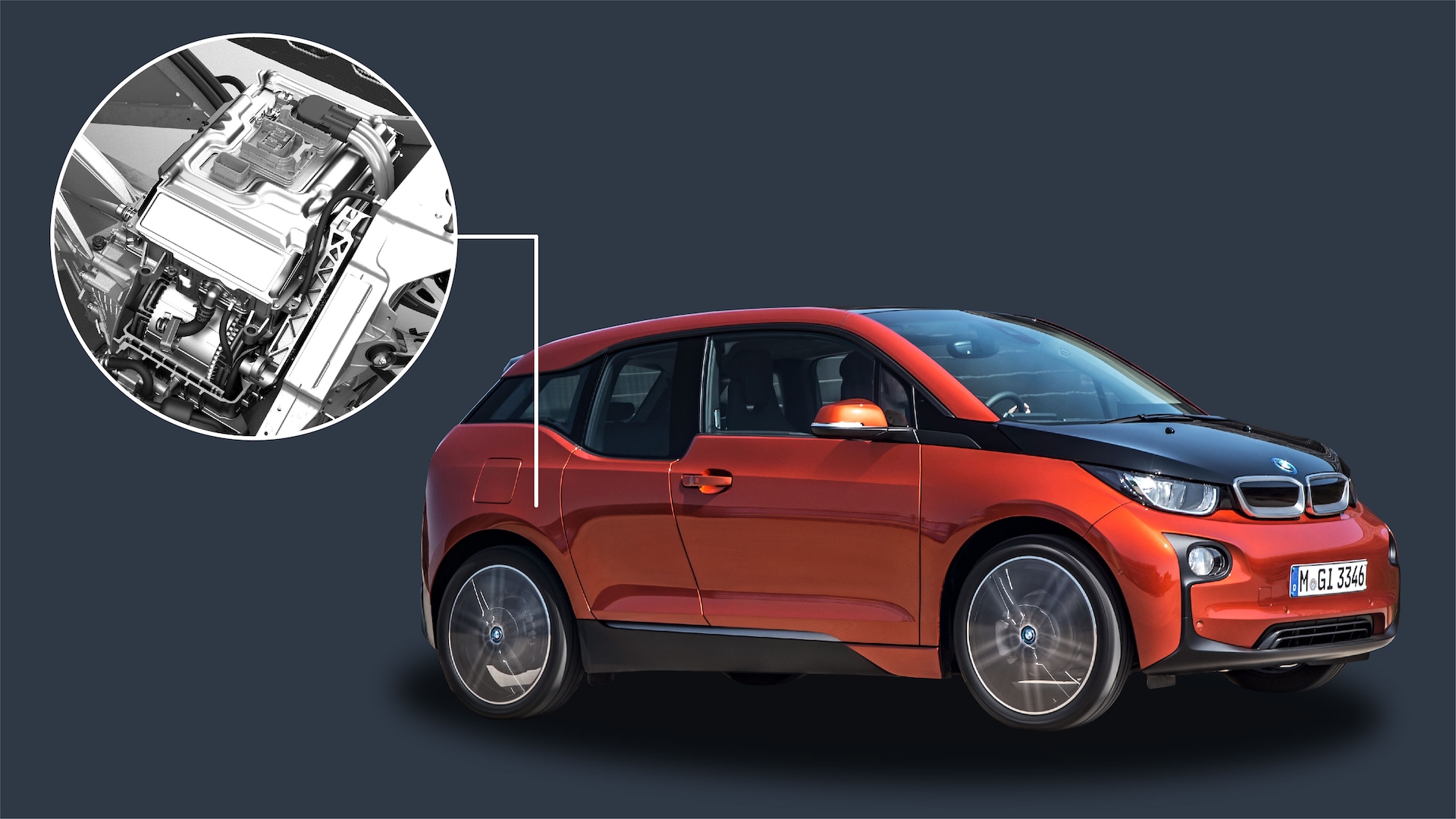 With the BMW i3, the German automaker proved itself a pioneer in electric vehicles. Drivers of this holistically produced electric car can banish range anxiety (➜ Read more: Busting Electric Car Myths). First-time BMW i3 drivers find it an astonishing experience – driving an EV is fun! Thanks to its excellent acceleration, you win every traffic light start, which puts a big grin on your face. At the same time, you find yourself making an effort to go as easy as you can on battery charges so that you can set new personal consumption records. The joy of making savings can also be a joy of driving!
Facts and figures:
Electric engine
Power output 125 kW (170 hp)
Battery capacity 37.9 kWh
CO2 emissions 0 g/km (combined)
Fuel consumption 0 l/100 km (combined)
Power consumption 14.6-13.1 kWh/100 km (combined)
The Hybrid 3-cylinder engine and electric engine in the BMW i8 (I12) (2014)
The BMW i8 proves that e-vehicles and sporty driving are by no means mutually exclusive. There is no single BMW i8 engine because this sporty number is powered by both an electric and a gasoline engine. The system performance of the BMW hybrid's three-cylinder turbo and electric motor is an impressive 362 hp. The combustion engine drives the rear wheels, while the electric engine takes care of the front axle. The design says this is a sports car. And so do the stats: 0-60 mph in less than 5 seconds. The combined consumption, on the other hand, would do a small car proud. This is very much a 21st century sports car. This is something that independent experts also appreciate – in 2019 the BMW i8 PHEV won the prestigious "Engine of the Year Award" for the fifth time in a row. A great entry into the EV age for BMW!
Facts and figures:
3-cylinder engine with turbocharger
Engine displacement of 92 cubic inches (1.5 liters)
Power output 170 kW (231 hp)
+
Electric engine
Power output 96 kW (131 hp)
Battery capacity 11.6 kWh
From aircraft engines to electric propulsion, it's clear that the history of the BMW engine is rich in outstanding models. But that does not mean that this list is set in stone. The automotive world is changing: hybrid vehicles are on the rise, as are electric cars (➜ Read more: Electric cars and plug-in hybrids explained). What's more, BMW will continue to push ahead with hydrogen technology (➜ Read more: All about hydrogen fuel cell cars). Diesel and gasoline engines, too, are getting more and more economical and ever cleaner, making them also options for the future of automobiles. Maybe there will still be a new best diesel engine. Or maybe a best car engine, period. But whether it's a PHEV, an all-electric or a combustion engine, when it comes to engine technology, BMW is putting its weight behind "The Power of Choice" more than ever.
Author: Nils Arnold; Photos: BMW Group Archiv