In an entirely unique process for the Esports industry, the individual shape, curvature and grip of the hand, as well as factors such as the playing style of the pro gamers, are captured. The data obtained provides the basis for printing the perforated mouse casing using the SLS 3D process. The BMW Group has been successfully using 3D printing technologies for over 25 years. Classic applications for additive manufacturing are found primarily in areas where customised and sometimes very complex components are required in small quantities. The benefits for Esports professionals: excellent control, improved responsiveness, increased hand comfort – and thus enhanced performance in the game.
The BMW x Fnatic Vision Mouse project is a good example of how we see BMW's role in Esports. Our know-how should contribute to the further development of the industry and, together with Fnatic, to the increase in performance of the pros in an authentic way.
Stefan Ponikva
Vice President BMW Brand Communications and Experience
Each BMW x Fnatic Vision Mouse is unique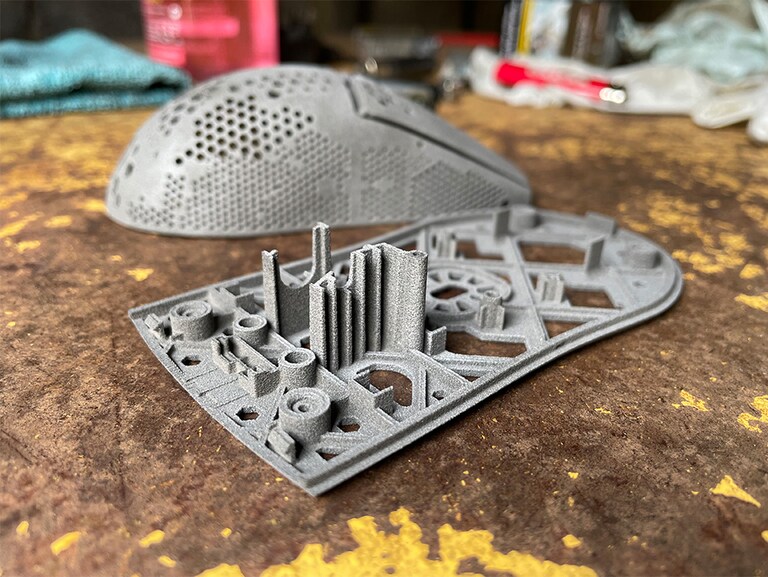 The responsible use of resources is of fundamental importance to the BMW Group. That is why the design of the BMW x Fnatic Vision Mouse focused on circularity. Based on the expertise of BMW Designworks in this area, the bio-based polymer nylon 11 is used for the mouse housing. The mouse rolling mechanism is made up of recycled components from the tried and tested Fnatic BOLT mouse. All in all, the BMW x Fnatic Vision Mouse weighs a mere 55 grams. The individual production of one unit takes 36 hours.
They were collectively hungry for an overarching understanding of circularity. The team wanted to learn how an optimal use of materials and the right processes, manufacturing and processing methods could lead to more sustainable results in the future.
Tom Allemeier
Design Director at Designworks
On average, a pro-gamer will spend up to 70 hours a week practising or taking part in competitive matches. Highly bespoke accessories will allow players to compete better, for longer, with a reduced risk of hand injury. As each mouse is unique to the individual player on the BMW-partnered League of Legends team Fnatic, it seamlessly combines performance, ergonomics and sustainability like nothing else on the market. On their own, these adjustments would be negligible, but incrementally they can make a real difference to a player's performance. So that the United in Rivalry outfit can continue to tweet after competitive matches: #FNCWIN.
Esports is immensely competitive and the difference between winning and losing can be minute, often mere milliseconds. ​Being able to own this difference is why we're constantly looking for ways to give our players that competitive advantage.
George Barrett
Industrial Designer, Fnatic