Always stay up to date
Innovative mobility, exciting trends for the future and high RPMs: Subscribe now to get notified of new content.
Subscription successful.
Subscription failed. If you need help follow the link for support.
BMW Art Cars you can almost touch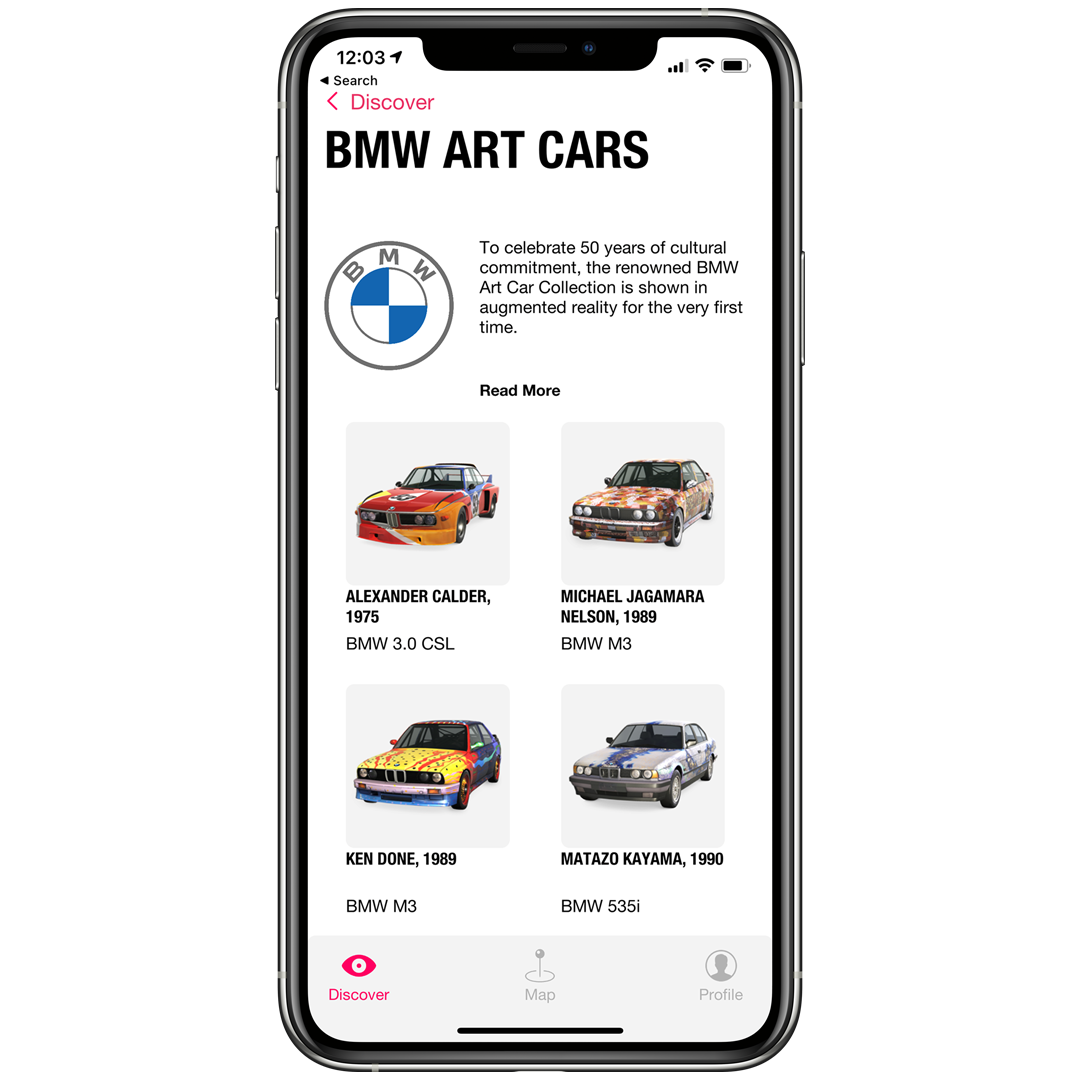 Have you ever wondered how the Alexander Calder-designed 1975 BMW 3.0 CSL would look sitting on your driveway? Well, now you can actually see it.
BMW has teamed up with Acute Art, a pioneer in digital art experiences, to bring these iconic models to life once again.

Wherever you happen to be in the world, the Acute Art app delivers the artworks to you any time, anywhere – to your driveway, living room, office or your favourite coffee bar – all by the magic of augmented reality. There are no limits when it comes to where and how you can dive into this immersive 360° experience.

If you're talking about an art car, you're thinking of one of BMW's mobile works of art. And anyone who has to name a specific BMW Art Car will often wax lyrical about the Andy Warhol car painting that was his pop art BMW M1. However, if you focus on this one model, you neglect the unique and diverse collection of a total of 19 BMW Art Cars created since 1975, in collaboration with renowned international artists.
Artists have been fascinated by cars since their invention.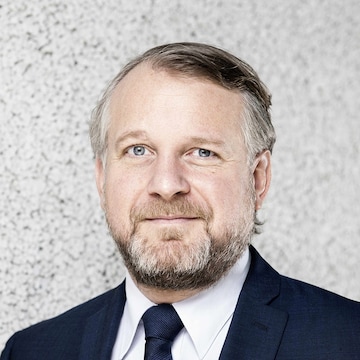 Prof. Dr. Thomas Girst
BMW Group Corporate Communications and Policy, Head of Cultural Engagement
When the French racing driver Hervé Poulain came up with the idea of getting a race car designed by an artist in 1975, no-one could foresee what would develop from it: the world's most consistent combination of automobiles and art. The principle is simple: a well-known artist designs a BMW race car (later also series production cars) based on their own ideas. Restrictions and specifications? There are none!
As different as the artists were, so varied were the BMWs, which were transformed into works of art by means of a wide range of graphic and artistic techniques: from pure racers to rare sports cars, via production vehicles. The results are correspondingly diverse. No two vehicles are alike; it was left to each artist to choose the technology that suited them. On browsing through the BMW Art Cars gallery, with its 19 unique pieces, there are only three questions left unanswered: When will Art Car no. 20 appear? Which artist will use it to immortalize themselves in this legendary BMW collection? And, above all, what BMW model will be used?
How does this sound?
You can also listen to this article via Changing Lanes, the official BMW podcast. 
Apart from this and other narrated articles, Changing Lanes offers you fresh new episodes every week, packed with exclusive insights on tech, lifestyle, design, cars, and more – brought to you by hosts Sara and Jonathan. 
Find and subscribe to Changing Lanes on all major podcasting platforms.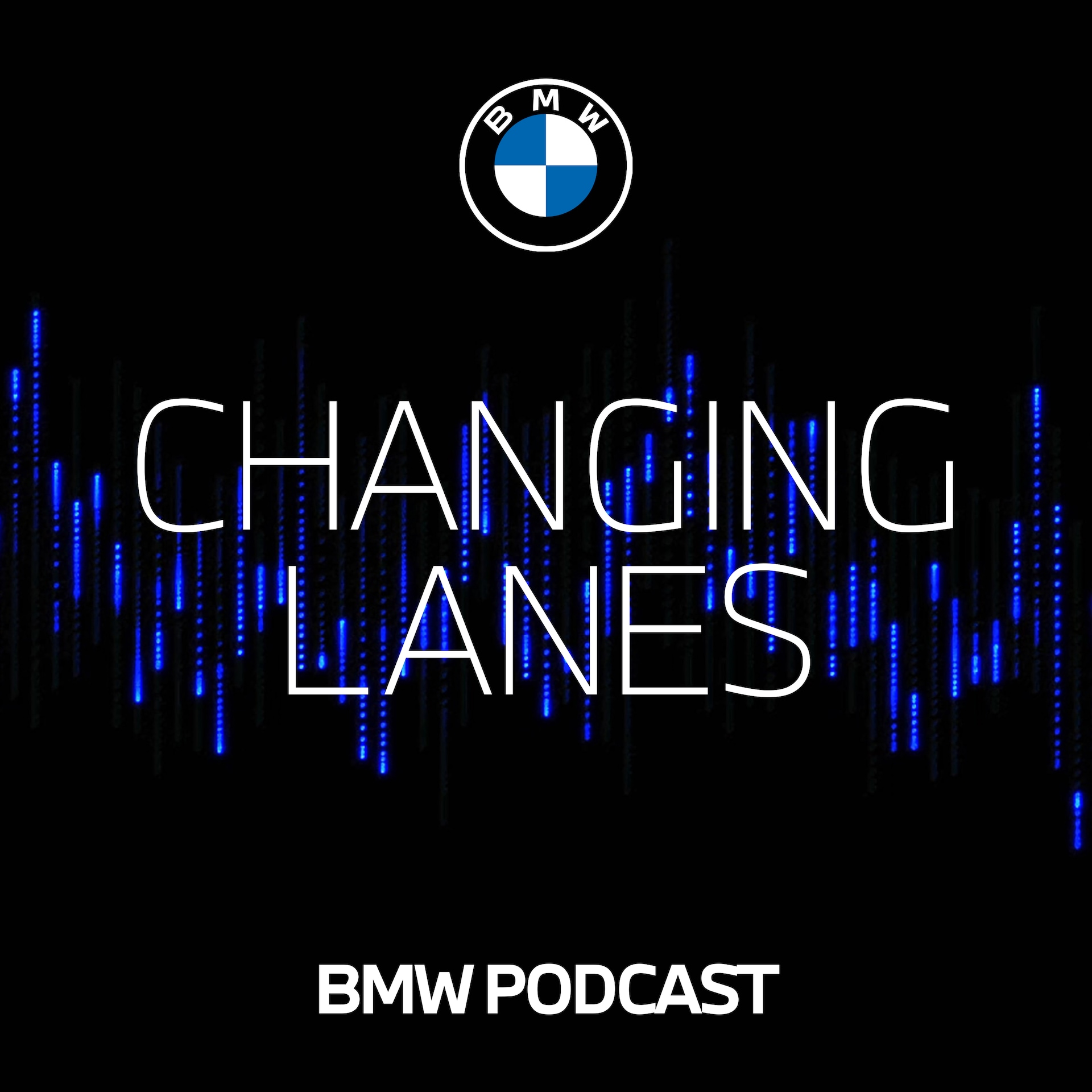 Alexander Calder / BMW 3.0 CSL / 1975
Who could have guessed back in 1975 that the BMW 3.0 CSL race car designed by the American sculptor Alexander Calder would be the prelude to what is now a legendary art series? The answer is no-one, not even at BMW. Hervé Poulain approached the automaker himself. The idea of the BMW Art Cars was not something that a PR department planned, as Prof. Thomas Girst, Head of Cultural Engagement at the BMW Group, has also confirmed. Poulain actually drove the no. 93 BMW 3.0 CSL in the Le Mans 24-hour race (➜ Read more: 24 hours of thrills) himself. Although he didn't finish, the response to the colorful Calder-mobile was phenomenal. And thus the starting gun was fired for BMW Art Cars!
Frank Stella / BMW 3.0 CSL / 1976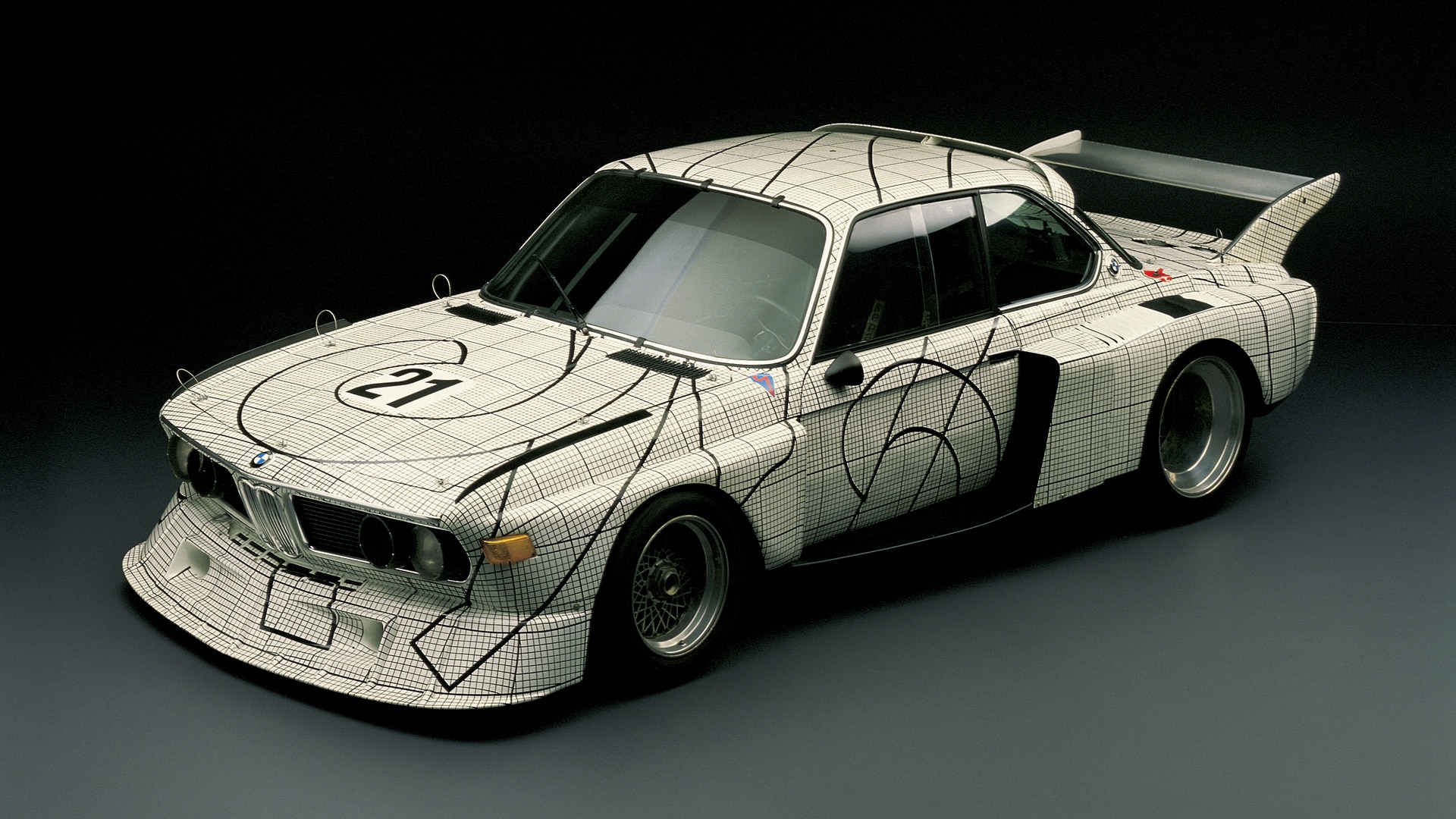 Just a year later, Calder's compatriot Frank Stella followed suit. He too took on a BMW 3.0 CSL, which also took part in the Le Mans endurance race – bearing the number 21. For motorsport fan Stella, designing the second car in the BMW Art Cars series was a special honor. The design of his work of automotive art was inspired by the technical basis of the object itself. The result was a grid of lines that looked like oversized graph paper. Everything was black and white, which meant that this race car, with its enormous 750 hp of engine power, stood out from its many competitors in the starting field, especially the more colorful ones. As with Calder's car, the BMW artwork was actually realized by BMW's legendary paint master, Walter Maurer.
Roy Lichtenstein / BMW 320i Turbo / 1977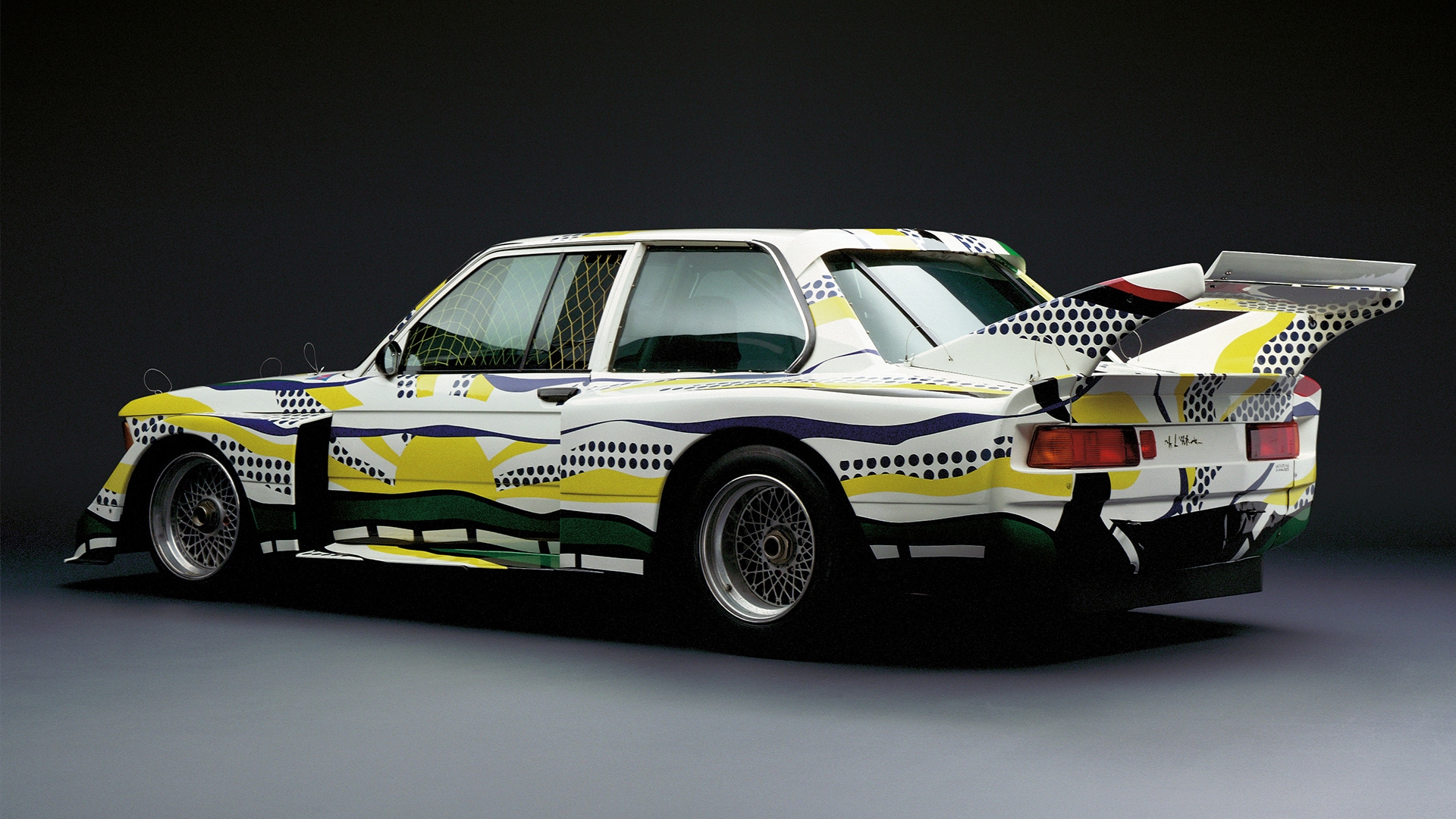 Another year later, in 1977, the third BMW Art Car appeared, again designed by an American. Pop artist Roy Lichtenstein utilized the "Ben Day dots" characteristic of his art, with the effect that a landscape seems to move past on the flanks of the BMW 320i Turbo. And, of course, that was the way it had to be: this race car did not immediately become an exhibit, but first proved itself in tough everyday motorsport, and where else but at Le Mans? Drivers Hervé Poulain and Marcel Mignot took this car, with starting number 50, to 9th place in the overall standings, and first in its class.
Andy Warhol / BMW M1 / 1979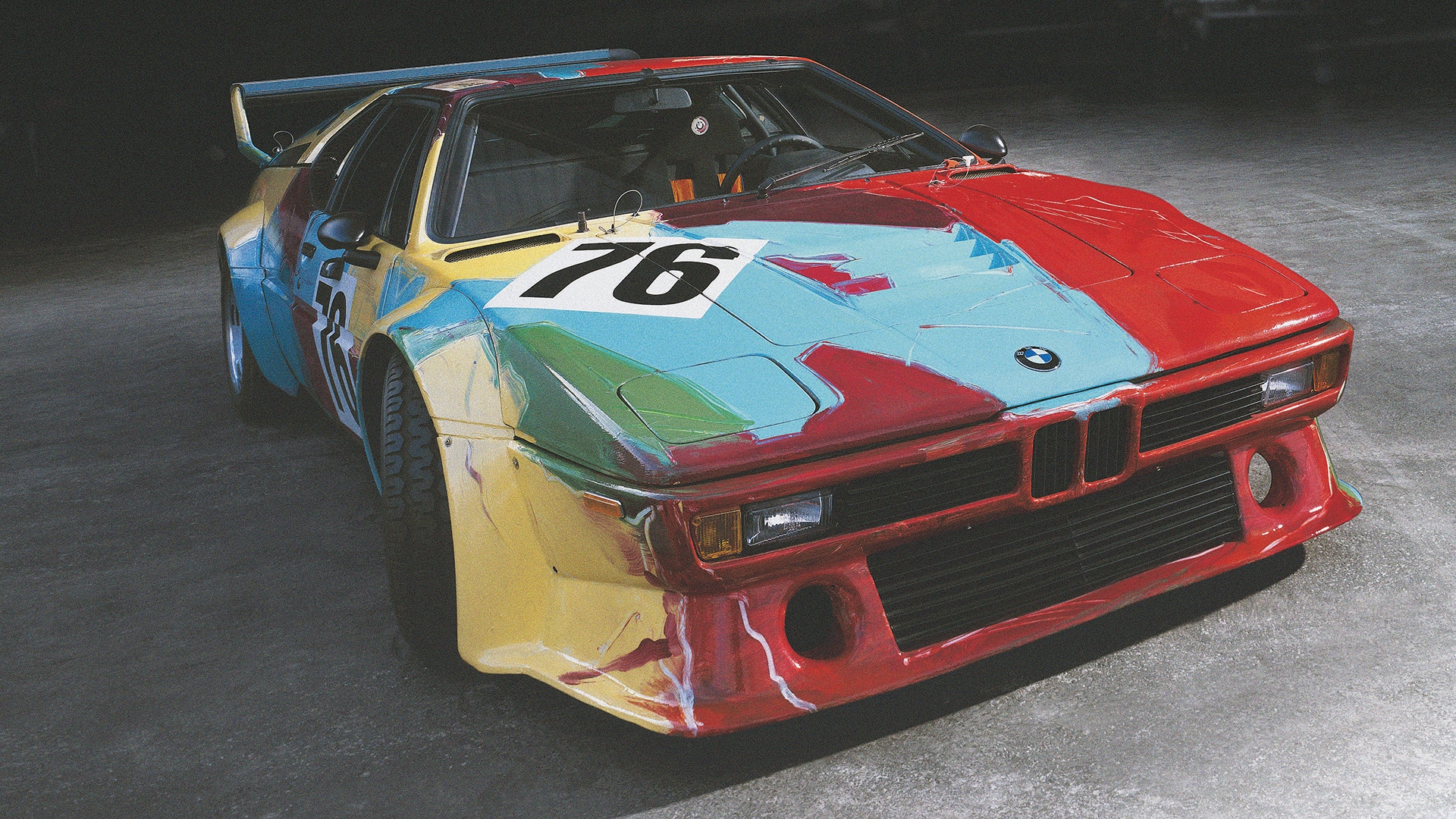 Probably the best known example of the BMW Art Car series is the BMW M1 painted by Andy Warhol himself. This Bavarian super sports car is a legend in itself. Thanks to the design by probably the most famous pop artist of all, the racing version of the BMW M1 became putatively one of the most valuable automobiles in history. Warhol had one thing in common with his predecessors: he too received no fee for his work as a car artist. Yet instead of designing a scale model like his fellow artists and having the car painted, the American did it himself. "I attempted to show speed as a visual image. When an automobile is really traveling fast, all the lines and colors are transformed into a blur," the artist said in explanation of his work. Warhol literally exemplified this speed, applying over 13 pounds (six kilogram) of paint in just 28 minutes. Credit where it's due, the mid-engined racing car was also fast in its only race – in Le Mans in 1979. After all, it posted a creditable sixth place finish in the overall standings. The colorful racer then retired to a museum.
Ernst Fuchs / BMW 635 CSi / 1982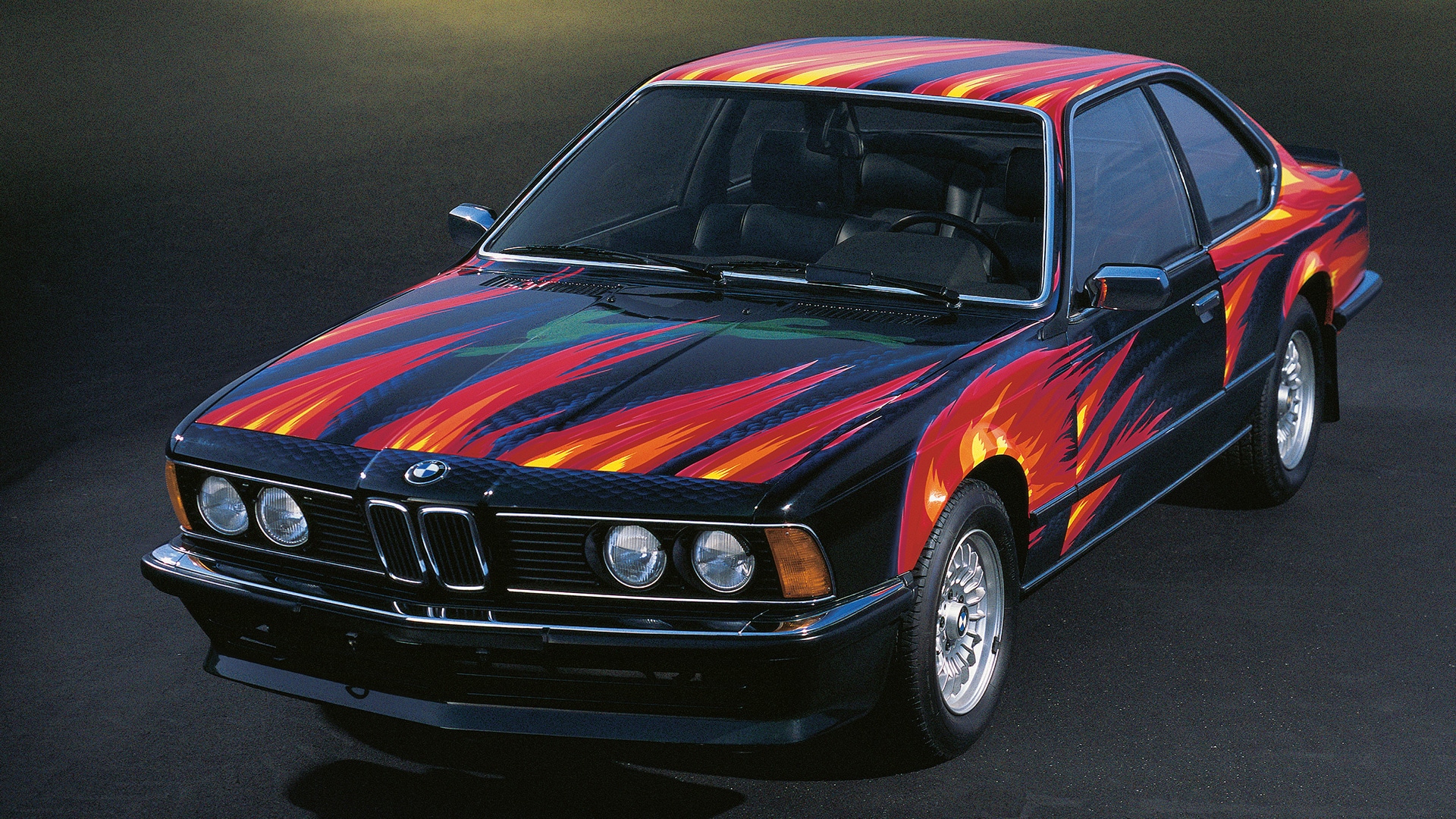 Number five is alive! And how! Austria's Ernst Fuchs took on a BMW 635 CSi in 1982. The result was the "Fire Fox on a Hare Hunt", the first BMW Art Car based on a production car. It was also purely an exhibition piece from the outset. Up to that point, Fuchs was known for large images of saints. Although his BMW car artwork is very different from his earlier pieces, it's fair to say it has become an icon. Not least thanks to the striking flames on a black background.
Robert Rauschenberg / BMW 635 CSi / 1986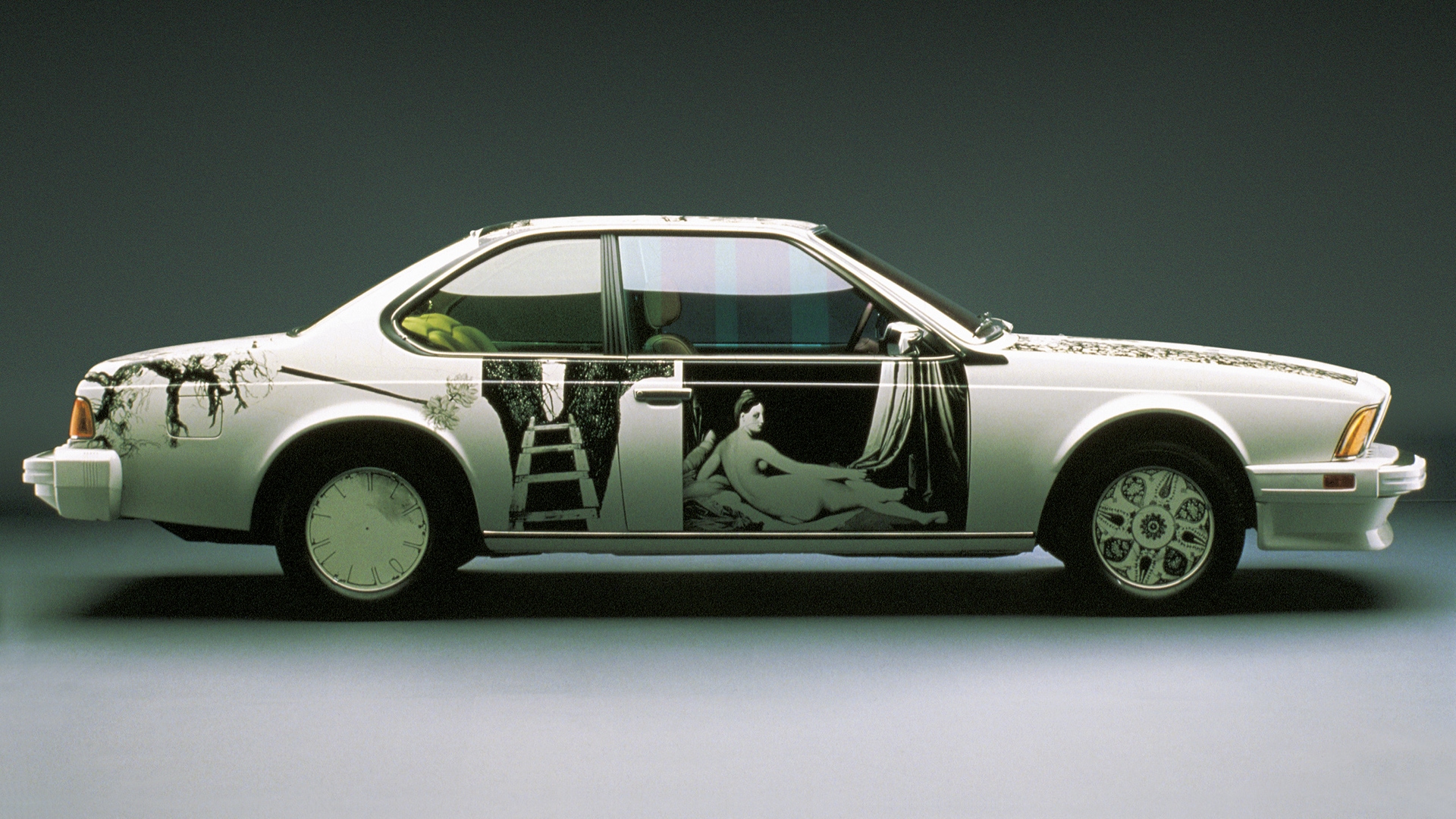 No. 6 in the BMW Art Car series comes from another pioneer of pop art (and again an American), Robert Rauschenberg. Like its predecessor, this BMW, a 635 CSi, never started a race. That said, it is the only BMW Art Car to date that has been driven in traffic – by Rauschenberg himself! He created his work of automobile art with the help of works by other artists, which he processed using photographic techniques and then applied to the body of the BMW coupé using foils. This resulted in collages that were typical of Rauschenberg's style. With his BMW 635 CSi, Rauschenberg showed how the three worlds of art, nature and technology are connected.
Michael Jagamara Nelson / BMW M3 Group A / 1989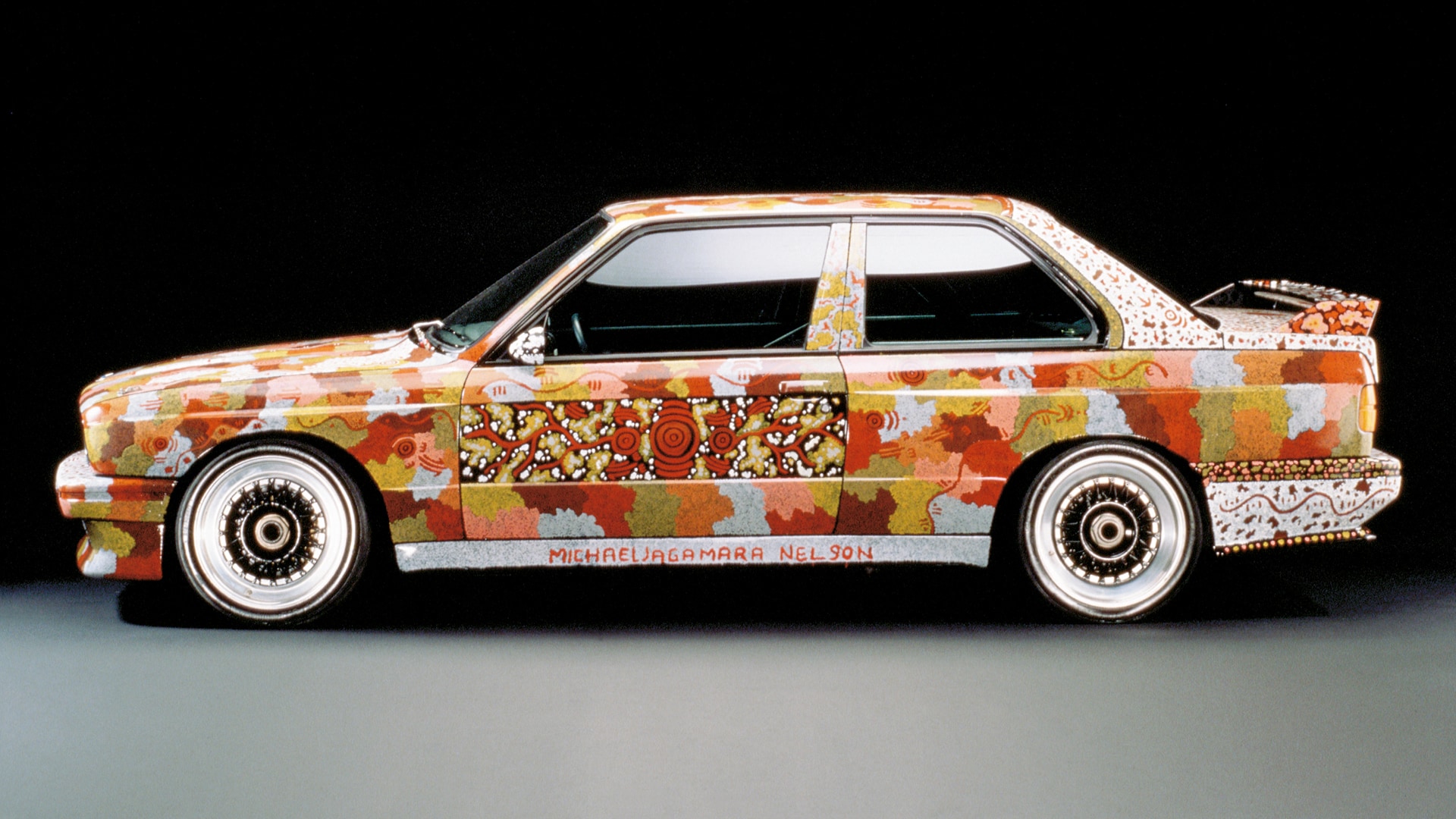 BMW Art Car no. 7 was the creation of Michael Jagamara Nelson, an artist from Down Under. In seven days, the artist transformed a Group A racing version of a black BMW M3 into a work of art that reflects the culture, and perceptions of the landscape, of Australia's Aborigines. Jagamara Nelson was assisted in the process by artist friends. In order to preserve the art of their culture, the Aborigines encoded their images into motifs that have been passed on among indigenous Australians over generations through cave paintings. In line with this tradition the BMW M3, too, resembles a large, colorful puzzle. Jagamara Nelson said of the creation process that he had worked his dreams into the artwork on the BMW. You could legitimately call this vehicle a dream car.
Ken Done / BMW M3 Group A / 1989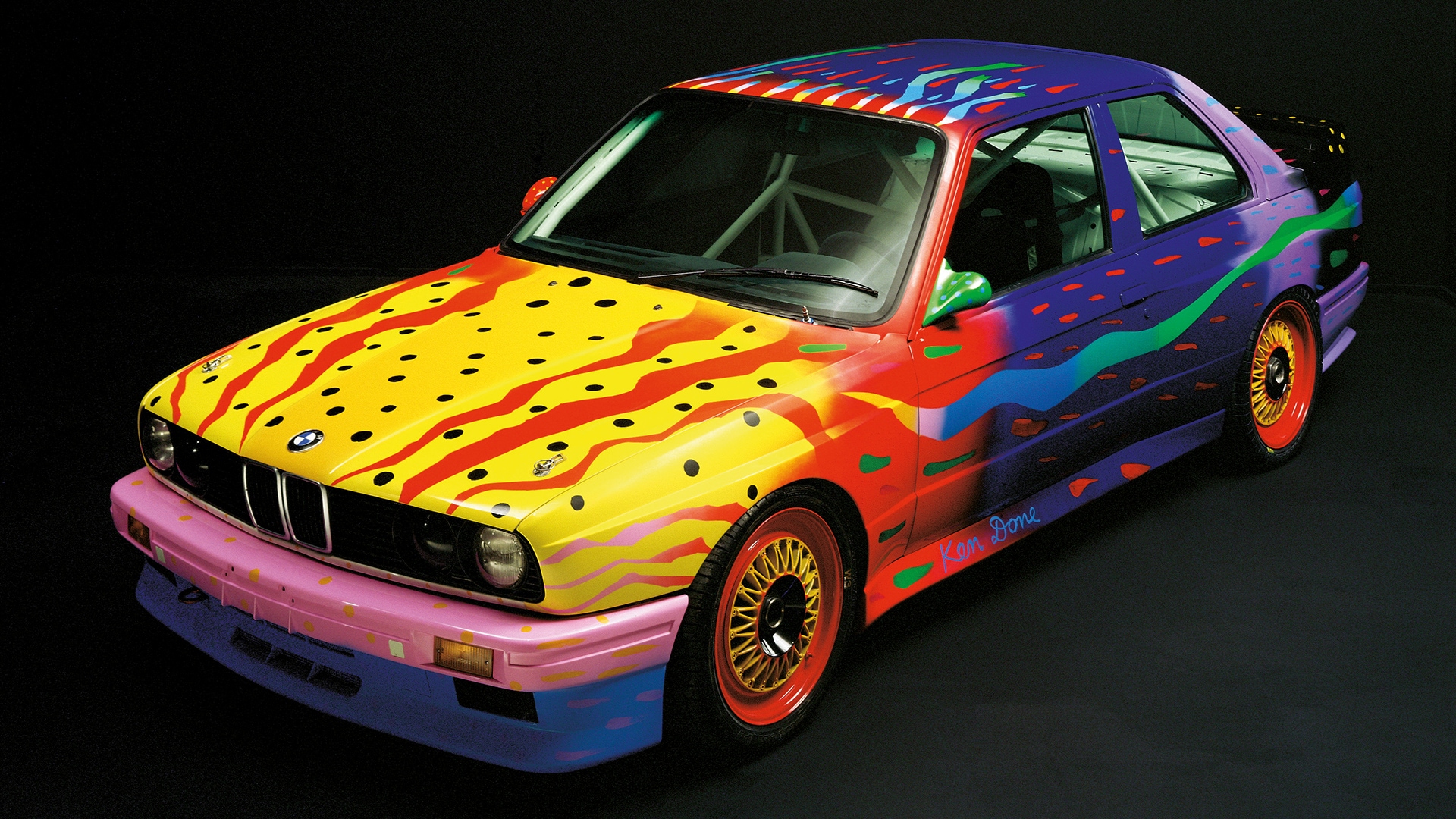 Ken Done made it an Australian double in 1989 with BMW Art Car no. 8. Like Jagamara Nelson's art car, it was based on a Group A BMW M3 touring car. But, in contrast to Nelson Jagamara's car, Done's artwork represents modern Australia. The left-hand drive catches your eye straight away – the word that most encapsulates its paintwork would be "colorful". Done's aim was to use his BMW Art Car to illustrate the happy side of his homeland. Nature, sun and beaches can be made out, as well as fish and parrots. Done's BMW M3 can be described with one simple attribute: positive! Just like Jagamara Nelson's version, Done's BMW M3 was raced around Australia's circuits before it became a purely decorative work of art.
Matazo Kayama / BMW 535i / 1990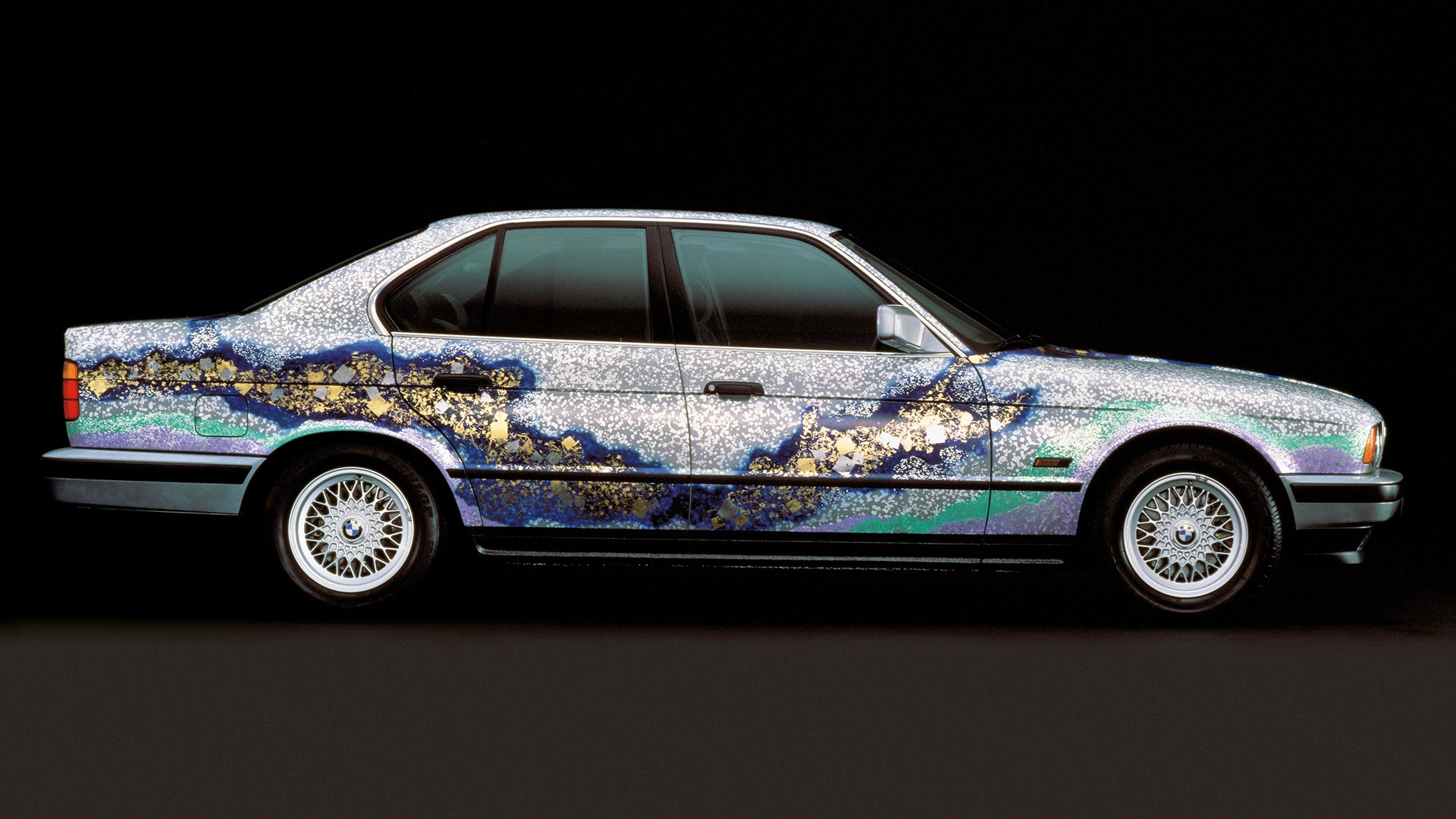 For BMW Art Car no. 9, it was time for a production car again, this time a BMW 535i. It was the first car designed by an Asian artist – and it stood out with its easy-going inconspicuousness. Japan's Matazo Kayama wrapped the BMW 5 Series in an airbrush dress. With the help of a special foil printing process, he conjured up a stylized landscape shaped by a river on the body. Kayama himself said of his inspiration: "I wanted to give the impression of snow crystals in my work."
César Manrique / BMW 730i / 1990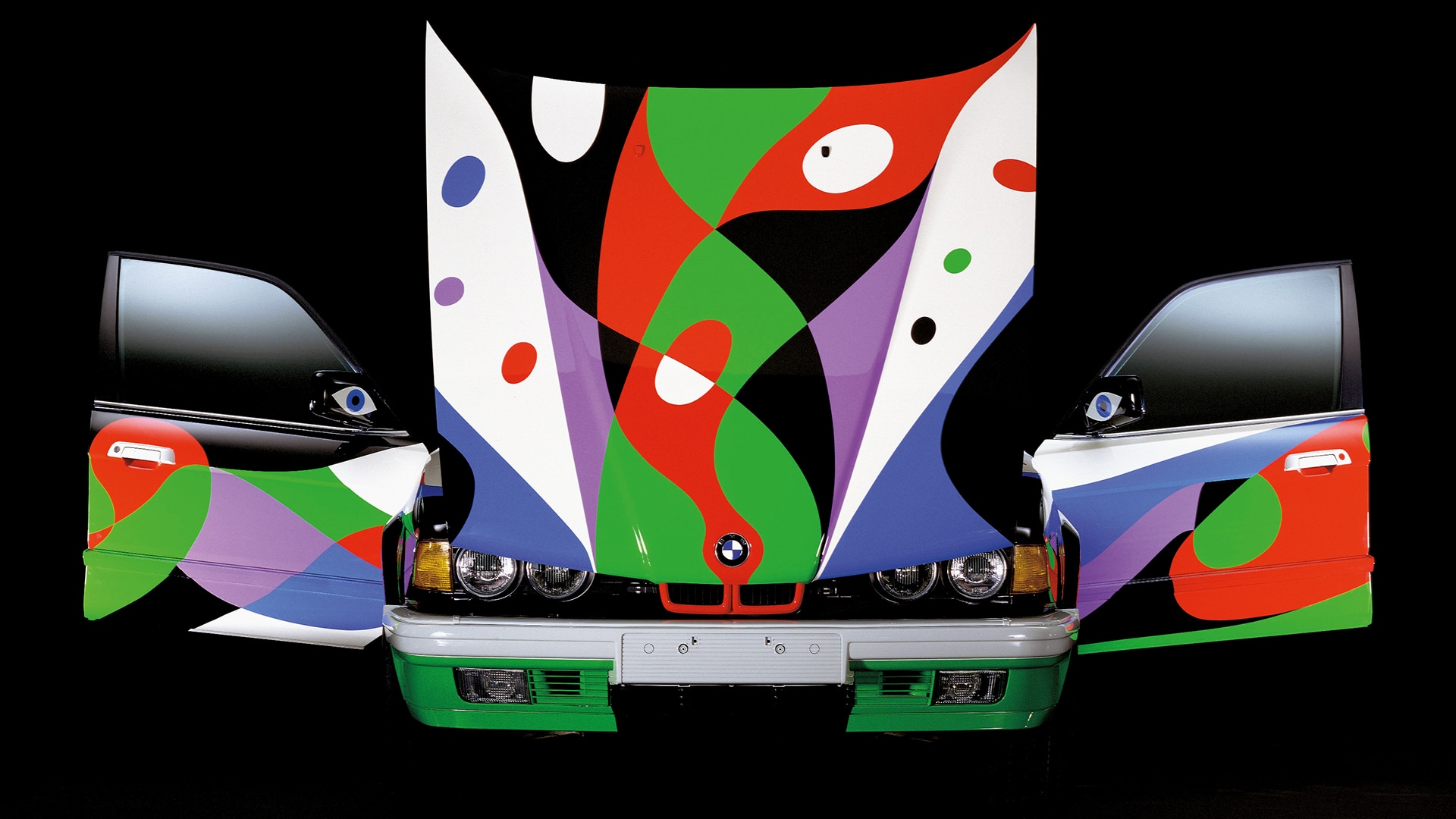 For the unofficial anniversary, César Manrique was given the opportunity to make his contribution to the BMW "Art on Wheels" project. To that end, the Spanish avant-gardist took on a BMW 7 Series in 1990. And if onlookers can make out elements of nature in the bright colors and abstract shapes on the bodywork, they're right, as Manrique took the nature of the Spanish subtropical island of Lanzarote as his model. The black element of the design stands for the Canary Island's lava rock, green for the rainforest, red for life. You can also see in the flowing shapes what Manrique sees as essential for an automobile: the speedy transportation of its occupants.
A.R. Penck / BMW Z1 / 1991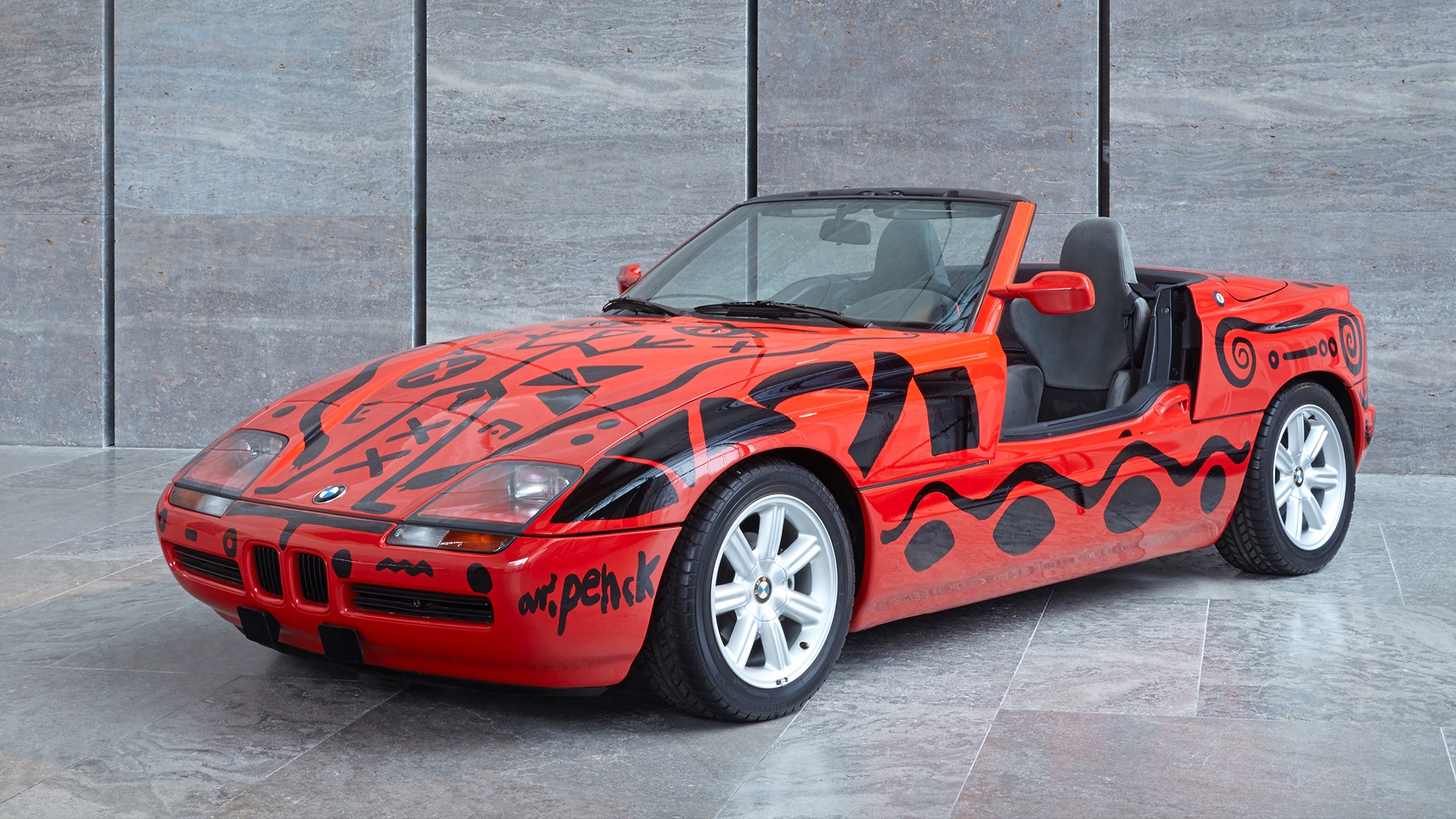 The BMW model that Dresden, Germany-born artist A. R. Penck – born Ralf Winkler – designed is a work of art and a rarity in itself: the BMW Z1. With its at-the-time radically new design language and vertically-sliding retractable side doors, the BMW Z1 remains a milestone in BMW automotive history to this day. Penck's contribution to the BMW Art Cars series came four years after the roadster premiered. Inspired by cave paintings, he created abstract figures and symbols. What do they mean? Try your own interpretation... the artist himself has never provided any clue to their decryption – something that is certainly also part of the appeal exuded by this particular sports car artwork.
Esther Mahlangu / BMW 525i / 1991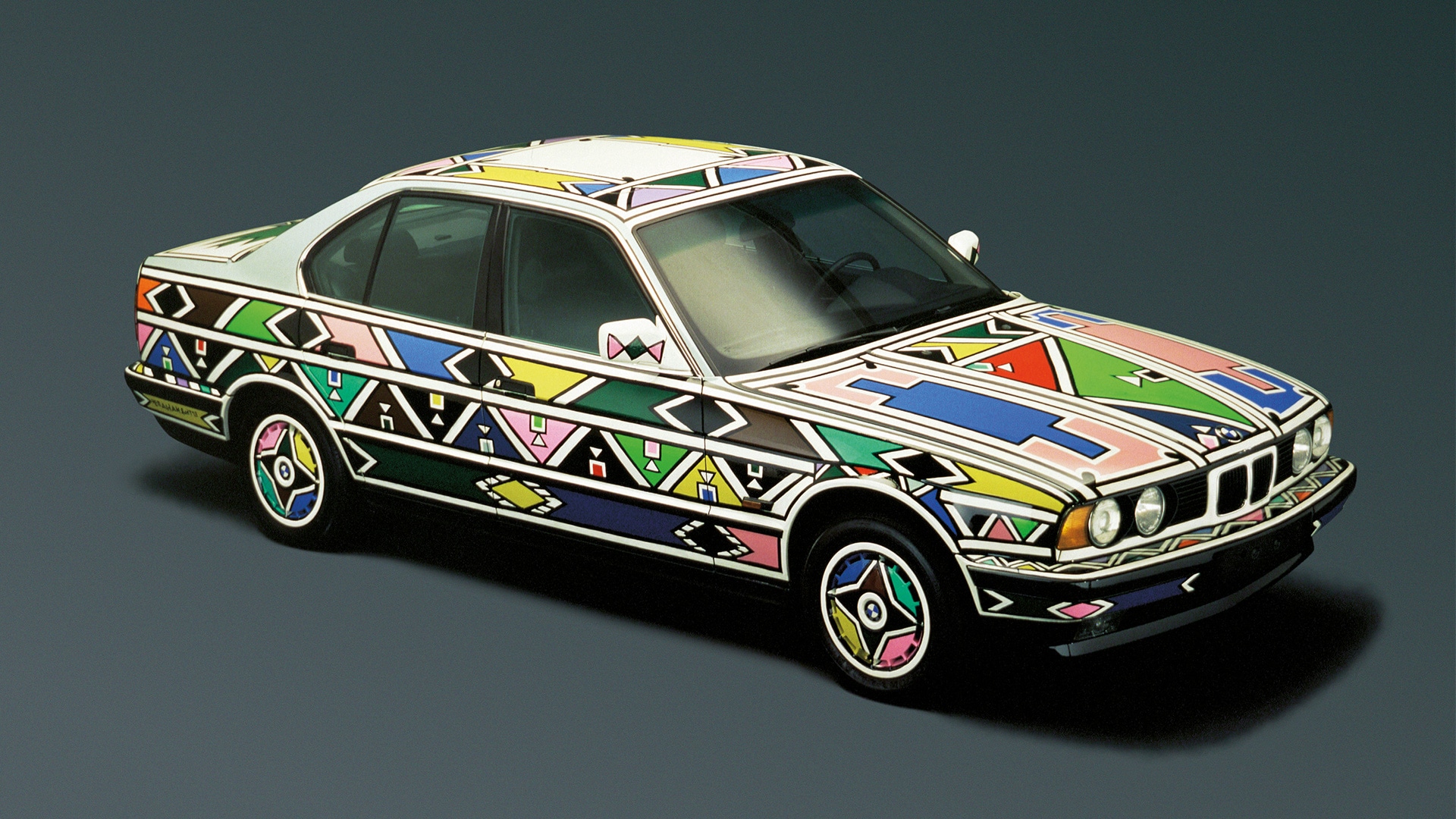 The milestone of the first dozen BMW Art Cars was achieved with this eye-catching BMW 5 Series from 1991. More remarkably, this was the first time a woman had been responsible for designing a vehicle in the Art Car series. The design is readily understood as an homage to African culture. Specifically, it relates to "how my tribe decorate their houses," as Mahlangu explained the design, known as the Ndebele pattern. A tradition that is passed on from generation to generation – and exclusively among women. The South African artist took a week to design her contribution to the series of works of art on cars. Like most of the cars before and after it in the series, BMW Art Car no. 12 is purely an exhibition piece. And of course one of a kind.
Sandro Chia / BMW M3 GTR / 1992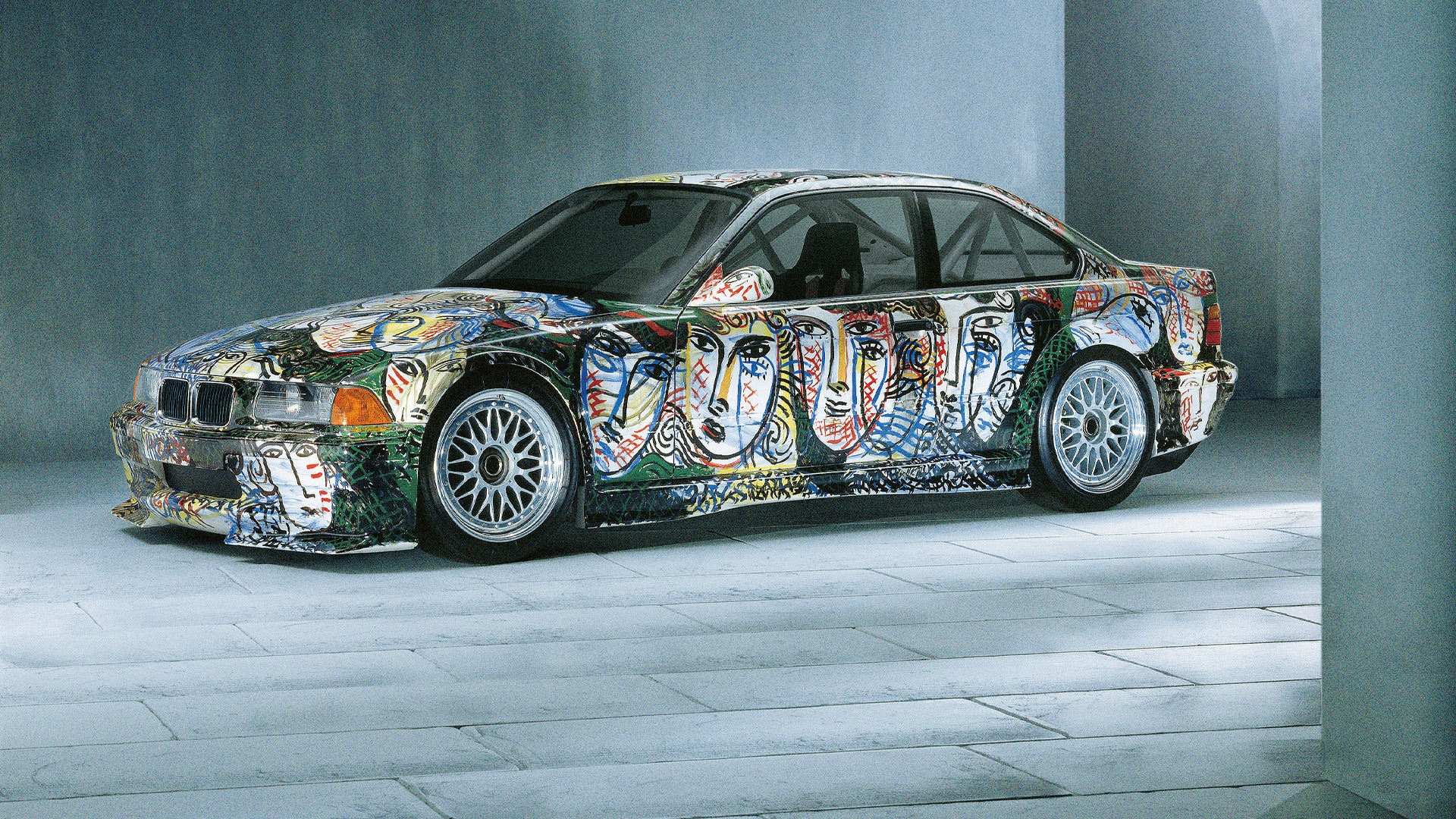 Sandro Chia let his imagination run riot on this racing prototype of the BMW M3 GTR. The Italian artist approached BMW himself with a request to design an Art Car. The result is impressive: anyone looking at this work of automotive art feels like they themselves are under observation from all sides, as open-eyed faces are emblazoned across the surfaces of the bodywork. Chia put it this way: "All eyes are upon an automobile. People look closely at cars. This car reflects their gaze."
David Hockney / BMW 850 CSi / 1995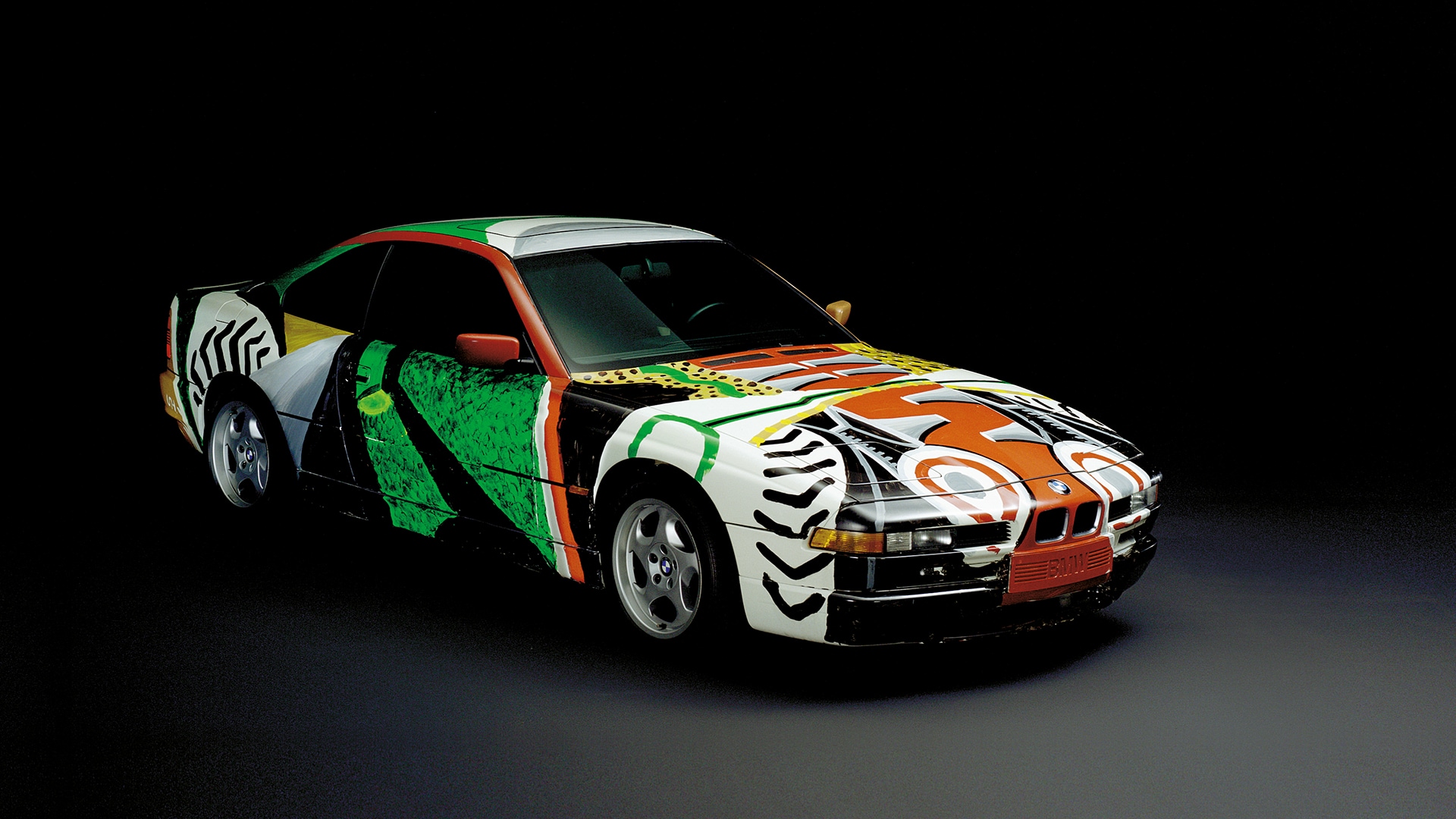 After Italy, the next stop on the car artist roadshow was England, where British superstar David Hockney joined the stellar names represented in the back catalog of this BMW collection. For this BMW Art Car it was the company that wooed the artist – persistently and ultimately with success. Hockney's BMW 850 CSi was the result of a long design process, because it's not just about applying a little paint, as the pop artist explained. Instead, he took the car apart through his painting, turning it completely inside out. In this way he brought to the surface what he believes lies beneath the skin of the car, the bodywork, namely the car's fascinating technology.
Jenny Holzer / BMW V12 LMR / 1999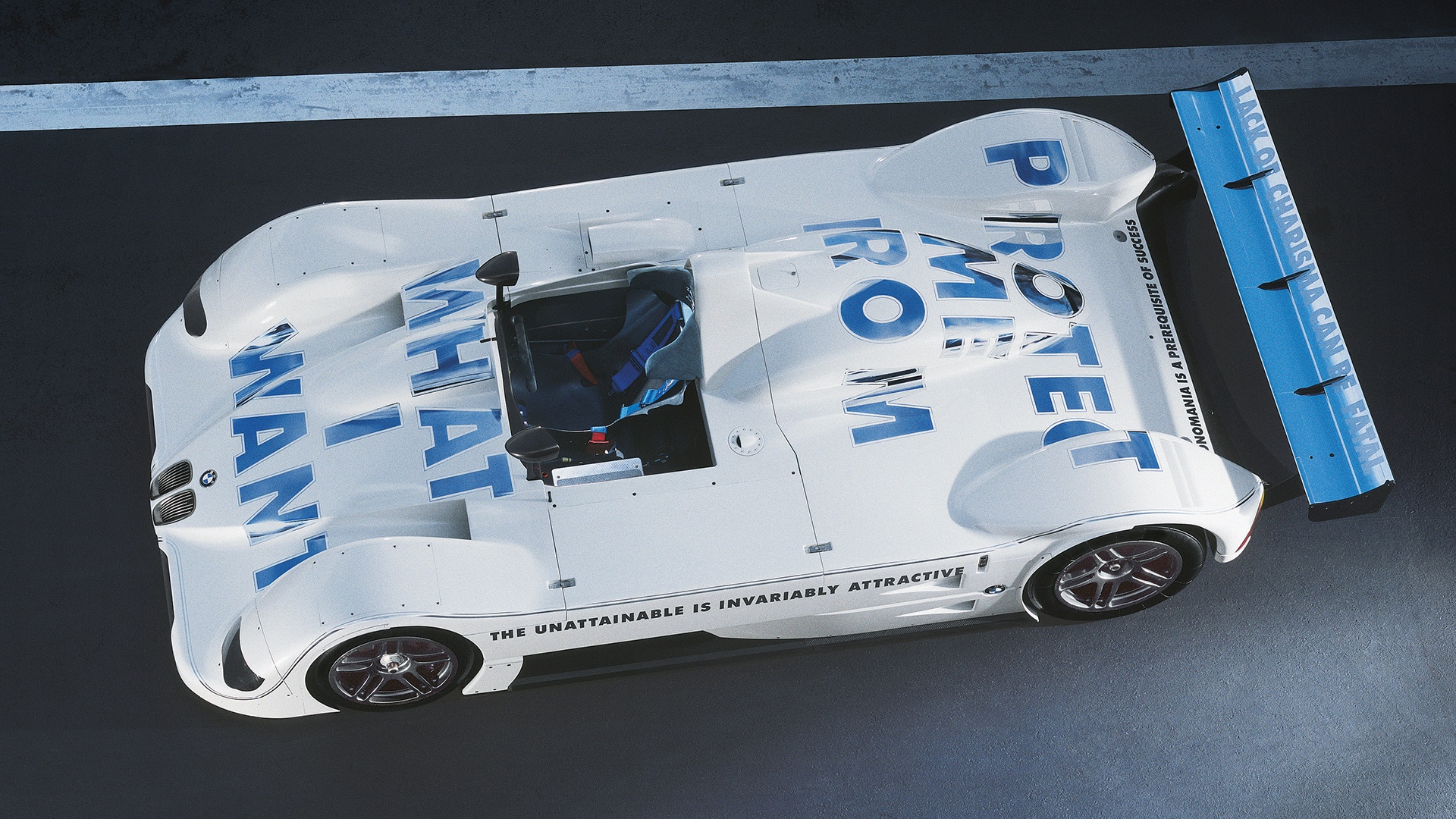 At first glance, you might use the catchphrase Fast Art to summarize Jenny Holzer's opus, at least as far as the starting point is concerned: a BMW V12 LMR for the Le Mans 24-hour race. The US artist herself is best known for her critical words, for statements that are meant to stimulate thought, echo, polarize. In this, her own style, she had sentences applied to the white paintwork of the race car using reflective chrome letters and fluorescent foil. The slogans included "You are so complex you don't respond to danger". Are you wondering what that means? If so, Holzer has achieved her aim...
Olafur Eliasson / BMW H2R / 2007
Ólafur Elíasson's automobile art is dramatically different from the previous vehicles in the BMW Art Car series. This work by the Dane of Icelandic extraction is a radical break with every Art Car before it. At first you don't even identify that there's a car there – the object looks like a giant cocoon. Eliasson is famed for dealing with nature and physical phenomena in his art. This is fitting for the opening vehicle of his opus, because under the shell lies a hydrogen-powered racing prototype. Back to the cocoon: the shell of the BMW H2R is made up of small metal plates that have been sprinkled with water in a huge cold room. This creates an armor of ice that holds the car captive. This mobile object became stationary real estate – Elíasson's approach to tackling the sustainability of our society.
Jeff Koons / BMW M3 GT2 / 2010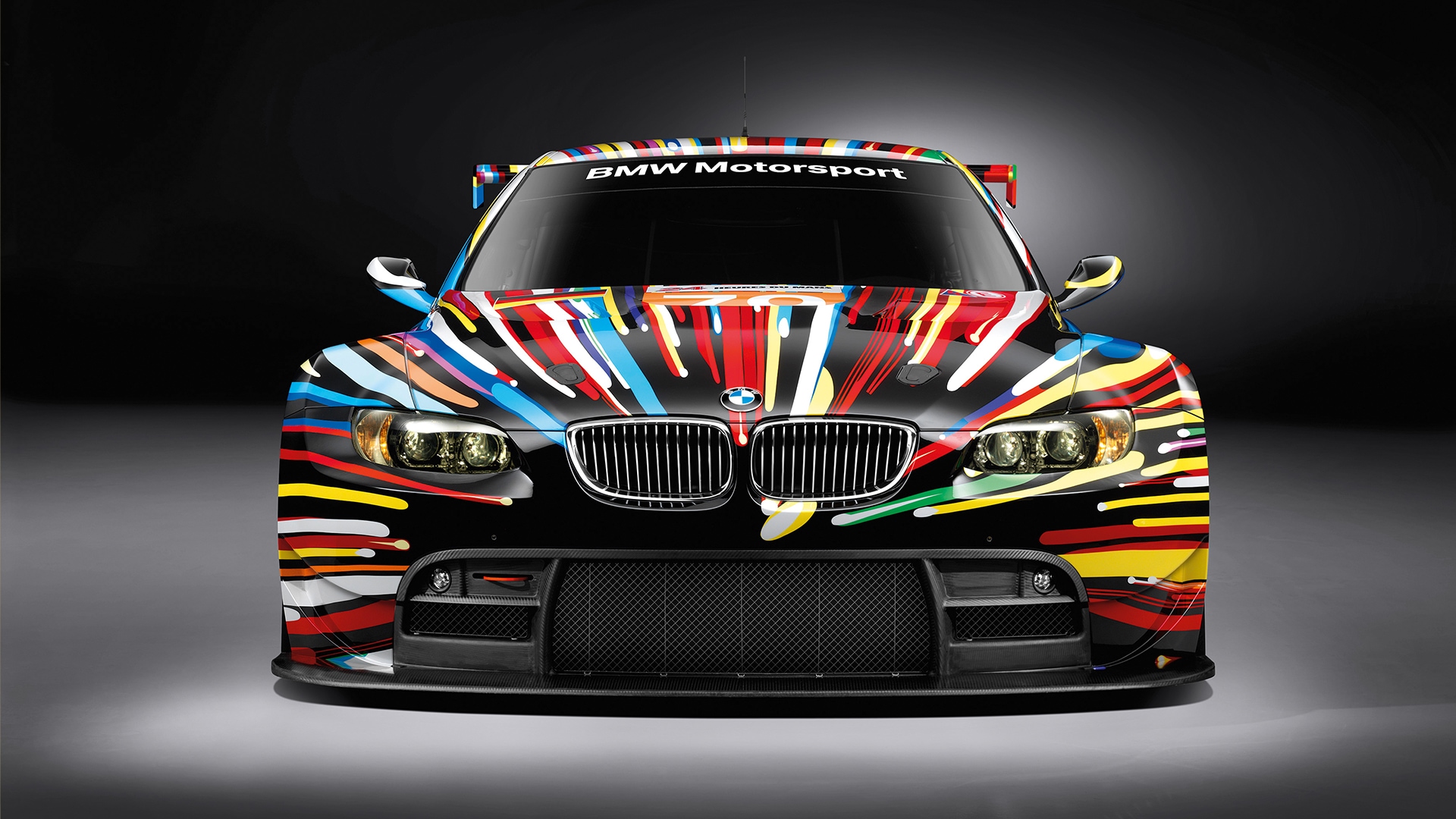 It goes without saying that a list of world-class artists such as this must not be missing a Jeff Koons BMW Art Car. With this edition, pop art returned and with it the BMW Art Car series went back to its origins. With every fiber of its bodywork, the American artist's BMW M3 GT2 wants to express the idea "I am fast!" The bright color elements seem to fly by on this car. Even when stationary, this car looks as if it's about to jump; it is bursting with power. In 2010, the vehicle took to the starting line at the Le Mans 24-hour race, where it was an absolute crowd-pleaser – another way that this Koons piece formed a bridge back to its predecessors in the BMW Art Car series.
Cao Fei / BMW M6 GT3 / 2017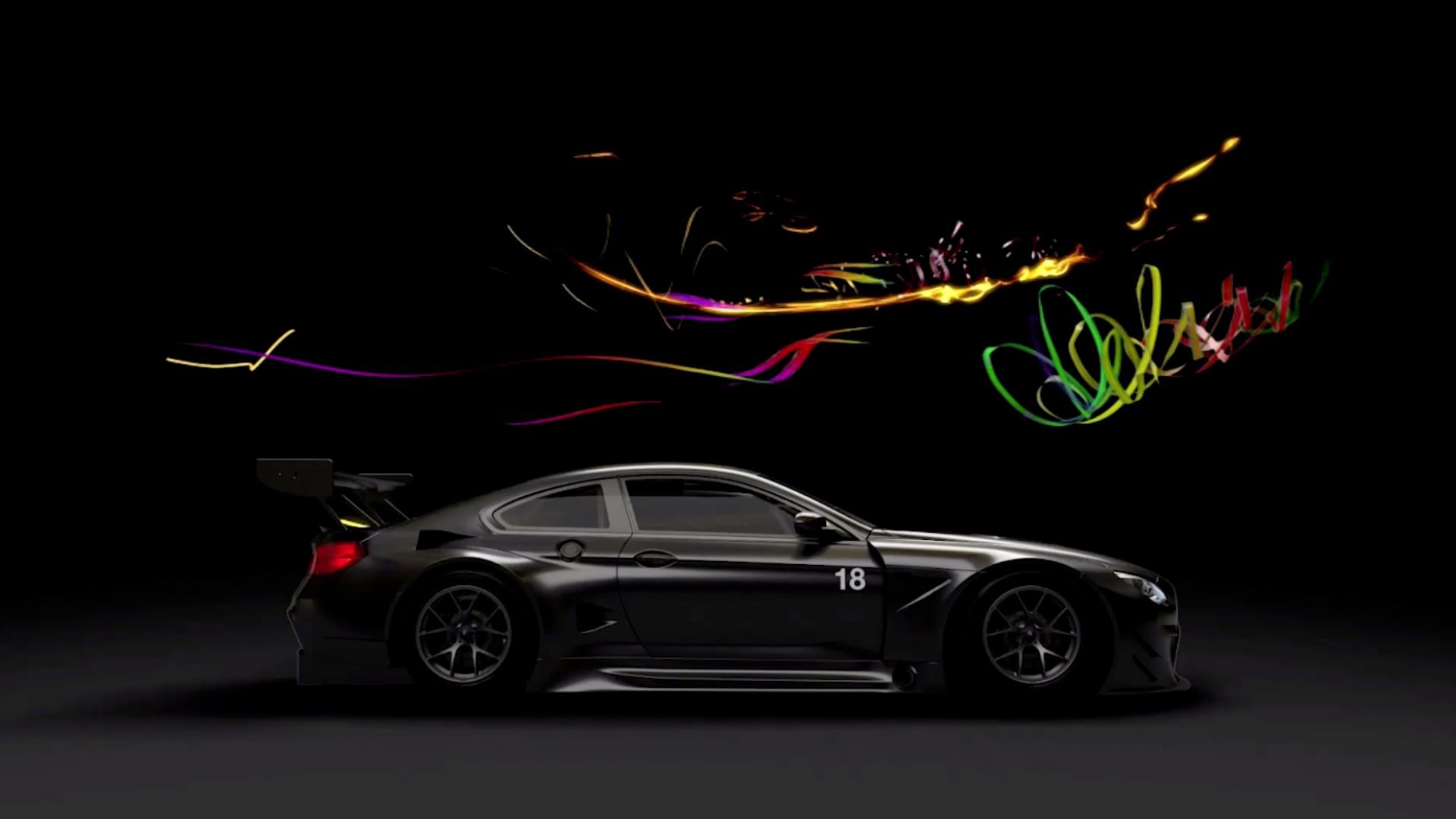 This BMW Art Car was produced by the multimedia artist Cao Fei. In homage to carbon, the material of choice for so many race cars, the Chinese artist chose the structure of this material as the color background for her project. You need the associated app to get the full effect of BMW Art Car no. 18. With augmented reality, the black race car becomes the focus of a storm of colors that rages above the vehicle. In this way, Cao merges the real and digital worlds.
John Baldessari / BMW M6 GTLM / 2016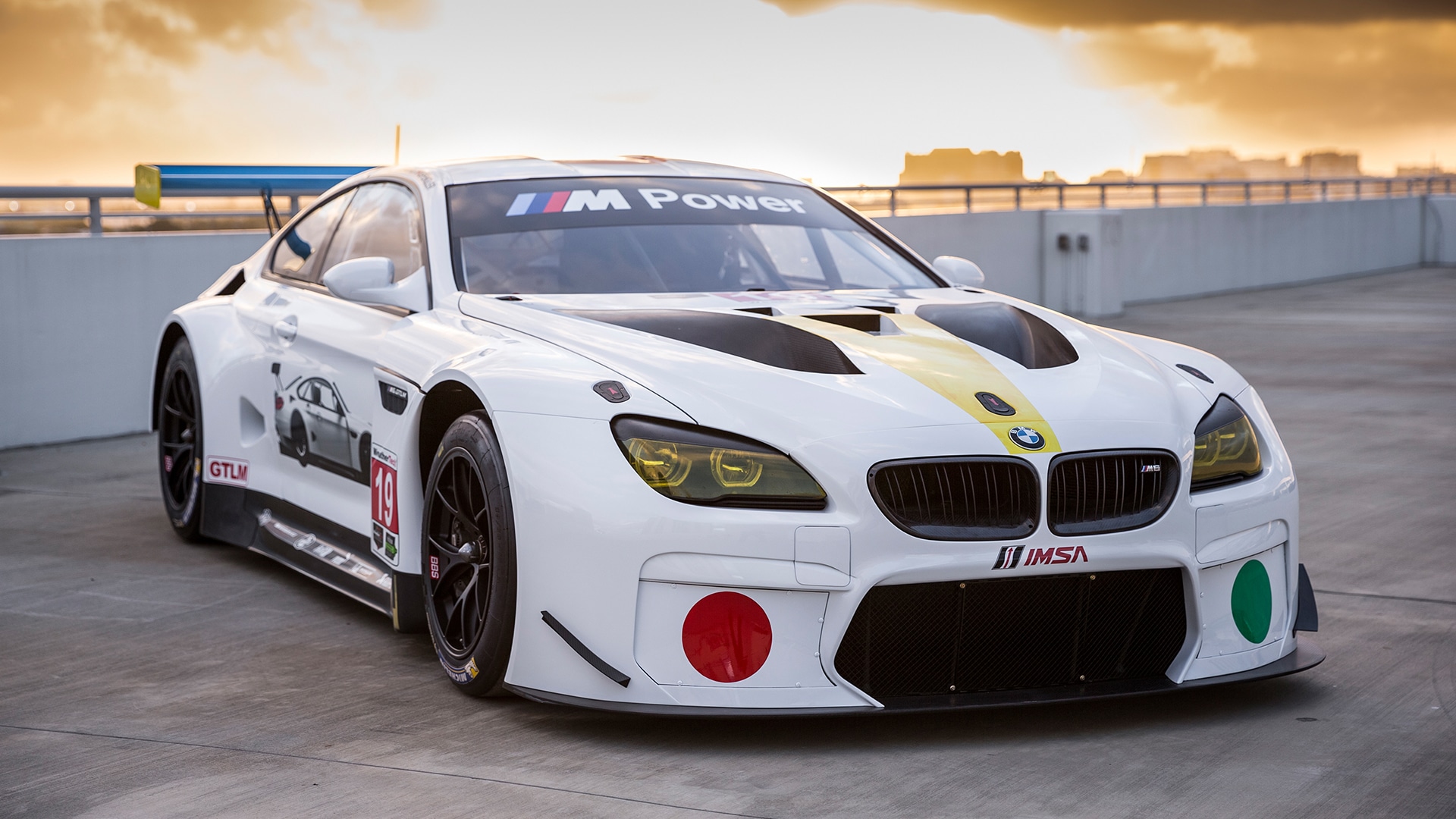 John Baldessari's 2016 BMW M6 GTLM is another example of fantastic BMW art. Fans of BMW Art Cars had to wait six long years before they got a new specimen to admire. The Californian artist brought his style elements into play in a minimized manner, but on a large scale. And he did so effectively. The name says it all; and it can be read in large letters on the driver's door: "FAST". Speed – that's what racing cars like the BMW M6 GTLM are all about. Or, as the artist himself put it: "The BMW Art Car is definitely the fastest artwork I ever created!"
What's the history behind the legendary BMW Art Cars?
BMW Art Cars – these three words bring to mind the legendary connection between car icons such as the BMW M1 or the BMW Z1, and world-famous artists like Roy Lichtenstein and Andy Warhol. Between 1975 and 2017 there were 19 BMW Art Cars – each one a unique piece and a reflection of the art and taste of its designer.
Photos/Video: BMW; Author: Nils Arnold