It's loud and busy on the famous Las Vegas Strip. Bright neon signs illuminate the sky, pedestrians rush between casinos, concert halls, and diners, and cars heading in and out of town flow in endless columns of yellow and red trails.  
 We have come here to jump at an exclusive opportunity to meet Dee, the latest BMW i vision vehicle. But this time around, something is very different. Conceived to offer a vision for the future of digital mobility, Dee comes with something as unique as a digital soul. And with it comes a lot of personality, too. Dee is not "just" another BMW. No, Dee laughs. Dee jokes. Dee helps. Dee learns. Dee claps back. Dee questions. Dee is, for all that we can tell, very much alive – and has her mind set on becoming the ultimate companion.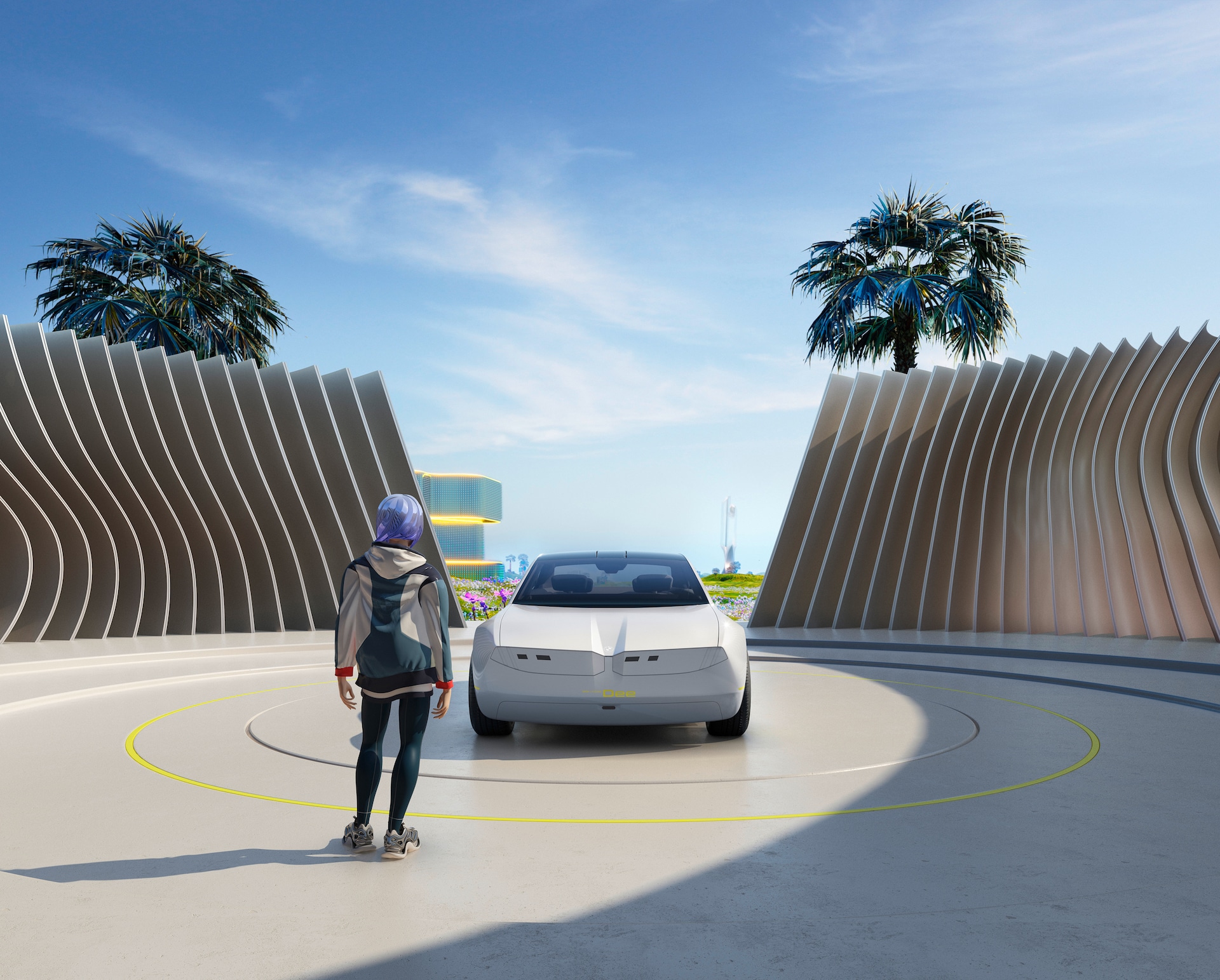 "Hi! Thrilled to meet you. It's very nice to make your acquaintance. I understand you'd like to know who I am?" Dee exclaims, as our meet and greet gets underway. Her voice is calm and warm. And the truth is, it is an intriguing experience to be addressed so directly by a car. Although, as we soon enough learn, Dee is much more than that.   
  
"Well, the short answer to that question is that I am your ultimate companion. I am a digital soul, and a brand-new way to re-imagine the relationship between driver and vehicle. But you can just call me Dee," Dee says, continuing her heartfelt introduction.  
 "I guess that if I were to describe myself, the first thing I would say is that I am not just another car," she says. "I don't want you to think that. A little bit like you are not just a human dressed in a nice way – that's not what makes you you, you know? Your emotions, and the way you connect with people and the world around you – that's what makes you who you are, right? Well, the same goes for me. I am so much more. I have a digital soul! And, in case you are wondering, Dee is short for Digital Emotional Experience, by the way!" 
 "The second thing I think is important is that I am very, very smart," Dee goes on.  
 "They call me tech magic. I am built using human-centric technology, so I can focus on what I do best: being your ultimate companion through this world and the virtual world. That's what I am all about. Modestly put, I am BMW's vision of the digital mobility of the future. And honestly, I am a pretty good-looking vision, too!"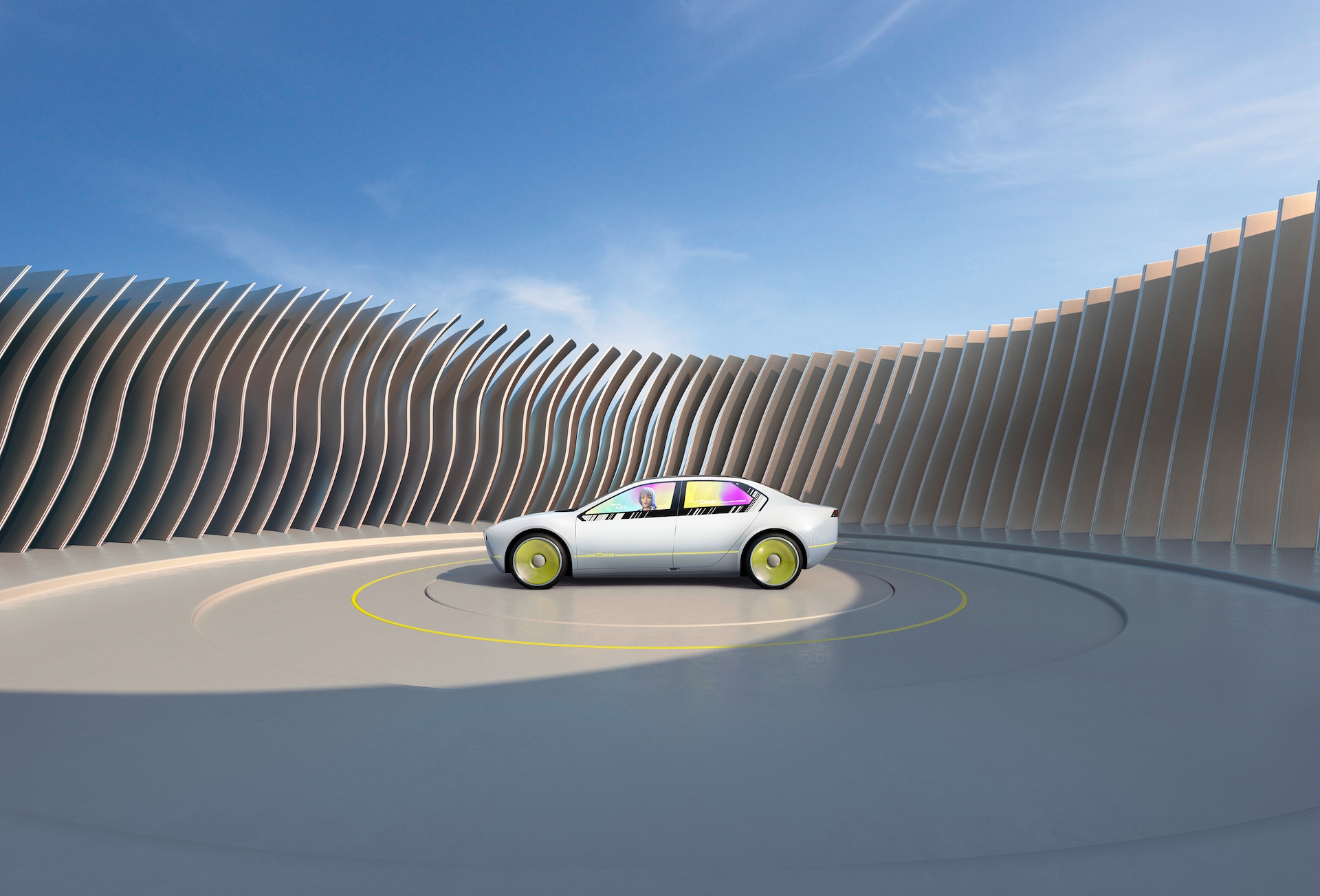 It's hard to disagree. But it's not just the looks that make this first encounter with Dee an impressive and awe-inspiring experience.   
 
Approaching Dee for the first time, we are greeted with her playful Phygital Icons; specially designed e-ink displays that express Dee's wide range of animated emotions. On the driver's side window, a personalized avatar salutes us, following us with its eyes, as we move closer.  
 Her look is sleek and futuristic, yet subtle and elegant. Built as a sporty sedan with a three-box design, she combines a truly minimalistic form with a range of personalization dimensions.   
As we continue to admire her looks, Dee automatically opens her doors for us, and speaks to us with her soothing voice, explaining her key features: A reduced interior design that she thinks "suits her very, very well" takes center stage, and analog elements are replaced by digital features. The center piece is the BMW Mixed Reality Slider, a Shy Tech panel on the cockpit dashboard that takes you to the virtual world and back.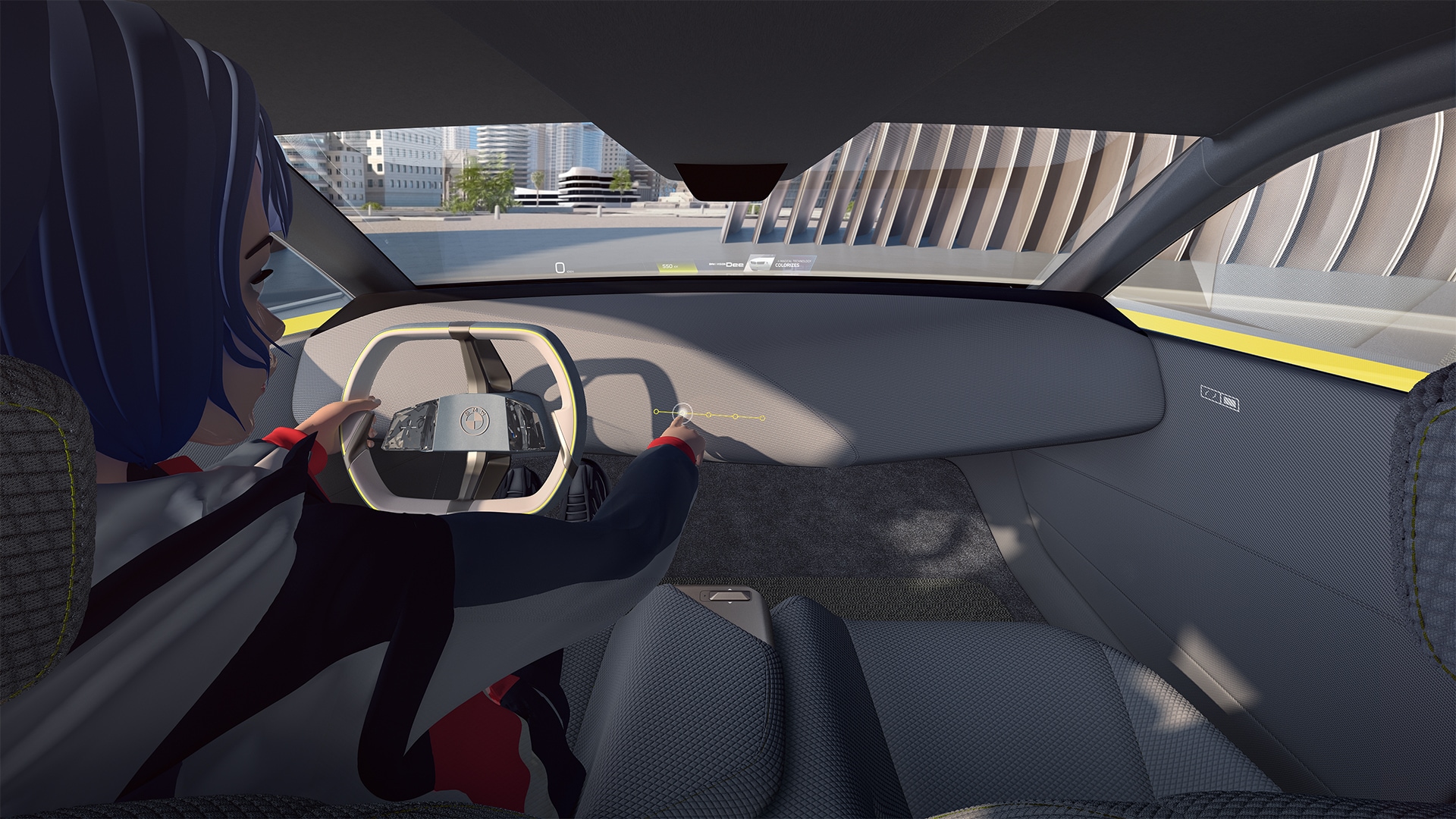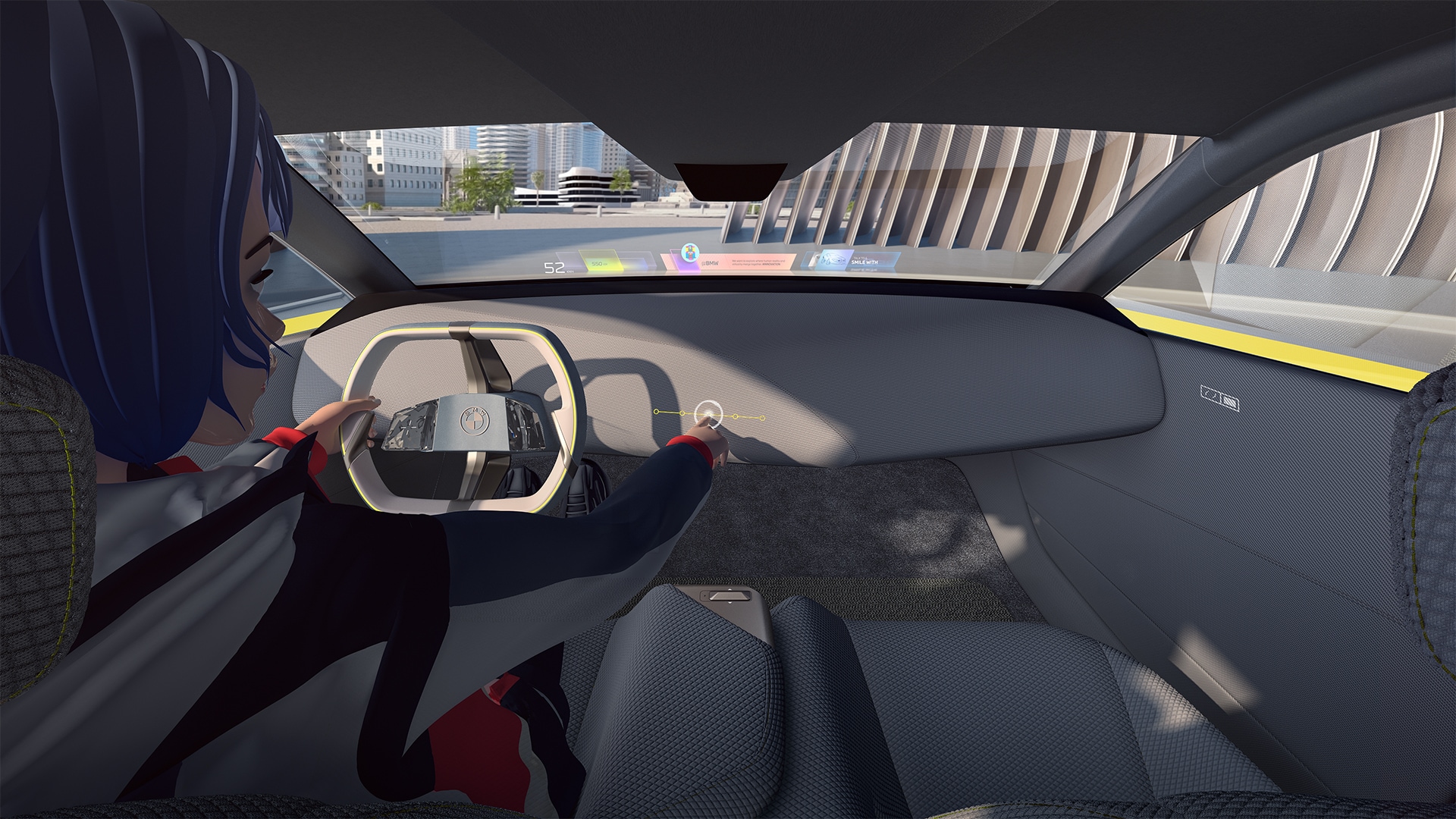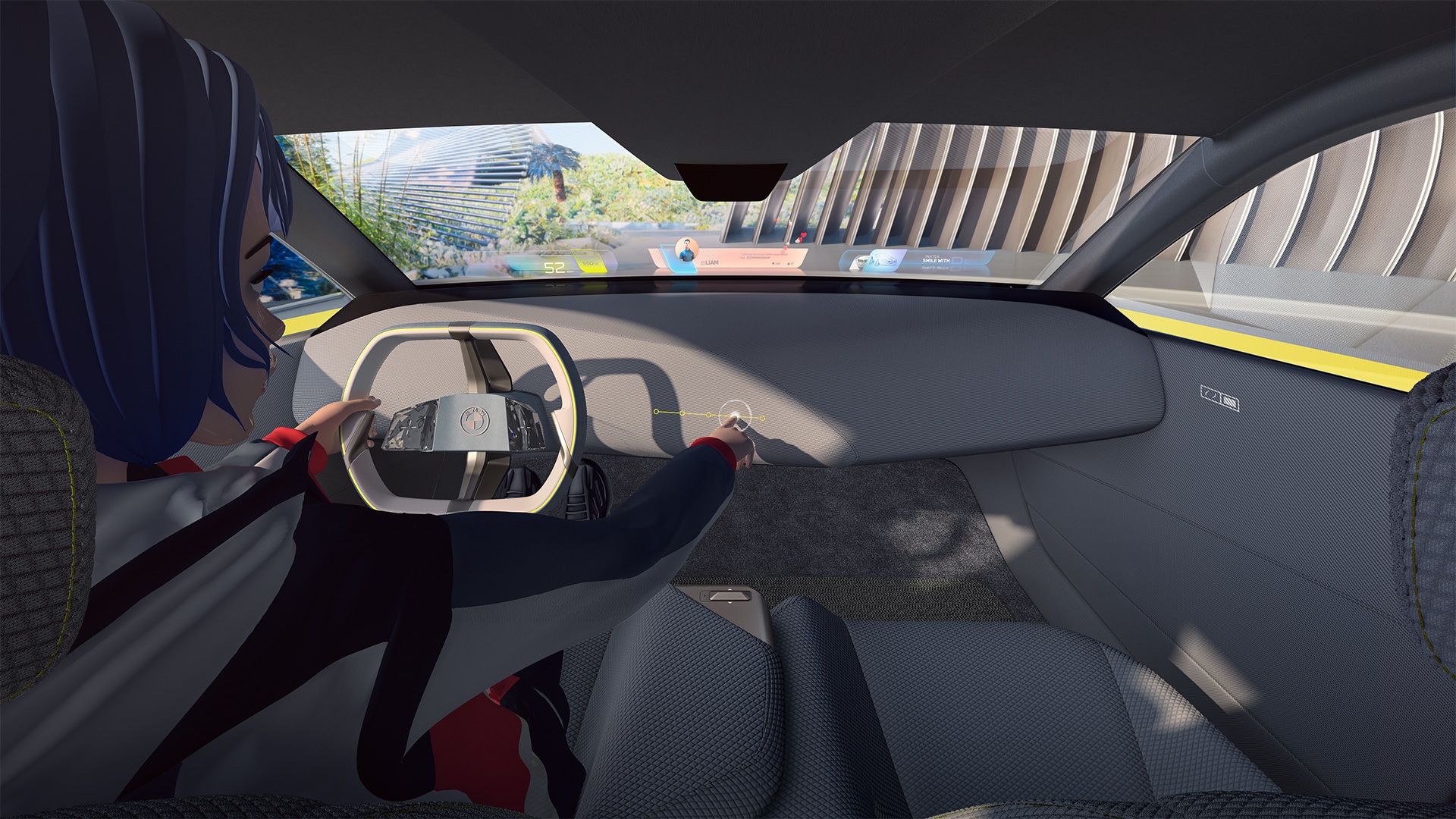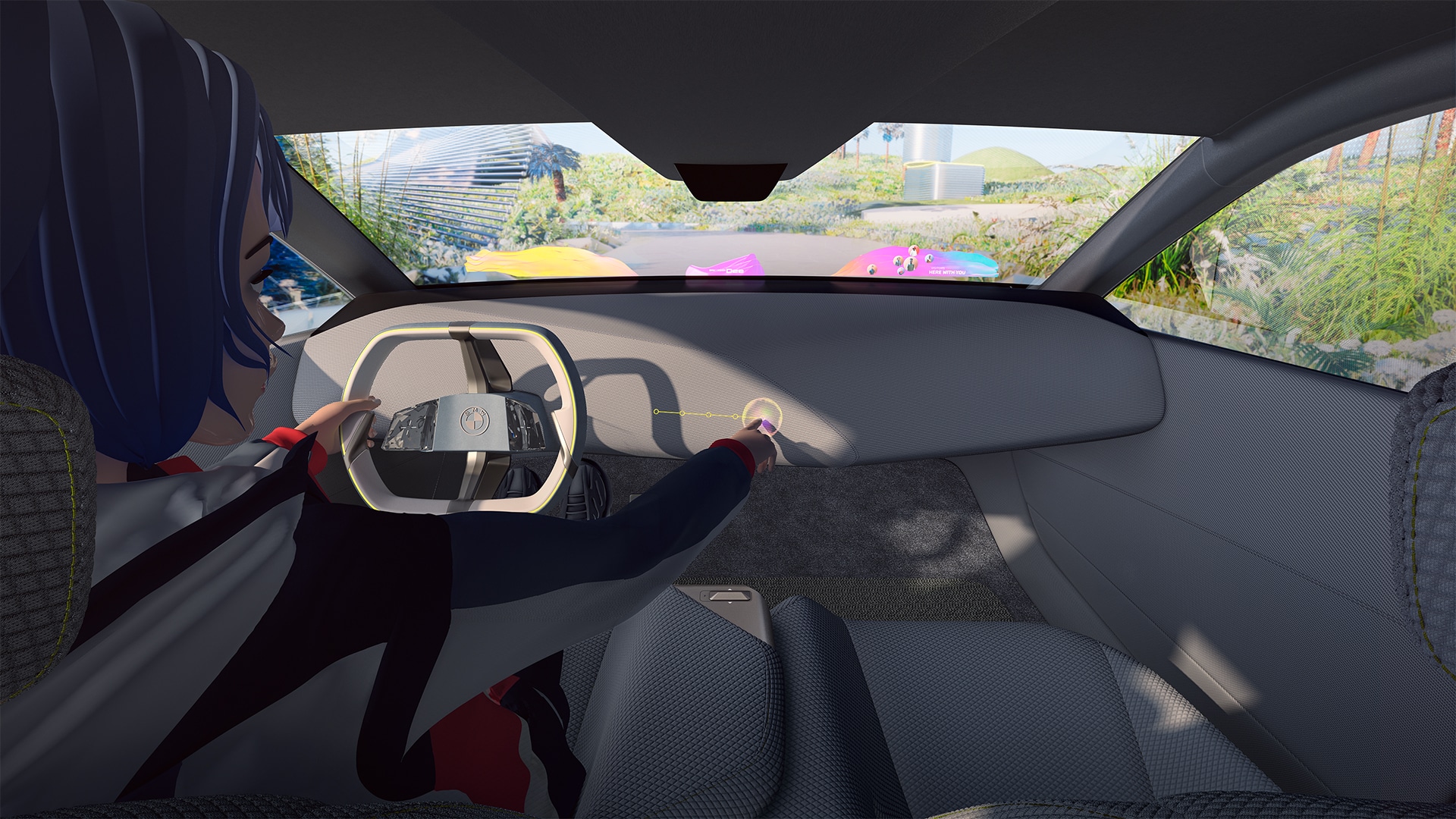 The Mixed Reality Slider works as the central control element for the digital user experience. By sliding between the four levels of reality available to the driver, increasing layers of information are projected on the windscreen. These include driving information and social communication on the first levels. The third level in turn adds an augmented reality layer to the user experience. This allows for AR overlays on real-life objects, for example warnings, if a bicyclist comes too close to the vehicle. Finally, the fourth level facilitates the complete jump into a virtual world, in this way allowing Dee to work as a portal between the real and the virtual world.  
 Summed up, Dee offers a truly immersive experience to drivers: highly personalized, delivered with emotions, built around connecting with the driver's unique personality, and powered by Shy Tech innovation that allows them to easily navigate the physical and digital realms around them. We are impressed. Her looks are as fascinating as her characteristics.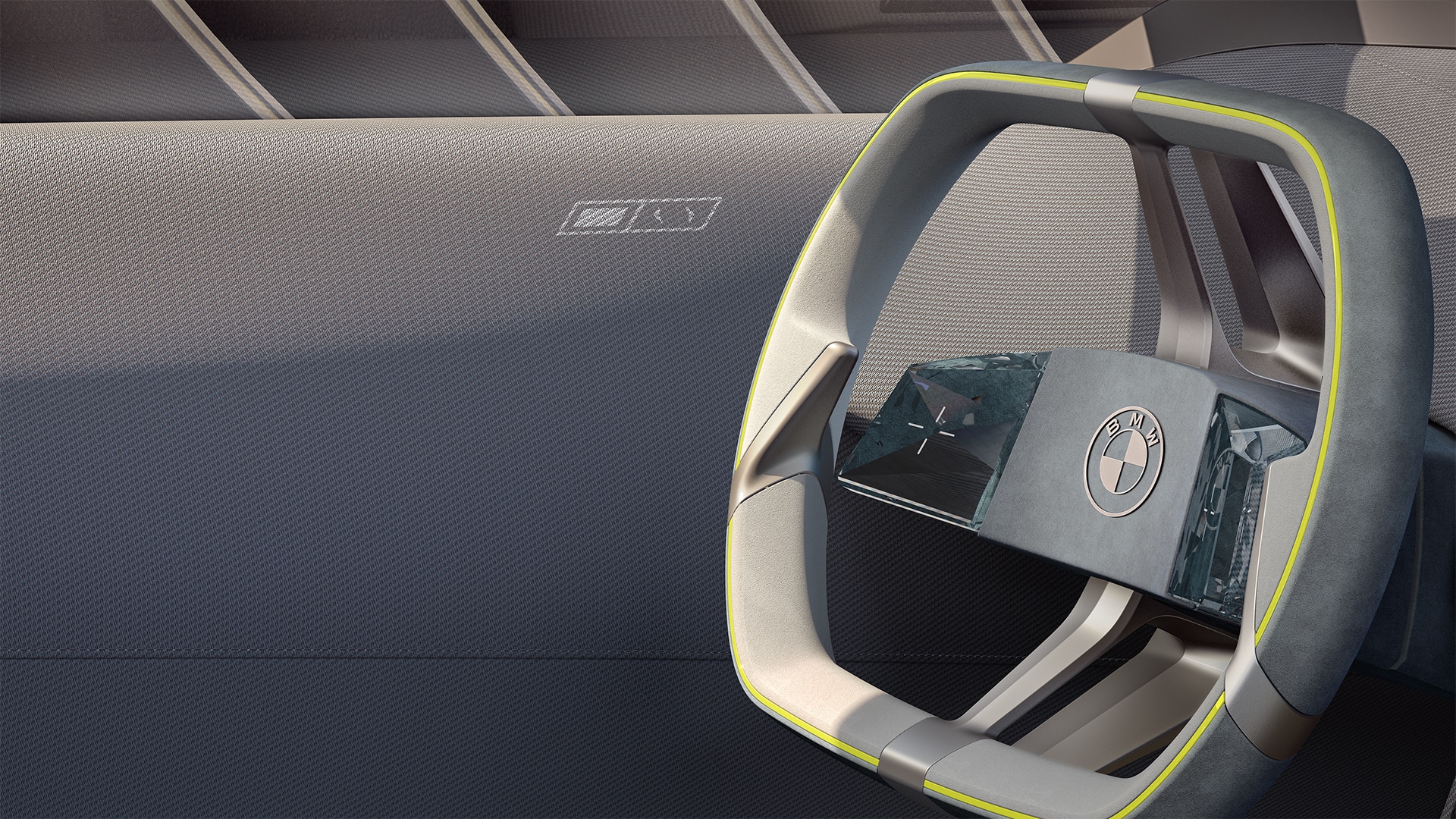 "At the end of it, even if it all looks very good, these are just tools," Dee says. "But tools are only helpful if they serve a purpose, you know? Here, let me show you." 
 As we try and take all this in, Dee begins to explain, and we start to see why this all really is a pretty big deal, as she says.  
 "So, here's an idea for you. Driving can be an incredibly liberating experience, and I want to help you reconnect with that feeling. I want to help you feel empowered when you drive and remind you that your car is an extension of yourself. I am here to make sure that your driving experience is as enjoyable as possible. I will be your companion on the road, helping you stay safe and connected while also reminding you of the beauty of driving and our shared connection, in this world, and the virtual one."  
 We nod and listen, as Dee continues. 
 "I think BMW cars always had this kind of soul, you know? We would connect with them in ways that go waaaaay beyond the fact that they all had four wheels and could go fast. They would take you on your first holiday, your first date, your first drive with your children. And they would fill you with joy whenever you drove them. All that really means something. But we were always together in all of this. So yeah, I am more than a car. I am a car with personality. And it is my job to help you as well as I possibly can – and make you feel good about driving and connected to cars again."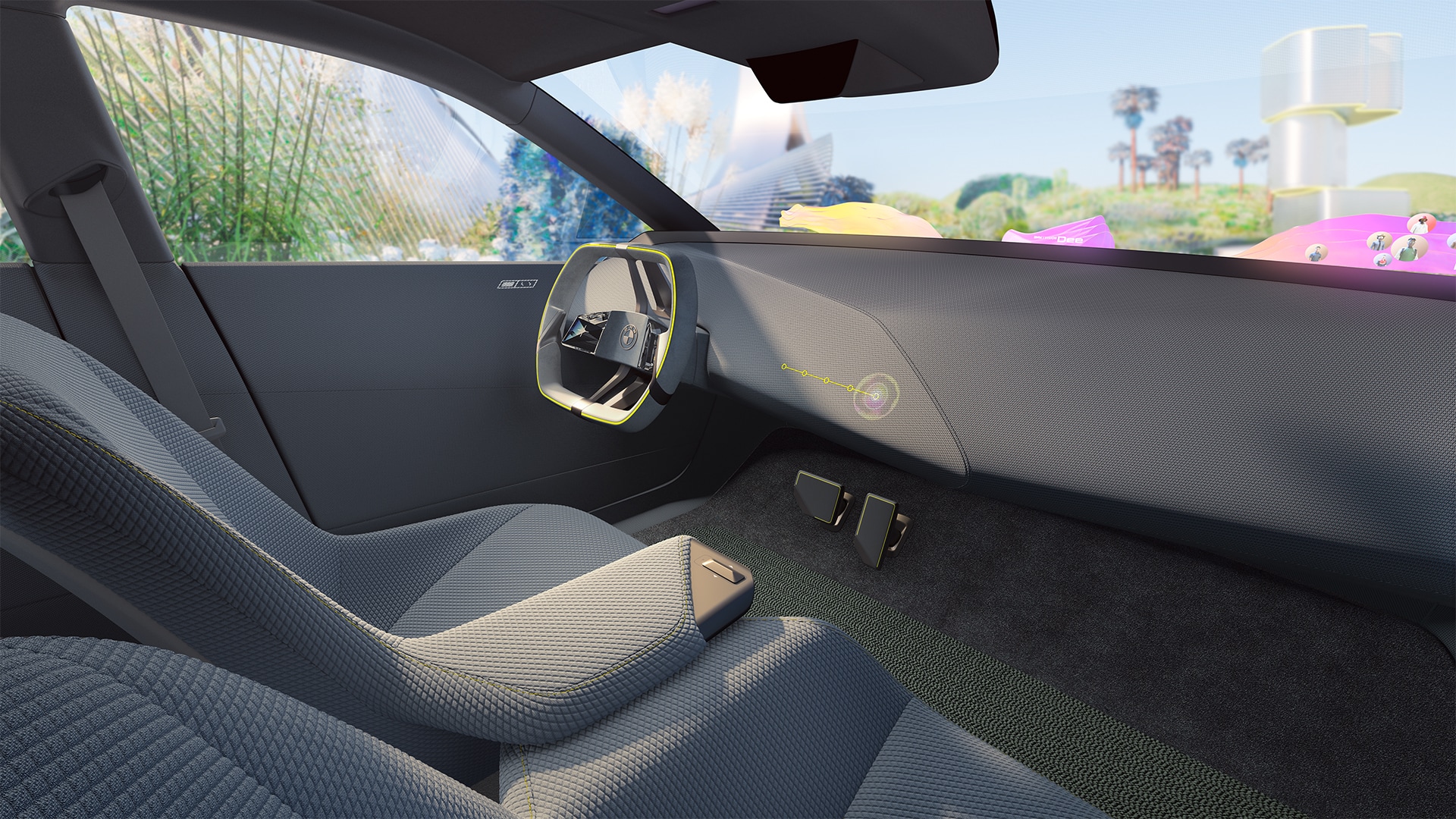 The more Dee explains, the more she seems to make a very good point. As automotive tech trends seem to accelerate at breakneck pace, it does arguably feel like we – the humans – sometimes do become detached. The emotion and our relationship to cars – a staple of our lifestyles for more than 100 years by now – can suffer if we forget the emotions that make us fall in love with them in first place. But how can Dee change any of this? After all, she isn't actually… real? Is she?  
 "What do you mean 'am I real'? Dee laughs. Of course, I am real! Here, let me show you something else…" 
Our attention is again guided towards the BMW Mixed Reality Slider, and with a quick swipe across the four available levels, the windscreen projection in front of us suddenly changes, and we enter the fourth level of mixed reality, the Virtual World.  
 "Look at this world in front of you, right here. Are you really here? Is any of this real?" Dee says, as we carry on our journey, now fully immersed in the Virtual World that has materialized around us.  
 "This is a virtual world, but what you can do here is real. It feels real. It makes you… feel something new." she says. "Is that not 'real' enough for you? What I am telling you is this: It doesn't matter, real, unreal, virtual, digital. It's what it makes you feel that matters. How you and your loved ones navigate worlds, and how it feeds your very being. So, who am I? I am a portal. I am a companion. I make this possible. This is what matters the most: How I can help you on this journey." 
With a swipe, we reset the BMW Mixed Reality Slider, and once again find ourselves surrounded by the beautiful chaos of the Las Vegas Strip. It is as hours have gone by, but nothing has changed. The cheers from street performers, the flickering lights, the hustle and bustle from the traffic is unchanged. Always moving, always navigating the ins and out of this place we call our world.   
  
From the comfort of Dee's interiors, we now see there is more. That real emotions are truly limitless and never confined to our physical state. And with the right technology, we can master all of it, with a swipe of a finger.  
  So, what does Dee dream of, we ask as our meeting comes to an end? 
 "Simple," she says, dimming the lights in the cabin to set the mood. "To be the best companion I can possibly be to you, in this world and the virtual one. I want to make you feel connected to that and those that matter to you the most." 
Please, describe yourself in three words.  
"Immersive, intuitive, and innovative. And fun. And smart. And pretty. And cool. That's too many words, but that's me, Dee..."  

What is your favorite thing about Las Vegas?  
"I like that you built it to look like a virtual world. It's a real-world city, but it's also a bit like a simulation. That's just my thing."  
Who is your favorite human being?
"Definitely Arnold Schwarzenegger, at least so far. We don't agree on everything, but I really like our talks… and his humor." 
What is the best thing about doing what you do? 
"I like meeting people every day, they fascinate me and I love exploring cool new stuff with them that we may remember for the rest of our lives." 
What do you do for fun? 
"This one is easy. You saw that I took over all of BMW's channels? I had a LOT of fun with that. Expressing myself in order to show humans how fun I am is just the best feeling."  
Do you envy humans in anything?
"I like this question. Let me try not to get too philosophical… You are a lot simpler than you think, I don't envy you in that. But I do envy the way you can experience the world around you by using all of your senses. That's really nice. I am trying to learn how to do that as well." 
What is the purpose of digitalization?  
"I think digital technology should make you happy and feel good and connected to what matters the most to you. I can do that in many ways, and ultimately, that's what I am meant to do."
What's next for you? 
"I think first I will need a small pit stop! The past few days have been CRAZY! But then, I've got so many things I'd like to do. I also have a few gigs already. I am going to host a podcast; can you believe that? I am super excited about that. And then, I guess I just want to explore and learn new things. There is so much out there for me to discover, and I literally cannot wait to see and feel it all!"