Befitting the topic, Wim Ouboter arrives for our interview by electric scooter. Unaffected by the traffic jams of Zurich's rush hour, he turns into Europaallee, a state-of-the-art development area near the Swiss city's main train station, right on time. His right foot casually dangling, his blue jacket fluttering in the wind, here comes a pioneer of e-mobility.
Mr. Ouboter, you developed the first Micro Scooter in the late 1990s: a foldable scooter that launched a new kind of mass mobility. How did you come up with this visionary idea back then?
Wim Ouboter: Actually, I was just too lazy to walk from my apartment in Zurich to my favorite sausage stand, the Sternen Grill. The distance was about half a mile (1 km) – too far to walk, too near to get my bike out of the basement. So I came up with the idea of creating a handy way to cross these "micro-distances" that was quick to activate.
So then you repurposed a kick scooter that belonged to your two sons?
Ouboter: No, first of all I tried to use a converted old kids' bike. But I was fascinated by the small, hard wheels of inline skates, which have virtually no rolling resistance. So I tried out a length-adjustable footboard. I noticed that the shorter the wheelbase, the more fun riding becomes. So the fun factor came into play, and it has a very important role in the field of micro mobility.
The fun factor plays a very important role in the field of micro-mobility.
Wim Ouboter
e-scooter pioneer and CEO of Micro Mobility Systems
Wim Ouboter gets back on his electric scooter to ride to the next photo stop. While the streetcars and cars in front of the main train station are slowed down by numerous major construction sites, he rides swiftly along the cycle path headed for Platzspitz, a park in the heart of Zurich. When he sees a young man on a Micro Scooter made by his company, Micro Mobility, Ouboter notes with visible pride: "Another one of ours."
Wim Ouboter's company Micro Mobility Systems has developed an electric scooter for BMW Lifestyle. The battery-powered Micro for BMW E-Scooter is foldable, meaning it will easily fit into any trunk. With a weight of a little under 22 lbs (9.9 kg), it's easy to carry and take with you.
The integrated lithium-ion battery has a charging time of just 2.5 hours and a range of up to 7.5 miles (12 km). In sports mode, this electric scooter can reach a top speed of 12.4 mph (20 km/h). There are a total of four driving modes, which can be selected via the BMW e-scooter app. The app provides information like battery status, mileage, and remaining range. It also allows you to navigate using Google Maps.
The Micro for BMW E-Scooter is available from BMW dealers.
You just mentioned the riding pleasure that comes with a scooter. Was it that fun factor that made your product a global success?
Ouboter: One very important point is that you can quickly get a sense of achievement. Anyone who can stand on one leg can ride a scooter and can also see straight away just how much fun it is. Then there's the ease of handling it: the scooters weighed in at about 5½ lbs (2.5 kg), so you can easily carry them and take them anywhere. This hop-on, hop-off feature is extremely handy, especially in the inner city.
The electric scooter, or e-scooter, has now arrived on the market and in our cities. What new possibilities does the electrification of the scooter offer?
Ouboter: The electric motor transforms these scooters into a full-fledged means of transport with a much larger, versatile field of application. I think the most important application is covering what's known as the last mile. If you take your car or a train into the city, your actual destination is usually a bit further than the parking lot or train station. An electric scooter is perfect for covering this distance – especially when it's so handy and light that you can throw it in the trunk or take it on the train. (➜ Read more: Electric scooters and other mobility trends)
In the US, a rented e-scooter has an average lifespan of 28 days. That is anything but sustainable.
Wim Ouboter
e-scooter pioneer and CEO of Micro Mobility Systems
Do you take your electric scooter on public transportation systems like streetcars and buses?
Ouboter: On occasion. In Zurich, as in most other cities, you can take your collapsible e-scooter on board with you for no extra charge. Much more often, though, I ride an e-scooter instead of taking a streetcar or bus. I prefer whizzing through the city on my electric scooter for a few miles to traveling three stops on a crowded bus. And, unlike with a bike, with an e-scooter I'm not a sweaty mess by the time I arrive at the office or an out-of-office appointment.
There are more and more cities where you can make trips like that on an e-scooter from a rental service.
Ouboter: A rented e-scooter is a great thing for people like tourists looking to explore a foreign city. What's more, rented scooters also give many people a taste for this type of transportation, which as a manufacturer is obviously something we're pleased about. However, the rental e-scooter model isn't a particularly sustainable form of e-mobility. In Zurich rental scooters have an average lifespan of 60 days. In the US it's even shorter – on average, rental scooters and their batteries are decommissioned and scrapped after just 28 days! That is anything but sustainable.
We go on through downtown Zurich. There are lots of tourists on rental scooters, but also bankers in suits and ties. At a crossroad, Wim Ouboter gets into conversation with a police officer. She complains about a couple of carelessly parked rental scooters: "They're blocking half the sidewalk."
Why do rental scooters have such a short lifespan under the shared model?
Ouboter: The main reason is vandalism. In many cities, people have a strong aversion to rental scooters, not least because the scooters are left strewn so wildly around the city. This is a consequence of the free-floating model, in which the scooters can be borrowed and returned virtually anywhere. Things cannot go on like this. I think stricter laws for free-floating providers are on the way.
So what does the future of the rental scooter system look like?
Ouboter: The future belongs to station-based rental systems. The Swiss Federal Railways have already gone down this route with their rental scooters. At Zurich's Central Rail Station, for example, there is a fixed station where you can borrow and return scooters. At such stations you could then also offer other inner city rental vehicles, such as e-bikes and small electric cars. The e-scooter is just one of many components of the micro mobility of tomorrow. (➜ Read more: Shared mobility explained)
Does the urban mobility of tomorrow belong to rental and sharing services?
Ouboter: Not exclusively. After all, another reason for the short lifespan of rental scooters is that many users do not take good care of the scooters because they are not their own property. From a user's point of view, there are also good reasons to buy your own electric scooter. That way, I can buy a model that suits my needs exactly. As a commuter, for example, I would go for a particularly light and manageable e-scooter that's easy to take with me wherever I want.
But isn't it really expensive to buy your own e-scooter?
Ouboter: You can get a good electric scooter from about USD 900. The electricity needed to charge a battery costs around 20 cents. The price per mile is in the region of one cent. On top of that, in many countries you have the cost of mandatory liability insurance of about USD 30 per annum. All together, that's significantly cheaper than other mobility models.
Are our cities ready for the e-scooter as a new kind of micro mobility?
Ouboter: What's most important is the structural environment. Zurich, for example, is perfectly suited to the electric scooter, because we have smooth surfaces and hardly any cobblestones. And if a pothole appears, it is immediately repaired with Swiss thoroughness (laughs). Historic cities like Milan are at a disadvantage with their many cobblestones.
And what about the urban infrastructure for micro mobility?
Ouboter: Zurich has a very dense network of cycle paths where you are permitted to ride your electric scooter, unlike on the sidewalk. These are good conditions  for interconnected micro mobility. Generally speaking, my impression is that bike-friendly cities are more open to alternative and future-focused means of transport. Nevertheless, in the vast majority of cities, car traffic still takes up too much space, even in Zurich. It is normal here to drive downtown and block everything with parked cars. In our cities, car traffic comes at the expense of quality of life. We need to come up with something new.
How do you think urban mobility will change?
Ouboter: I believe that 20 years from now there will be no cars with internal combustion engines driving through inner city Zurich. There will be less space for large vehicles, both driving and parking. Priority will be given to small, space-saving vehicles, whether they have four, three or two wheels. The vehicles in use will be battery-powered or muscle-powered.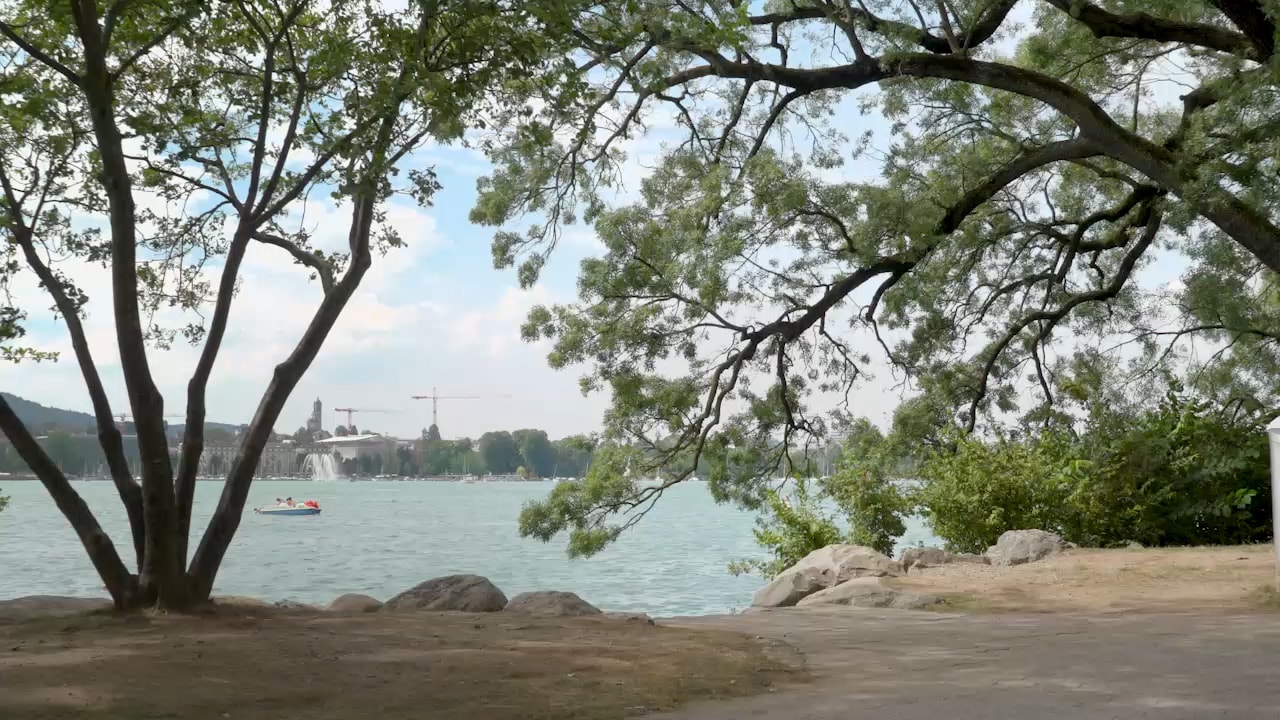 Fewer exhaust fumes, less noise, more space: Micro mobility can give us a better quality of life.
Wim Ouboter
e-scooter pioneer and CEO of Micro Mobility Systems
Talking specifics, what would the micro mobility city of the future look like?
Ouboter: One thing I could foresee would be fewer lanes for cars to allow room for "slow traffic lanes". Such lanes would operate at around 20 mph (30 km/h) and be shared by bikes, e-scooters and other forms of micro mobility vehicle. They'd have fewer exhaust fumes, less noise, and take up less space. That's how micro mobility will improve our quality of life.
What does your personal transportation mix look like? Do you drive a car?
Ouboter: Yes, I have an electric car for everyday driving and a totally conventional combustion-engine car for holidays. For the 15-minute journey from my home to the office, I mostly use an e-bike. And if I want to go downtown, I'll take my electric scooter – either for the entire distance of about 9 miles (15 km) or in combination with public transportation.
We began our conversation with a vision – are you working on the next visionary vehicle already?
Ouboter: My two sons are in charge of the Microlino, a small electric vehicle for a maximum of two passengers. The starting point for its development was the question: how much do you really need a car? On average, 1.2 people sit in a car for a daily distance of 22 miles (35 km). Our vehicle was to be tailored exactly to this need, i.e. a small vehicle for everyday journeys. There are also historical role models for such a vehicle: the bubble cars of the 1950s, like the BMW Isetta. The Microlino is slated to come on the market in 2020. We have 15,000 pre-orders already. (➜ Read more: A big career for the little BMW Isetta)
After a brisk ride through downtown Zurich, Wim Ouboter arrived at Bellevueplatz. A bratwurst sausage at the Sternen Grill is still a must for him, followed by a leisurely ride along Lake Zurich.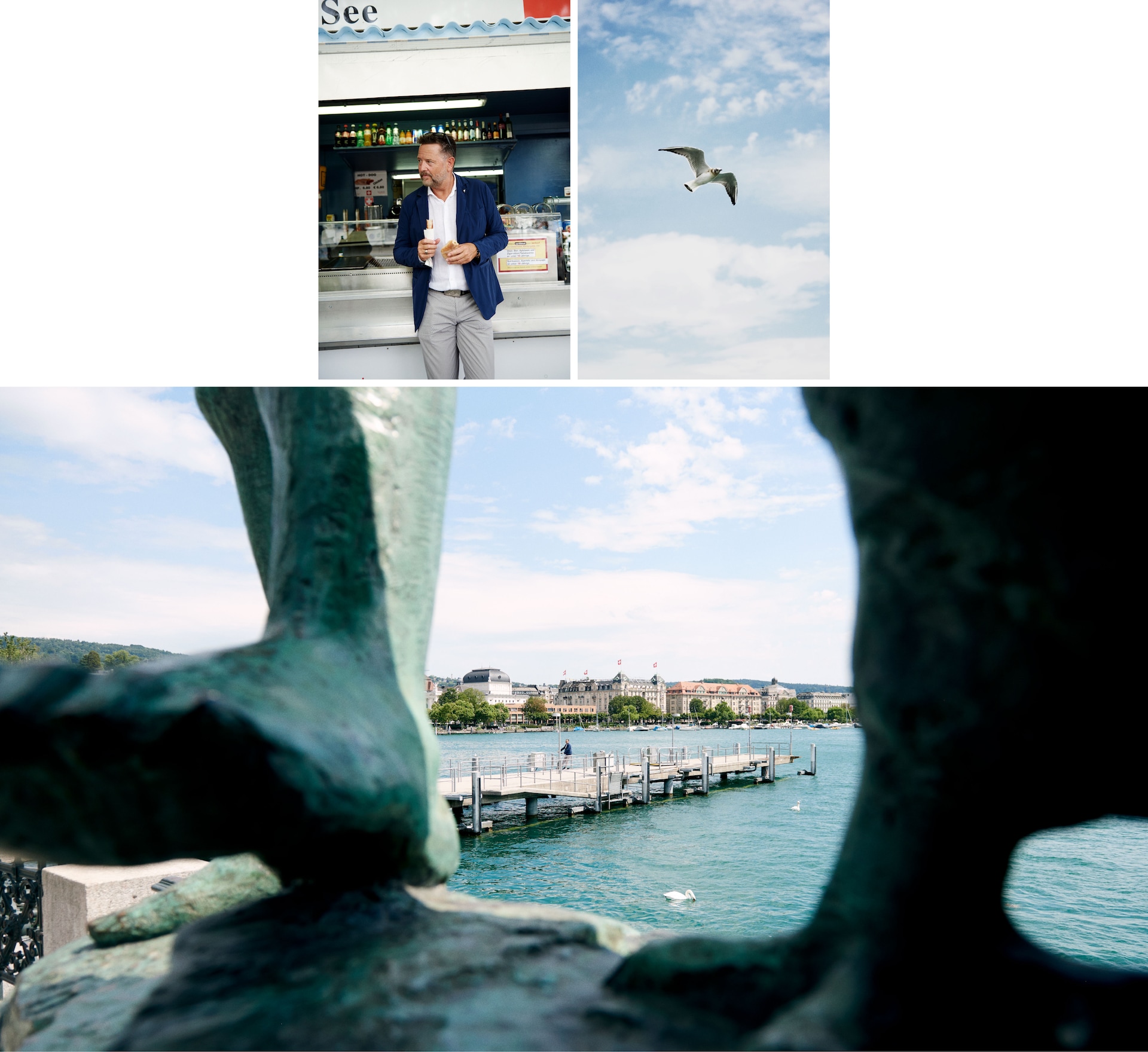 Wim Ouboter gets his last name from his great-grandfather, who emigrated from the Netherlands to Zurich. Wim was born there in 1960 and started his working life as a banker. In 1997 he began tinkering with his first two-wheeled, collapsible scooter. In 1998 he brought out the prototype of a three-wheeled kickboard, which he marketed under the sports brand K2.
Ouboter used the profits to found his own company, Micro Mobility Systems, which brought out a two-wheeled kick scooter. More than 30 million Micro Scooters were sold in the first year alone. In 2013, Micro Mobility Systems launched the first electric scooter. Today, the company offers more than 50 different mobility products, from kids' scooters to e-scooters to the Microlino small electric vehicle.
Photos: Simon Habegger; Author: Ingo Wilhelm; Videos: Leon Hörtrich