Always stay up to date
Innovative mobility, exciting trends for the future and high RPMs: Subscribe now to get notified of new content.
Subscription successful.
Subscription failed. If you need help follow the link for support.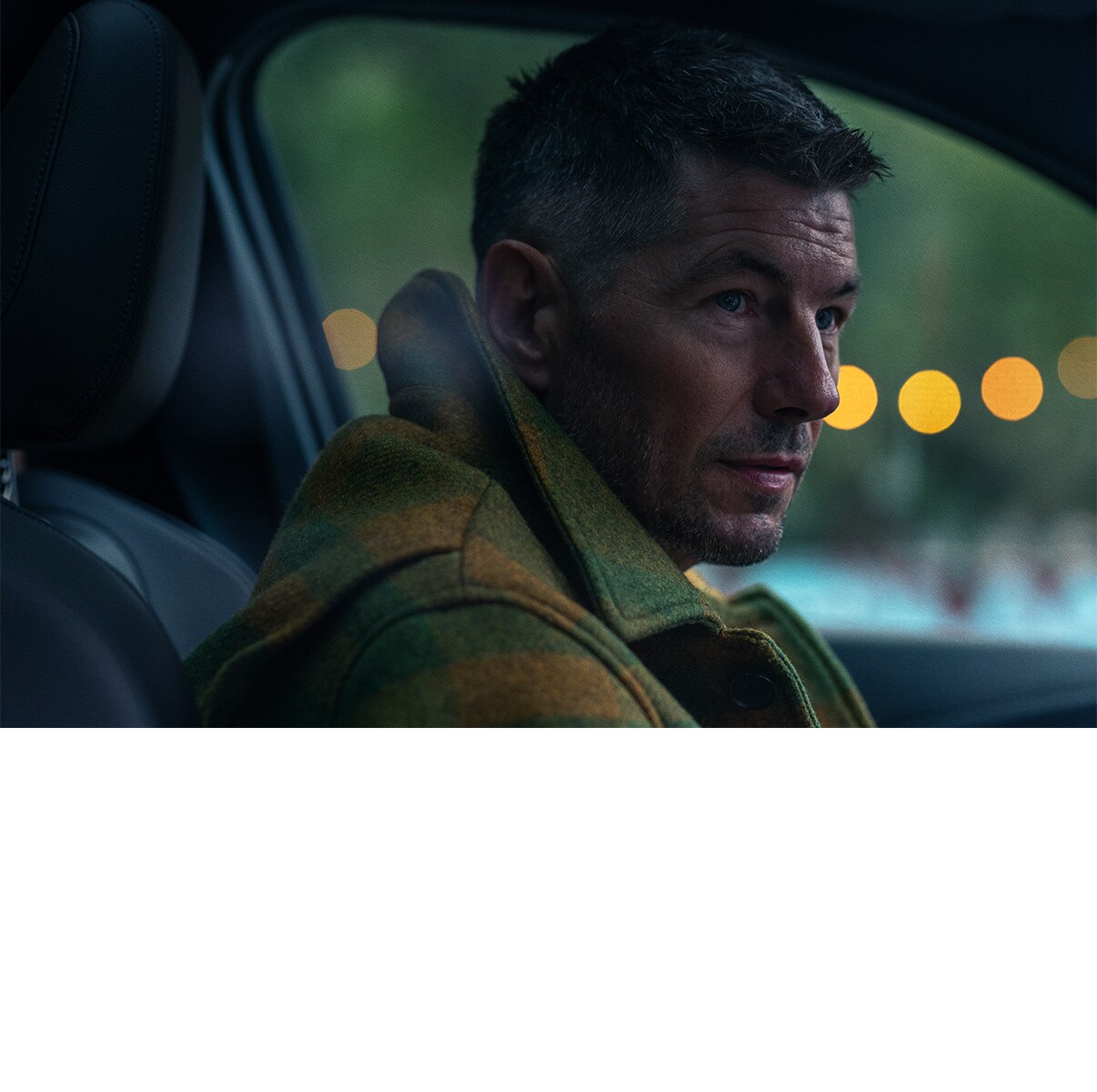 Broad-grinned, skunk-haired, Olympian skateboarder and Copenhagen insider Rune Glifberg is in a good mood, and some of that is down to BMW. He's got the keys of the new BMW iX1 in his hand and is ready to explore the hippest spots in his favourite city.
Rune is Denmark's most celebrated skateboarder. Nicknamed 'The Danish Destroyer' for his skills, he started skateboarding at 11 and turned pro at 17. His career as an elite skateboarder has seen him win the X Games twice, in 2008 and 2009, feature as one of the original playable characters in Tony Hawks' Pro Skater PlayStation game, rank as the best skater in the world on the vert ramp (2001) and in the bowl (2008), and, at the age of 46, represent Denmark in the inaugural park skateboarding event at the Tokyo Olympics in 2020.
After twenty years in the USA, the Dane is now back in his hometown Copenhagen. He runs urban architecture firm Glifberg - Lykke with designer Ebbe Lykke, designing skateparks and urban spaces providing opportunities for other people to fall in love with the urban sport that has steered him around the world for the past 30-odd years.
Today, he's behind the wheel of the new BMW iX1, the newest zero-emissions BMW SAV (➜ Read also: Electric cars and plug-in hybrids explained). A new entry point into the steadily growing BMW EV line-up, it sports an angular look, blue trim, chrome grills and a boxy rear – it's muscular, yet referencing a sporty style, ready to take on city streets with style.
Electricity consumption (WLTP) 18.1 – 16.9 in kWh/100km
Electric range (WLTP) 417 – 440 in km
It's far from Rune's first BMW. He bought his first BMW, a BMW 328is (➜ Read also: Generations of the BMW 3 series), in 1997, when he was living in the US, and he hasn't driven any other brand since. He counts cars like the BMW X5, the BMW M5, project cars, and plenty more in his driving history, and even raced BMW cars on the tracks of California, when he lived there. He gets excited recounting a recent trip to Gotland, Sweden, where he drove the newest BMW iX M60 on a track. "It was mind blowing how well it handled," he said, before revealing that from his garage of BMWs, he currently drives a plug-in hybrid. "It feels justifiable to drive a car in the city when you drive on electric."
Copenhagen is a very liveable city: it feels clean and green and active," he said, looking out of the window at the double rows of cyclists on their morning commute. "Everywhere you look people are doing something, moving around somehow. It's very much a living city.
Where we're going, Nørrebro, has a youthful energy too," he explained, as we approach our first stop, Curbside Stories. "It spans a lot of cultures and a lot of age groups. It's very close to where I live – about 5-10 minutes away by car or skateboard.
With that, we pull up on Stefansgade for our first stop on the Rune Glifberg tour of Nørrebro, Copenhagen. It's a pretty good place to start: in spring 2022 the street was chosen as Copenhagen's first green traffic road, a road closed to diesel and petrol cars to test more environmentally sustainable methods of transport in the city. It's a good thing we're in the BMW iX1…
Glifberg's Picks: a local's guide to some of the coolest places in Copenhagen
Stefansgade 12 | @curbsidestories | Map 1
Bookended by a record shop and an upcycled clothes shop on a cobbled street, Curbside Stories is a tricky place to categorise. Just bigger than an average living room, with a blue sofa and a bookshelf full of art and skateboarding books, it's an art gallery, a hangout space for the local skateboard community and one of Nørrebro's creative hubs.

"I chose this place because the owner René is a friend and a local film-maker and photographer, and it's a place that focuses on local creative people and artists," said Rune. "Stefansgade is a cool street too, and it's right by Jægersborggade, in one of the coolest neighborhoods in Copenhagen."
For owner René Sascha Johannsen, a filmmaker, director and skateboarder whose studio hides behind a curtain beyond the main gallery space, skateboarding (➜ Read also: Obsessed X BMW: Ishod Wair) is at the heart of the space.
"I wanted to create an office space that is also an art gallery, and to involve the creative people in skateboarding," he said. Many of the gallery's shows have been by skateboarders, including the current artist, Jonas Orlof aka Bebe Jones/ Blosti.
Jægersborggade 18 & 41 | Psyche.organic | Map 2
A few streets from Curbside Stories, Jægersborggade is the epicentre of hip Nørrebro, named the 'World's Coolest Neighborhood' in 2021 by Time Out. Lined with independent shops and eateries, handmade knits hang outside shops, geraniums fall from a zinc trough next to a tree trunk decorated in bright striped yarn, and there's creative flair in the air.

"Small local businesses are the sort of thing that makes neighborhoods like this cool," said Rune. "They make a city live and breathe. What I love about Jægersborggade is all these small shops, and the fact that it connects to Superkilen and Assistens Kirkegaard, a churchyard at the end of the street."
We stop by Psyche Organic, a specialist olive oil shop with a responsible and sustainable ethos, and another skateboarding connection, thanks to owner Theophilos Constantinou.
"Theo's a US transplant here in Copenhagen, and we have mutual friends in skateboarding in New York," said Rune. "I like the fact he uprooted his everything in the States because he wanted to sell organic olive oil from Greece here. It's a local business with an international flavour, it's organic, and the olive oil is great."
Down the street from the olive oil shop, Psyche Organic has a salon-like cafe serving delicious local organic food in a space lined with modern art by the likes of Noah Becker.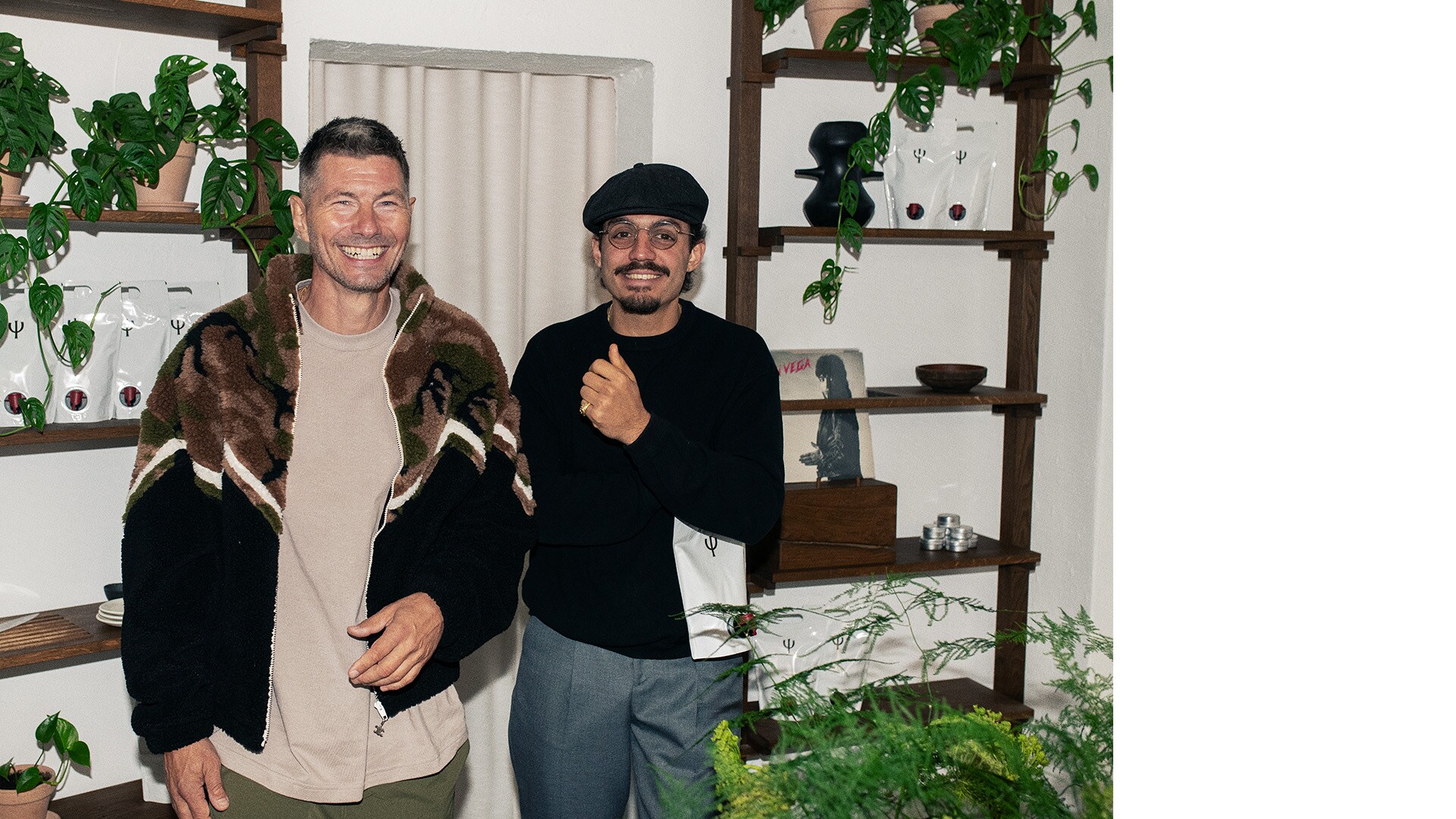 Under Bispeengbuen, Bispeengen 20 | urban13.dk | Map 3
It's hard to think of a better space to explore with the BMW iX1 than Urban 13. At the far reaches of Nørrebro, this creative space under a flyover is styled as an experimental city lab where individuals can make great things happen. In front of us, a teenage boy shoots hoops; commuters cycle home with flowers in their bike baskets, and a street fashion shoot is taking place on a basketball court.
Posters of bands and adverts for skateboard festivals and upcoming concerts line the concrete pillars including one that reads: "When life gets hard, go harder, but enjoy it at the same time". It sums up the Copenhagen attitude: not 'go big or go home' but go big and enjoy it.
"Copenhagen is good at integrating activities into regular urban spaces, and restructuring older spaces to have new purposes," said Rune, citing Urban 13 as a great example of innovative urban planning. "There's a lot of new thinking and creative ways to go about city planning here. I did a project in Høje Taastrup, another Copenhagen municipality, where we created a skateable water management ditch. When the storm drain isn't used for excess water, you can skateboard along it."
Guldbergsgade 16 | circuscircus.dk | Map 4
If CPH Open is the skateboard event in the city, Circus Circus is the skateboard shop. The red and white striped shop has more than a passing resemblance to a circus tent, and is presided over by showman-in-chief Mischa Gundmann, an old friend of Rune's. Inside, the two-roomed shop has everything from a 90s boombox and a Snoop Dogg doll in its original packaging, to a counter stocked with trucks and wheels and a wall of boards including one printed with Rune's pixelated face.
"We're here because Mischa is an old friend, and Circus Circus is the best skateshop in Nørrebro," said Rune. "I come by here for all sorts of things; they distribute Flip boards, which I represent, and I get parcels sent here too."
As well as being Rune's unofficial post office, it's a much-loved shop and a hub of the skateboarding community, supporting the city's up-and-coming skateboarders as they vie for trophies and titles in the X Games and beyond. Passionate about skateboarding and a well-regarded figure in the industry, Mischa is like a mechanic. "It's like building a car," he said, "you've got to know how all the parts work together. At the heart of it all, skateboarding in Copenhagen is about the community. And Rune is the king."
Ravnsborggade 10B | bevars.dk | Map 5
After swinging by shopping street Elmegade, home to Carhartt, one of Rune's favourite shops, our final stop is at Bevar's on Ravnsborggade.
This cozy local restaurant is perfectly placed off the main drag in Nørrebro, close to Dronning Louise's Bridge, a local summer hangout spot. It's a welcoming space with a dynamic menu focused on Danish food, and a wine list that includes natural wine. In other words, wines that are produced as far as possible without additives and without complex oenological processes. Owner Lau Guldbrand Dalgaard wanted to create somewhere unpretentious, a kind of local living room, where people could work in the daytime, eat great food in the evening, and stay until late on the weekends.
"This street used to have a lot of old vintage stores and second hand shops along it, ten years ago," said Rune. "It was one of those places where you could go into the back courtyard and find a furniture warehouse. But now more and more restaurants and cafes have come in, and the street is a lot more alive. It's become very cool."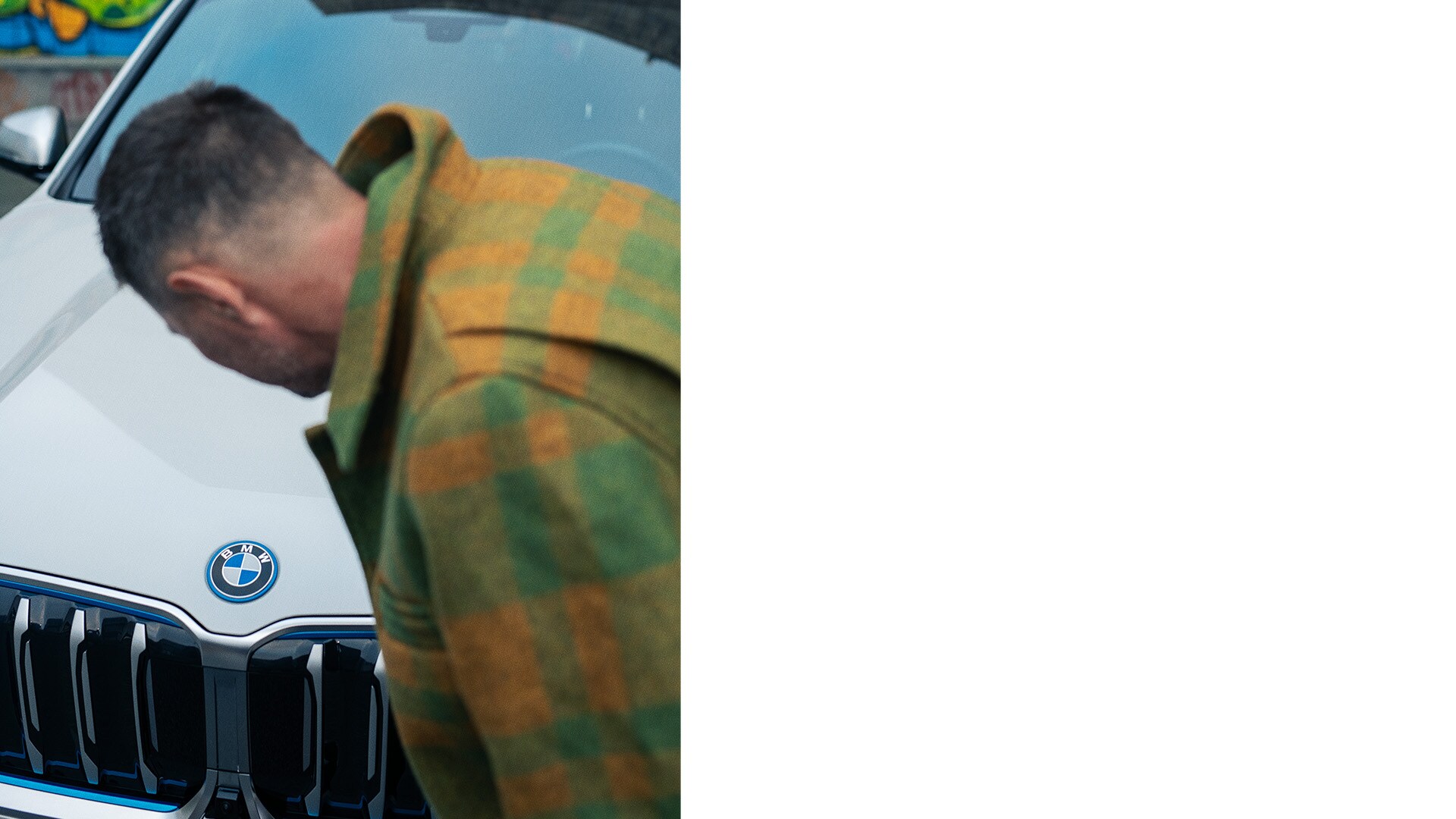 As our tour of Nørrebro comes to an end, we drive over Dronning Louise's Bridge, and back to BMW HQ with Rune once again at the wheel. He's got that familiar grin on his face again.
"It's been wonderful to drive," he said, when I asked if it's lived up to his expectations. "The exterior looks amazing, very sleek and masculine. It feels small and agile, but it looks bigger than it is, with a purposeful and tough look. It's been easy to park and has been a great car for getting around town."
The sun's going down in Copenhagen and the lights are switching on down its city streets. This tour of Nørrebro has been a great insider's take on a city that's keen on reinvention, sustainability and innovation, and a place that holds its sense of community close. If you're looking for a tour guide that knows it inside out, from design and style to green living, local characters, and BMW friendly streets, we know just the guy…
Author: Laura Hall; Art: Shin Miura, Madita O'Sullivan; Photos: Lasse Bech Martinussen