Always stay up to date
Innovative mobility, exciting trends for the future and high RPMs: Subscribe now to get notified of new content.
Subscription successful.
Subscription failed. If you need help follow the link for support.
For over ten years, Nikita Gale has been designing artwork that has been creating a buzz all around the world. This includes the "DRRRUMMERRRRRR" sound installation, in which water and percussion equipment interact, and which was last seen at Kunstraum Kreuzberg in Berlin, Germany in 2021. Or the "PRIVATE DANCER" moving light installation from 2020, Gale's first solo exhibition at the California African American Museum in Los Angeles, USA. The artist repeatedly stages everyday objects. Viewers are always left with fresh impressions (➜ Read also: Rafael Lozano-Hemmer at Art Basel).
Gale has now focused on the BMW i7 and electric guitars for the BMW Open Work by Frieze initiative. The project developed in collaboration with BMW i7 designers is called "63/22", and it will be premiered at this year's Frieze art fair in London (October 12 to 16). But we'll let the artist tell the story.
Nikita Gale
Nikita Gale was born in Alaska in 1983. The Gale family moved with their young child to Atlanta, USA. Gale's mother is a music teacher, so Gale quickly came into contact with sounds, later learned to play various instruments. In the Artist's early 20s, Gale was taking photographs at concerts and delved into photography, videography, sculpture and painting during college. Eventually, Gale completed various degrees in the arts and a bachelor's degree in anthropology. Prizes, scholarships, numerous exhibitions and projects followed. The latest work, "63/22," will be on display at the Frieze 2022 art fair in London from October 12 to 16.
An electric car and five electric guitars – Nikita Gale, how did you come up with the idea of bringing these different objects together?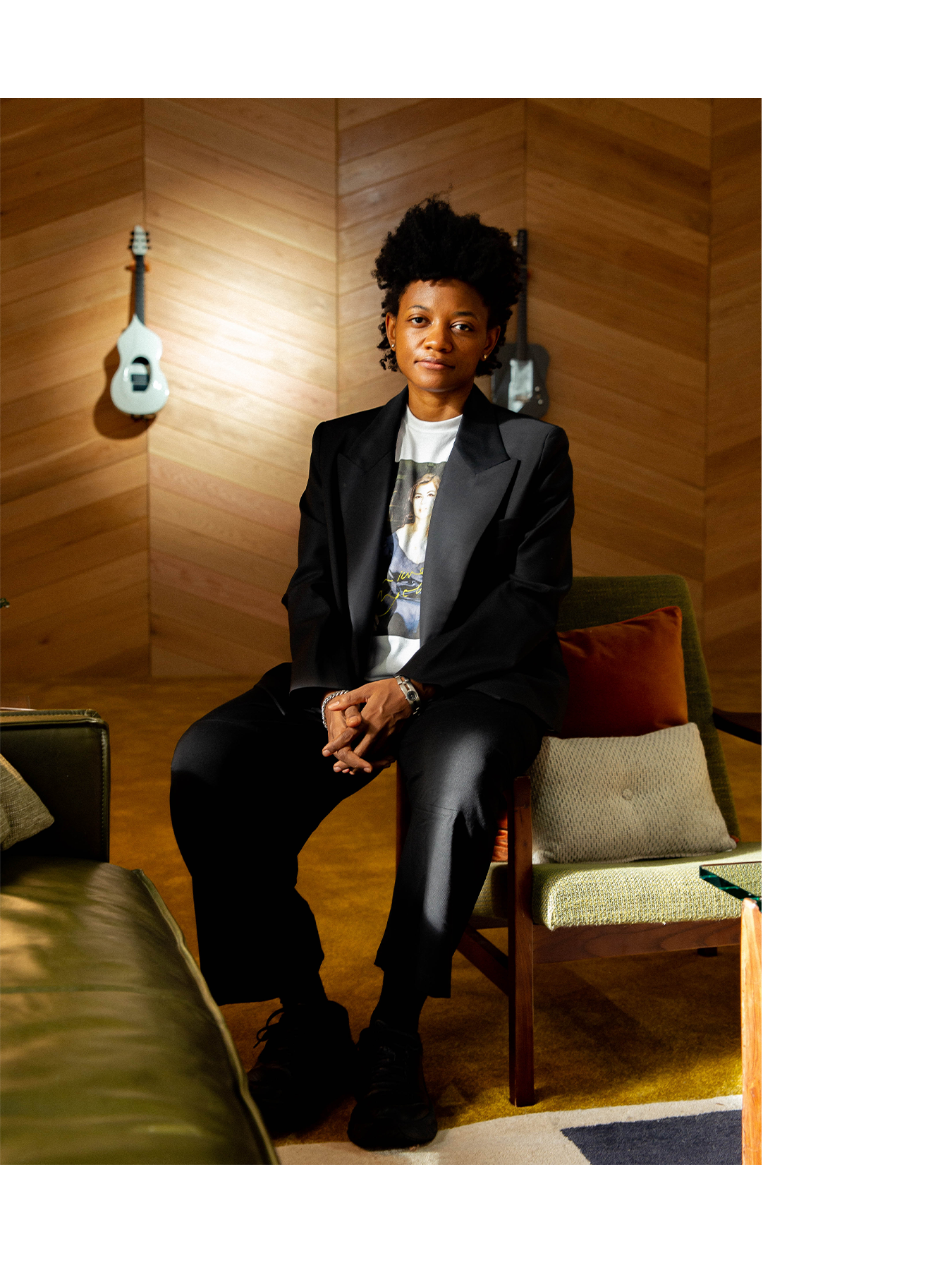 During my college years, I discovered that in the late 50s and early 60s, the Gibson guitar company hired American automotive designer Raymond "Ray" Dietrich to design what became one of the most iconic electric guitar bodies ever made: the Gibson Firebird! The overlap between these two forward looking industries impressed me. The inspiration of the guitar industry was to inject the ethos and attitude of car culture – individualism, freedom – into ideas around the genre of rock and roll. These collaborations blurred the lines between technologies of sound and technologies of speed and motion and the two forms began to visually echo one another. It was the start of mass production of electric guitars and the beginning of rock'n'roll developing into a music genre of its own. But it's also a time of huge social and political upheaval in the United States. Many racial tensions surfaced, especially in the music industry. In this context, rock'n'roll functioned as a conduit for black self-expression and had a coded language with automobiles being explicitly used as metaphors. One of the first rock'n'roll songs is "Rocket 88" by Ike Turner, which was also the name of a very popular automobile model at the time.

You teamed up with three BMW i7 designers for your installation. What exactly did the collaboration look like?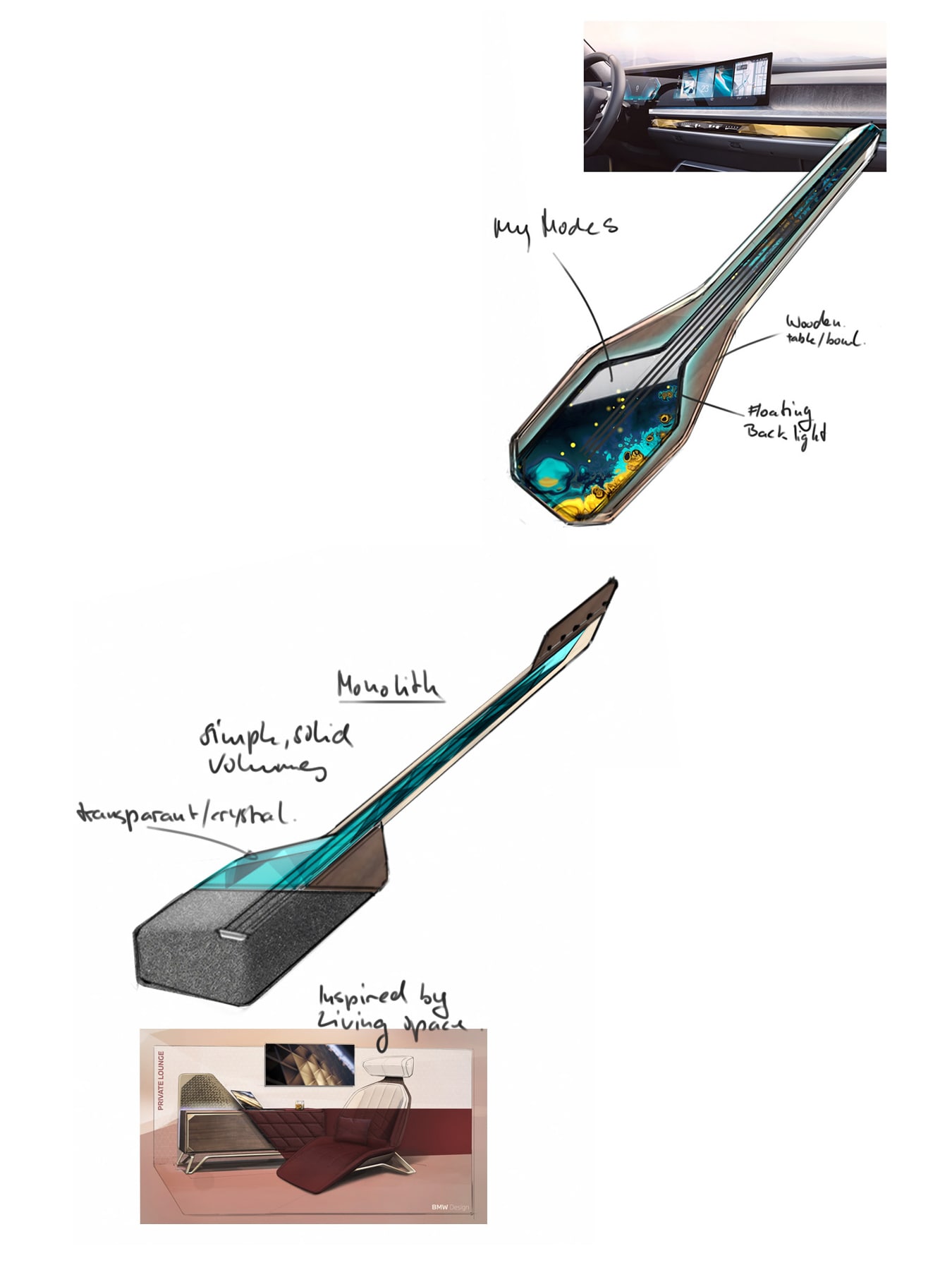 The team consisted of one designer for Interior, one for Exterior and one for My Modes, which is a special program installed in vehicles with BMW iDrive and Operating System 8. It can be used to control sound, light and other features, creating an individual feel-good mood – the car can adapt to the way you feel. I asked each of the designers to create three or four guitar sketches. These needed to show their wildest fantasies, but at the same time think about how they could develop the design history of the electric guitar. You need to bear in mind that the guitar has more or less retained the same shape over the last 60 years. I think the last big innovations were probably the offset, non-symmetrical electric guitar body, and Annie Clark's "Music Man St. Vincent" – an electric guitar specifically for people with breasts.

What is it that interests you about redesigning the guitar?
I'm fascinated by the question of why certain objects look the way they do. There's this great line from an essay "Technology & Ethos" by LeRoi Jones (Amiri Baraka) from the 70s that says "nothing has to look or sound the way that it does". But what does it look like then? For example, how can these guitars be designed with different values and tastes and bodies in mind?

What happened next with Open Work by Frieze?
We met, looked at the designers' really great proposals and passed them on to Ian Malone in London, a great guitar maker. We received extra materials from the BMW i7, such as paint colors, to experiment with. All the electric guitars ended up looking very different from each other. And in fact, the electric guitars will be played live at the exhibition.

BMW Open Work by Frieze
"Together with our partner Frieze Art Fair we created BMW Open Work in 2017. Our vision is to enable co-creation across art, innovation, technology and design. The name 'BMW Open Work' was inspired by Umberto Eco's literary work 'Opera Aperta' - it's all about the importance of dialogue between individuals across disciplines and that's exactly what drives the initiative: to enable inspiring conversations between emerging artists and BMW experts.
The awarded artist considers current and future technologies as well as topics that are driving innovation at BMW – such as electrification, circularity, digitalization - as tools for artistic experimentation. This is the basis for creating artworks that unfold across a range of media and exhibition platforms. One artwork premieres each year at Frieze London and is presented in the BMW Lounge as well as digitally."

Hedwig Solis Weinstein
Head of BMW Arts & Thought Leadership Collaborations
Will the music that results be heard in the BMW i7 on display?
Yes. We're basically turning the BMW i7 into an amplifier. We use My Modes Bluetooth technology to play the guitar music loudly. The electric guitars activate the technology, which amplifies the sound and sets the lights and other functions in the BMW i7 in motion. Visitors can also sit in the vehicle during the fair. That's the great thing about electric cars is that they can be parked anywhere since you don't have to worry about potential for exhaust fumes. I found this out again just recently at an auto show in Los Angeles.

Electric range (WLTP) in km: 591-625  
Electricity consumption in kWh/100 km (WLTP): 19,6-18,4  
These sorts of auto shows automatically conjure up the sounds of roaring engines in your mind. I guess these were likely missing there?
Exactly! You know, this is something that really fascinates me! It's an incredibly exciting time for the sound of electric vehicles, as automakers have become very experimental. Until these vehicles went into mass production, the sound of an automobile was nothing more than a consequence of its internal mechanism. The sound is that of the automobile. But now that sound could be anything. First, though, we need to learn this worldwide – what this sound stands for and what it does not. So a new sound for an exhaust has to become more or less an industry standard.

This sounds as challenging a task as staying innovative and creative in today's world. How do you tackle that challenge?
One rule of art is to help people imagine how things could look different. For example, I love the science fiction novels of British author J. G. Ballard. In many of his works, he addresses how current conditions might develop for the future if they persist to an extreme degree. And it is especially important for companies that are pioneers of technological innovations, such as BMW, to exchange ideas with creative industries and people. This includes projects like BMW Open Work by Frieze, where I, as an artist, try to put things in the space that people can both think about and speculate on. In this case, what the BMW i7 and electric guitars might stand for and how to interact with them.

What actually attracts you to automobiles?
I have always been interested in automobiles. When I was a kid, my dad had this really cool navy-blue Nissan Datsun 280ZX. At some point I started thinking about what the relationship is between the body and the vehicle, the object, the technology. An automobile is so ubiquitous that it feels almost invisible. It's just always there.

THIS IS FORWARDISM
This article is part of our series THIS IS FORWARDISM. These are stories for those and about those, with the collective mindset to shape what's next. For those committed to tomorrow, restlessly striving for more. Not only enriching themselves but enriching those around them. For those with progressiveness as their natural state. Forwardism is the joy of seeing and feeling the future before it's been created and continually challenging convention to push for certainty of a better experience when we get there. It means questioning convention today to ensure lasting joy tomorrow, and beyond.
Autor: Nadja Dilger; Art: Shin Miura, Lucas Lemuth; Fotos: Alex Ingram, Robert Low, Ian Malone, Nihad Nino Pušija, BMW Design, Frieze, Shingi Rice