Always stay up to date
Innovative mobility, exciting trends for the future and high RPMs: Subscribe now to get notified of new content.
Subscription successful.
Subscription failed. If you need help follow the link for support.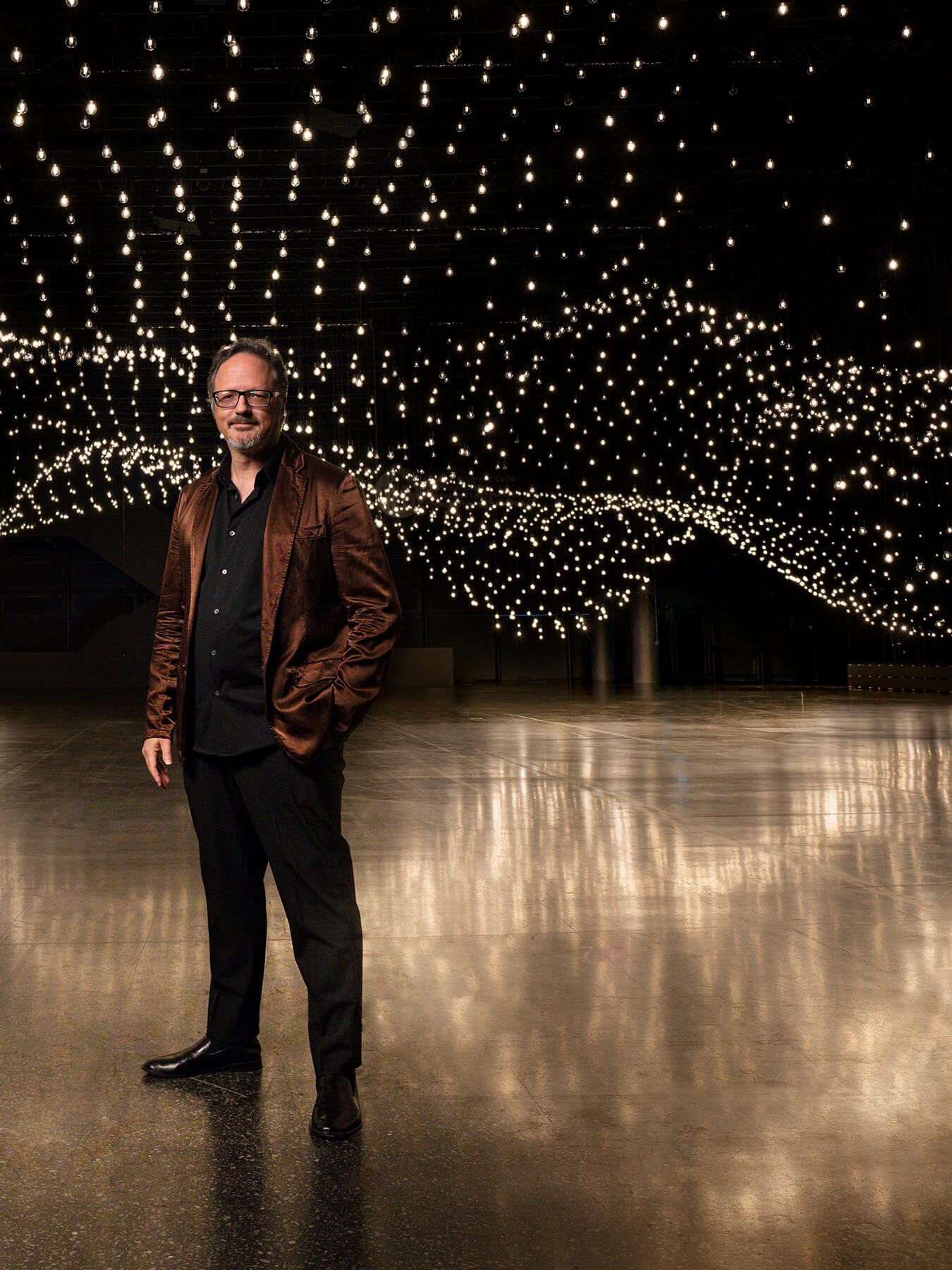 From being the first artist to represent Mexico at the Venice Biennale to lecturing at prestigious universities such as Princeton and Harvard, Rafael Lozano-Hemmer has built an extraordinary career for himself. At the intersection of architecture and performance art, Rafael uses cameras, microphones, sensors and tracking systems to let his works sense the audience and respond to their input. Instead of glorifying technology, these creations often take a critical look at our present. The sensitive handling of data, the omnipresence of digital surveillance and the associated social challenges are repeatedly addressed. It is an approach that has been honored with numerous awards.
For the past 25 years, Lozano-Hemmer's studio has been dedicated to the experimental use of technology in art. Likewise, the technical excellence at BMW has been informed by the company's long-standing relationship with contemporary art. Could a collaboration between the two approaches create a unique and complementary team?
For his first collaboration with BMW engineers and designers, Rafael was inspired by the human-centric approach to light, sound, and information in the new BMW i7, an approach he also takes with his art. At Art Basel, Lozano-Hemmer will exhibit a work that uses a new contactless technology to detect the pulse of visitors and make them an integral part of the piece. "Pulse Topology" is an immersive light and sound environment that is activated with the recorded heartbeat of each visitor. The installation is composed of 6,000 glimmering lightbulbs, suspended at different heights, which create an intimate landscape of crests and valleys that visitors are invited to traverse.

Following the dialog with BMW, at Art Basel, Lozano-Hemmer will use the same photoplethysmography technology that activates "Pulse Topology" to transform the interior of the BMW i7 using passengers' heartbeats. The detected pulses will control lights, sound via Bluetooth and computer graphics presented in the car's panoramic display. This symbiotic relationship can be seen as an extension of the use of light in the BMW i7 to create a meaningful connection with its driver and passengers, from lights that respond to their presence to different sensory environments that reflect their mindset. This new design approach is at the forefront of the new understanding BMW has of luxury, which will be shaped by inspiring innovations in the field of sustainability and digitalization.
Lozano-Hemmer took time to explain the emphasis of his work and the links between his team's approach and the research and design work at BMW (➜ Read also: How to become an art collector).
How can we create objects, experiences, or cars that try to imagine a world that is better than what we have?
Mr. Lozano-Hemmer, you were born in Mexico, studied physical chemistry in Canada and are equally interested in science and art. How do you combine these different backgrounds and experiences in your professional practice?
I have a science degree and, in my studio, about half of our staff are programmers, electronic designers, industrial designers, or mechanical engineers – in other words, we are very science-oriented. The other half are composers, architects, art historians, and artists. It's an interesting mix because the artists are all pretty nerdy and the engineers are all very creative.

I like the concept of creating artworks that are incomplete, that are experimental and that are often fleeting interventions, more like performances within the visual arts. Like in science, the result of an experiment can be surprising! My basic idea is that the artwork does not exist without participation and that the artwork should be out of my control. Of course, that's not my idea. In fact, it's a very old concept. Most of my works use technological tools such as sensors, cameras and microphones that capture the participants. And in that sense, the artworks are aware.
It's one thing to learn what experiences make us unique as humans, but what is it that you think unites us? How do you connect with the engineers and designers at BMW with whom you recently exchanged ideas?
People often create relationships when they have a shared experience. Art brings people together to have a memorable experience There are many intersections between what we do here in the studio and what designers and engineers at BMW encounter in their daily research and development work. "Human centricity," as it is called at BMW, or "art of participation," as we call it, is the focus for both of us. We are united by the fact that we create experiences for people and have a radically empirical point of view. This means it is not about designs that emerge in a utopian future; it is about something that is applicable in a tangible situation today. We also have a certain clarity in common. I think beauty comes from leaving certain possibilities out, from a careful and elegant restraint. And then there is another shared aspect that I find is important: sustainability. I love that my collaboration with BMW comes at a time when the brand is moving strongly towards sustainability. We are all very keen to ensure there is a future by addressing the problems of today.

Audience participation is crucial to your work. Were you ever afraid that the technical components of your art might be a little overwhelming?
We live in a technological culture. Technology is not a tool, but a language, and I see it as an inevitable reality of the globalized age. When I use technology, I want to reveal the mechanisms involved in the use of computers, for example. I also question the assumed neutrality behind these machines. My work is right at the boundary between the seduction of participation and the empowerment of the user, but also the understanding that we are complicit with this technology that tracks the visitor, and that this needs to be observed so that we can reflect on what kind of society we want.

Electricity consumption: 19,6 - 18,4 kWh/100km (WLTP)
Electric range: 591 – 625 km (WLTP)
(All figures are preliminary values)    
Is standing in the middle of an artwork made of 6,000 light bulbs stimulation or a moment of retreat?
It's both! The interesting thing about "Pulse Topology" is that by scanning, recognizing, and tracking, we are trying to capture individual data, in this case biometric data – a person's electrocardiogram. That's very private information. But when you put it together with the heartbeats of all the other participants, you get a chorus. And the sum of the individual heartbeats is more interesting than the individual, because now you have turned a portrait into a landscape. You feel surrounded by life. The first time I made a piece of art with heartbeats, my wife was pregnant with twins. Being a nerd, I asked for two ultrasound machines so we could hear the boy's and the girl's heartbeats live at the same time. They were completely different. They produced rhythms that were sometimes in phase and then in antiphase, like the minimalist music of Philip Glass or Steve Reich. I came up with the idea of taking the heartbeats of many people and making them tangible in a space, being surrounded by these rhythms. "Pulse Topology" is the culmination of a series of artworks that try to create these concert-like experiences out of hundreds or thousands of heartbeats at once. The participant is in a crowd of vital signs and at the same time becomes reflective because each recording erases an older recording. It reminds us that we will only be in the room for a short time. It is a memento mori.

"Pulse Topology" makes the invisible – the human pulse – visible. As you said, this art project has evolved continuously over many years, using light as the defining medium. What do you think is so intriguing about it?
I love the phenomenon of light because it is itself schizoid matter. It is both a particle and a wave. And depending on how we look at it, it behaves in one of those two ways. It is rather fleeting. "Pulse Topology" uses 6,000 light bulbs that are all the same. But how each behaves is very different depending on the participant: Not only do we detect the heart rate, but the system also tracks variables such as systolic and diastolic activity and uses that to create unique light patterns. During my visit to BMW in Munich, I found it intriguing to see the use of light inside and outside the new BMW i7. The car is an immersive space that has a certain softness and aura that it carries into the public sphere. I commend the designers especially for their restraint in the use of various types of light. It's problematic how often color-changing lights are used randomly: in cars, in cities, in everything really. The elegance comes from what you don't do. What movements and what glow you choose is a very specific design decision that is best made with restraint and by studying masters like Josef Albers. I really admire that, unlike all the other glittery cars that change colors, the BMW i7 doesn't seem interested in infinite possibilities. It's interested in creating a well-curated, selected set of light experiences that a person can be immersed in. This restraint is more interesting than the infinite. It's what gives the car character and glow.

This kind of technological progress is not a given; it is the result of hard work by enthusiasts who really think about solutions to problems and by people who shape the future. What is your vision for the world?
Personally, I see myself more as an activist, as someone who is on the side of the present, in the sense that I cannot imagine a future without first trying to intervene in the difficult problems of our time. This is what I think BMW expresses with their term Forwardism: advocating that the world can be different than it is now. For me, the question of the future is always linked to a commitment to change in the present. Forwardism is the agreement we have all made that the future should exist, even if we currently behave as if we don't care. But we must.

What would the future of BMW have to look like to raise your pulse?

I wish BMW to continue its course of supporting art and experimentation, caring for sustainability and our environment, being a leader in treating its employees with dignity and respect. And of course, I look forward to a luxurious, fast, and safe ride in the future.

The project with Superblue and Rafael Lozano-Hemmer is a beautiful example of what we strive for with our cultural endeavours. We aim for eye-to-eye collaborations with forward-looking minds and, most important, creating together with our partners something that was not there before and can only exist because of the different sets of experience and shared intelligence.
Hedwig Solis Weinstein
Head of BMW Arts & Thought Leadership Collaborations
THIS IS FORWARDISM
This article is part of our series THIS IS FORWARDISM. These are stories for those and about those, with the collective mindset to shape what's next. For those committed to tomorrow, restlessly striving for more. Not only enriching themselves but enriching those around them. For those with progressiveness as their natural state. Forwardism is the joy of seeing and feeling the future before it's been created and continually challenging convention to push for certainty of a better experience when we get there. It means questioning convention today to ensure lasting joy tomorrow, and beyond.
Author: Tassilo Hager; Art: Shin Miura, Lucas Lemuth; Photos: Antimodular Studios, Enes Kucevic; Video: BMW