Always stay up to date
Innovative mobility, exciting trends for the future and high RPMs: Subscribe now to get notified of new content.
Subscription successful.
Subscription failed. If you need help follow the link for support.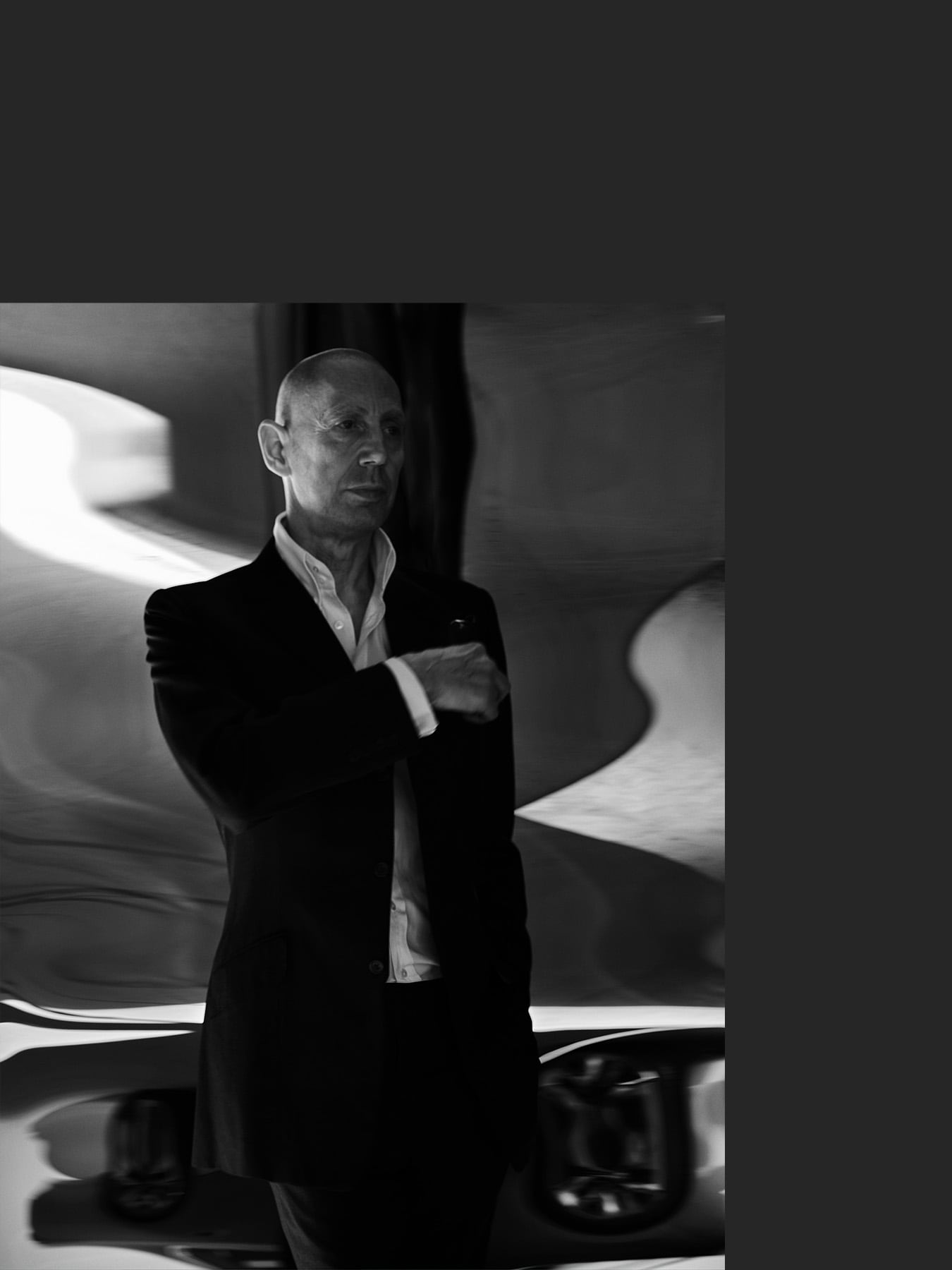 As one of the most influential and visionary photographers of our time, Nick Knight consistently devotes himself to pushing boundaries – creatively and technically. His work over the past decades has been decidedly disruptive, especially when collaborating with fashion designers, but also because he is constantly exploring the limits of his craft. Through his ground-breaking collaborations with leading designers such as Yohji Yamamoto, John Galliano and Alexander McQueen, the 1958-born artist has become an established force in the world of fashion photography. A force he also uses to consistently challenge conventional notions of beauty, and at times even to address controversial societal issues.
Knight's passion for experimenting with the latest technologies led to him launching SHOWstudio in 2000, a digital fashion film platform that revolutionized the medium with the growth of the internet. What we consider state of the art for how fashion is presented online today was in fact initiated by Knight 20 years ago. And he keeps reinventing himself and his work.

For the launch of the new BMW i7, Knight was invited to create a set of images of the car that represent the concept of Forwardism, the joy of seeing and feeling the future before it has been created. Forwardism is about continually challenging convention to push for a better tomorrow. So naturally, Knight was in his element when he took on the challenge. The result of this photo shoot is an expressive and explorative body of art that turns our viewing habits upside down. It pulls us into a world of new possibilities and emotions. Daring, playful and thought-provoking, it bears the signature that Knight has come to own over the years.
We met Knight on set to talk about his work and his portrayal of the new BMW i7. He explained his personal vision of Forwardism and shared his ongoing excitement for the future. Let's dive into a new era!

Electricity consumption: 19,6 - 18,4 kWh/100km (WLTP)
Electric range: 590 – 625 km (WLTP)
(All figures are preliminary values)    
Mr. Knight, you once said that photography is a misunderstood medium because people presume it's about capturing the truth and something we see. But for you, photography is about creating something we can't see, a reflection of the artist's perception. How do you show us the things we can't see?
A photograph is a moment in time, taken completely out of context. It shows a small amount of something that reflects the interpretations of our desires. It is not a factual recording of what is in front of us. When I take a photograph, it is about what I want to see, what I desire and what surprises me.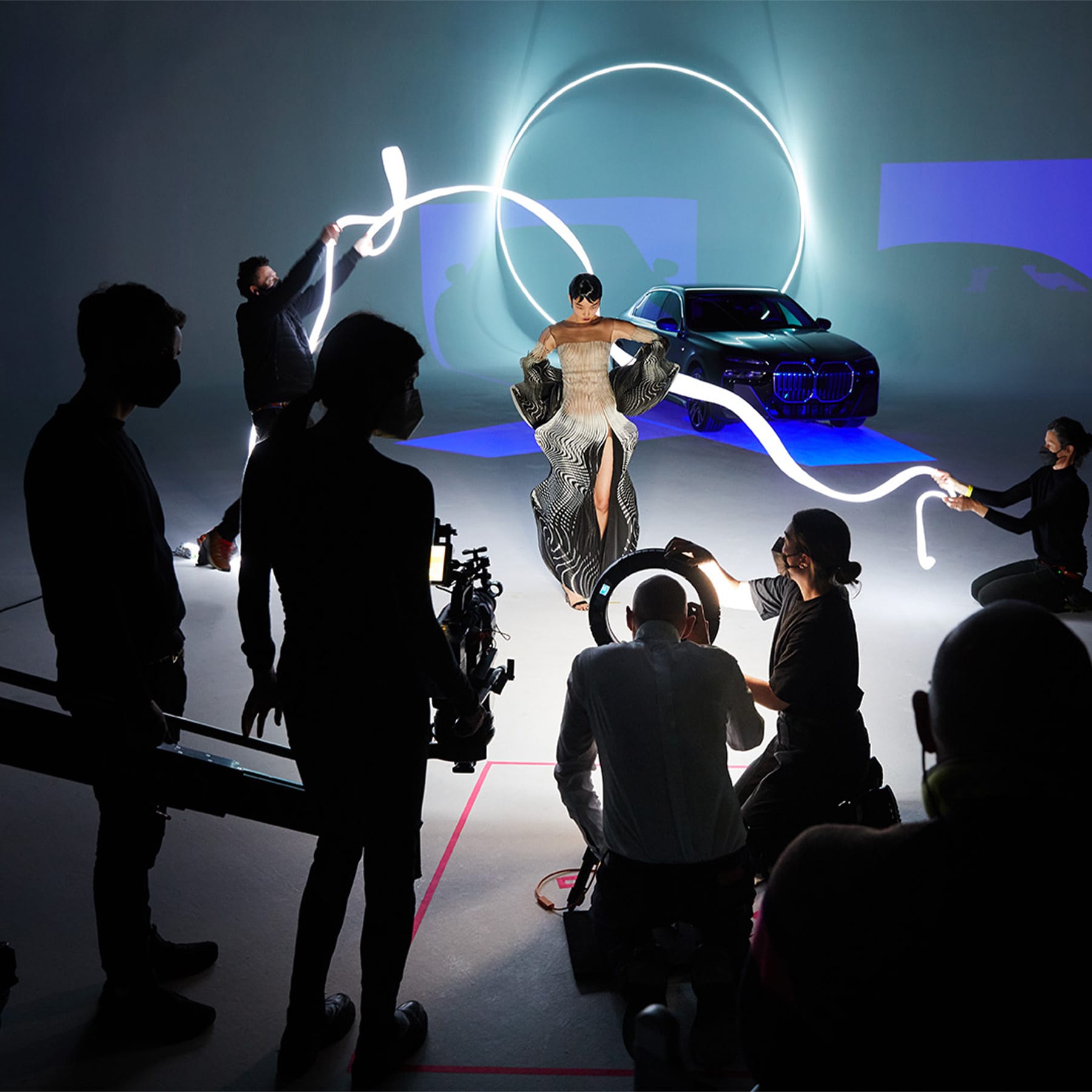 If a skilled photographer can make us feel things we weren't feeling before, how did you approach photographing an object so familiar to us as a car?
With this campaign, I explicitly wanted to free people's perception up a little bit and allow them to interpret the images in a new way. That's why I inverted the color space digitally and when I looked at the screen, I saw a different world than the one in front of the camera. This was no longer the world we live in; it was a fantasy space that does not exist. It frees us up to enjoy things and feel new things. This not only offers new ways of seeing, but it also frees us from certain decisions and restrictions of reality. I enjoyed suddenly working with people who have green or blue skin, and I hope other people will find it liberating as well.
Your work is characterized by challenging the status quo, making use of new technologies early and pushing things forward. You even said: "The future is where I find myself most of the time, and it's an odd place to be." – Tell us more about bringing your visions from the future into the present.
This quote was really aimed at the art of photography, and I do think we live in the future because creating something that you don't see but desire is a future act. The act of desire is always based in the future – something you don't have but want. With regards to fashion photography, we are working quite physically in the future as the images are taken at least six months before the garments are shown.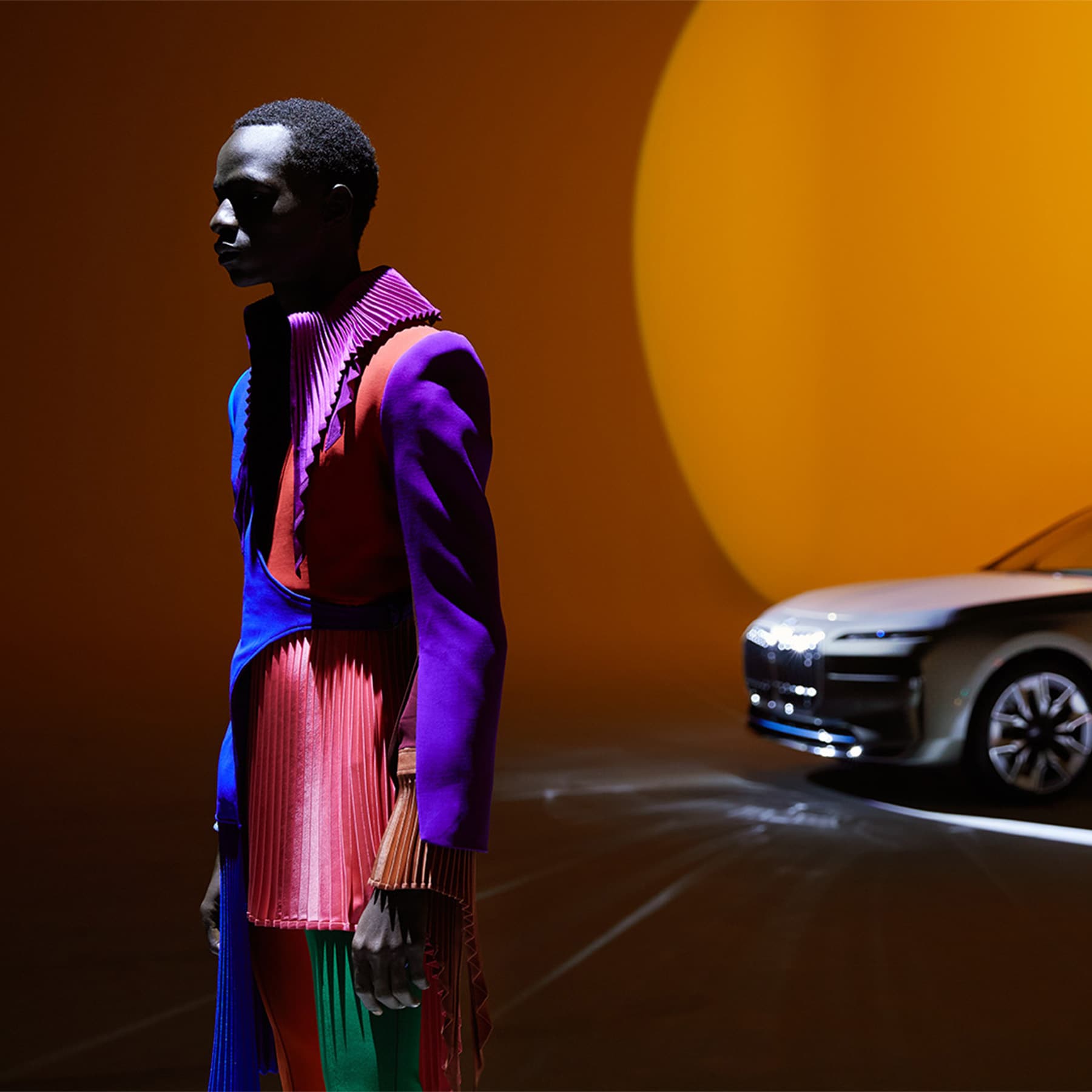 When it comes to fashion film, you say that the narrative comes from the object that is being shown. If we transfer that to the BMW i7, what does that mean?
The car represents a series of values and decisions that have been made. The finish, the textures, everything that has gone into the car represents something. And to transport that, you need to understand these values, otherwise it's hard to take a good picture of it. I realized that when I started working for the Japanese designer Yohji Yamamoto in the mid-1980s. His clothes at that point were so different from anything that anybody had seen. They looked like a different proposal of the human form, and I tried to understand what he was trying to say with it. Fashion is about rejecting what is now and replacing it with something that is new. I think that was exactly what Yamamoto did back then, and I feel like BMW is doing the same with the BMW i7.
Tell us more about the narrative you found in this car.
The first thing I noticed when I got into the BMW i7 was that it is a safe and exciting space. There is a certain amount of luxury that comes with this car – you instantly feel safe, and stress melts away. It feels like it is especially made for you, like a custom experience, which is a luxury, too. I also noticed a level of engagement with the future. The car is already engaging in a new world that is starting to reveal itself around us. Artificial intelligence and technology are working for the driver, which makes every drive more enjoyable. You don't change a car as easily and quickly as the fashion industry might be changing, but this model reflects the change that is happening in society.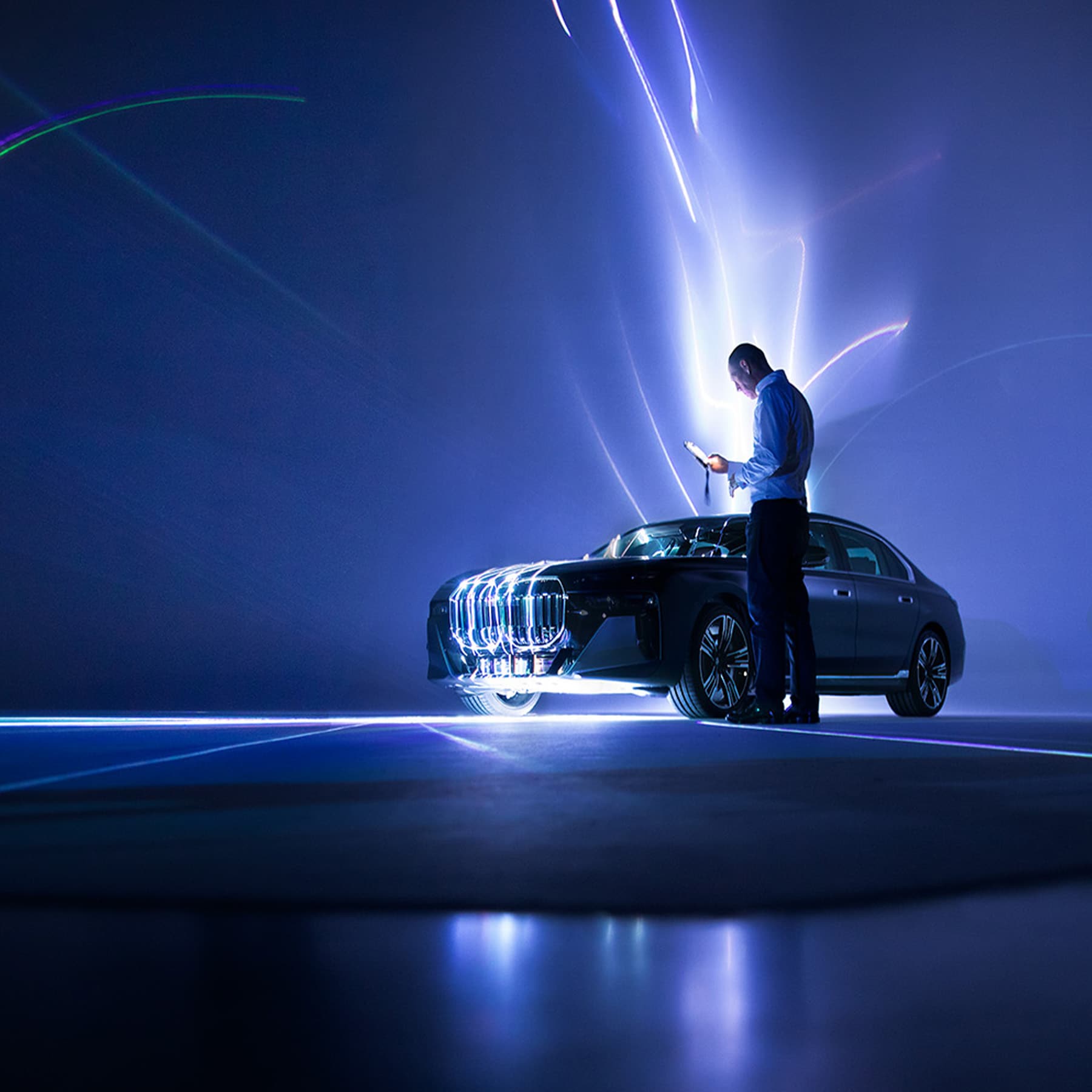 The new BMW i7 was born under the star of Forwardism and marks the start of a new era. What does the concept of Forwardism mean to you?
To me, Forwardism is about not being afraid of what is yet to come and of the enormous shifts that are happening in society. I'm very fascinated with the whole idea of virtual reality, avatar versions of ourselves, machine learning or artificial intelligence. As an artist, my job is to reflect who we are and create a world that we want to live in, with beautiful things that touch emotions. To do that, I need to engage with the future, with robotics, with AI. I need to use new possibilities to create a better future with artistic visions of society. I would like to see a Forwardism which has to do with humanity. Technology can allow us to be better people; we just have to find a way of using it without removing all the things that we regard as being human and that are important to us.
And how does the concept of Forwardism reflect in your work with the BMW i7?
I love the idea that Forwardism is about going to the future instead of referencing the past. To me, that is the only way to really express and challenge ourselves. That's why I decided to invert the colors for this shooting, to work in a color space that says: "This is new. This is something you haven't seen before." That was my starting point for creating visuals that get people thinking about something new – and thinking forward. It was important to me that it didn't look like anything else that has been seen before.
While most people haven't yet fully grasped the idea of the Metaverse, you are already exploring its meaning for the fashion world with avatars, virtual live events, etc. So, what's the future holding for you next?
Diving deeper into the Metaverse is what excites me most. We are moving into a world that opens lots of possibilities to us. The enormous amount of knowledge that is becoming accessible and the new ways to communicate with people are fascinating. I'm currently creating a 3D version of myself, and I can decide how I want to look in the Metaverse – maybe like my real self or like something totally different. There are so many new possibilities to make our lives richer. In the future we need to find new answers for who we are as people and how we want to behave, and I think the virtual world can help with that. The more I find out about these new possibilities, the more excited I am about the times we live in.
THIS IS FORWARDISM
This article is part of our series THIS IS FORWARDISM. These are stories for those and about those, with the collective mindset to shape what's next. For those committed to tomorrow, restlessly striving for more. Not only enriching themselves but enriching those around them. For those with progressiveness as their natural state. Forwardism is the joy of seeing and feeling the future before it's been created and continually challenging convention to push for certainty of a better experience when we get there. It means questioning convention today to ensure lasting joy tomorrow, and beyond.
Author: Jelena Pecic; Photos: Nick Knight, Britt Lloyd; Art: Madita O'Sullivan