Always stay up to date
Innovative mobility, exciting trends for the future and high RPMs: Subscribe now to get notified of new content.
Subscription successful.
Subscription failed. If you need help follow the link for support.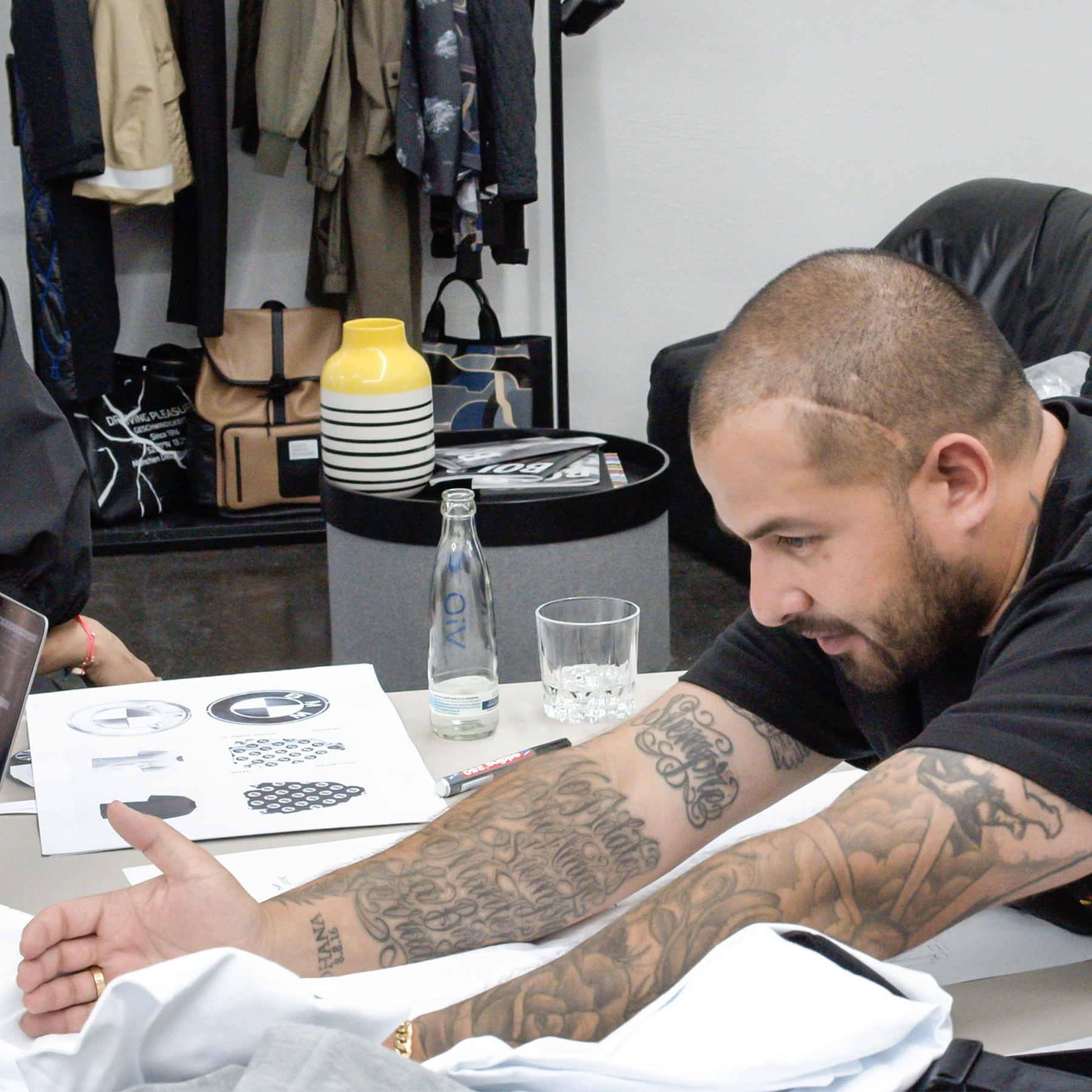 Anyone who knows Joshua Vides knows he likes to stick to a reduced colour scheme. From his freehand sketches to installations in his Los Angeles studio, almost all his work is black and white – and, as a result, expressive and contemporary. He recently broadened his color palette, as can be seen in his new collection with BMW that pays homage to workwear with the use of dark blue.
The artist is working again with BMW to put understated cool on display in the limited-edition lifestyle capsule. The leitmotif: "Goods with Freude". The designs take inspiration from the lowrider scene in Los Angeles, with pinstriping, West Coast graphics, and street art. This inspiration can be seen, for example, on a vest with hand-drawn pinstripes, or on a long-sleeved shirt with graphic elements straight out of the West Coast lifestyle.
Vides sees the capsule collection as a biography that can be read in its various details. "I was determined to highlight my upbringing and surroundings of Southern California automotive culture", he said. It tells the story of a man with Latin American roots who grew up in the metropolitan city of Los Angeles and is living his American dream as an artist (➜ Read also: Ishod Wair in Los Angeles).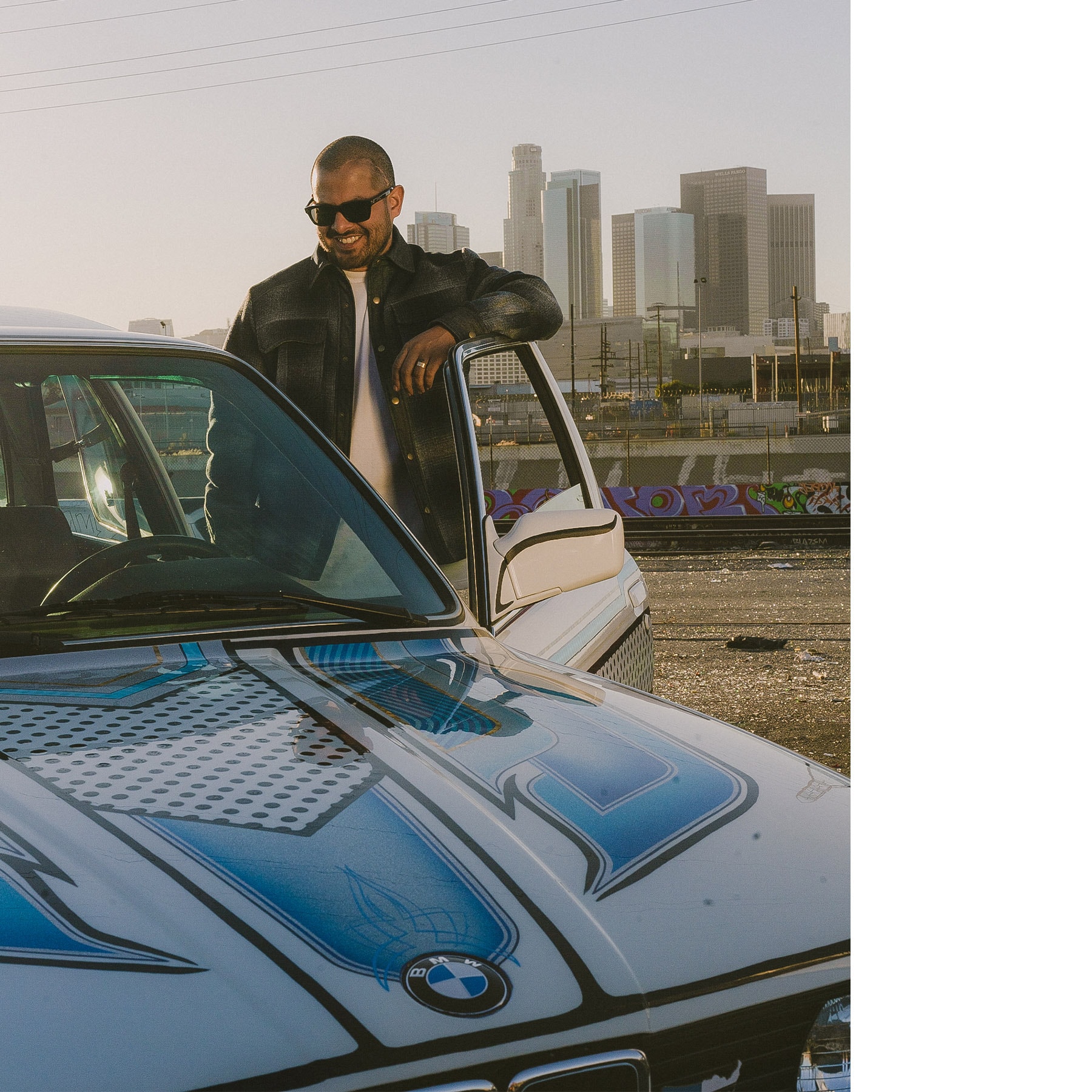 Vides also owns several BMW vehicles, including a two-door BMW 325i (E30) from 1987 (➜ Read also: History of the BMW 3 Series). The artist bought the car in 2019, restored it, installed new rims and painted it as part of the lifestyle collaboration. At this year's ComplexCon – a lifestyle and fashion festival held in Long Beach, California – the designer and artist attended with his collection and the BMW 325i. While Vides worked on a special edition of the BMW X4 M Competition as part of his collaboration in 2021, this time it is the BMW 325i playing muse, vehicle, and exhibition piece all at once (➜ Read also: Joshua Vides: all about the hustle). The design and color of the lifestyle items are reflected in the car's paintjob, and the design elements on the clothing look just as good on the hood.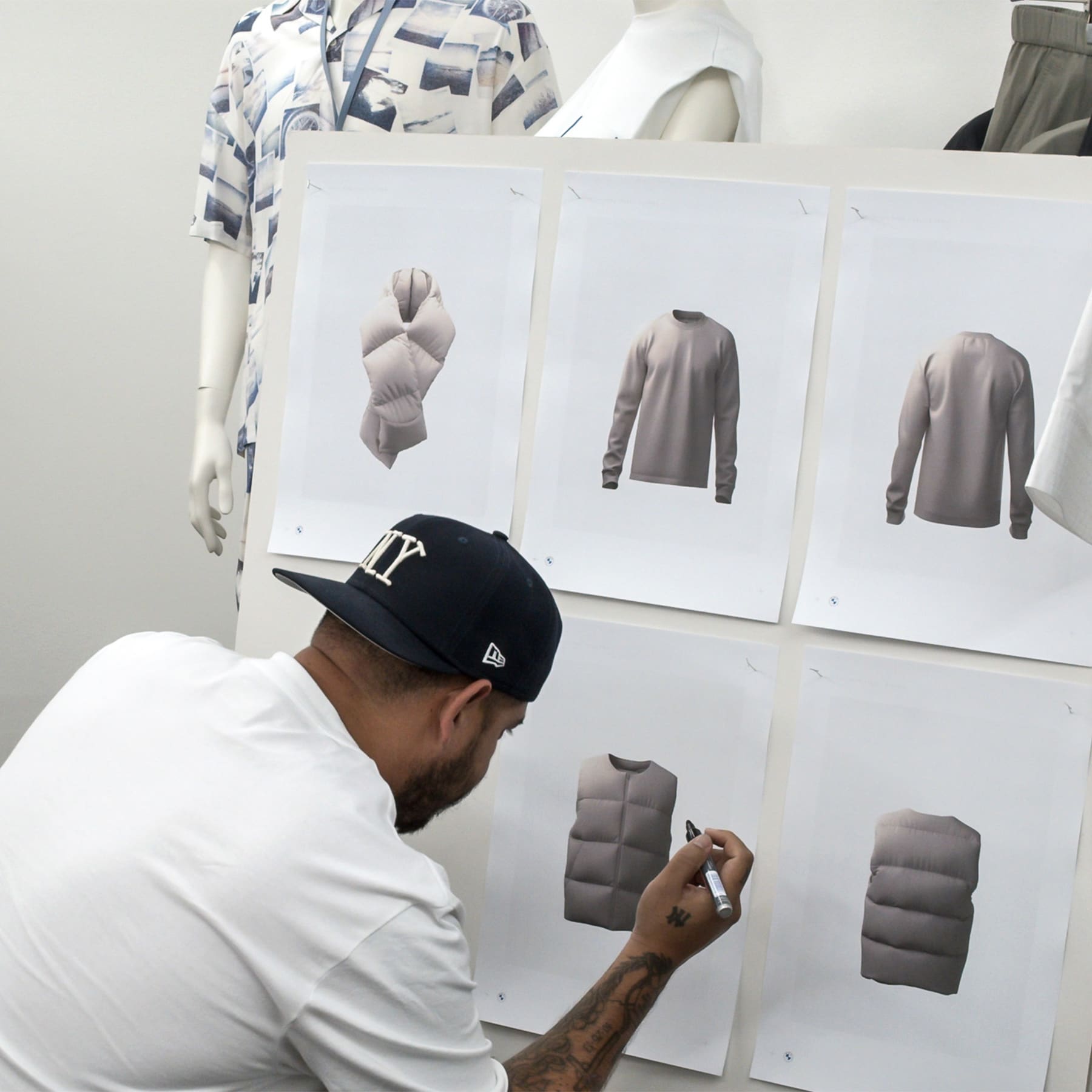 The high-quality clothing was produced with durable materials so it can be worn for years to come. Organic cotton was used for the T-shirts while re:down (recycled down and feathers) can be found in the vest lining and scarves.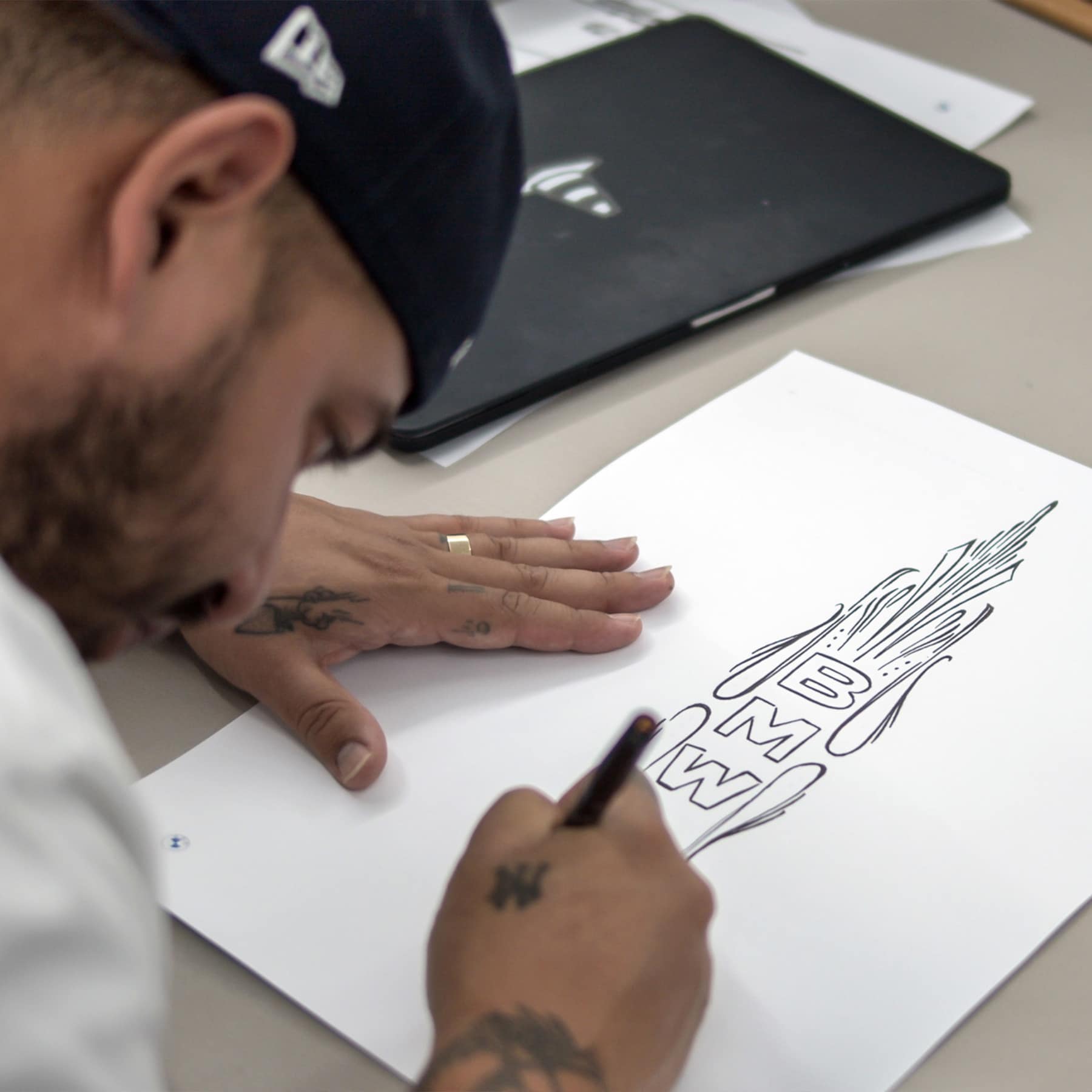 The patterns were achieved through pinstriping, an art form known for its application in the painting of automobiles and workwear materials.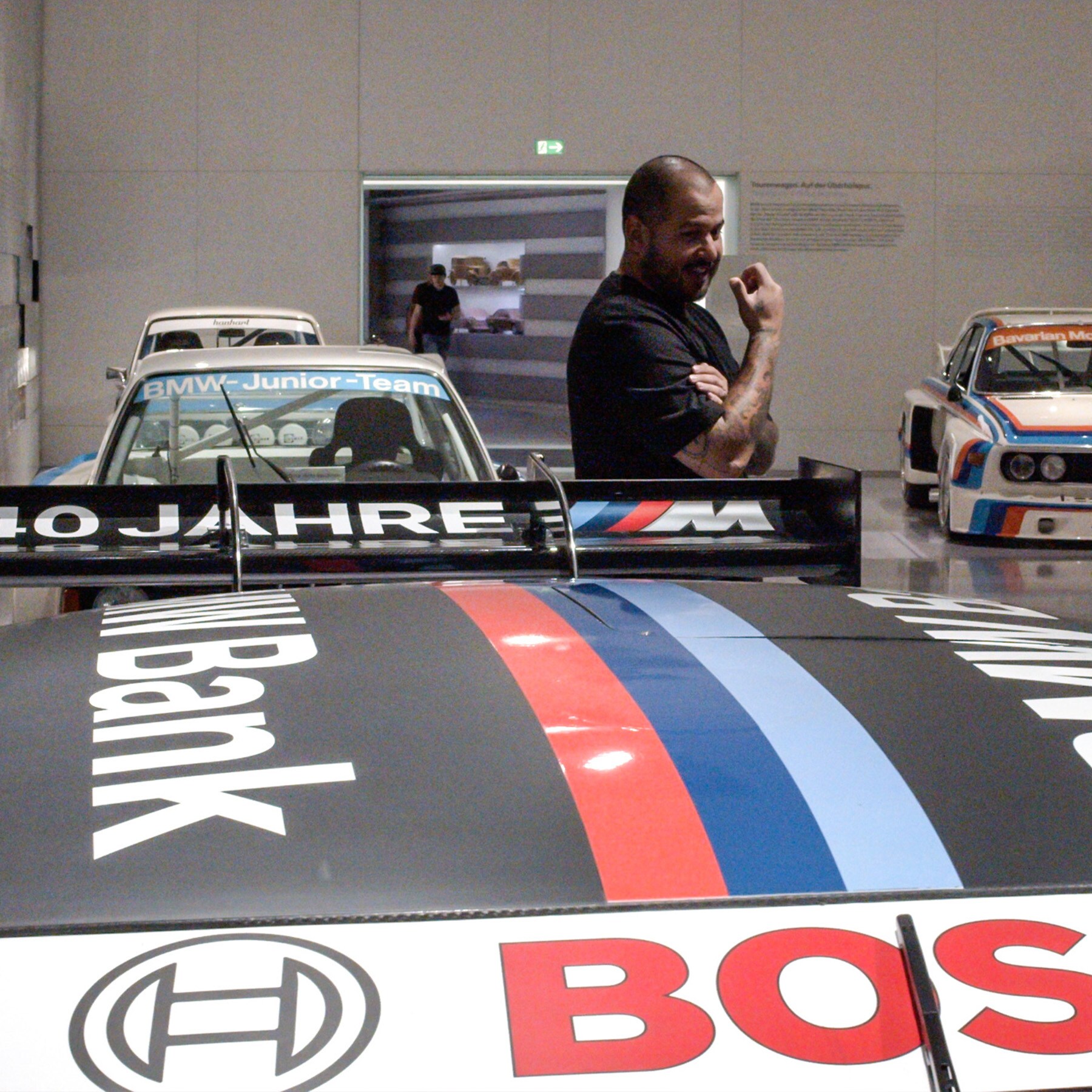 The badges in this case call to mind the commercial patches worn by mechanics in workshops and car repair shops.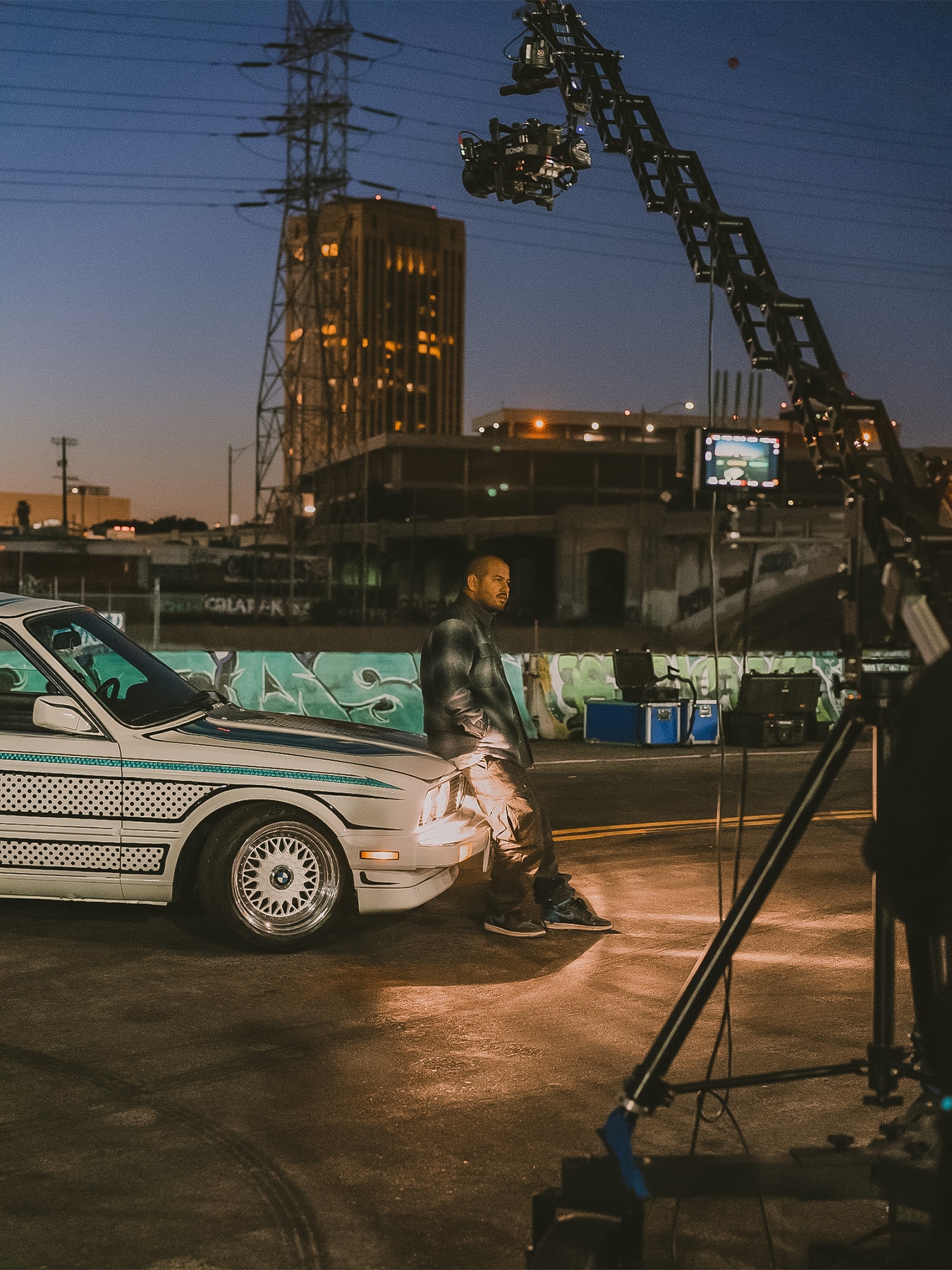 I was determined to highlight my upbringing and surroundings of Southern California automotive culture.
Art: Ha My Le Thi; Photos: Theleagueofus, Timo Reichhart