Electricity consumption in kWh/100km (WLTP): 23,0–19,3 kWh/100 km (combined)
Electric range (WLTP) in km: 372–631 km  
Living more conscientiously is not a trend. It's an attitude. And the joy of a sustainable vision. The joy of looking closer at where the products and luxury foods we enjoy in our everyday lives actually come from. The joy of traveling to destinations and accommodations that are thinking about tourism in a new way and with the environment in mind. At BMW, this joy and holistic awareness of where products come from begins on a small scale – when we select ingredients for the BMW cafeteria – and extends all the way up to manufacturing automobiles. For example, the BMW Group utilizes regional green electricity from hydropower plants in the production of the new BMW iX and BMW i4 electric models at its Dingolfing and Munich plants. The guiding principles are circular economy and sustainable urban mobility.
The BMW iX is a symbolic pioneer of innovation and sustainability – and South Tyrol, with its tremendous variety of routes, mountain roads and mountain passes, is like an adventure playground painted specifically for the occasion. Not only because this Alpine-Mediterranean region spans bridges between its cultural contrasts, but also because it is home to many sustainable trailblazers. We set out on a road trip (➜ Read more: Electrifying sensory impressions in Oslo) to visit four movers and shakers – visionaries who ask that precise question about the good life and great products, and share the joy of environmentally conscious enjoyment – from the local restaurant operator to the innovative vegetable producer, the hotelier mindful of energy use and the biodynamic winemaker.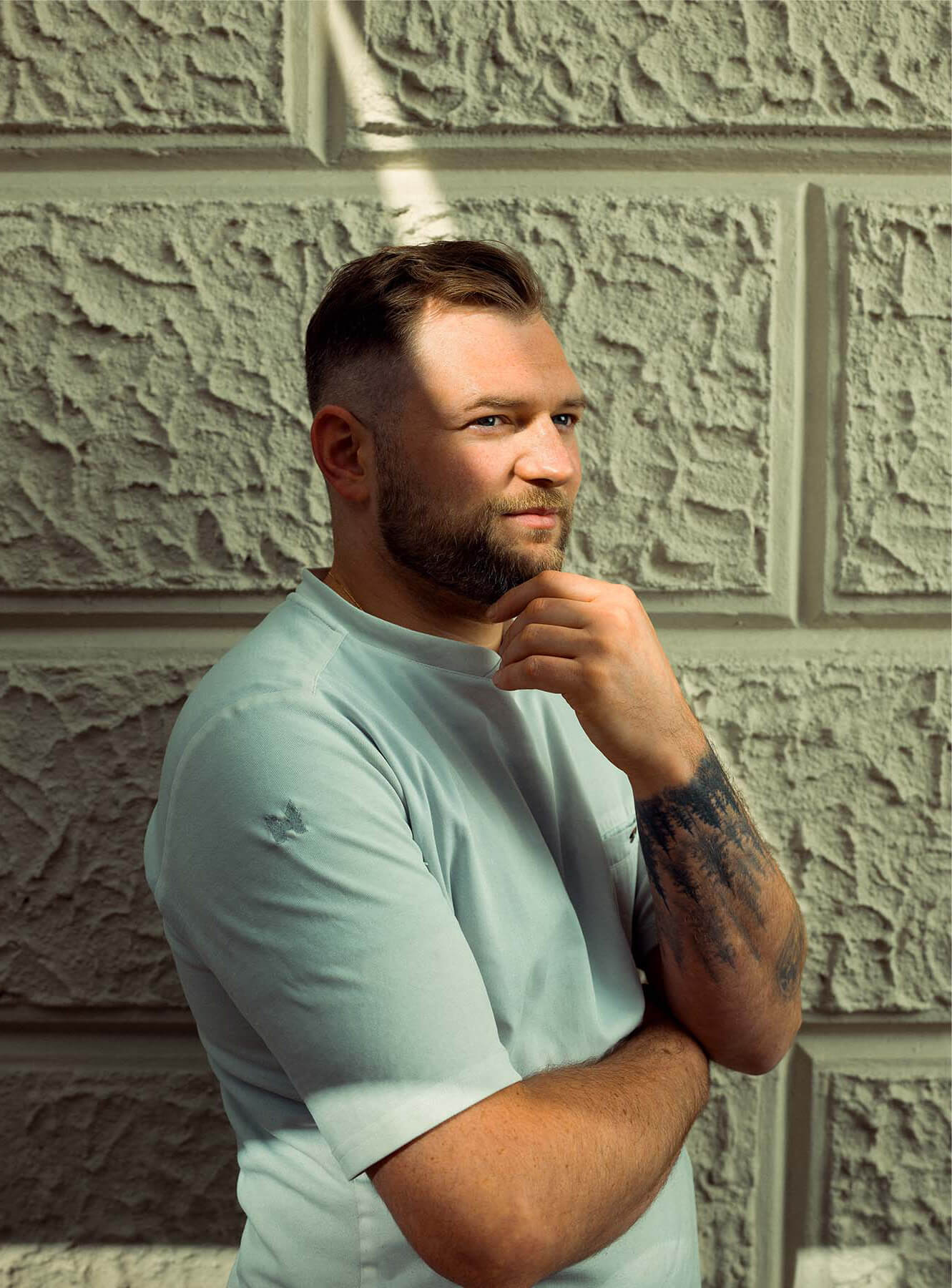 The journey takes us from the BMW headquarters in Munich over the Brenner Pass, first into the Eisack Valley in South Tyrol. The long route through the Alps is perfect for the BMW iX to show off its comfortable driving characteristics when gliding along as well as its seamless acceleration – and even recuperate some energy in the curves down into the valley. The destination is the idyllic city center of Bruneck. We park the BMW iX here in front of b.local, a restaurant whose owners generate a modern ambiance and focus on the essentials: regional, seasonal and sustainable ingredients. Even the tableware is handmade in the region. Plates and bowls, for example, come from a small artisan business in Brixen and were made especially for the restaurant. The wine list features contemporary as well as established South Tyrolean winemakers.
A clear philosophy is important, reveals owner Thomas Gantioler. "What we do only succeeds because we love what we do." He and his team are also encouraged by the response of the guests. Interest in enjoyment with a conscience has definitely increased: "We sense that craving for a product whose origins are known." And the ingredients used at b.local are selected just as conscientiously. Beginning from a small base, a network of mainly smaller producers has evolved and trust-based relationships have been established – with the family involved too. Gantioler's parents have their own farm, from which the restaurant sources rabbits, fruit, vegetables and herbs.
The team around owner Gantioler takes the term "seasonal" seriously. Uncompromisingly seriously. The result is a smaller menu that is reduced to the essentials. After all, not every product is always available. Nothing is set in stone. The menu and dishes vary. There are always two or three cold or hot appetizers, one vegetarian dish, two or three main dishes, plus two or three desserts. A dish can feature on the menu for a month, or come and go in a week. "Some products are only available two or three weeks a year, others for a very long time," explains Gantioler. "Just because an ingredient is available for longer doesn't necessarily mean that dishes containing that ingredient will stay on the menu for the same length of time."
"Seasonality means excitement and surprises, and that expresses our philosophy. I want us to take pleasure in cooking our dishes. Only then will they be good." Seasonal products do not always taste the same when they come from here, he reveals. "When it gets cold at night in October, a tomato has more acidity, more intensity. Two weeks earlier, when it has been ten degrees warmer at night, the flavor is much more reserved. You can really taste that." With so much to stimulate the appetite, of course we have to try things out. For instance, in just a few weeks, the exact combination of hand-minced regional beef tartare served with potato chips and a frozen, wafer-thin layer of sour cream will no longer be on the menu. Then, semi-dried beetroot will form the basis instead of potatoes. This is a love of regional enjoyment that never stands still, always changing creatively and diversely – this is how enjoyment with a conscience is such pure joy. And there is even a charging station nearby!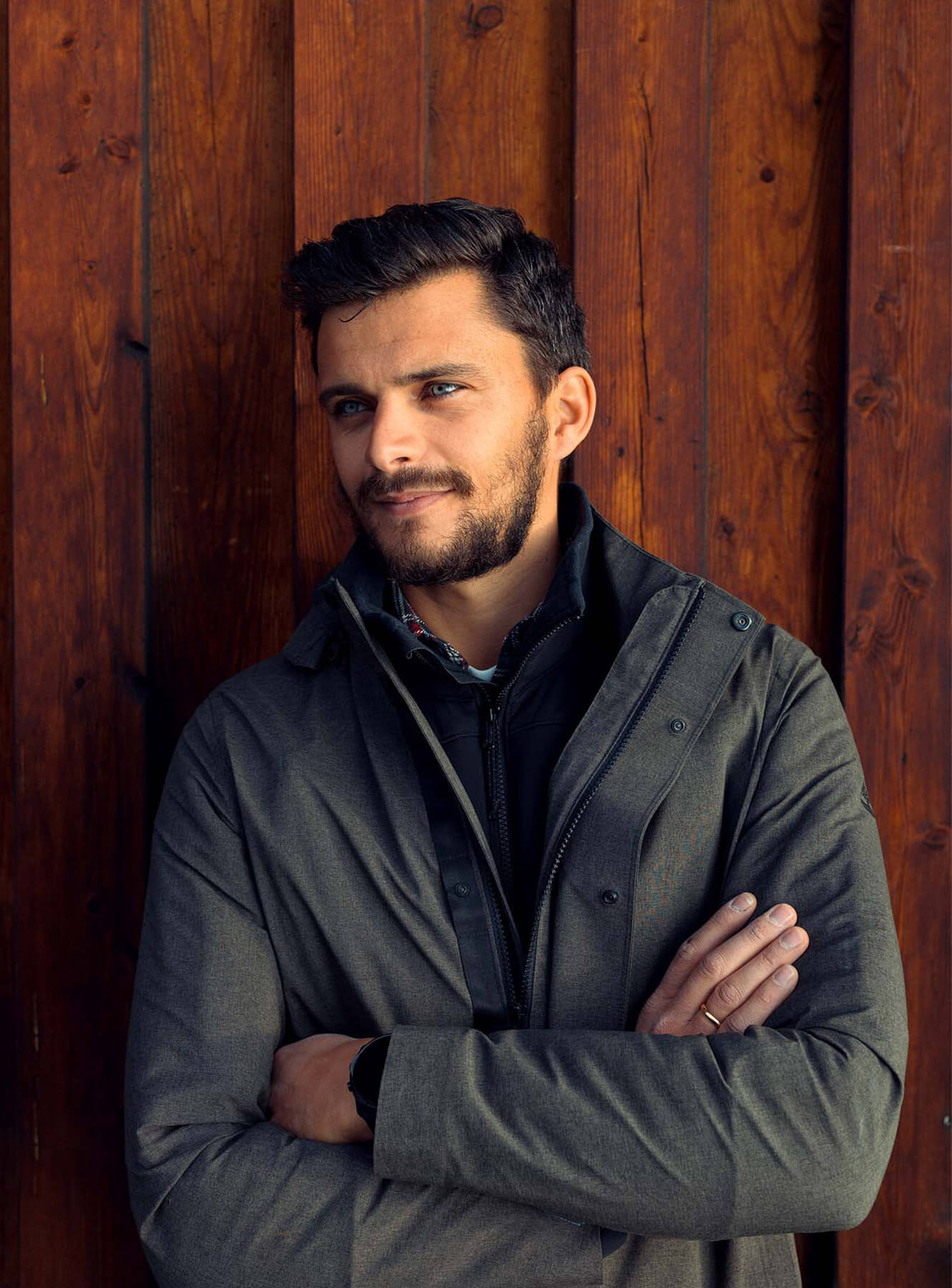 From Bruneck, our journey continues toward the Dolomites, to San Candido. Our tip: Take a short detour on the way to Lake Dobbiaco. After a sharp right-left bend we reach our destination: the wood-clad Naturhotel Leitlhof, which blends naturally into the surrounding forest. Travel and environmentally conscious enjoyment are on the agenda here: at Leitlhof, electricity and heat are generated independently and climate-neutral (➜ Read more: How BMW protects the environment). This makes the Leitlhof one of Europe's few energy self-sufficient hotels. The Leitlhof is also GSTC-certified, meeting the strict criteria of the Global Sustainable Tourism Council.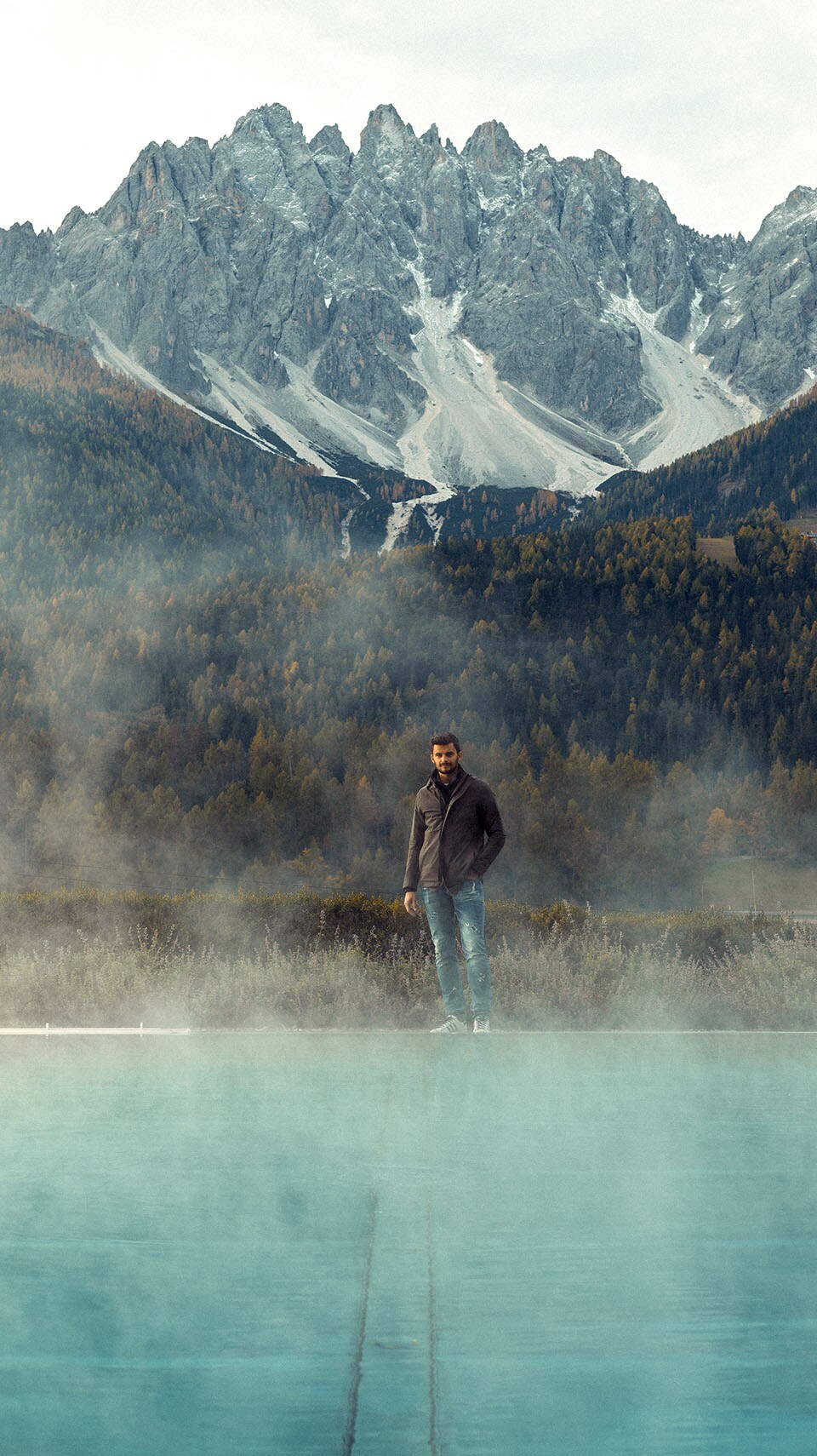 Junior Manager Stephan Mühlmann is the brains behind it. The resourceful and down-to-earth South Tyrolean considers the big picture and relies on small, effective cycles: "Nature is our luxury here in South Tyrol. This must be protected and preserved. That's why we've turned our Leitlhof into a climate-friendly hotel," says the host as he offers a glimpse into the heart of the hotel: the power plant. The power plant means they can generate their own energy and supply and heat the entire hotel – such as the outdoor pool with panoramic views of the Dolomites – CO2 neutrally.
After intensive research, Mühlmann opted for a wood-block cogeneration plant from Spanner Re², a company based in Neufahrn near Munich. He was one of the first to install this system, and invested more than half a year of his life learning the ropes and acquiring all the necessary expertise. "At times, I was even sleeping under the plant so I could monitor and test everything." He is driven by his vision though. That is what makes him stick to the plan. It's been a success. The wood chips for energy production come largely from their own forest and are dried in two underground silos. The plant combines a wood-fired power plant and a photovoltaic system on the roof. "Forest work is my passion. For a long time, the firewood lay fallow and did not have any value. It hurts my heart when I see a tree lying in the forest, not being recycled."

Mühlmann is creative and never at a loss for an idea, and it's not just for the energy supply that he relies on local sources for. After recharging your energy in the Alpin Spa, which also features plenty of wood – there are two wallboxes in the hotel garage to recharge your electric vehicle as well – the sophisticated recycling continues in the restaurant (➜ Read more: Circularity at BMW). The cuisine at Leitlhof is based on a love of innovation, respect for food and home-grown products. For instance, the home-reared lambs are slaughtered at the Innichner abattoir and everything is utilized, nose to tail. The meat is served to the guests and the wool is processed by Zacher, the hat maker in the village, for the hotel's slippers.
The Mühlhof farm is only a few minutes away from the Leitlhof. It is home to a herd of Angus cattle, which are raised here and their meat served in the restaurant. The Mühlhof also supplies fresh vegetables and herbs to the Leitlhof kitchen. And Mühlmann is already working on the next projects. He is building a restaurant and apartments in the village, all under the motto "Focus Zero." All materials will be produced in Innichen. It goes without saying of course that the ingredients for the kitchen will be local. In addition, the home-reared meat will soon be sold in a farm store to create even more awareness for sustainable livestock farming. And that won't be his last idea for sure.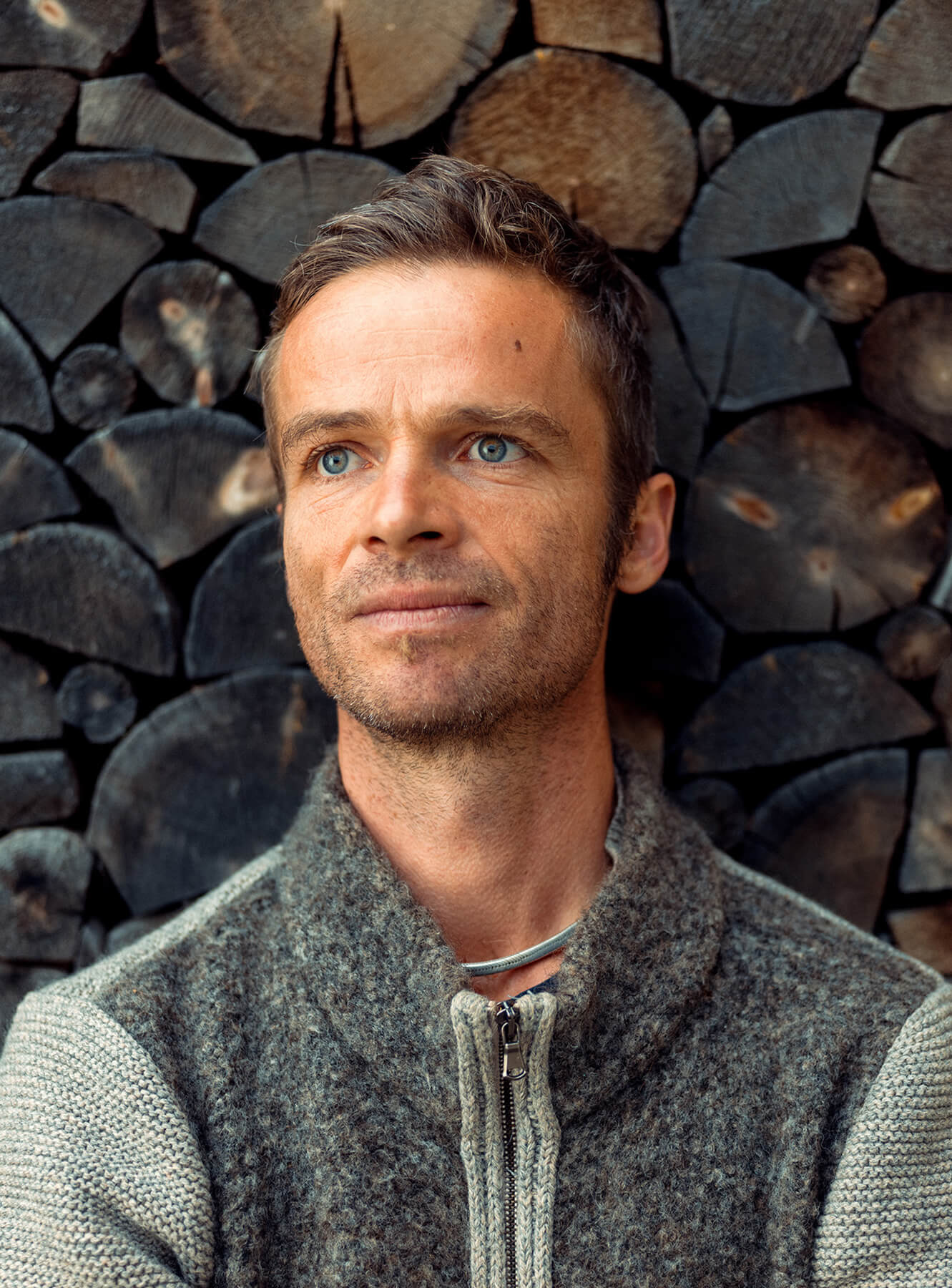 What do Harald Gasser and a uniquely produced concept automobile (➜ Read more: BMW concept cars you should know) have in common? Both pick up on traditional and historical elements and at the same time look toward the future while surprising us with fascinating details. Gasser traveled an unconventional path as a career changer and became a supplier for South Tyrolean award-winning cuisine. Gasser's ideas, always looking for new ways, are also anything but ordinary. Earlier, he was a social worker. Today, the busy farmer grows forgotten vegetable varieties on the Aspingerhof farm in Barbian above Klausen, situated on the ridge of the mountain. Being a farmer needs to be fun again, he explains. This calls for ideas, energy and concepts that work. And: a little willingness to take risks.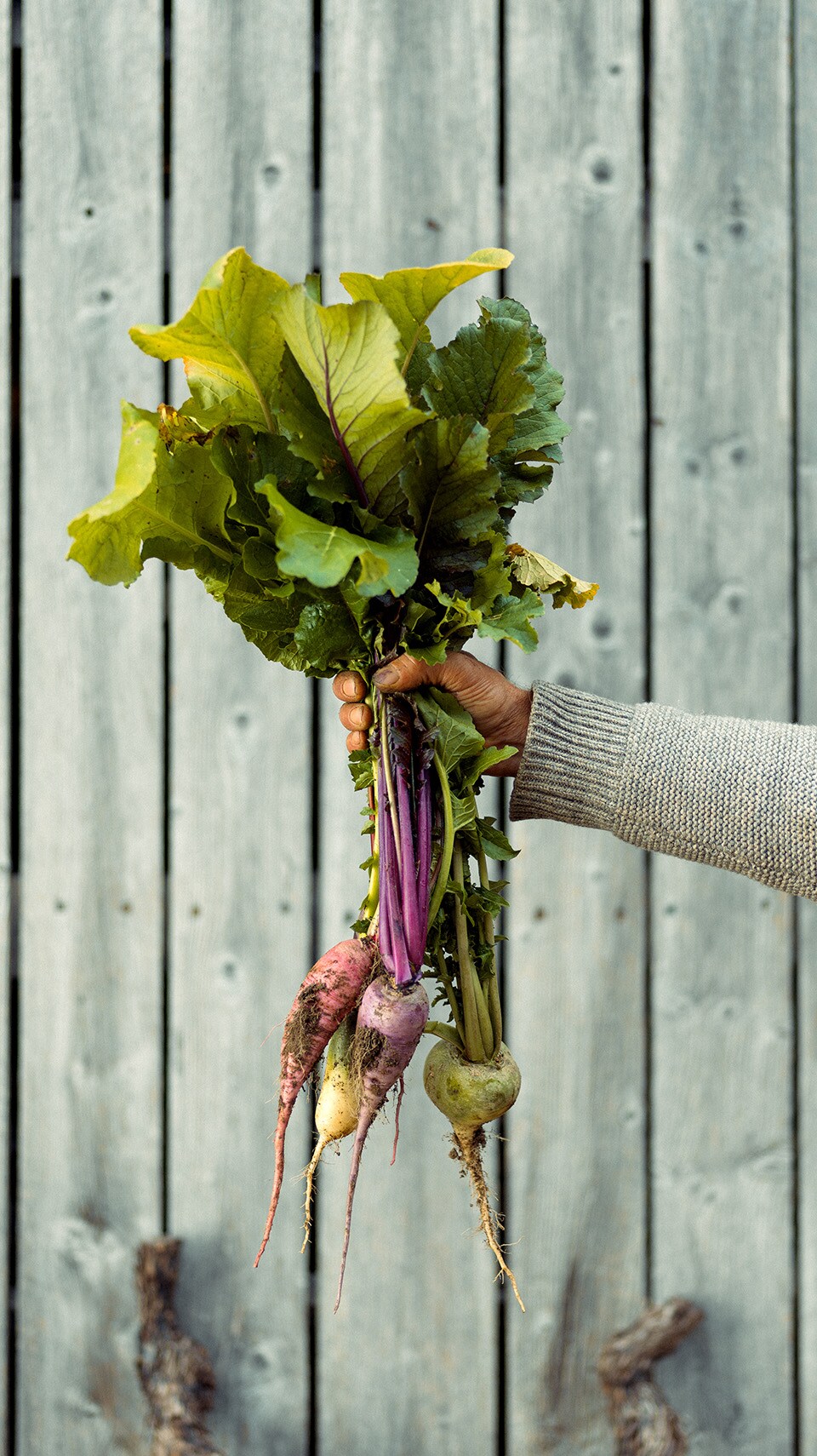 His first ideas germinated almost 20 years ago. He ordered seeds of 180 old vegetable varieties from Arche Noah, the Austrian association for the preservation and development of crop diversity. His mother provided him with 15 square meters of land. He was ready to go. Training manual? There wasn't one. This was learning by doing. Still, there was no shortage of advice for him, and he set off on his way – chemical-free. "You have to spray," said his father. "You need to water," his mother advised. Harald wanted to find out the best way for himself. He was convinced that plants grow deeper roots and get valuable minerals from the soil if they receive little watering when young – and he knew he wanted to do it all without chemicals. Gasser loves to experiment. Today, he biodynamically grows around 800 mainly forgotten vegetable varieties on 8,000 square meters of land.
Gasser compares his garden to a game console. "Growing these varieties is like playing a game. Except it's offline and in nature. I can't just reload if I make a mistake. I have just one chance each year with each plant. You have to get to know the plants, observe them, learn." And he is always learning something new. When Gasser talks about his plants and his work with them, his eyes light up. "Some varieties took me seven years to harvest for the first time." He admits that you only have this level of patience when you enjoy your vocation. The relationship with nature is the key, he said. With the proper care, such delights as tuberous zest, tiger nuts or sour clover turnips are now growing in his garden. For him, proper care could well mean spending a few minutes jumping up and down on the ground over the carrots beneath the surface. He has found that although this variety grows to a smaller size under stress, it gets a more intense flavor.
We try chinese mustard, with a charcoal hot taste – Gasser grows more than ten types of mustard. And the forgotten sugar root, which used to be called South Tyrolean potato. A flower blossom tastes like cucumber, the leaves of another plant like an oyster. Tree tomatoes, also known as tamarillo, are first bitter-sweet, then hot-sour in flavor – an ingredient that appeals to all taste senses at once, and one that chefs revel in. Gasser regularly gets to taste how chefs prepare his unusual products. He has also noticed a trend – one for the good: "It doesn't always have to look perfect. It doesn't have to be big, straight produce anymore. Because the imperfections show they are created by craftsmanship and aren't mass produced." There is one last culinary electric sensation for the tongue before we head toward Lake Kaltern in the BMW iX. The paracress flower leaves an intense citrus tingle on the palate. No wonder Harald Gasser is so energized about his work.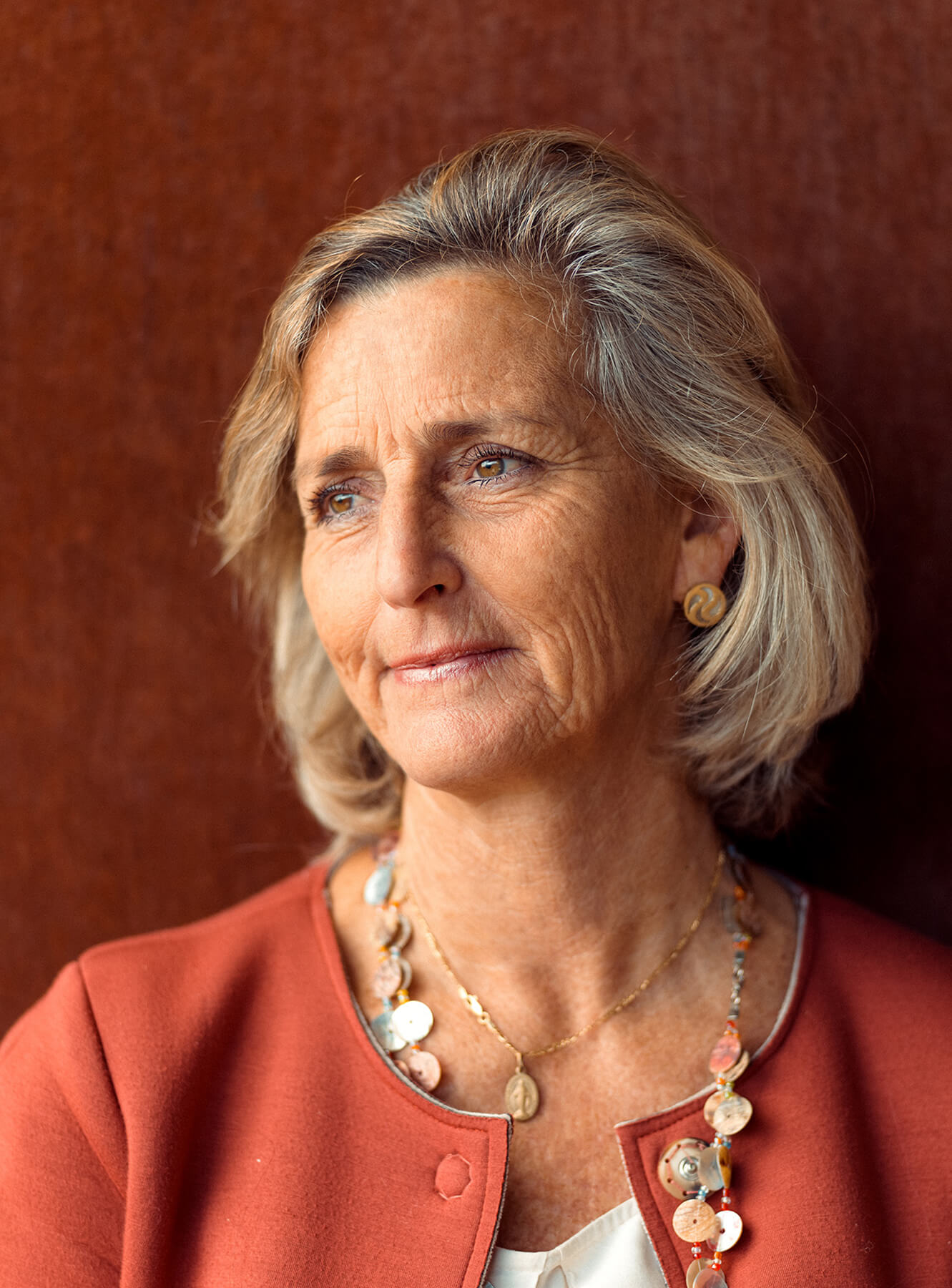 The route then leads past Bolzano toward Kaltern. When you turn left at the end of the road leading down the valley towards Lake Kaltern and through the courtyard entrance to the Manincor Winery, you are plunged into an amalgam of tradition and modernity. The wines from the estate are among the best in South Tyrol. The historic winery building, over 400 years old, still succeeds in leaping into the future with its architecturally redesigned sales room and the winery hidden under the vines. The cellar was built entirely at a low level below the vineyard, alongside the historic estate. The architecture reflects the topography of the vineyard, representing a harmonization with nature. Countess Sophie Goëss-Enzenberg welcomes us in front of the imposing entrance gate and immediately takes the opportunity to test drive the BMW iX. For some years now, she has been driving a BMW i3 purely electrically, and wall boxes have been installed at the winery – the decision in favor of e-mobility was another building block in a strategy toward sustainability. Goëss-Enzenberg runs the winery with her husband Michael, and in 2005 made the monumental decision to start everything from scratch and, with the help of expert Andrew Lorand, convert the farm to biodynamic viticulture. A big, risky step, but this courage was rewarded.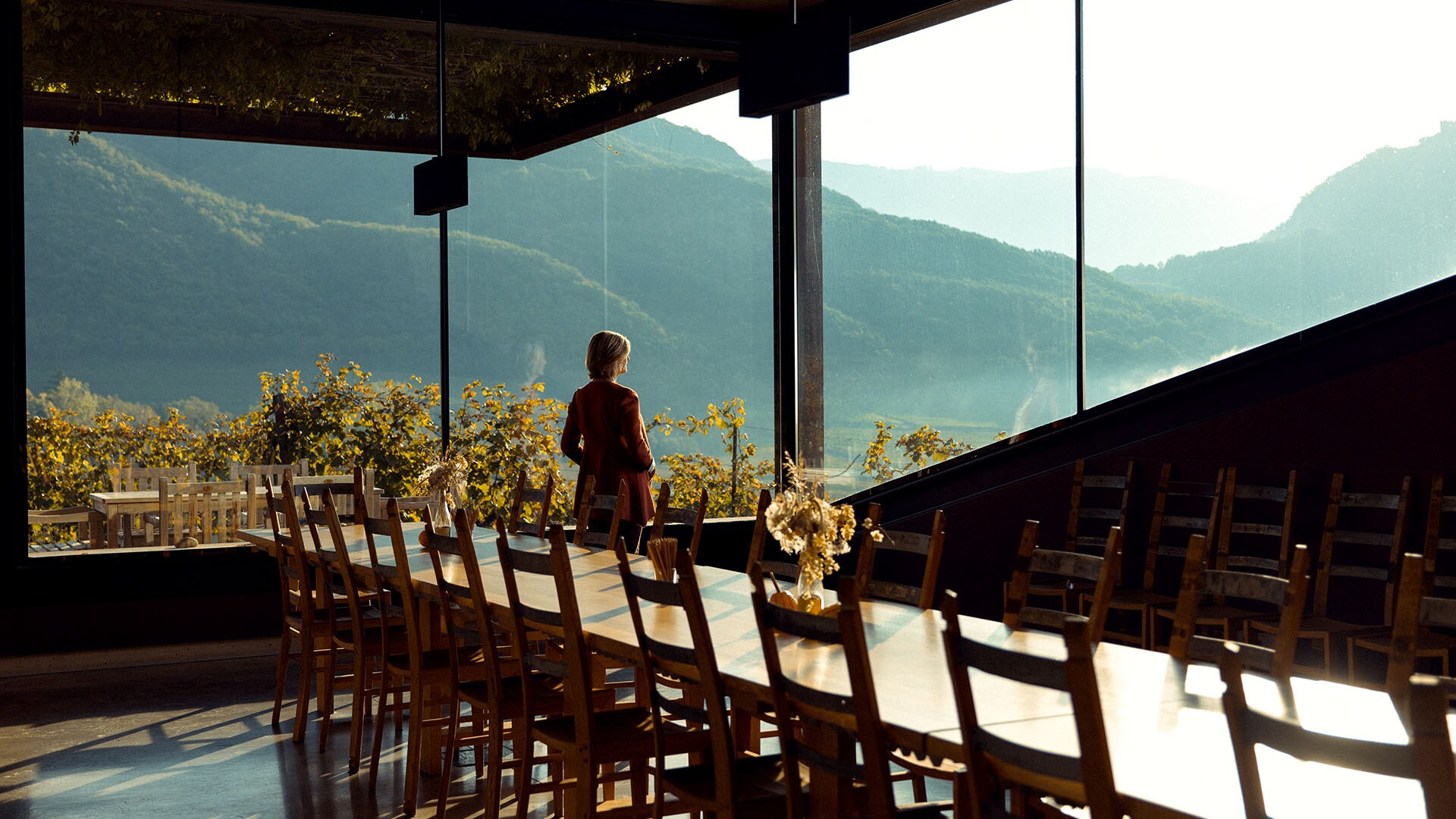 Goëss-Enzenberg's enthusiasm and passion are infectious in explaining every step of the path they took. There is a long tradition of viticulture and agriculture in her family. "We have made it our mission to be mindful of this tradition and great gift of nature. Biodynamics and uncompromising quality work in the vineyards and in the cellar form the hallmark of this journey. We work holistically, sustainably and with a clear vision to the future with great respect for people, animals and plants. We use contemporary technologies to do this. One of our major goals is to restore and preserve natural cycles." They also pass on these guiding principles to the next generation, who are already engrossed in incorporating their own ideas into wine production. Wine is more than just a means of enjoyment for the Goëss-Enzenbergs: "A good glass of wine is a sensual expression of agricultural legacy. Each of our wines speaks its own language. It tells of the land, the soil, the sky, the rain, and the hands that tend it."
Biodynamic agriculture is not a method of cultivation, but a holistic development of the farmer or winemaker together with their farm. The soil is revitalized with compost and treated with minerals. Once again, it becomes a habitat for diverse microorganisms and a natural balance is established. For them, the solution to balance lies in togetherness. A coexistence with nature and animals. About 70 sheep graze among the vines in winter and work the soil. The farm's chickens are also valued employees. They rake and fertilize the soil every day, and are often to be found at the picturesque terrace attached to the tasting room, where Countess Goëss-Enzenberg has just taken a seat. The views of the surrounding mountains and Lake Kaltern are nothing short of fantastic.
The smallest animals are the most important though, she reveals. Earthworms, ants, insects, microorganisms – all of them form humus and make the soil a living thing. And if the vines are ever in poor health, extracts of herbal teas are sprayed on. She compares the process to her skilled work as a pediatric nurse. You have to be there for the plants, to take care of them. The earth is like the immune system – you have to bring everything into balance here. Time also plays a crucial role in viticulture: "You have to give nature time. Especially in this fast-paced world. A product like wine takes time, and is shaped by the seasons. Even when the conditions have not been ideal, each wine is an exact expression of its year, tells its own story. And we sense that people are taking more and more time to discover and taste these stories. This gives us all the motivation and enthusiasm we need to continue on our path."
Author: Markus Löblein; Photos: Yannick Wolff