Always stay up to date
Innovative mobility, exciting trends for the future and high RPMs: Subscribe now to get notified of new content.
Subscription successful.
Subscription failed. If you need help follow the link for support.
Completely redesigning the driving experience: technological breakthroughs go hand in hand with new experiences for drivers and passengers. Digital technologies are now an integral part of our everyday lives and will play an ever-greater role in cars in the future, too. BMW doesn't just want to be part of this development – it wants to drive it forward.
We show how BMW recognizes technical opportunities and challenges while using innovative spirit to develop solutions that help shape the future of mobility (➜ Read also: THIS IS FORWARDISM – an audio series with the designers of our future). Joo-Hyung Maing and Dr. Franzisca Weiss are experts when it comes to digital flexibility and, in this context, are fully conversant with the development of BMW ConnectedDrive digital functions and services.

Joo-Hyung Maing, Specialist Digital Car – Strategy & Business Models at the BMW Group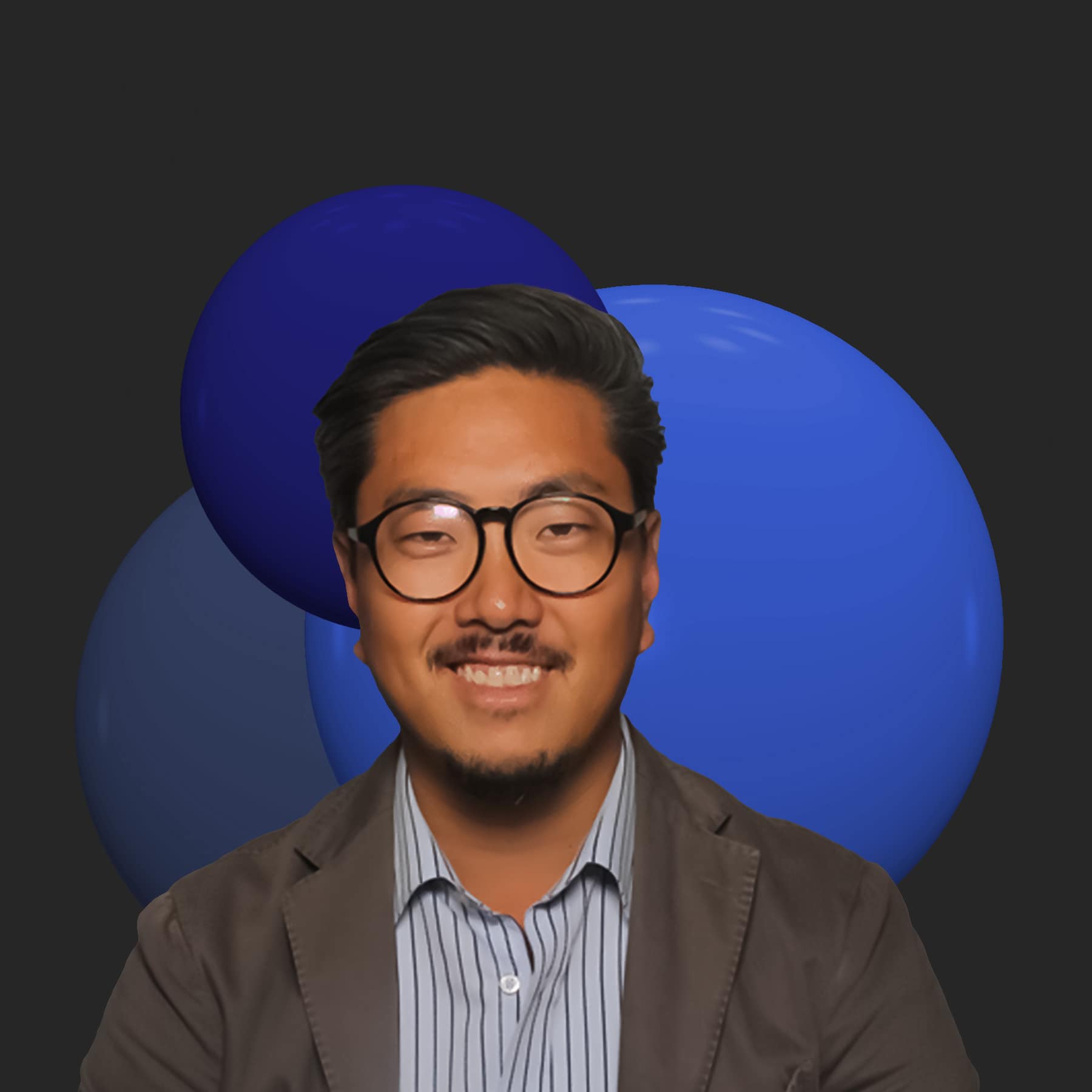 Joo-Hyung Maing started his professional career in the IT industry, including involvement with business intelligence software. He then worked at an analytics company – a software company focused on data analytics and new data-driven business models. He also founded a tech start-up in Berlin along with two friends. It was the exciting challenge of digital transformation that finally brought him to BMW. Coming from the world of software, he wanted to apply his expertise to the digital transformation of the automotive industry and create digital experiences that are a joy to use in and around the car.
Dr. Franzisca Weiss, Team Lead Product Portfolio ConnectedDrive Upgrades at the BMW Group
Dr. Franzisca Weiss actually comes from the media industry, but her doctoral thesis led her to BMW, where she initially conducted product market research with a focus on design after completing her doctorate. Later she established a strategy project for new customer segmentation. The focus of her work is to understand customers and their needs, and use this understanding to help develop attractive products.
First and foremost, technology should make our lives easier.
Dr. Franzisca Weiss
Team Lead Product Portfolio ConnectedDrive Upgrades at the BMW Group
Which trends and habits currently have the greatest influence on the development of digital services at BMW?
Dr. Franzisca Weiss First and foremost, technology should make our lives easier. We all have so much to do and are grateful to have some things taken off our shoulders. This can be planning the perfect route or synchronizing between my car and my schedule, with my personal voice assistant reminding me in the morning that I need my yoga bag in the evening.

Joo-Hyung Maing Along with this, content is still king. What content do I have, where do I get it and how can I use it in the vehicle? At the same time, the customer mentality is changing. Do they really want to watch a 90-minute movie in their car or would they rather get a 5-minute summary of a ball game? Where content is concerned, change is so rapid that many developments cannot even be predicted, but just need to be tried out and tested.

Trying things out is a good key phrase. ConnectedDrive Upgrades functions from BMW now offer customers the convenient option of trying certain services out for a period of time. Some of these can be functions that were not available at the time the vehicle was in production.
Joo-Hyung Maing Continuous expansion of functions and improvement in existing vehicles is now part of developers' day-to-day work. We are conscious that different customers have different needs. Some customers know and appreciate, for example, assistance systems from BMW because they regularly drive new BMW vehicles and already make sure they have certain functions on board when configuring them. Others, on the other hand, may be new to us from a different brand or an older model and aren't even aware of all the features that are available and whether certain features will be valuable to them. Maybe they have bought a used car and the previous owner left out a feature they would actually like to use. Or their own living conditions may have changed over time.

What kind of change might that be? 
Joo-Hyung Maing A nice example is the high beam assistant. I live in the city, so I don't really need this function. But if I moved to the country, I'd probably really miss the high beam assistant on my first night-time drive on a dark country road.

BMW Remote Software Upgrades
BMW Remote Software Upgrades mean the vehicle software installed is always the most up-to-date version available. The free upgrade can be downloaded via either the My BMW app or the SIM card in the vehicle.
So in the future, I'll be able to configure a car to my personal needs more than ever before. And not only at the time I order or buy it, but later on as well.
Dr. Franzisca Weiss ConnectedDrive upgrades give customers much more flexibility. Of course, they can still order the equipment right at the beginning, but they can also do so at a later date and on flexible terms, whatever suits them best. So, it's not only the first owner of a vehicle that is able to adapt their car to their specifications, but the second or third owner can too. Customers no longer have to visit the dealer or workshop, but can activate the functions whenever they need them.

Joo-Hyung Maing Apart from the functions that can be added later, it is generally important for us to use regular updates, new functions and function improvements to keep the vehicle up to date for longer than was previously possible. It is a step in the right direction if vehicles remain up to date for longer, something which perhaps even extends their perceived life cycle. We can even foresee that efficiency will be able to be improved retrospectively via engine and battery management, but also via other control units.

The goal is to keep vehicles up to date over a long period of time, not just until the end of a lease, but for many years to come.
Joo-Hyung Maing
Specialist Digital Car – Strategy & Business Models at the BMW Group
Are there challenges in this regard that, in practice, you will never fully work through as a developer? Processes that are constantly being optimized?
Joo-Hyung Maing On the one hand, we have customers whose expectations we want to meet as much as possible, in the long term and over an ever-increasing period of time. On the other hand, I have a workload that conflicts with this, such as data costs, time, and resources. In the future, there will be an extra challenge: to implement new functions even on an older technical platform. As a developer, I will have to get creative and innovative here to extract the most out of the options available. We will plan even more strategically and for the long term, and flexibility will be in our minds from the outset. What computing power will be needed in the foreseeable future? How much storage space needs to be available? Will it maybe also be possible to replace individual technical components with more modern ones?

There are services in the BMW ConnectedDrive Store and also in Remote Software Upgrades that focus more on the pure software experience, i.e. on the operating system functions or the use of new apps. Other functions, however, change the way the vehicle drives. Which of these is particularly fascinating?
Joo-Hyung Maing I am really excited by everything that happens in direct interaction with the vehicle. Take the Parking Assistant: over time, the developers have managed to get the car into smaller and smaller parking spaces. As a customer, you immediately get the benefit of this function's improvement. And when it comes to content, of course, it's great when new services are added over time by providers that didn't even exist when the vehicle was launched. Customer expectations are becoming increasingly demanding, and our goal is to keep vehicles up to date over a long period of time, not just until the end of a lease, but for many years to come. BMW already installs things like security updates via remote software upgrade over the air anyway.

BMW ConnectedDrive Store
The BMW ConnectedDrive Store offers the option of retrofitting a BMW with digital services and extra functions. Many services can be used on a monthly subscription without having to make a long-term commitment.
Do the digital possibilities also create new opportunities for BMW to react to customer feedback more quickly and in a targeted way?
Dr. Franzisca Weiss It's essential that we create offerings that meet our customers' needs. I believe this gives us a real competitive advantage.

Joo-Hyung Maing The opportunities are just as appealing to us as a brand as they are to the customer themselves. A new car is like a new apartment or a new house in a way. It takes a while to figure out the best way to furnish the rooms or design the garden. I need to live there a while before I can decide how I make the best use of daylight, where I want a lamp, etc. ... I feel the same way about the digital features and content in my car. Once I've used it a while, I can decide what I like and what I'm missing. This feedback is valuable for BMW to find out what we can improve and what customers want.

And just as I can move the couch in my living room to see if it feels better in another part of the room, can I try out a digital service for a few weeks instead of having to make a permanent decision?
Joo-Hyung Maing Absolutely. And BMW can respond based on customer needs. We aim to provide customers with regular feature updates at no cost through remote software upgrades. Customers can also use the ConnectedDrive Store to take advantage of paid services that offer added value to them.

Could it be that we can give different customers the opportunity to use their BMW digitally in completely different ways, adapted to their needs and habits?
Joo-Hyung Maing That is exactly our focus when we talk about flexibility. Someone might want to see a certain app immediately on the home screen and control it by touch, while someone else prefers to select everything by voice. Nevertheless, I believe that a large proportion of the functions must first be available to everyone so customers can see the wide range of possibilities; after that, customers can personalize their BMW entirely to suit their individual wishes and needs.

Dr. Franzisca Weiss It is very important to customers to be able to customize a BMW and adapt it to their needs. The digital aspect means we can expand the range of possibilities here, with customers building a positive relationship with their vehicle for the long term. A relationship that continues to evolve throughout the vehicle's life.

Author: Tassilo Hager, David Barnwell; Art: Verena Aichinger, Madita O'Sullivan; Animations: Jenue; Photos: BMW