Electricity consumption 21,4 – 19,8 kWh/100km (WLTP)
Electric range (WLTP) 590-630 in km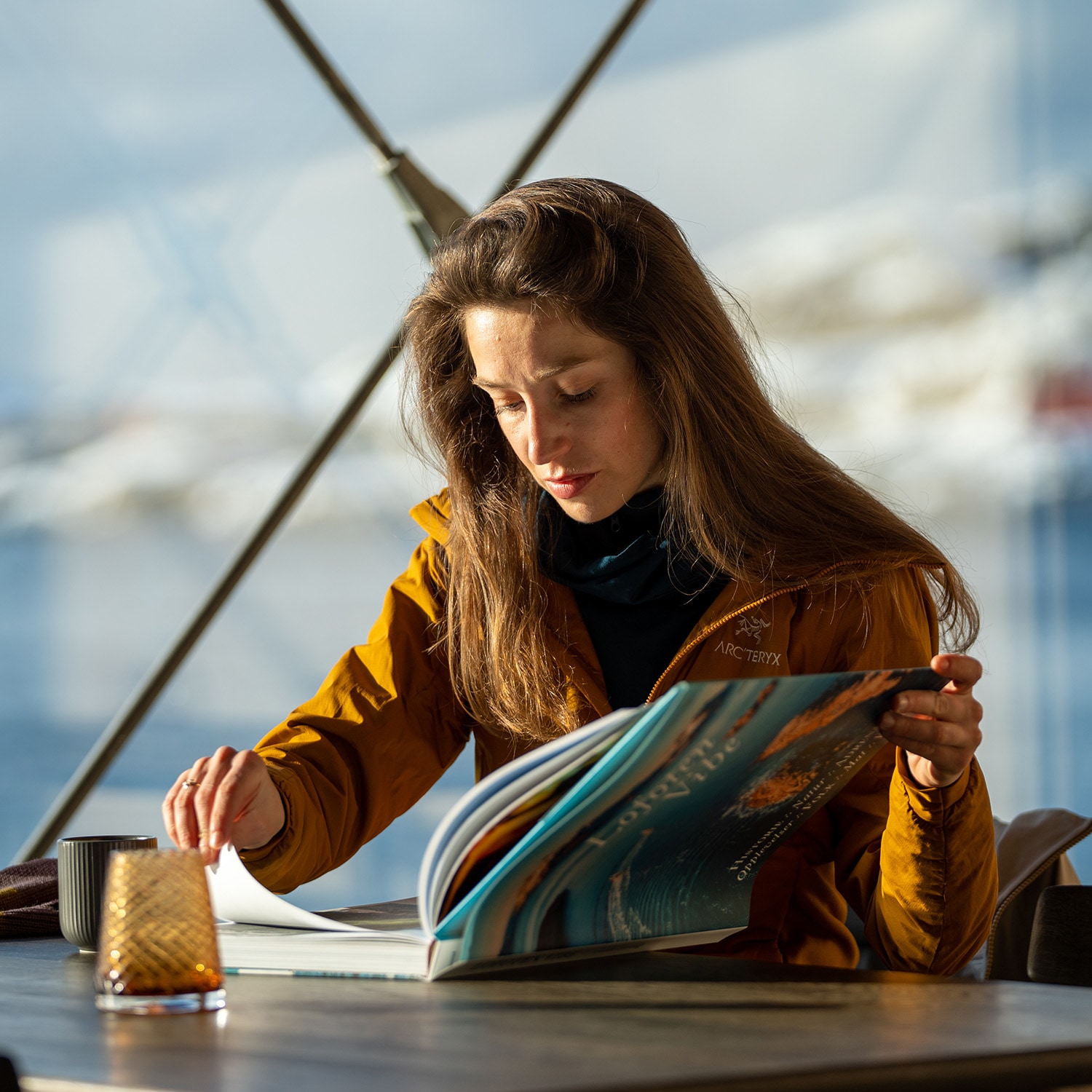 Traveling with a conscience and sustainable skiing are not just buzzwords for Alice Linari (31). She lives it – day in, day out. The BMW iX is her perfect partner in this mission. After all, environmentally conscious driving while indulging the occupants with luxurious comfort do not have to be mutually exclusive. In our interview, she reveals why protecting nature does not equal doing without.
The young Italian makes her way to Norway for the follow-up project to the film The melting point. As always, accompanied by professional skier and photographer Lorenzo Alesi (47) – and a BMW iX. They consciously chose this Scandinavian country because nature is particularly fragile there and impacted by climate change. At the same time, Norway is putting decisive countermeasures in motion on many levels. E-cars (➜ Read also: All E-car types at a glance) have long been a common sight on the streets here.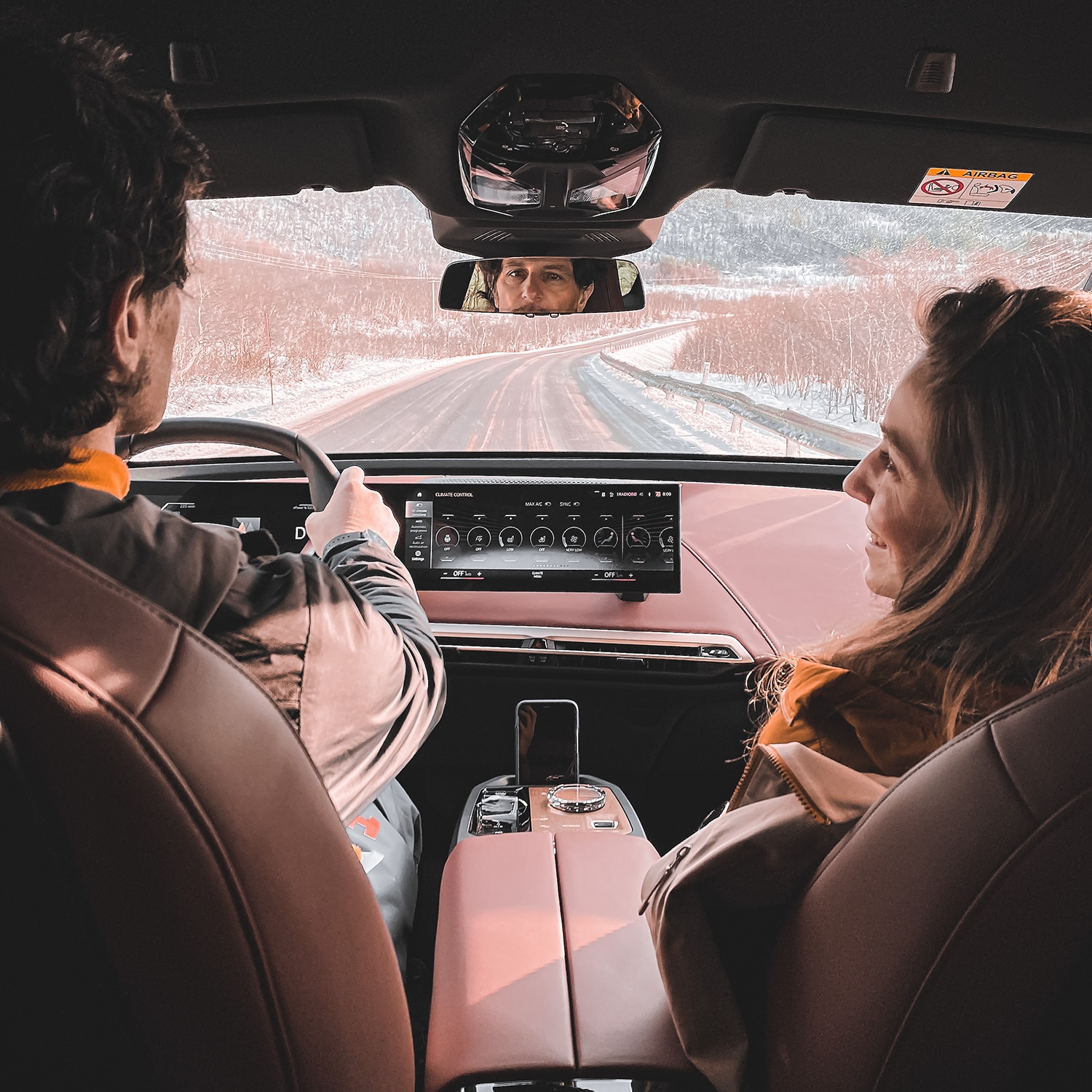 The Florence native, who now lives in Munich, explains in our interview that nothing is closer to her heart than the environment. She spends a lot of her time in nature, so it is no mystery to her that this is under threat from many angles. But Linari and Alesi don't just accept this without question. They want to take action. Firstly, through their involvement in organizations such as Protect our winters, and secondly, by addressing the issue directly via their own social media channels (Linari and Alesi). The aim of this unique trip is not only to reach the Arctic Circle and the mountains there, but also to show that it is possible to complete a journey of this magnitude with the "smallest possible carbon footprint".
Combining tradition and innovation to protect nature.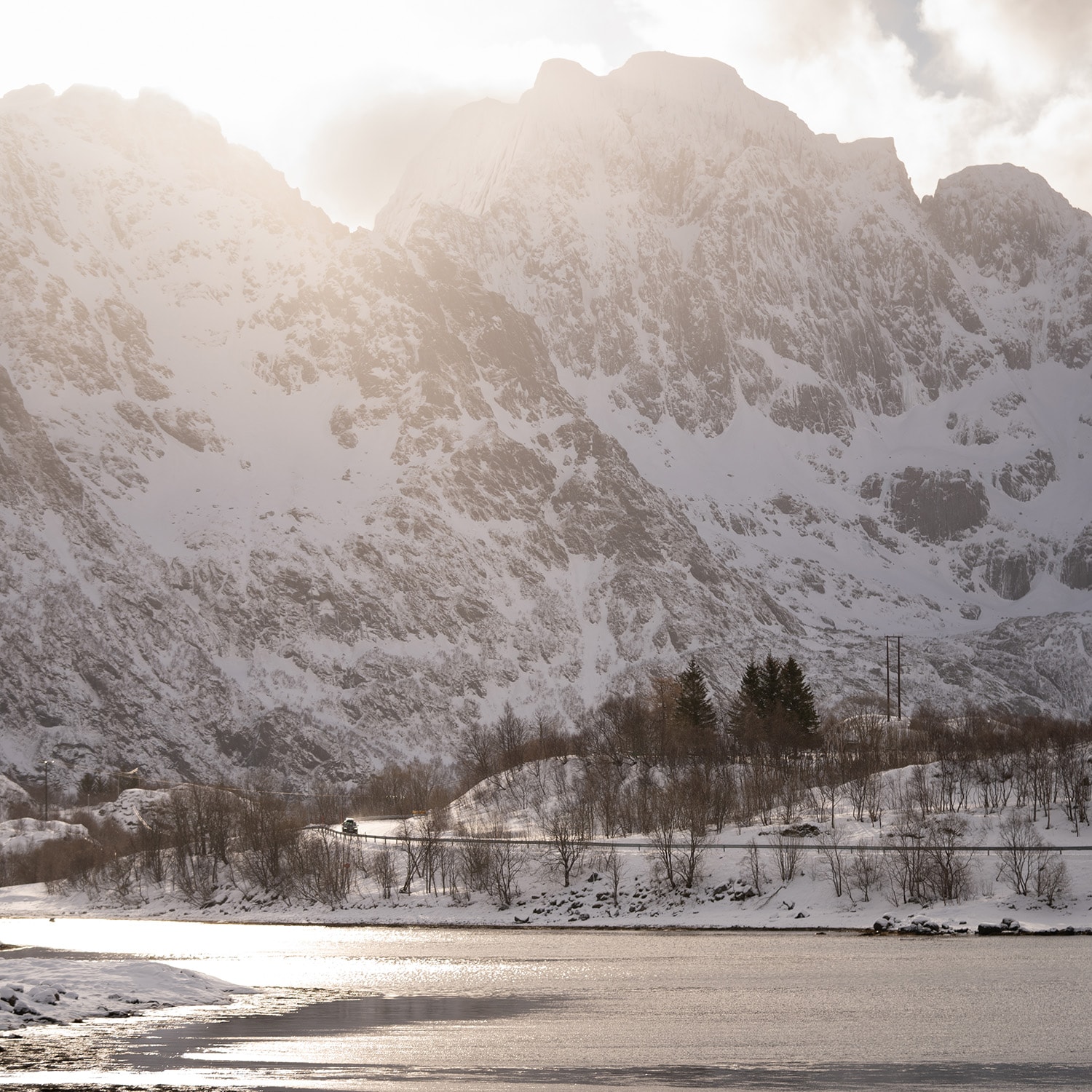 Linari wants her drive to draw attention to the challenges people in northern Norway face. Their livelihoods are tourism and fishing. Both are under close scrutiny due to climate change. And in both areas, local people are fighting back against these developments with innovative ideas. On her cross-country road trip in Norway (➜ Read also: Road trip through Iceland) Linari will visit people who demonstrably "live and act sustainably, combining tradition and innovation". Or, as Linari succinctly puts it, "Greenstyle". One thing they all have in common is that they all act consciously as they depend on a healthy nature environment and have a special connection to it. Because they see what is happening in nature right outside their front door.
Linari wants to give the people there a voice to talk about what they are doing to preserve the nature around them. And she and Alesi want to learn from the locals. Learn how we can all live more sustainably. Which is the bridge between their way of traveling and the BMW iX. After all, sustainability was high on the agenda in developing the SAV. Driving an electric vehicle to electric mobility paradise (➜ Read also: Packing list for the road trip) and producing as few CO2 emissions as possible fits perfectly into the picture.
And while we're talking of paradise, Norway offers perfect conditions for ski touring, Linari and Alesi's great passion. Her approach says that skiing does not necessarily have to mean using lifts at a large ski resort, eating food there that has been transported from far away, and pumping out large amounts of CO2 emissions when traveling to and moving around the resort. There is another way. Linari uses muscle power and touring skis to climb the mountains before skiing down, eats seasonal produce with the locals, and travels in an environmentally friendly BMW iX powered by green electricity. In short, she skis as sustainably as humanly possible.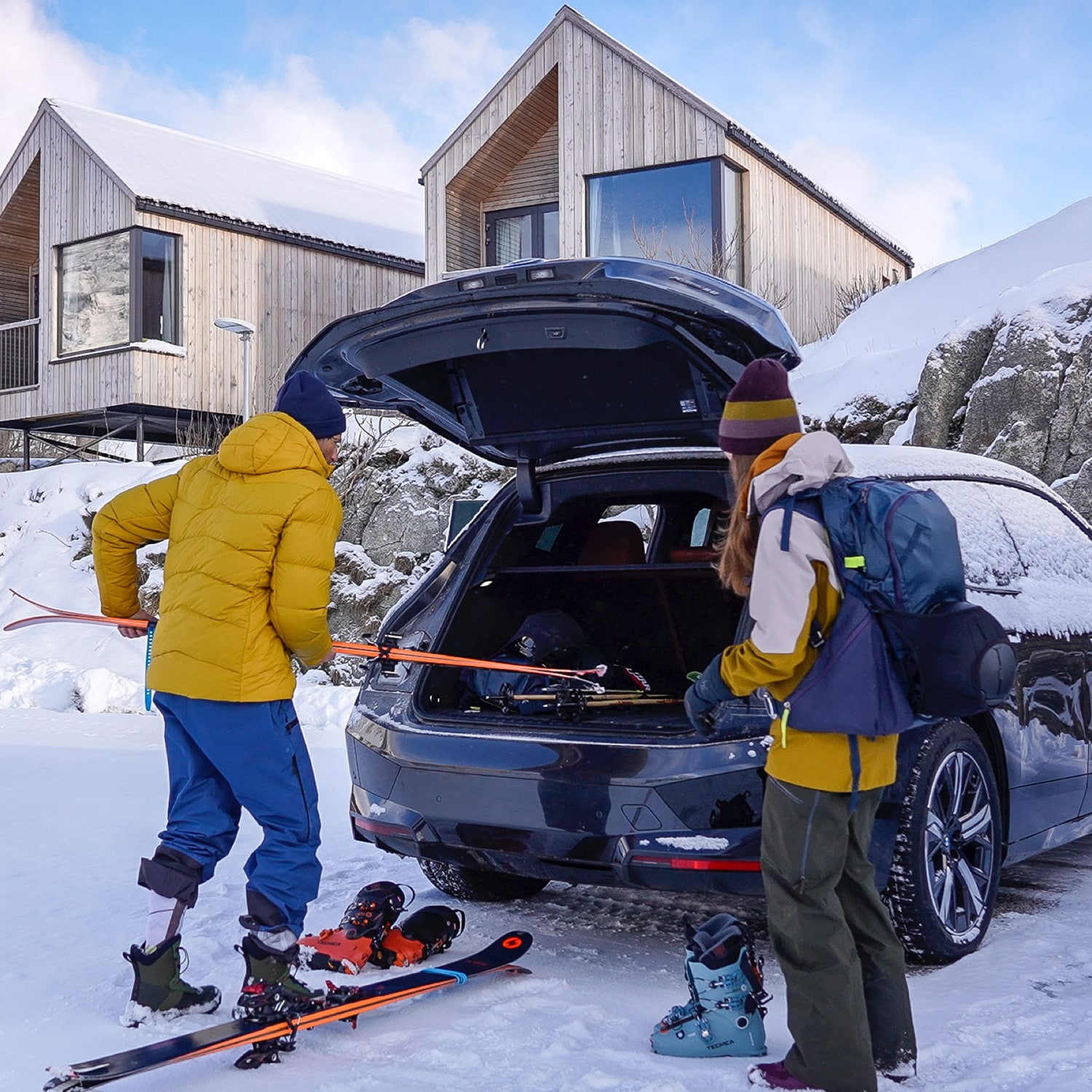 An established charging infrastructure in Norway is ready and waiting for the BMW iX (➜ Read also: All about e-car charging). Nevertheless, the BMW i flagship is up for any challenge with its impressive all-electric range of up to 593 kilometers, depending on the model, even if charging stations are a little further apart. Linari and Alesi hope that their journey in the BMW iX will not only be as resource-friendly as possible, but a totally relaxing one. It's also neat that skis and the accessories that go with them, along with all their luggage, simply disappear into the cavernous trunk.
We want to experience nature consciously.
What is important, emphasizes Linari, is that sustainability (➜ Read also: BMW produces cars this sustainably) and travel are not mutually exclusive. Living consciously does not mean having to do without. With a bit of thought, it is perfectly possible to eat and drink in an ecologically responsible way, to take part in sustainable sports, and to enjoy nature. And the laid-back experience when traveling in the e-vehicle also enhances the quality of life.
So, together with Alesi, Linari starts in Munich, then always heads for the Arctic Circle. Through Germany and the whole of Norway, right to its northern borders. Relaxed and in almost complete serenity, they roam through Scandinavia in their BMW iX. In just over three weeks, Linari and Alesi will visit various ski touring spots in northern Norway and meet up with people who live and act sustainably. Read and see how much her expectations are fulfilled, what she and Alesi experience and how the BMW iX performs on the Roadtrip XXL on the BMW social media channels and, later, here on bmw.com.
Author: Nils Arnold; Photos: Lorenzo Alesi; Art: Carolin Wabra, Verena Aichinger