Always stay up to date
Innovative mobility, exciting trends for the future and high RPMs: Subscribe now to get notified of new content.
Subscription successful.
Subscription failed. If you need help follow the link for support.
How does this sound?
You can also listen to this article via Changing Lanes, the official BMW podcast. 
Apart from this and other narrated articles, Changing Lanes offers you fresh new episodes every week, packed with exclusive insights on tech, lifestyle, design, cars, and more – brought to you by hosts Nicki and Jonathan. 
Find and subscribe to Changing Lanes on all major podcasting platforms.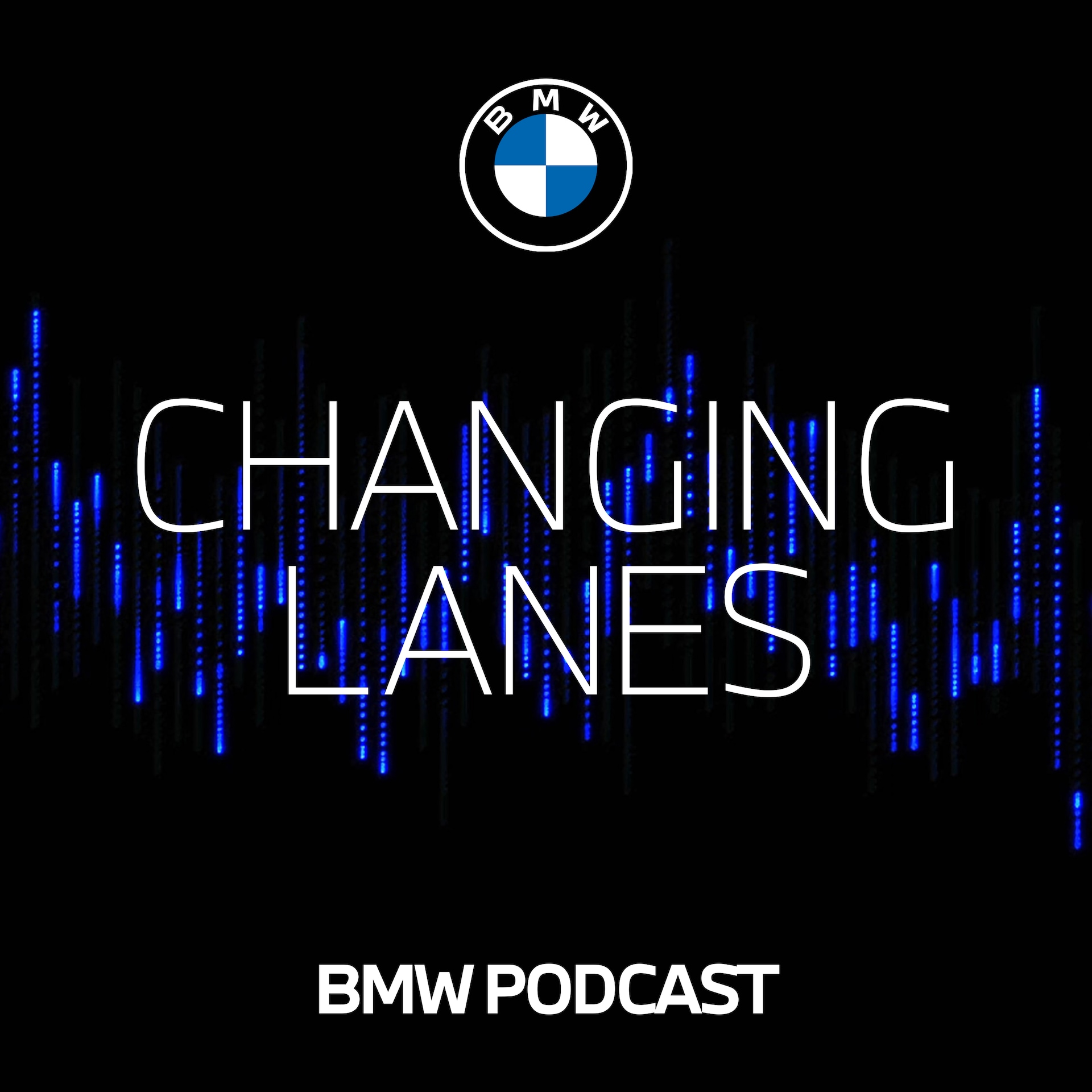 Can an algorithm rethink art? The American creative technologist Nathan Shipley has been exploring the creative-design potential of artificial-intelligence technology for some time now. "AI is an emerging medium of creative expression. It's a fascinating space where art meets algorithm and becomes an incredible tool for artists," said Shipley. Inspired by a desire to explore new technology, he started a project in which an AI algorithm learns different styles by absorbing 900 years of art history and then generates something completely new out of it.
"Working with a large data set of historical works in concert with curated contemporary works that were selected by Gary Yeh provides beautiful and thought-provoking combinations. Projecting the evolving images onto the car as a canvas is a direct nod to BMW's history of uniting art and technology."

BMW and art: a dynamic relationship
Building bridges between art and technology lies deep in BMW's history and constitutes an important link between the past, present and future. BMW's Art Cars are an innovative example of how art can be aesthetically combined with vehicles, reflecting the cultural and historical development of art, design and technology. Since 1975, renowned artists from around the world have been designing BMW automobiles. Exhibits in the BMW Art Car Collection to date include works by renowned artists such as Alexander Calder, Frank Stella, Roy Lichtenstein, Andy Warhol, David Hockney, Jenny Holzer, Olafur Eliasson, Cao Fei, John Baldessari and Jeff Koons (➜ Read more: more about the BMW Art Cars).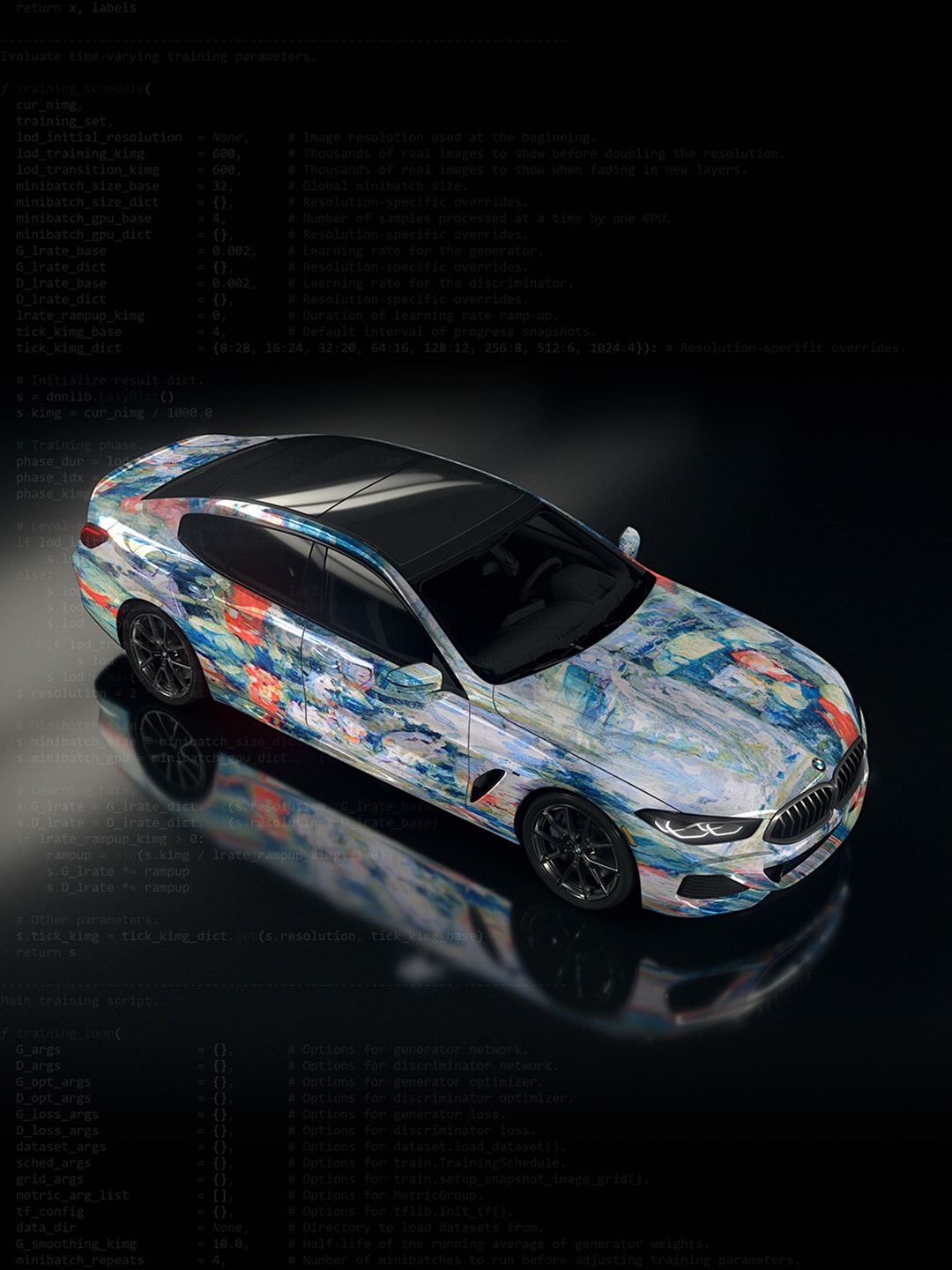 "For 50 years BMW has supported the arts and culture through numerous initiatives as a way to engage and interact with consumers around the world in an authentic way," said Uwe Dreher, vice president of marketing at BMW of North America. "As we continue these efforts into 2021 and look for new and creative ways to engage audiences, we shift to a virtual setting, where we are combining centuries-old art, specific contemporary art and the latest AI technology to create something completely new and exciting."
As Hedwig Solis Weinstein, Head of BMW Brand Cooperations, Arts & Design, added, "Creativity and collaboration across disciplines and individuals are essential for our cultural endeavors. We were driven by enabling a dialogue between creative AI technologist Nathan Shipley [and] collector and founder of ArtDrunk Gary Yeh, creating synergies between technology, historical [art] and contemporary art—and involving inspiring artists of our initiatives, like Leelee Chan and Jamal Cyrus."

50,000 artworks as a basis for inspiration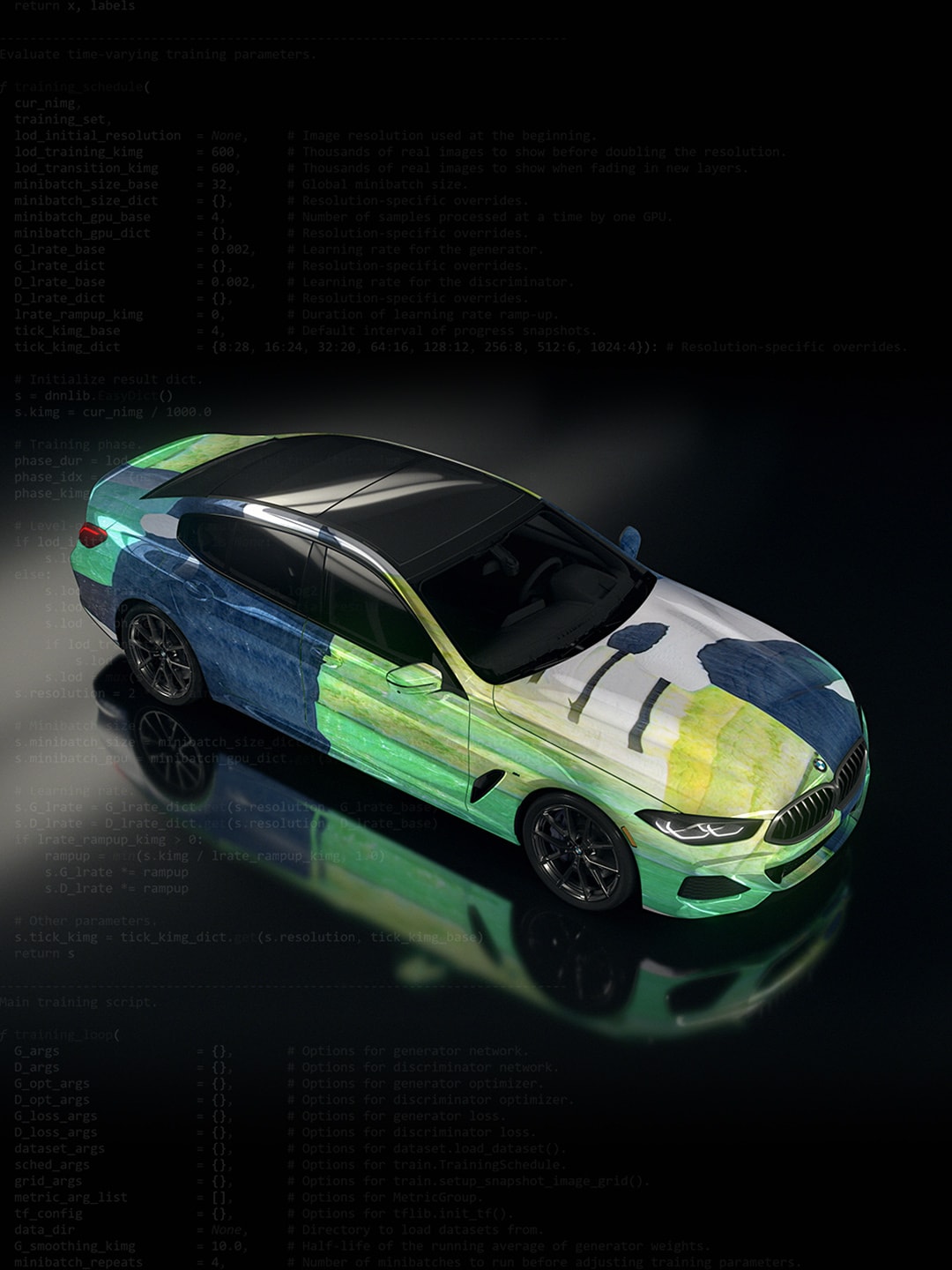 Like humans, artificial intelligence can learn; it just needs a teacher and knowledge. This is the task to which Nathan Shipley has dedicated himself. "On some levels AI learns to generate art in ways that are similar to humans," he explained. "As a budding painter, for example, you go to a museum, gather impressions of the styles you want to be inspired by—whether it's cubism or expressionism—and then you replicate that at home or in your studio. Here, though, the algorithm is automatically finding the patterns and stylistic elements that make Cubism or Expressionism what they are."
Instead of brushes and paints or hammers and chisels, AI works exclusively with data. Lots of data. To provide it with the material it needs, Shipley created a data set from a selection of images. "We have fed the AI program 50,000 images of works of art from almost 900 years of art history," explained Shipley. Using these inputs as a basis for understanding art, the AI generates entirely new works of art, blending and evolving what it's learned about historical art.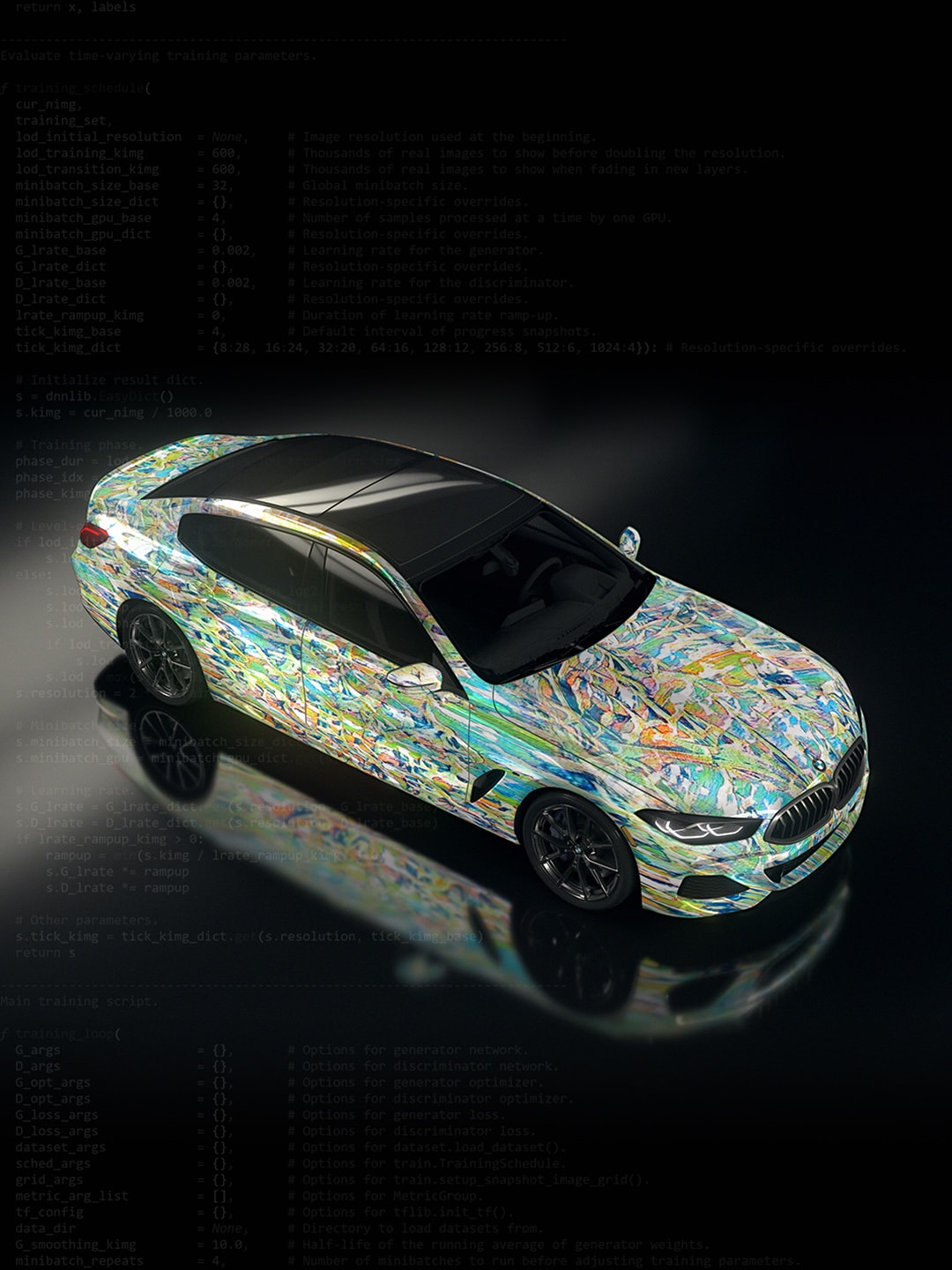 The BMW team didn't want to stop there. To do justice to Shipley's avant-garde vision, BMW brought Gary Yeh into the conversation. "By involving Yeh, who selected 50 contemporary-art pieces from renowned and emerging artists, the AI learned to combine the historic data set with modern art. For Yeh "the fascination lies in constantly exploring what art means to other people and learning from different perspectives. During an unusually isolated time in history, we took the opportunity to curate and work with artists from around the world as a means to give viewers a true art experience digitally," said Yeh. "It was particularly exciting to push the boundaries of art, see how technology may influence the art world in the years to come and build on 50 years of cultural engagement at BMW."
For Yeh, too, the symbiosis of automobile and art was an exciting challenge. "What unites art and cars like the BMW 8 Series is that they push the boundaries of the status quo," said Yeh. "With cars there's this drive for speed and new technologies. And with art it's the constant experimentation with materials and expressive possibilities. The two are also connected by their shared appreciation for aesthetics."

By letting Yeh's personal style infuse the selection of the artworks, the project could investigate questions such as, What happens when we modify the weights of the model away from something broad and toward something intentional and curated? What happens when we allow the art from those artists to modify the machine's understanding of what art is? In this way we are exploring methods by which humans can use artificial intelligence as an incredible technological tool to create art together.
Artificial intelligence creates with patterns
How can intentional art be created from such a large data set? The key is by creating focus through Yeh's careful selection. As an art expert we spoke with clarified, "While one or two artworks can be very impressive in themselves, I get the most value from art when I find connections between different artworks and, more generally, between different aspects of culture. Curating helps connect the dots to show the bigger picture."

It's precisely the way AI assembles this bigger picture from the existing data sets that mirrors how our brains work," explained Shipley. "For the project we worked with artificial neural networks. They are modeled on the structure of the human brain and are good at finding patterns in a data set. With each training iteration, the weights of the neural network are adjusted so that the network produces results that are increasingly more accurate and better. The information processing categorizes the input data, classifies it and creates a pattern from it. This gives AI a deep multifaceted model that combines all the information and character traits of the data sets."

But can artificial intelligence also develop its own style? As Shipley asserts, "In a way, it can. We influence this algorithm, and therefore the style, by the choice of parameters and by curating the artists the AI is fed. What we integrate or exclude affects the creative development of the AI's output. After all, art requires intention, and while the system isn't human, it is learning to generate patterns and to make new art."
Digital experience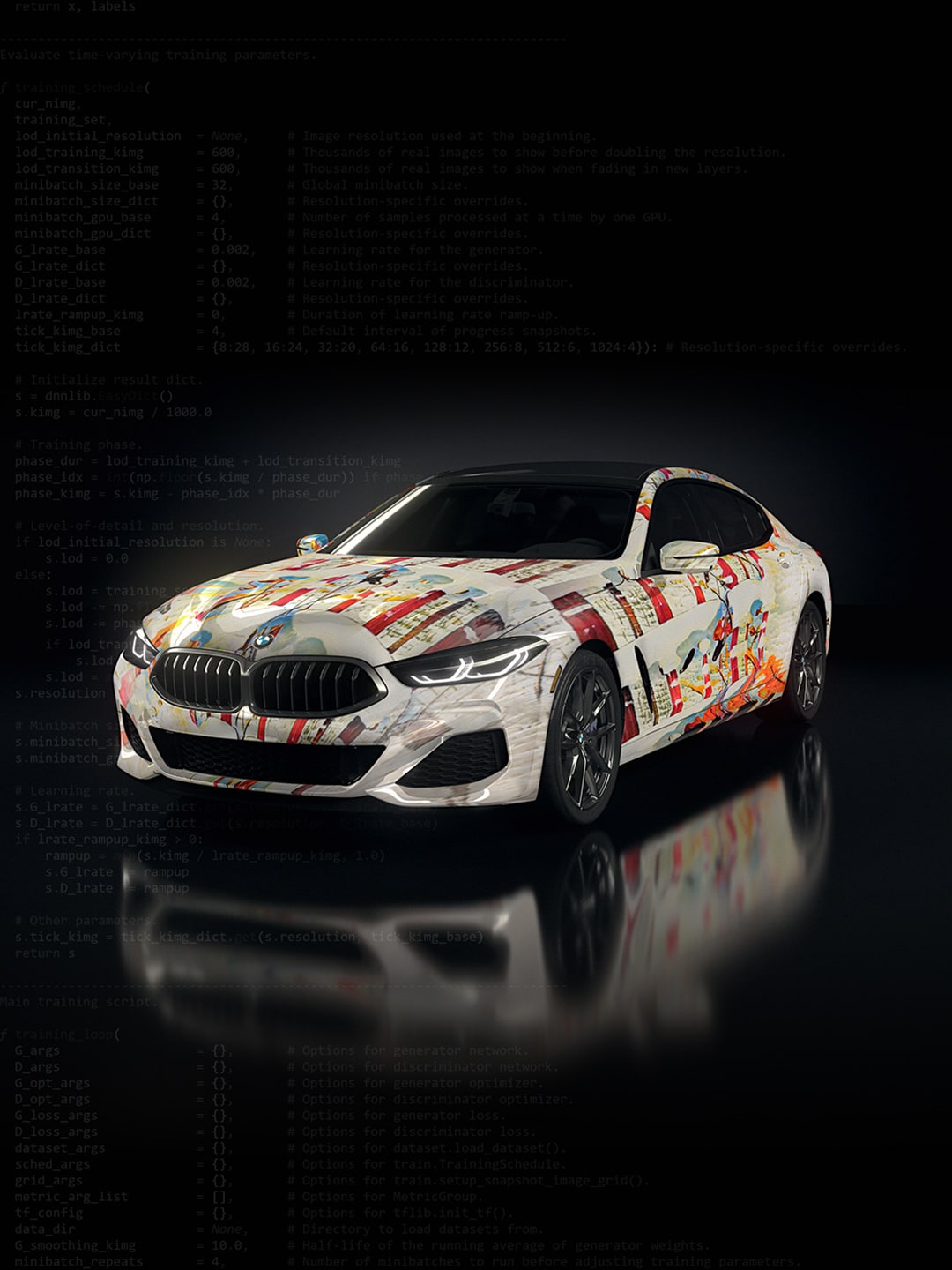 One can't help being mesmerized by the ever-evolving body of AI art on the unique canvas that is the BMW 8 Series Gran Coupe. Formative influences from the past were to be included as well as visionary ways of thinking. And one small dream remains unrealized for the time being: "When we first envisioned this project, we had imagined the BMW 8 Series Gran Coupé gliding through the city streets at night with this constantly evolving, AI-generated surface," said Shipley. "We'd still love to figure out a technical solution for that. The appeal of the extraordinary—that's what drives us—using technology to create beautiful imagery."
One question still remains unanswered: Will AI ever be able to bring back artists like Picasso?

With our "The Ultimate AI Masterpiece"wallpaper, you can see the AI artworks absolutely any time you want.
Our wallpaper is available for your tablet and desktop as well as your phone.
Download the desktop version here.
Download the mobile version here.