Always stay up to date
Innovative mobility, exciting trends for the future and high RPMs: Subscribe now to get notified of new content.
Subscription successful.
Subscription failed. If you need help follow the link for support.
Electricity consumption 23,0–19,3 kWh/100km (WLTP)
Electric range (WLTP) 372–631 km
As with so many other things in life, it's impossible to describe Christoph Waltz's relationship with Christmas in just a few words. But The BMW Christmas Film, in which the Oscar winner stars, gets this ambivalence across in an amusing way. 
Christoph Waltz plays himself in the BMW film. He appears as a "modern-day Grinch" who flatly refuses to attend the annual BMW Christmas party. All he actually wants to do in Munich's Vierzylinder, the BMW headquarters, is meet CEO Oliver Zipse again. While fleeing from a BMW employeer in a Santa hat, though, he unintentionally ends up at the celebration after all.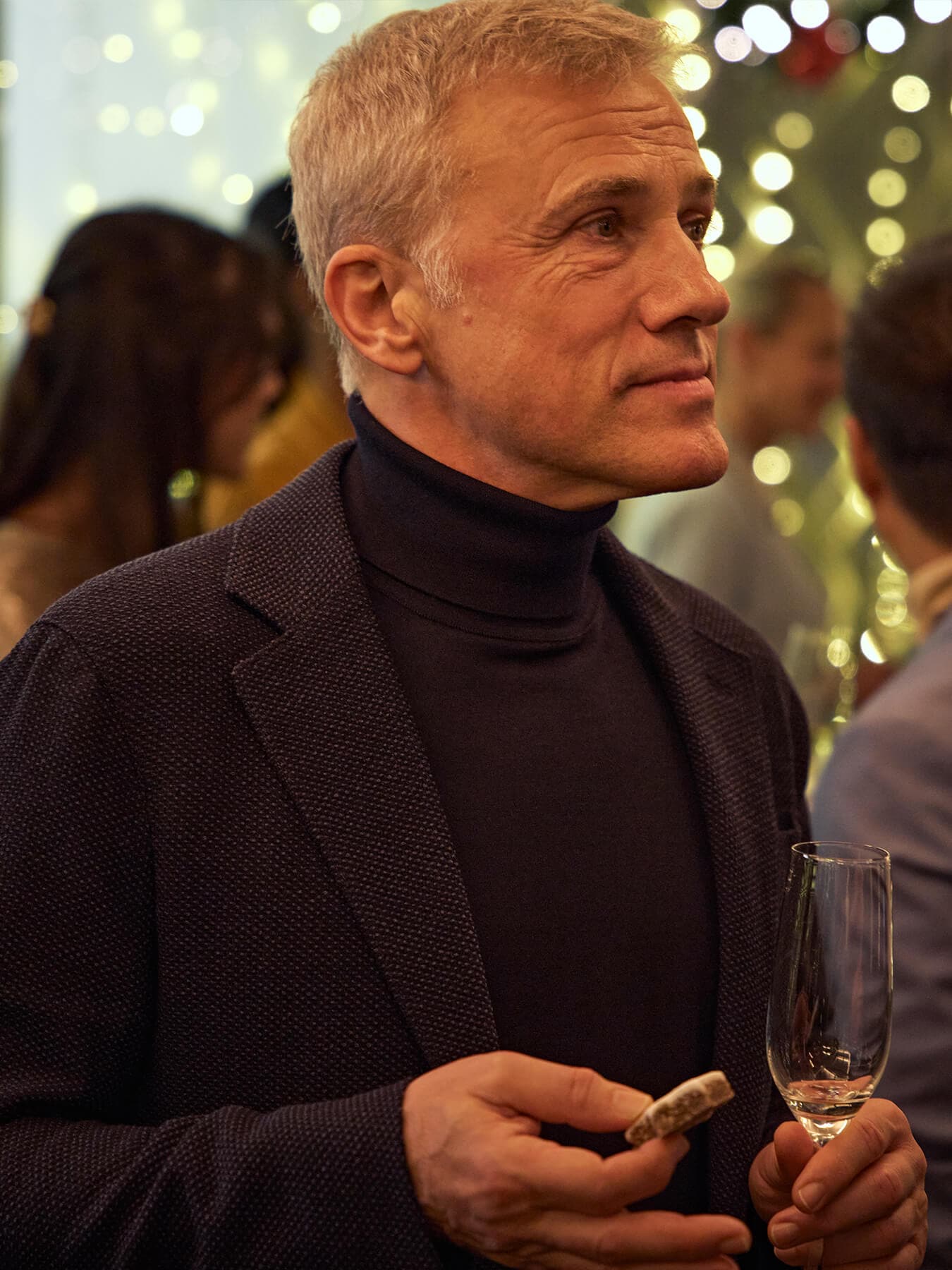 He mingles with people, helps himself at the buffet and strikes up a conversation. Waltz is a familiar face at BMW, having joined Oliver Zipse for the world design premiere of the BMW iX back in 2020 (➜ Read also: Christoph Waltz discovers the BMW iX). Just when you think Waltz is really getting into the Christmas spirit, you hear him quoting Ebenezer Scrooge from Charles Dickens' "A Christmas Carol" with his famous phrase, "Bah, humbug!" Waltz cannot express what he thinks of Christmas any more clearly than that. Still, the film ends with a smile on Waltz's lips as he leaves the Vierzylinder and a BMW iX pulls up. Does the festive mood finally get to him?
"Christmas spirit isn't such a bad thing per se," Waltz clarifies, "and when you also get to ride in an vehicle as comfortable and beautiful as the BMW iX, there's really nothing to complain about." If you ask him what the real Christoph Waltz feels about Christmas, though, it becomes clear that the film is very close to reality. However, first of all, the real Waltz comes across as much more likeable than the Grinch. And secondly, in classic Waltz fashion, he knows well how to maneuver elegantly through the Christmas season without losing his cool.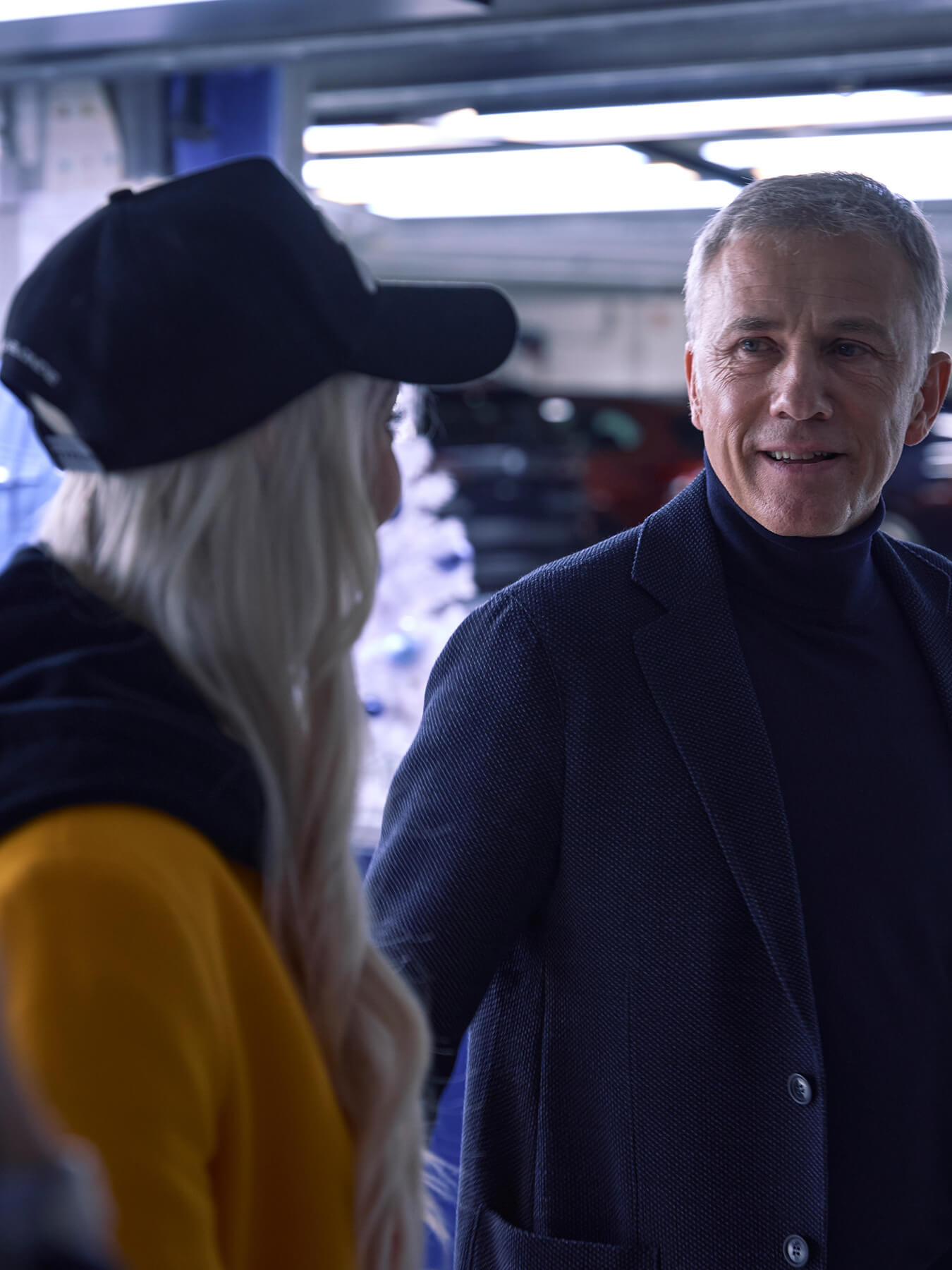 Magical snowy landscapes and candlelit gatherings are among Waltz's fondest Christmas childhood memories from growing up in the Austrian foothills of the Alps. And today? "There's not much left of the original values of this festival today. That's why I try to avoid the consumption frenzy and this insane need for harmony." His recipe for getting through the stressful Christmas season unscathed is simple: "Switch off, forget any expectations and just enjoy the peace and quiet between the years."
And yet, there is one thing that Waltz does appreciate about Christmas: the desire to give and spread joy. This should happen throughout the year, though, because there is potential to spread joy in many everyday moments. Joy: a term that is also no stranger to BMW.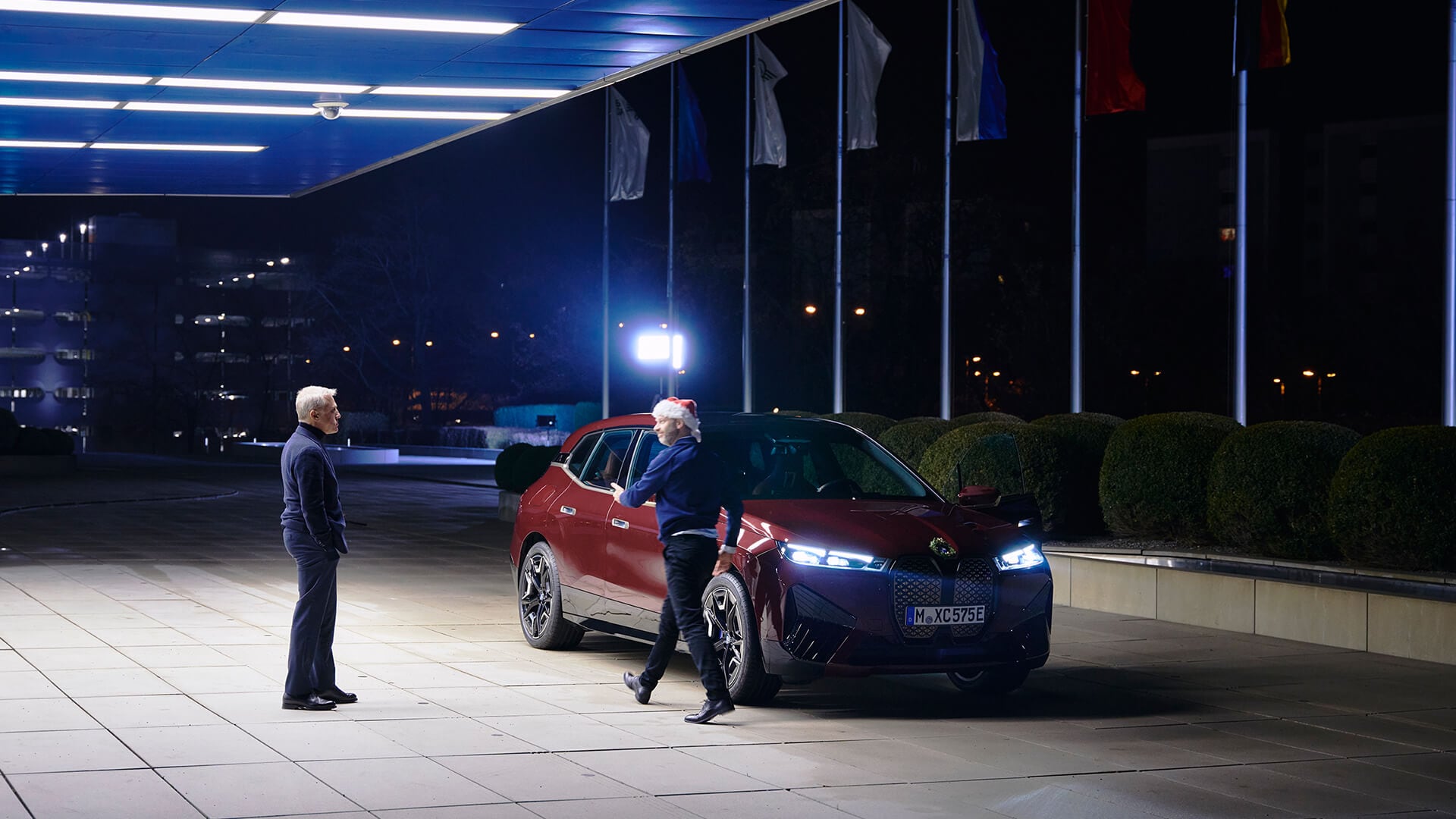 Waltz then reveals to us what always brings him joy personally: "Watching elegant and fluid movement. Fred Astaire dancing, a dressage horse in full rhythm, or a jogger in the park gliding along, totally relaxed. For me, when something or someone moves unfettered and in the flow, it conveys a sense of freedom that results in joy. I think that was also why the Christoph Waltz in the film has a smile on his face at the end when the BMW iX pulls up."
Waltz and BMW share memories that go back a long way – and after all, Christmas is all about sharing memories. The actor spent part of his childhood in Munich at precisely the time when automobiles have an important place in a little boy's life. They were the only real means of transport for the young Waltz. Not necessarily to physically get from A to B, but rather in spirit, because they transported him into the exciting world of adults. So, it was only natural that he identified with the BMW brand as a child in Munich.

"And I still have that connection and identification with BMW today, probably because we humans tend to store rather than discard childhood memories and experiences. BMW is a car brand that has been at my side for a very long time now," says Waltz almost soulfully.
In this sense, may Waltz's beautiful memories of the snowy foothills of the Alps stay with him forever – despite his Christmas skepticism. Merry Christmas, Christoph!

Author: Jelena Pecic; Photos: David Daub; Video: BMW