Always stay up to date
Innovative mobility, exciting trends for the future and high RPMs: Subscribe now to get notified of new content.
Subscription successful.
Subscription failed. If you need help follow the link for support.
In future, the car will be connected with a much larger mobility and traffic ecosystem than previously, and it will continue to play a central role within it. This ecosystem is becoming increasingly complex, and innovative ideas and diverse perspectives are needed to understand its intricacy.
Designworks, the innovation studio of the BMW Group, with studios in Los Angeles, Munich, and Shanghai, is always looking for new solutions to this very challenge. Dealing with tasks from vehicle design for BMW Group and special sports and cultural projects, to Advanced Design Projects geared towards already addressing questions that no one has even asked yet, Designworks is a trusted partner for many innovation projects for the BMW brand and beyond.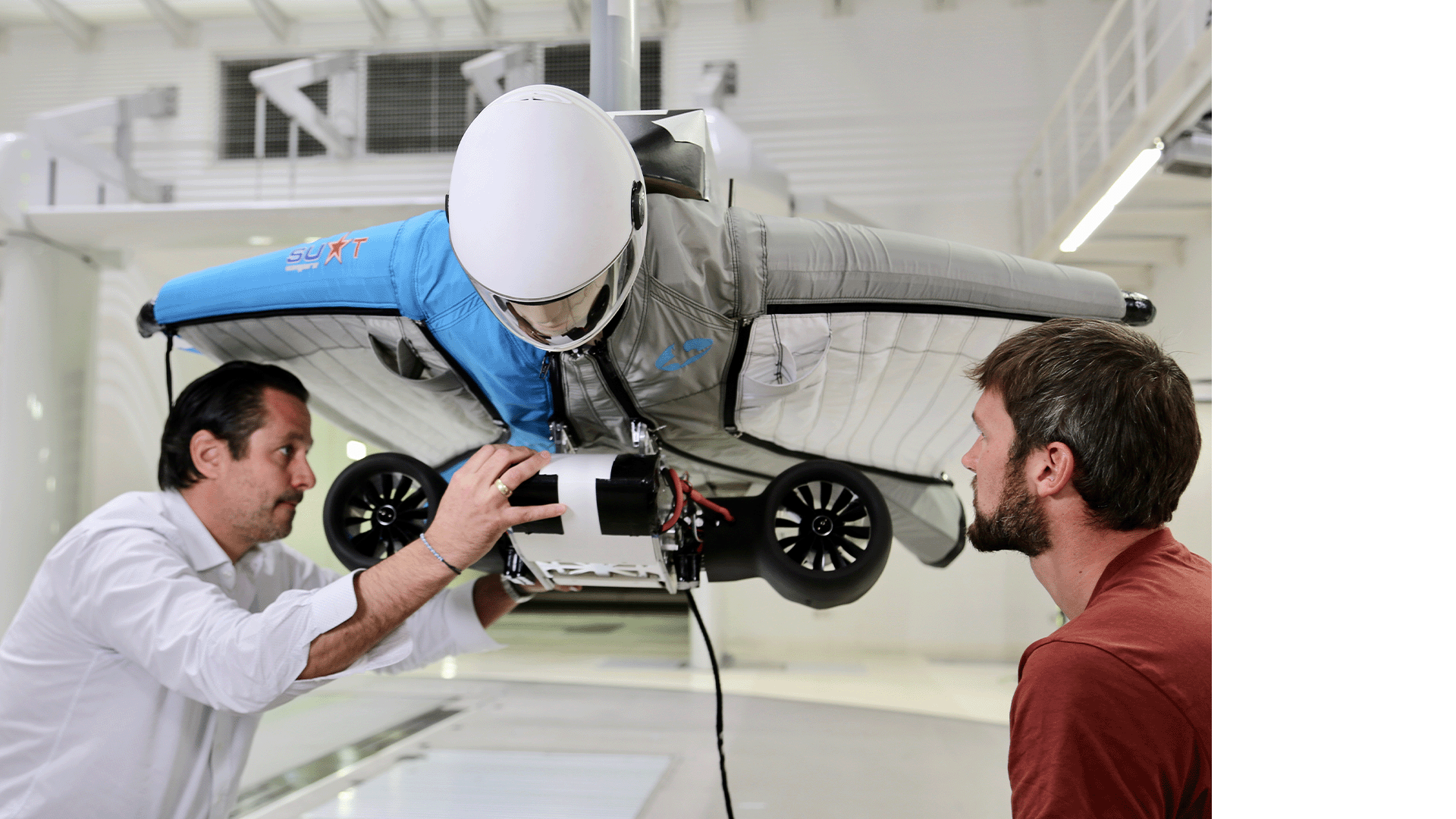 For decades, Designworks has played a key role in the development of various icons from BMW Group. Did you know that Designworks worked on the design of the BMW 3 Series from 1998 (➜ Read also: The evolution of the BMW 3 Series) as well as contributing to the BMW Z8? How about that it worked on the models in the X family from the outset? And played a major part in the design of the BMW i3 and BMW i8, not to mention the look and feel of the BMW i brand (➜ Read also: 10 years of BMW i)? Designworks was also a creative partner in concept development for the iDrive Controller in 1999.
Innovations from Designworks are electrifying in the truest sense of the word. Together with BMW i and Peter Salzmann, Designworks explored uncharted territory for the project titled "The Electrified Wingsuit". For Austrian daredevil Salzmann, an electrified wingsuit featuring an electric motor was developed (➜ Read also: The making-of for the wingsuit stunt) which, in a world first, made it possible to vertically ascend again in a wingsuit.

BMW Group and Designworks are connected by a unique relationship that is based on a shared passion for design. The first partnership started in 1986 with the design of the BMW 8 Series seat (➜ Read also: Time travel with two generations of a BMW luxury icon). In 1995 Designworks, which at that time was still called Designworks USA, became a subsidiary. Since then many innovative projects have shaped the shared journey. Here, we take a look back at a small selection of milestones from the shared history.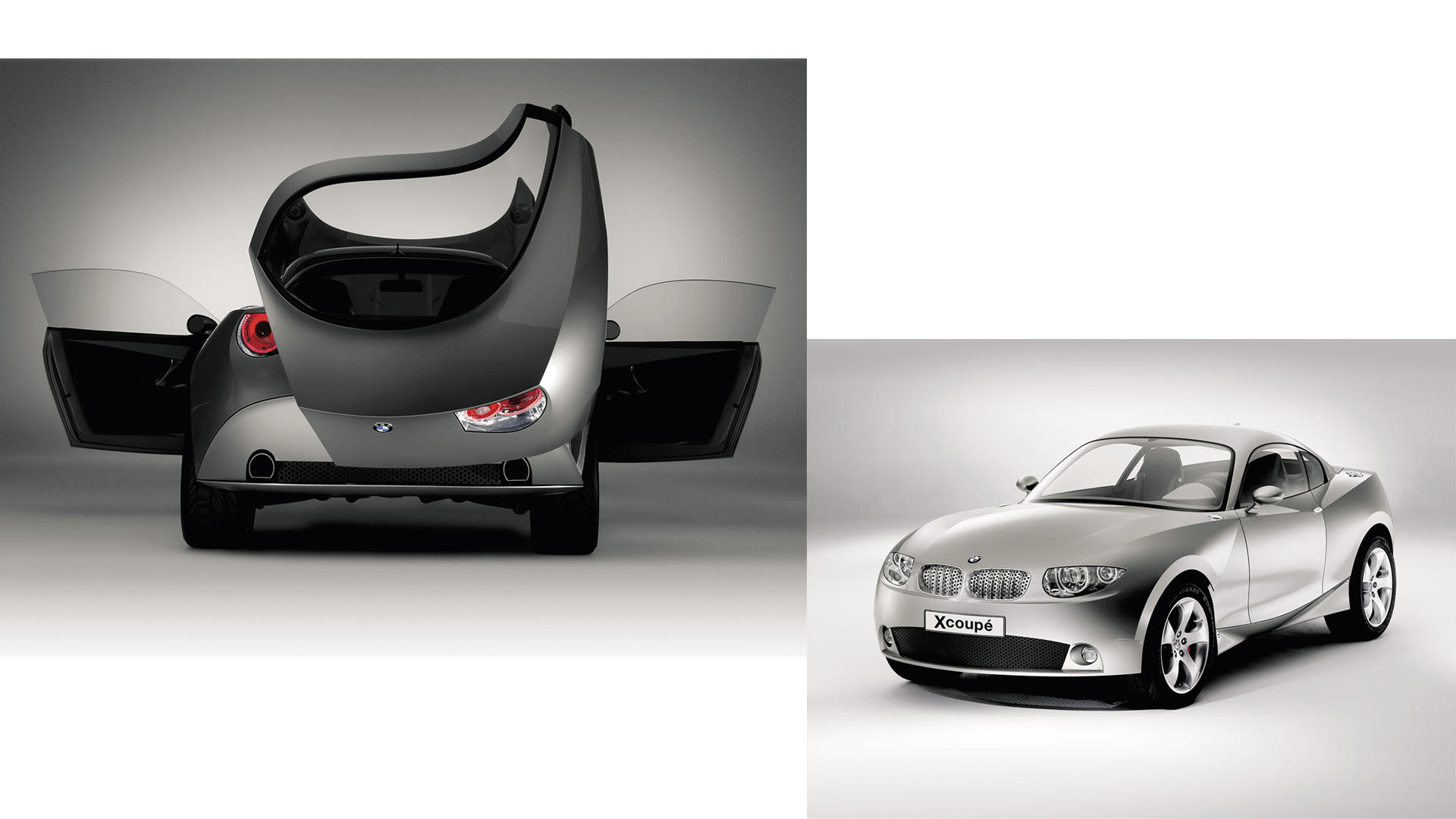 The all-wheel-drive BMW X Coupé concept vehicle represented an entirely new vehicle concept with a kinetic surface language. At that time characterized as "a coupé and an X in one vehicle", this unusual showcar blurred the boundary between an SUV and a coupé. It began as the first generation of the BMW X5 (E53) (➜ Read also: Age doesn't matter) and then received a completely new vehicle body with aluminum panels, and the rear doors omitted. In contrast to today's BMW X4 and BMW X6, which are very similar to the regular BMW X3 and BMW X5 in terms of design, the BMW X Coupé did not look anything like the BMW X5 and instead put forward an automotive character of its own.
The GINA Light vision model, a two-seated roadster with the dynamic proportions which are synonymous with the BMW brand, was a future vision that also served as a research object. GINA delivered innovative approaches because maximum freedom for creativity was granted in this project. The result was entirely new solutions for the form and functionality of the automobile of tomorrow. The substructure consisted of aluminum tubes and carbon elements over which was secured a silver-colored hi-tech material that was equally flexible, stretch-resistant, waterproof, resilient and insensitive to heat and cold; in other words, a high-tech textile that enabled sophisticated new solutions.
For example, when the doors were opened, the outer skin would crease and fold. When the headlights were switched on, light slits reminiscent of eyelids appeared in the front section. But the radical new feature of GINA was that the entire outer skin of the car was made up of only four blanks. This was an early suggestion for how to make automotive production more sustainable and faster while offering surprising experiences. The visionary BMW study (➜ Read also: The BMW concept cars you need to know) is today housed in the BMW Museum in Munich.
The BMW Z4 marked the return of the classic roadster – only more powerful and more stylish than ever before. Designworks contributed to the design of this extraordinary two-seater, which offers a combination of elegance, agility and comfort by emphasizing the harmonious connection of the exterior and interior – a crucial balance for an open car. As the only car in its segment to combine classic roadster proportions with seats near the rear axle, rear-wheel drive and a retractable hardtop, the BMW Z4 was known for its unique balance of driving pleasure and fuel efficiency.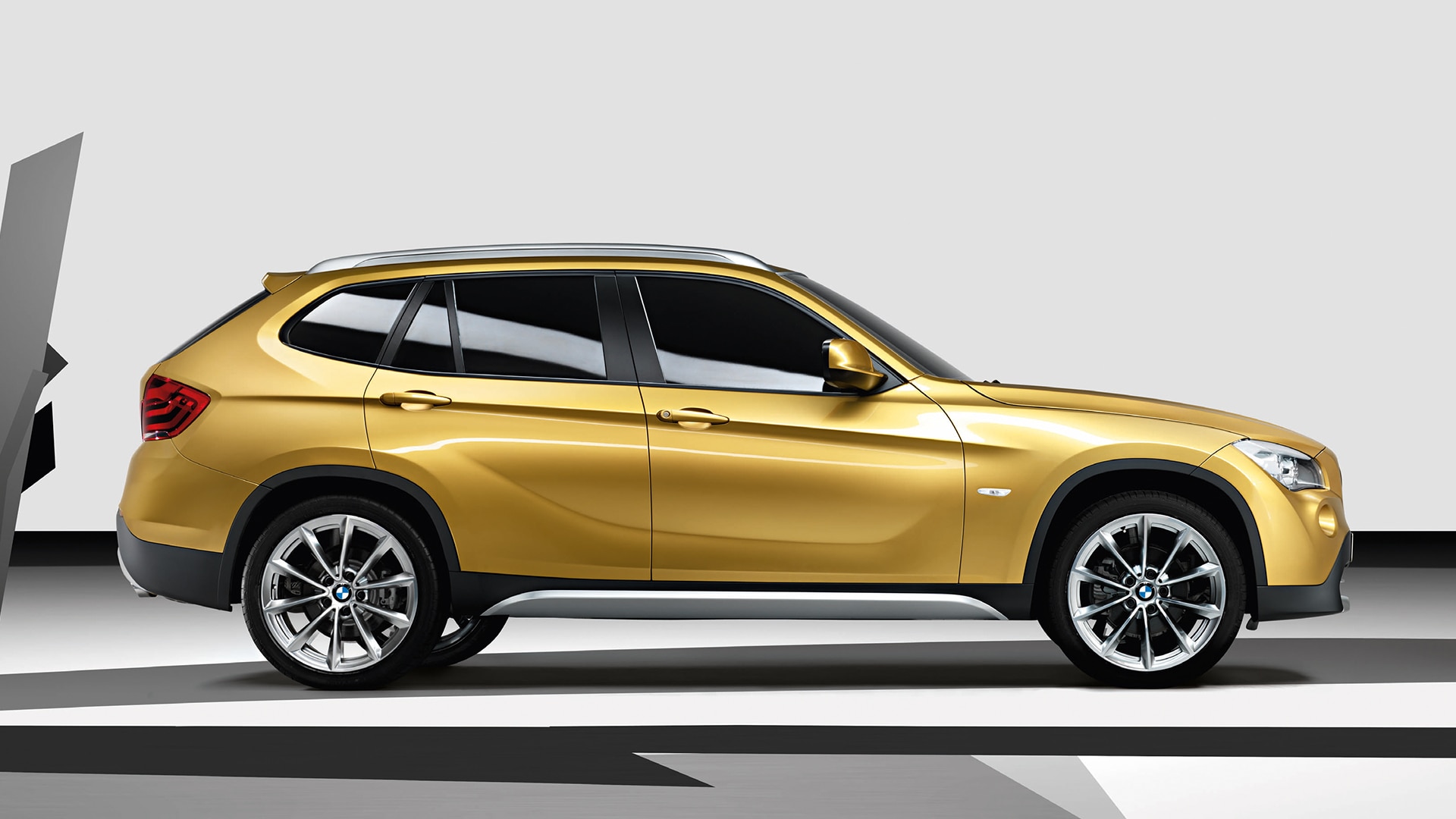 The BMW Concept X1 was the first sports activity vehicle in the premium compact segment – an authentic implementation into a new class of automobiles of the features and design language for which BMW X models are known. The concept study from Designworks offered a clear look forward to contemporary style, versatility and quality. The striking design expressed power and dynamism. It created a new standard for cool elegance and variable function in sporting mobility.
On February 21, 2011, the BMW i brand (➜ Read also: What makes up BMW i design) came into being under the motto "Born electric". However, the subject of electromobility had already been launched at BMW before that: BMW Group started "Project i" in 2008, and provided an insight into the automotive future in 2009 with the BMW Vision Efficient Dynamics study. Designworks contributed both to the exterior design and the user interface of the BMW i3 and BMW i8 (➜ Read also: Classic of the future). The BMW i3 Concept, the first fully electric series production car from BMW Group, concentrated on mobility challenges in urban spaces and, as the first premium electric vehicle, reinvented typical BMW attributes for the future.
The BMW i8 Concept relied on a unique plug-in hybrid solution. This brought together a combustion engine and an electric drive to create an extraordinary driving experience with extremely low fuel consumption and low emissions. As is also the case with the exterior, Designworks also collaborated with BMW Group Design on the design of the user interface for the BMW i3 (➜ Read also: Goodbye, BMW i3) and BMW i8. Connectivity – the connection of the driver and passengers with the outside world and data highway – played an important role here.
With its keen focus on connection and the user interface, Designworks also collaborated with BMW for the BMW i Interaction EASE project. The question that Designworks explored here was: future vehicles will be intelligent enough to think and act independently – but can they also be intelligent enough to understand people? Development of technology that enables a highly developed machine to think and act independently is one side of the challenge. A much greater challenge is to make interaction between highly intelligent vehicles and people as easy as possible.
The BMW i Interaction EASE combined many technologies that enable autonomous vehicles to understand and react to natural human behavior. In order that the user does not have to learn any commands, the vehicle's intelligence system processes the acoustic and visual information that it receives from a number of sensors and interprets them depending on the driving situation, time, location and vehicle signals. The BMW i Interaction EASE was presented for the first time at the Consumer Electronics Show 2020 in Las Vegas.
Designworks is also an important partner for BMW Group and its brands in terms of looking far into the future on matters unconnected to vehicles, namely in the area of Advanced Design. 
Within Advanced Design at BMW Group, innovation subsidiary Designworks is tasked with uncovering and exploring as-yet-unasked questions about the future of mobility. The plan is for the teams to develop innovative ways of addressing topics and problems that the parent company is not actively addressing. "Designworks is able to do this by always keeping its eyes and ears open to cutting-edge trends in its three locations," explains Head of BMW Group Design Adrian van Hooydonk. "Advanced Design gives us the creative energy we need to be truly competitive."

With Advanced Design, Designworks has developed its own form of storytelling to translate and visualize newly occurring phenomena for BMW Group. The intention of this approach is to be provocative, while also finding ways to think about mobility that go off the beaten path.

Designworks has undergone constant development since its first studio opened in Los Angeles, California, in 1972. The questions and problem-solving which cities worldwide have to engage with are diverse: How will people live, work and commute in the post-COVID world? Will rapid adaptation to climate change be successful and can system-related inequalities be remedied at the same time? What could new vehicle technologies and changing lifestyles mean for the future of mobility? For Designworks and Gensler – one of the largest design and architecture firms worldwide, which has its head office in San Francisco, California – these questions have served as a catalyst for researching how architecture and mobility can together change the future and improve life in urban spaces.
This collaboration had an ambitious goal: Bringing together the strengths of architecture and mobility and using the power of design to develop solutions for more intelligent, better and more human cities. This partnership focused, for example, on questions concerning how people will behave when electric energy is available throughout the city, how our social cohabitation in cities will continue to change, and how designers and architects can together ensure that nothing is lost in this development, but instead that people gain something through the design of new, expanded, emotional experiences.

It also interrogated how cars could look if they were explicitly designed to be parked for 23 hours a day – as is often the case, after all. The search for answers promises an exciting future – and also exciting ideas for the mobility of tomorrow.
Author: Markus Löblein, Narges Derakhshaan; Art: Shin Miura, Ha My Le Thi, Lucas Lemuth; Photos: Designworks, a BMW Group Company