Good morning, Osaka!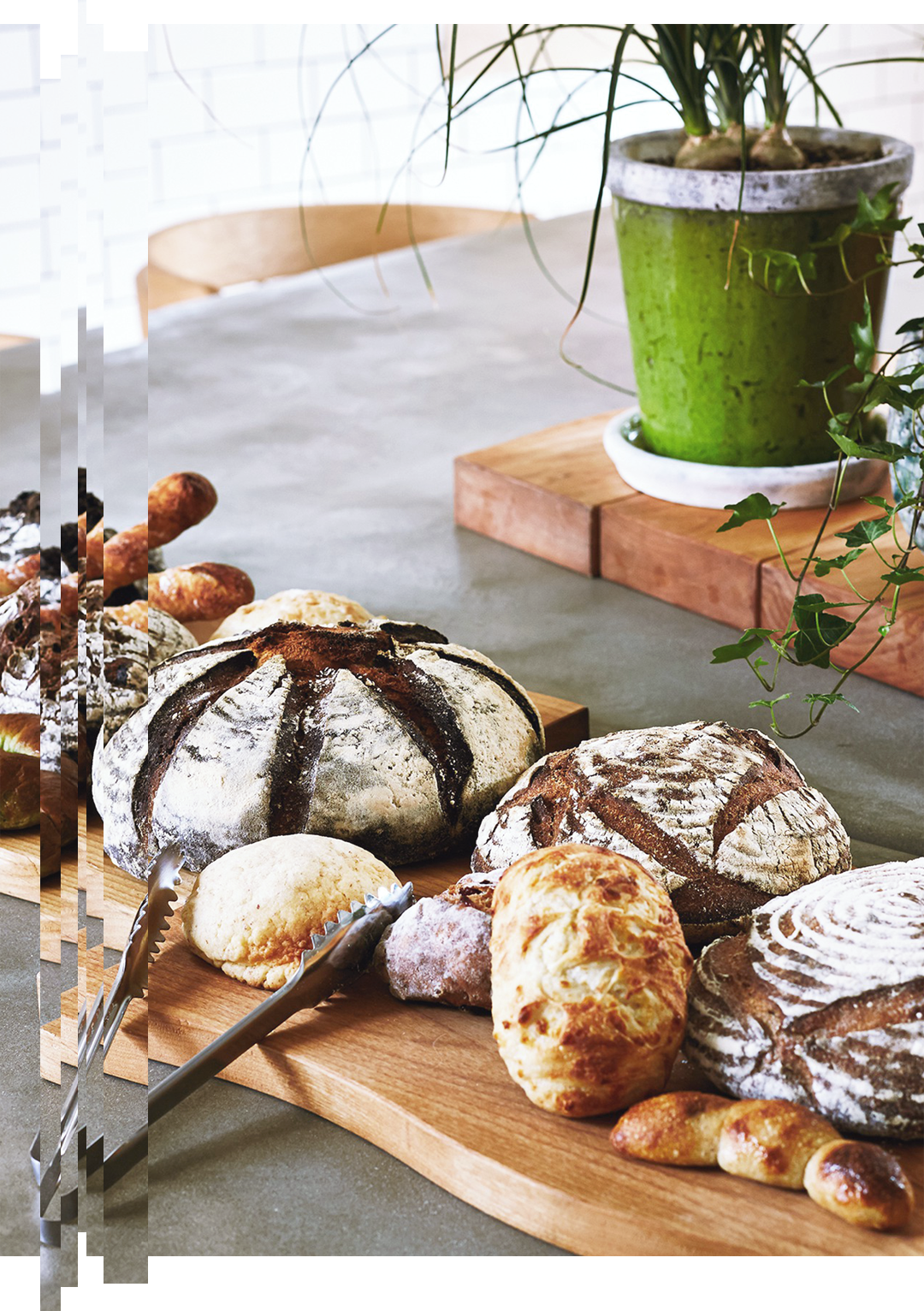 No bakery in Paris could do it better. With the aroma of croissants straight out of the oven, and freshly-brewed coffee at a huge wooden table, Foodscape is a wonderful place to plan a culinary tour of Japan's third-largest city and its sights. Or you can watch the hens on the balcony as they lay their eggs. Entrepreneur Yusuke Hotta is the man responsible for these extraordinary restaurant concepts.
FOODSCAPE bakery | Fukushima-ku Fukushima 1-4-32 | www.food-scape.com
The art of Japanese food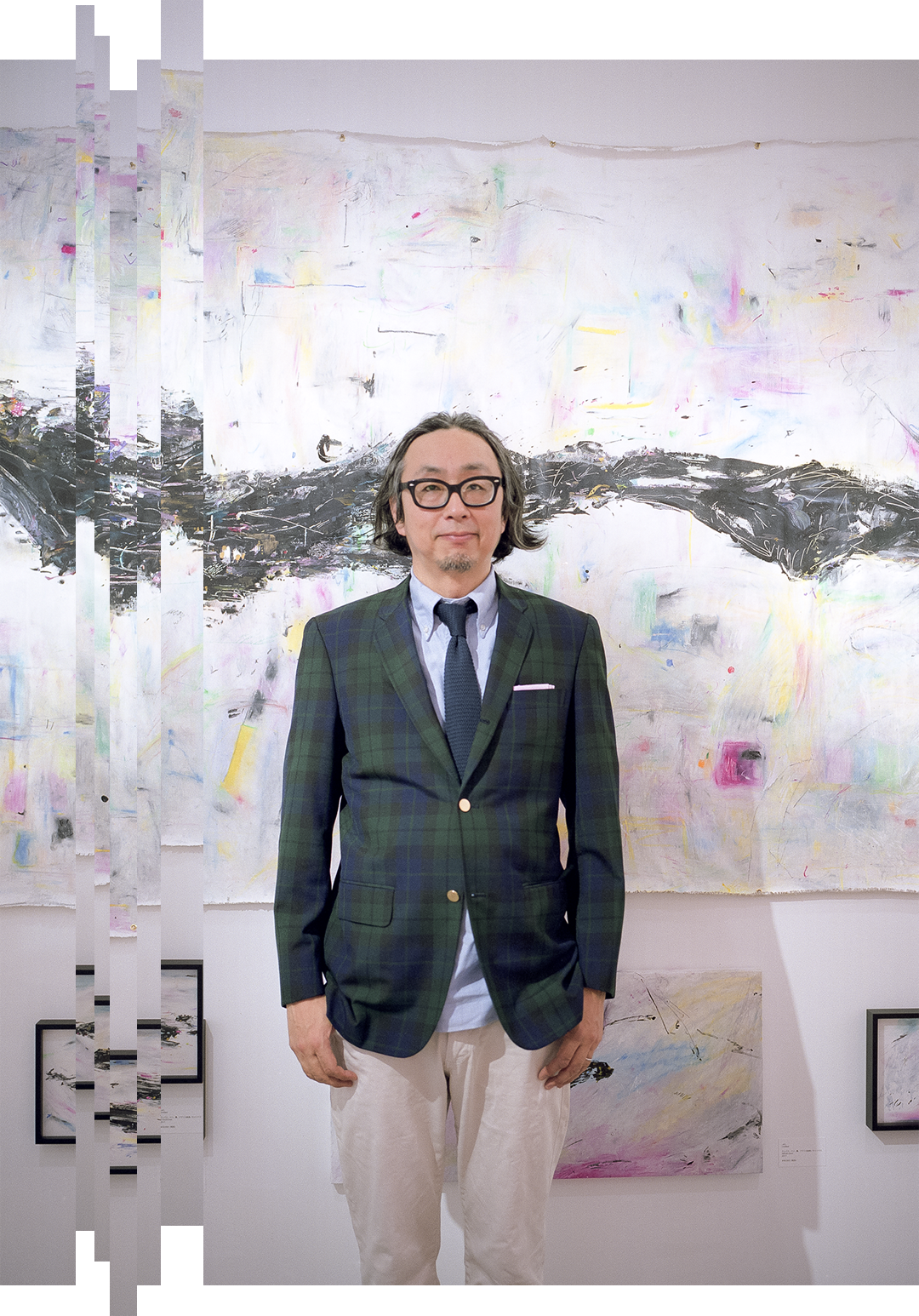 Art impresario Yoshihiro Taniguchi is a connoisseur of the city's culinary and cultural scene. At his DMO Arts Gallery, he eagerly reveals his latest restaurant discoveries – and displays originals that can be acquired for astonishingly reasonable prices. In this way, he aims to educate young Japanese, in particular, to become art collectors.
DMO Arts Gallery | Osaka Front Shopping Mall | Subway station: Osaka Station (Osaka Loop Line) | Kita-ku, Umeda 3-1-3 Lucua 1100 | www.dmoarts.com
Delicious pit stop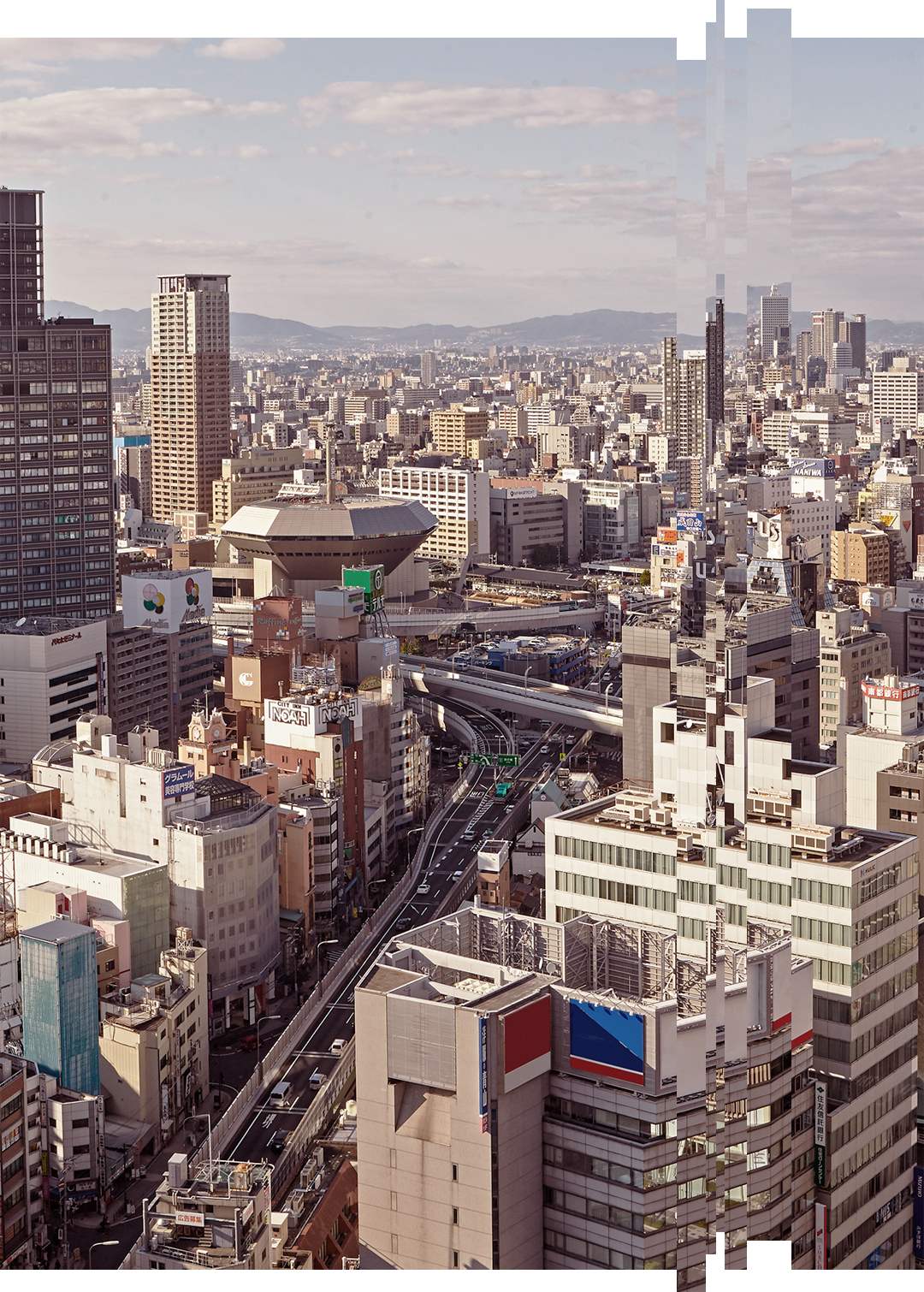 The perfect spot for a brief stop: the Shun Shoku Food Lounge in the downtown area. Quickly pack a few fruit juices to keep your strength up on the journey. Kengo Kuma designed the bar, layer by layer, out of pressed wood panels. The star architect is currently building the stadium for the 2020 Olympic Games in Tokyo.
Shun Shoku Food Lounge | Osaka Front Shopping Mall | Subway station: Osaka Station (Osaka Loop Line) | Kita-ku, Umeda 3-1-3
The connoisseur's overview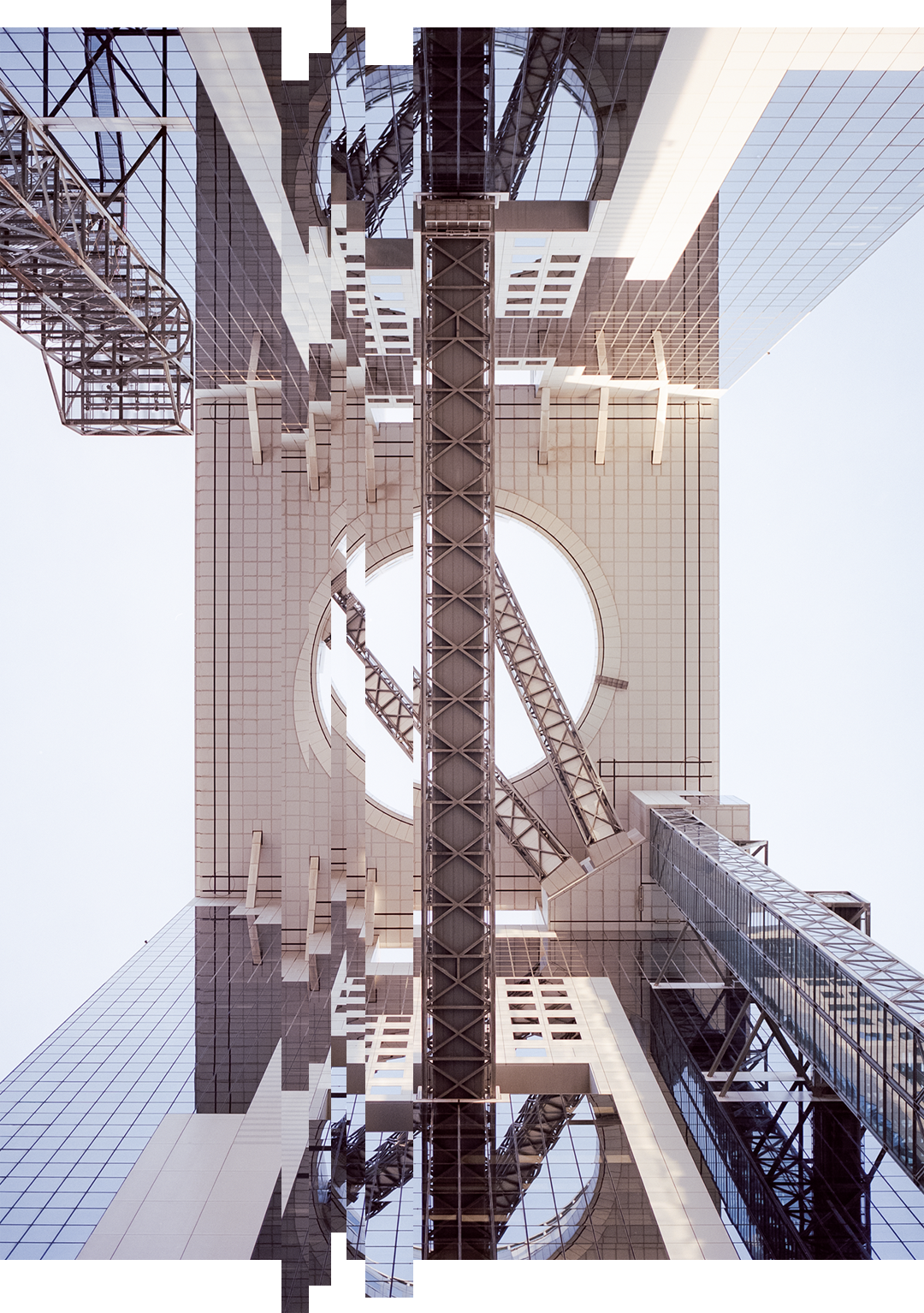 High up on the 40th floor, there is a viewing platform with a great panorama of Osaka. On this Osaka attraction, you have the best sights, such as the Sumiyoshi-taisha Shinto shrine and the Shitenno-ji temple, almost at your feet. Inside the Sky Building there are several restaurants with a wide choice of Japanese specialties. This futuristic vision is the work of the old master Hiroshi Hara, who also built Kyoto Station and the Sapporo stadium. You fancy one of Osakas best ramen? Watch out for Men-Ya 7.5Hz+ Restaurant nearby.
Umeda Sky Building | Kita-ku, Oyodonaka 1-1-88 | www.skybldg.co.jp
The best sushi in Osaka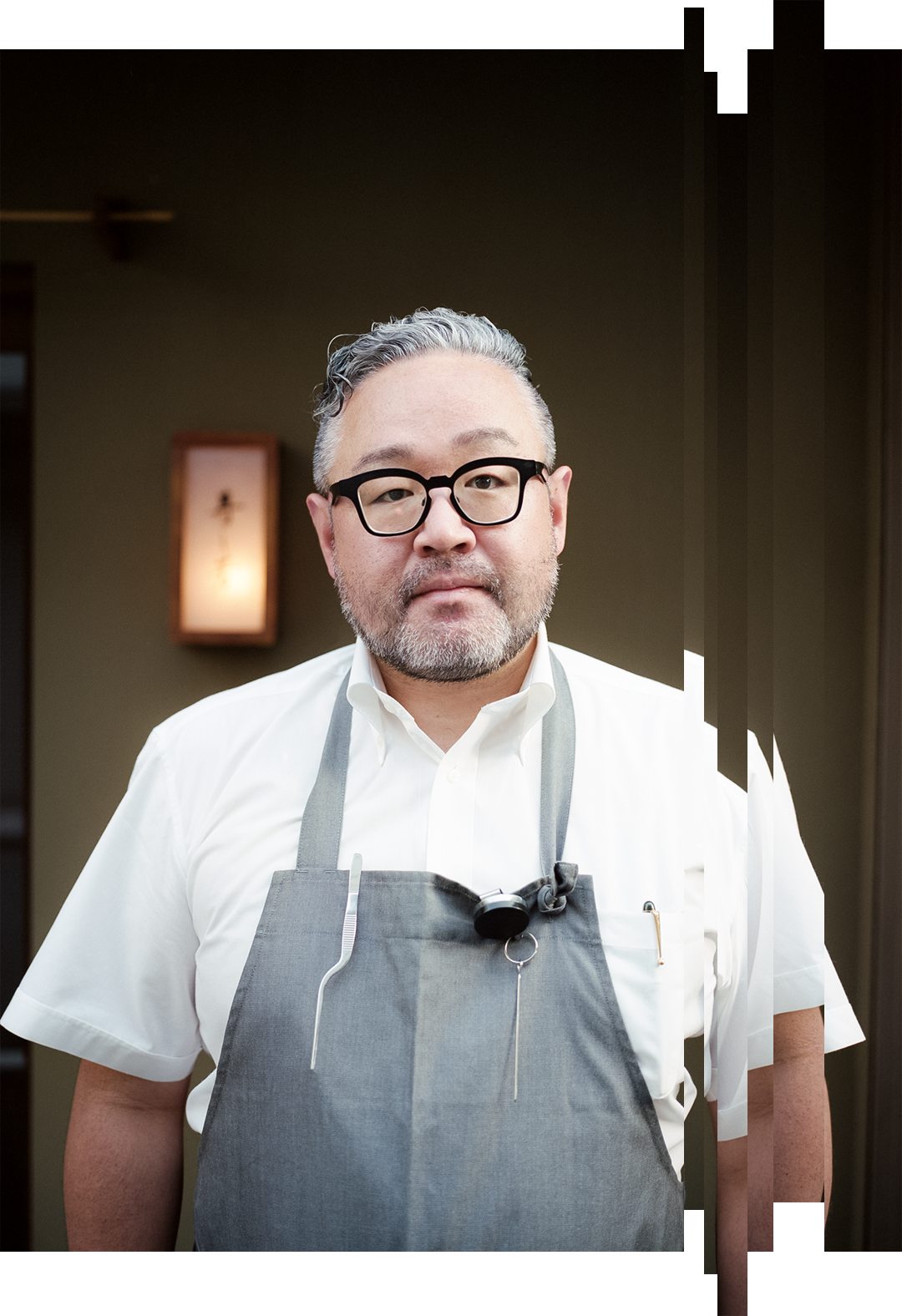 Hiroki Nakanoue inherited his father's sushi restaurant at the age of 20. He did not want to take on the restaurant, but he did want to continue the family tradition of Japanese food. Nakanoue moved into an area of the city that was then neglected and opened Sushiyoshi. Twenty-six years on, his raw fish bar, which has space for exactly eight guests, is one of the most exclusive sushi restaurants in the city of Osaka. Awarded two stars by the Michelin Guide, this unconventional chef has no qualms about lighting a straw fire on the sidewalk outside the entrance to sear pieces of meat. At 300 euros per meal, he wants to avoid smoke inside.
If you cannot find a space at short notice, there is a top alternative for you: The best traditional Japanese noodles can be found at Shubari. It takes six years' training to become a perfect noodle chef like Yutaro Gishi.
Sushiyoshi | Kita-ku, 2-3-23 | Minamimorimachi
Shubari | Kita-ku, Sonesaki shinchi 2-1-9-101
Guests from abroad are a challenge. They do their research beforehand and come with even higher expectations of the dishes than the Japanese.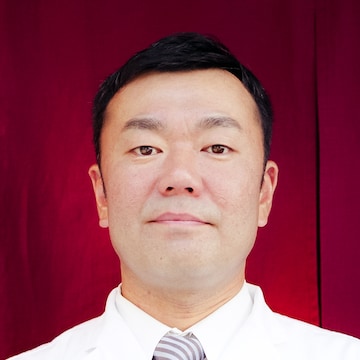 Starred chef Shintaro Matsuo
Culinary tradition with three stars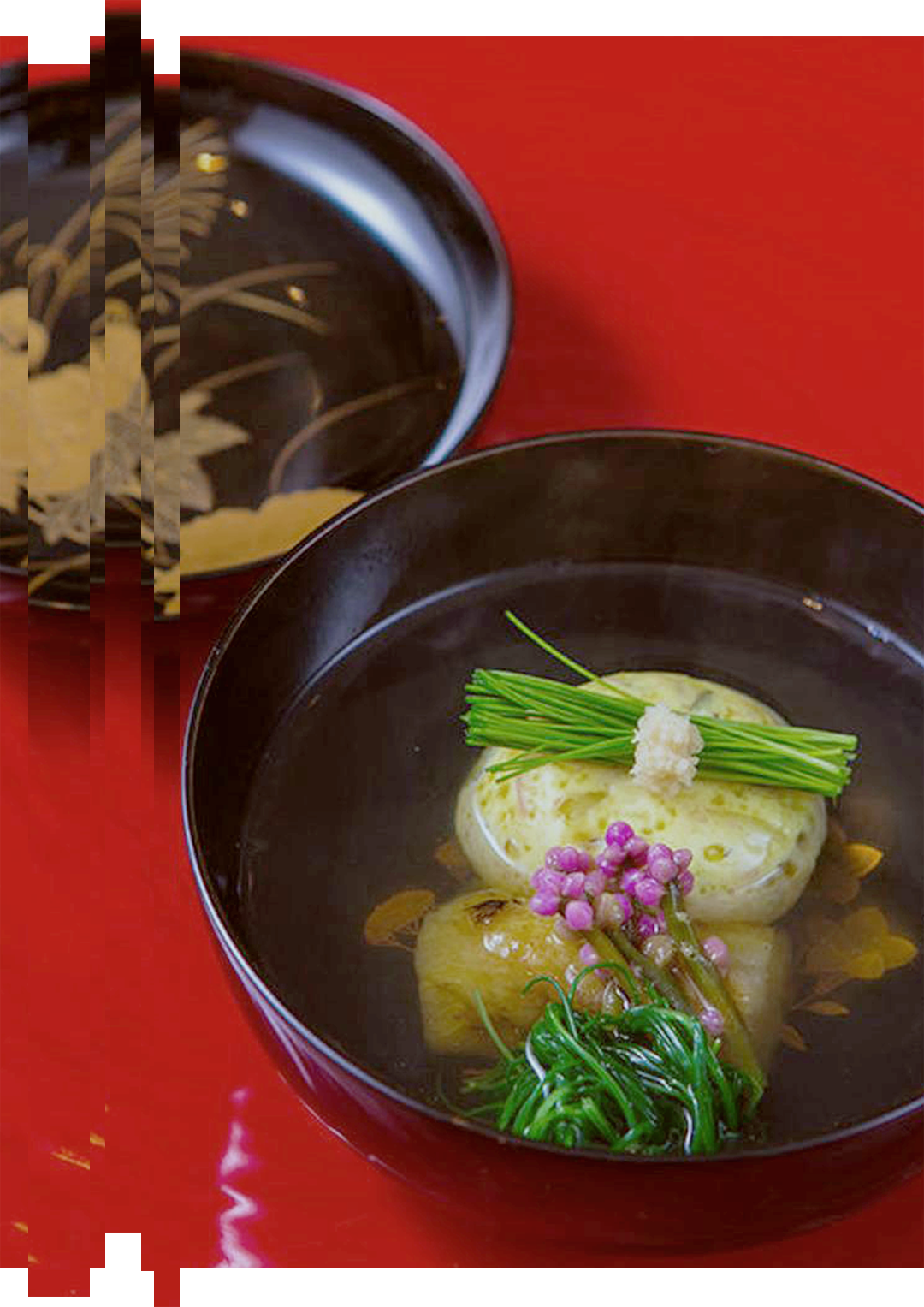 Top chef Shintaro Matsuo specializes in kaiseki, traditional Japanese cuisine. He has been doing it so well for nine years that the Michelin Guide has rewarded him, too – with three stars. Now more and more guests are coming from abroad. Matsuo's cuisine follows the seasons – slightly bitter in spring, more sour in summer, and salty in winter. Anyway, Matsuo conjures up veritable landmarks with Japanese food.
Kitashinchi Koryu | Kita-ku, 1-5-1 Dojima Esupasu Kitashinchi 23 1FL | www.koryu.net    
Finest Osaka street food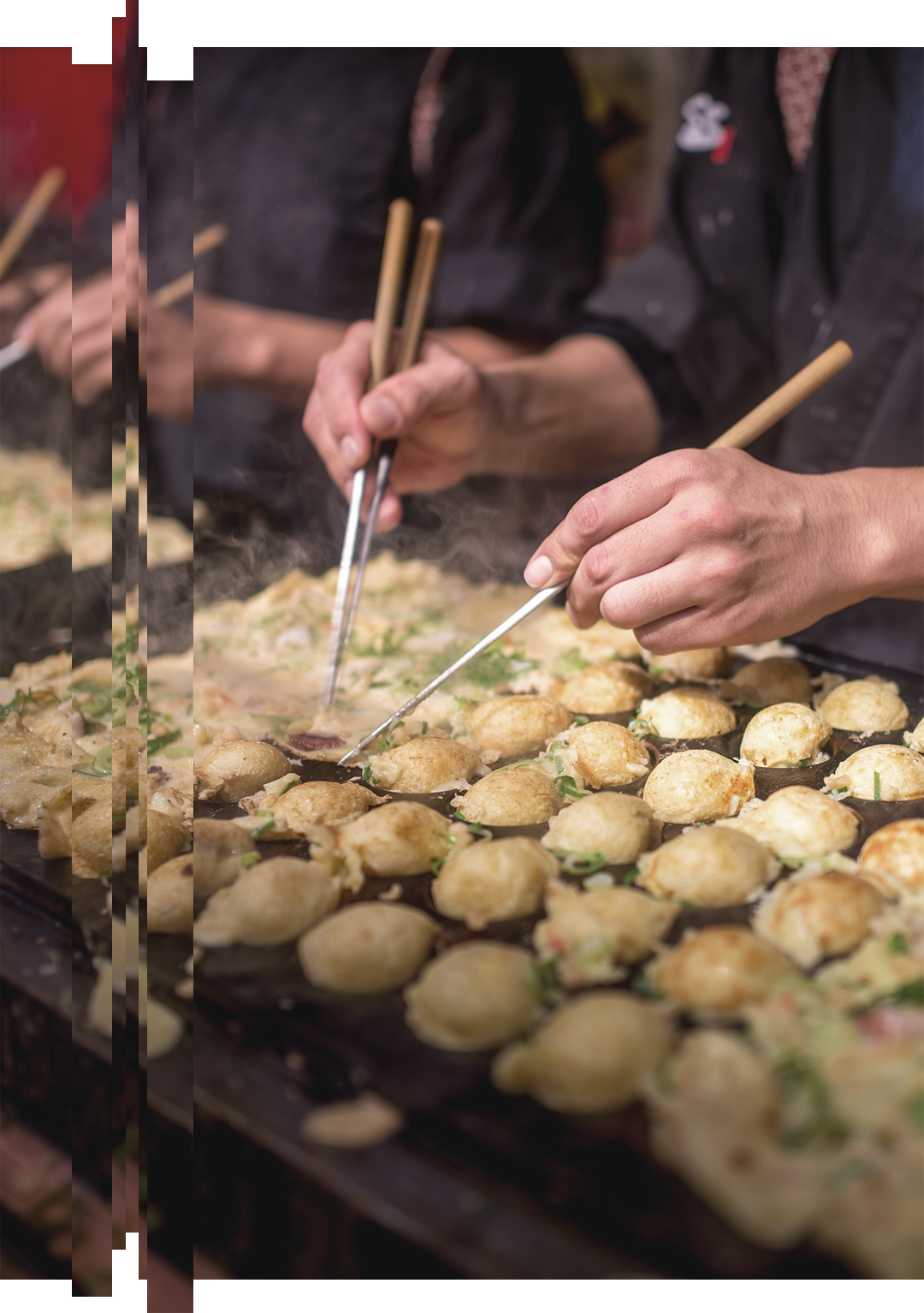 Looking for the flavor of Osaka? Dotonbori is not only a popular entertainment district but well known as gourmet destination. Near Namba Station, you can taste Osaka street food like one of the cities most famous dishes: Takoyaki, a round fried ball of wheat flour with a small piece of octopus inside. Or Kushikatasu, a must-try dish of meat or vegetables that has been cut in mouthful portions, skewered, battered and deep fried.
Dotonbori | 542-0071 Dotonbori, Chuo-ku, Osaka | www.dotonbori.or.jp    

Freshest Japanese food: Kuromon Market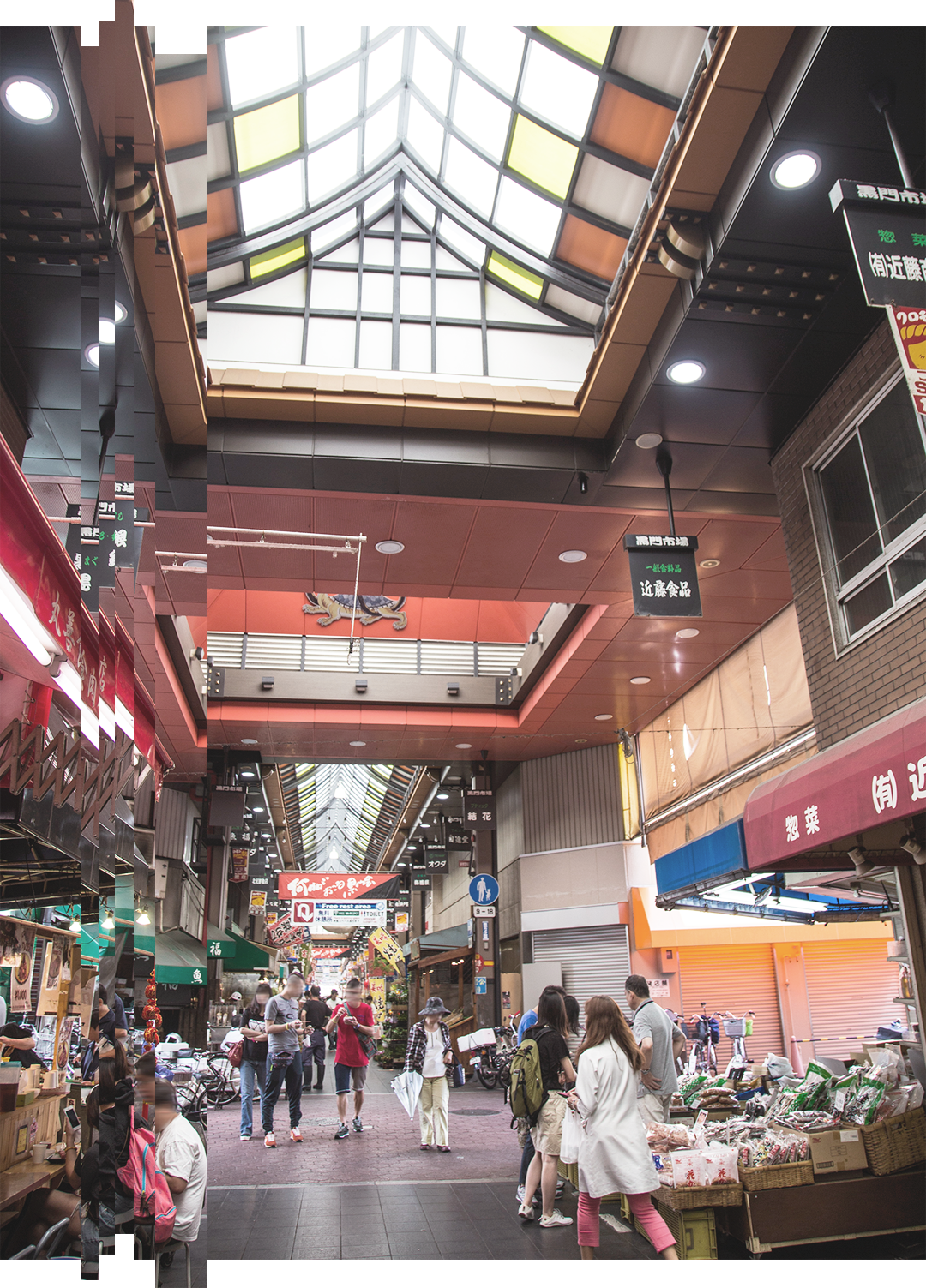 Located right outside Nippombashi Station is this food spot. The market has a total length of close to 600 meters with over 170 shops, the vast majority of which specialize in the freshest and best quality meat, vegetables, eggs and other ingredients from around the country and abroad.
Kuromon Market | 542-0073 2-4-1 Nippombashi, Chuo-ku, Osaka | www.osaka-info.jp

Restaurant prices in Osaka
Meal in an inexpensive restaurant 9.30 $ / 7.10 £

Three-course meal for two persons in a mid-range restaurant 40.60 $ / 31.20 £
Domestic beer (0.5 l) 4.60 $ / 3.60 £
Imported beer (0.33 l) 3.50 $ / 2.70 £
Cappuccino 3.50 $ / 2.70 £
Cola (0.33 l) 1.75 $ / 1.35 £
Water (0.33 l) 1.20 $ / 0.90 £

In pancake heaven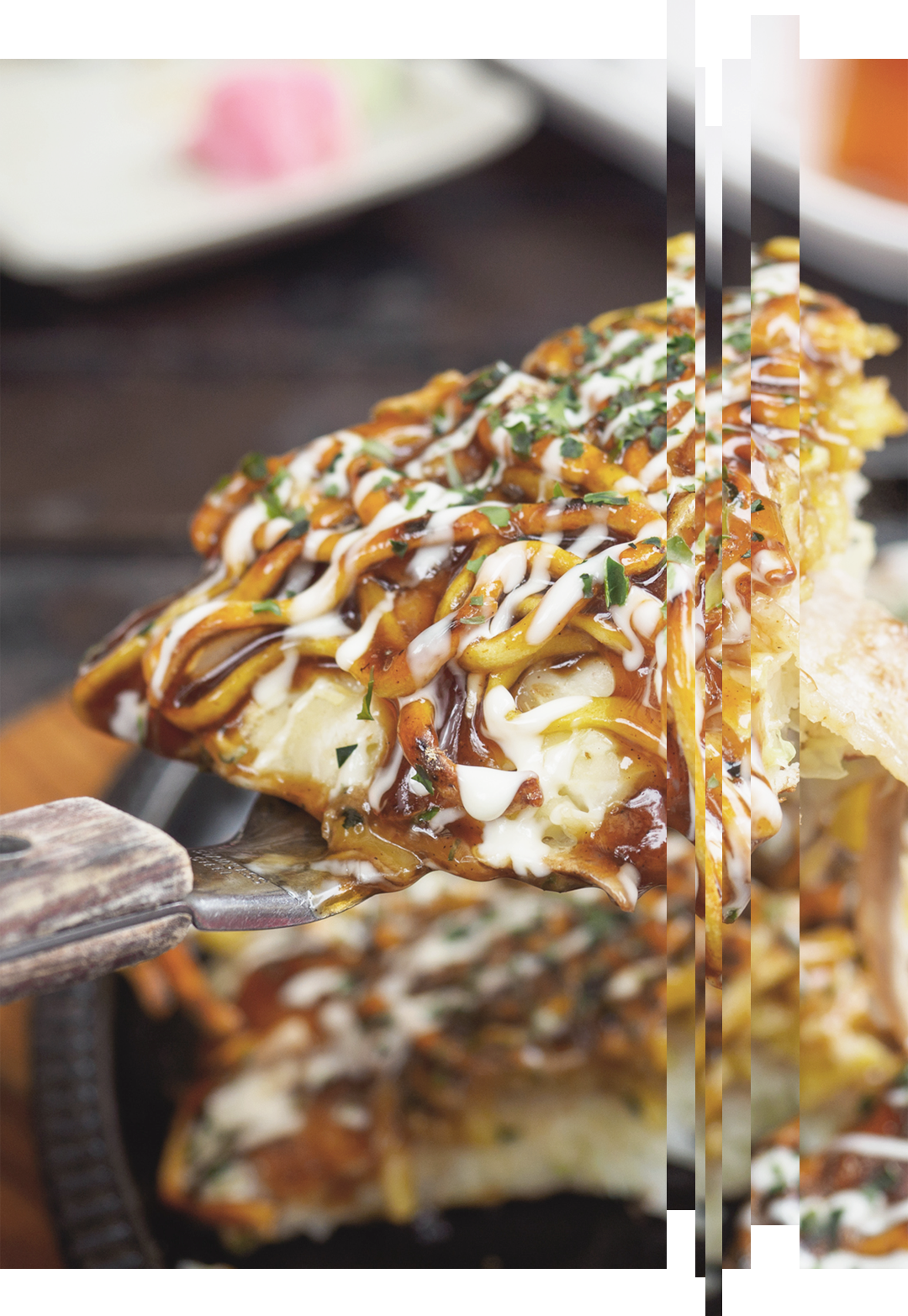 Sougetso is a typical okonomiyaki shop – and is a recommendation from Yoshihiro Taniguchi from DMO Arts Gallery, see above. Chef Shinji Kotani personally serves the grilled okonomiyaki pancakes, which are filled with meat, fish, and vegetables, to guests in small seating berths that are like train compartments. Here, you can enjoy your food beside actors, musicians, and the city's creative scene.
Sougetsu | Kita-ku, Tenjinbashi 3-9-9  |  sougetsu3.com

Top-class restaurants and bars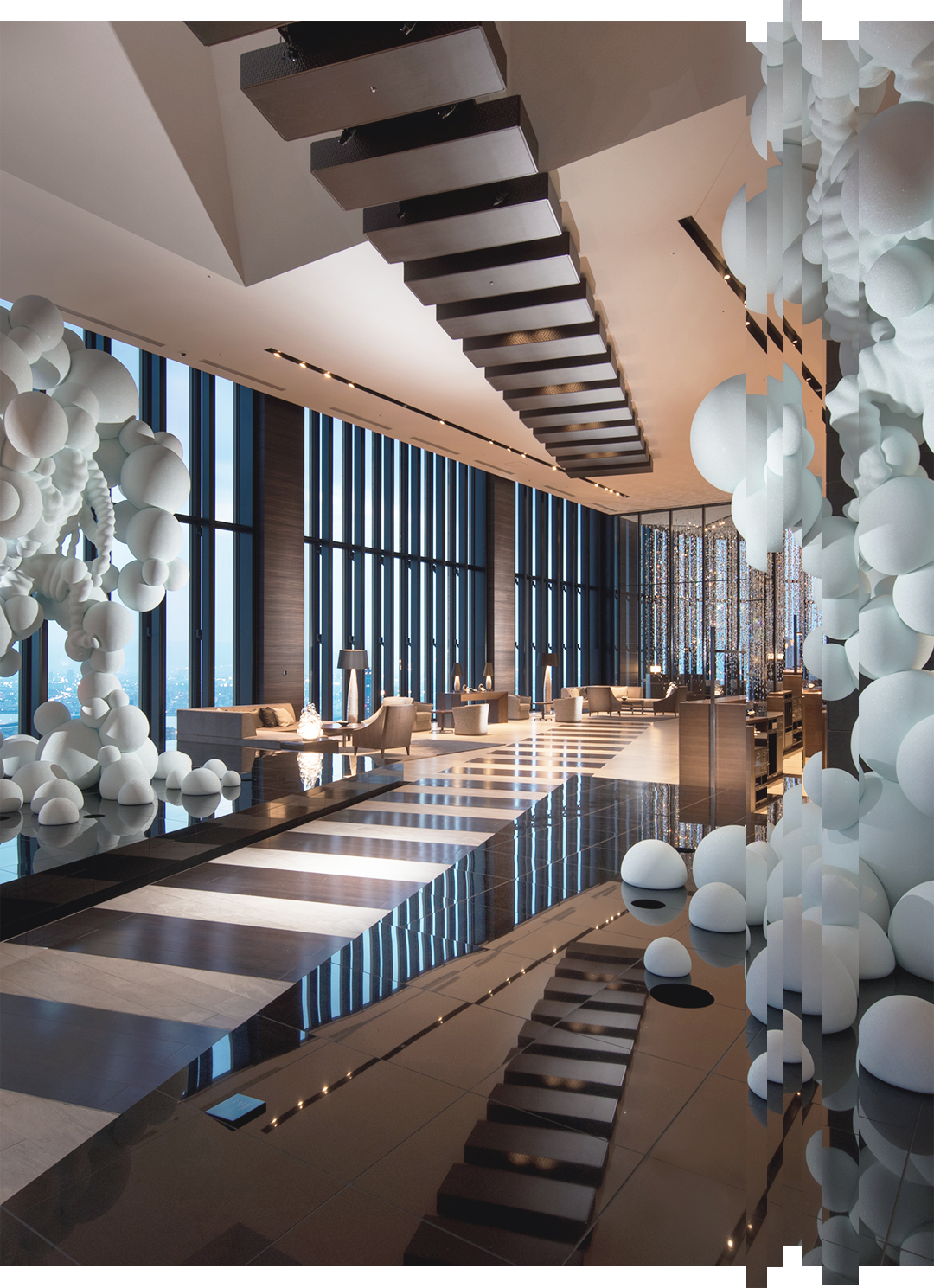 After the down-to-earth atmosphere of Sougetsu, here is a contrast in the 39-story Nakanoshima Festival West Tower, between the two rivers, the Dojima and the Tosabori. The top-class hotel Conrad Osaka, which feels like an inhabitable museum, is located the top stories. It has giant sculptures and installations, several restaurants and bars, and a fantastic view of Osaka Prefecture from a height of almost 200 meters.
Conrad Osaka | Kita-ku, 3-2-4 Nakanoshima | www.conradhotels3.hilton.com

Kaiyukan Aquarium
Ever seen a whale shark right in front of your eyes? Kaiyukan is one of Japan's most spectacular aquariums. Marine life is displayed in 15 tanks, each representing a specific region of the Pacific Rim. Visitors start their two-and-a-half-hour tour of the aquarium on the 8th floor and spiral down floor by floor around the central tank. Some of the large tanks stretch over several floors, making it possible to observe the animals from different depths and perspectives.
Tempozan Ferris Wheel
Steps away from the Kaiyukan aquarium or a 5-minute walk from the Osakako subway station, the Tempozan Ferris Wheel soars 112.5 meters into the air. The ride is a roughly 15-minute-long journey through the sky, offering views of Mount Ikoma to the east, the Akashi Kaikyo Bridge to the west, Kansai Airport to the south, and the Rokko mountains to the north.
Osaka Castle
A striking historical landmark in the middle of a modern urban cityscape of high-rise concrete blocks. The castle stands in an expansive lawn covered park and consists of a complex network of moats, turrets, and walls surrounding a massive central tower. The closest station is Tanimachi 4-chrome Station along the Tanimachi Subway Line and Chuo Subway Line.
Shopping street Shinsaibashi
The most famous shopping street of Osaka has a roofed arcade almost 600 meters long. For the façade of the Prada flagship store (Chuo-ku, 2-8-18 Shinsaibashi-suji), the architect Roberto Baciocchi took his inspiration from the Venezuelan artist Carlos Cruz-Diez. The building's color spectrum changes according to the light and how you move in front of it.
National Museum of Art
Friends of modern art will love the National Museum of Art. It was designed by the Japanese architectural icon Arata Isozaki. From the outside, this unconventional structure impresses with its polished tangle of twisted metal tubes.