The world as seen through the eyes of Benni Grams is at least as exciting as an action film. Jumps from terrifying heights, high-tempo balancing acts and the odd abrasion and wound to the knee. Yet Benni Grams is no actor, at least not an ordinary one. The Stuttgart, Germany native is a professional parkour athlete (➜ Read more: Urban sports). He's most likely to describe himself as someone who always has to stay active and cannot stand still. How fitting, then, that he's out and about with the BMW X4 – the sports activity vehicle from BMW – in Barcelona: a chance to give free rein to his urge to move around in a new city.
Parkour is a sport that's also known as the "art of efficient locomotion". Without any aids whatsoever – armed only their skills and the strength of their own bodies – parkour athletes pave their own way through the urban environment (➜ Read more: Top 5 urban kayaking locations). They interact with the cityscape in a completely different way than that envisaged by its architects. This includes acts such as jumping from wall to wall or turning a house facade into a climbing frame. For an urban athlete, the cityscape offers endless possibilities for creativity and freedom – a blank slate for self-realization and self-expression.
Anyone partaking in parkour in Barcelona reaps a special reward in terms of the varied cityscape, where contemporary architecture (➜ Read more: Mobile architecture) meets glazed skyscrapers and Gothic meets Catalan modernism – the Barcelona skyline is something special. At the least, Antonio Gaudì and his organic architectural masterpieces have made Catalonia's capital world famous. The city is a veritable playground for parkour enthusiasts. Benni is enthusiastic about this eclectic harmony: "The city has a damn good vibe. For me, having so many architectural styles come together here, so close to the sea, creates a real wonderland."
CO2 emissions 215 - 198 g/km (combined)
Fuel consumption 9,5 - 8,7 l/100 km (combined)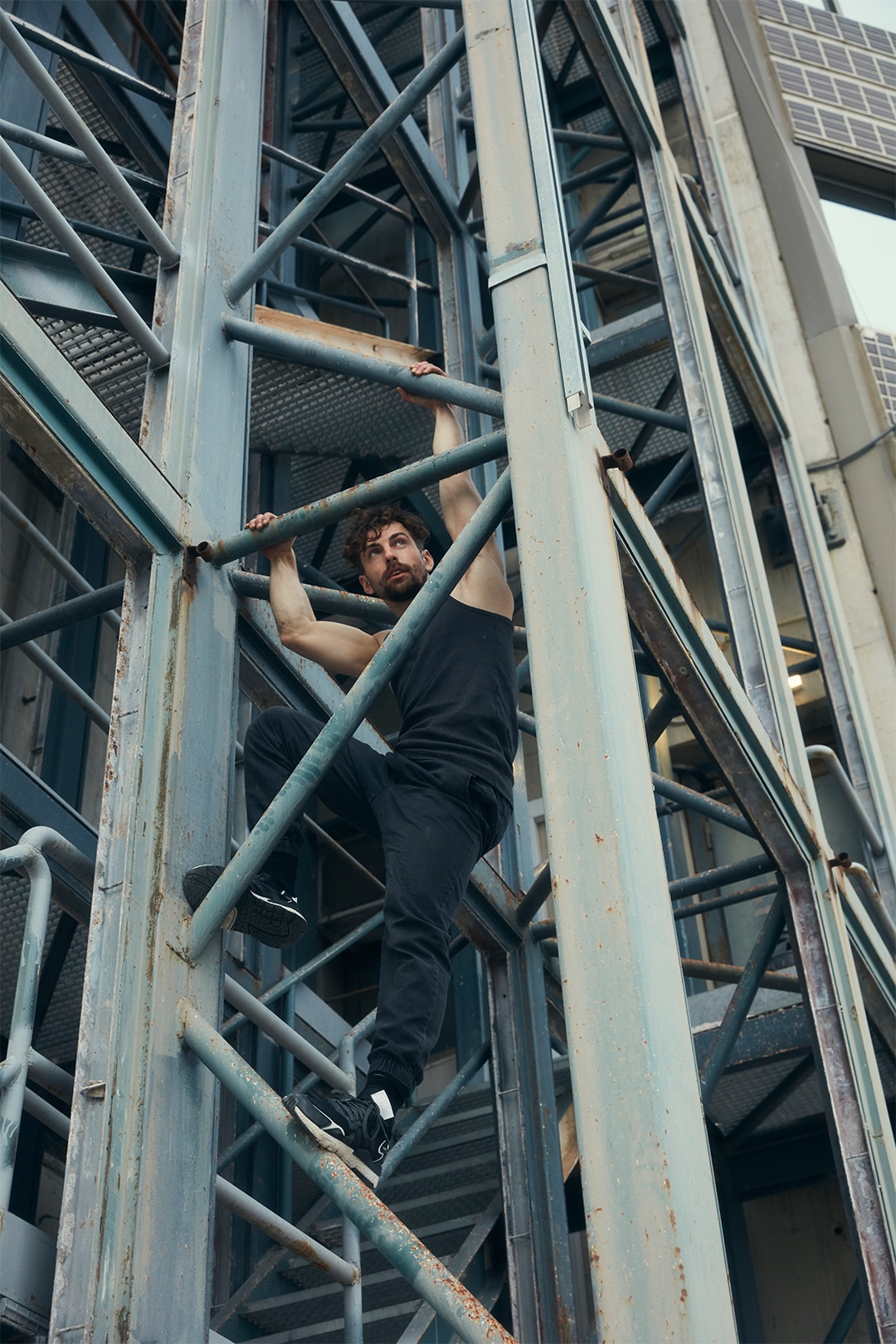 Exploring cities like Barcelona in this way is nothing new for Benni Grams. As part of "Ashigaru", Germany's biggest professional parkour team, Benni has been visiting Europe's major cities for 13 years. Ashigaru is Japanese for "light of foot", which is precisely how the 28-year-old's career began: "When I was 13, I discovered parkour as a hobby, and when I was 15 I had my first paid gig. It was a real eye-opener that I could make money doing what I love."
Since then there has been a steep upward trend in my own abilities as a parkour athlete (➜ Read more: Beyond limits), but also in my profile. Benni has since been a prominent participant of German game shows such as "Ninja Warrior" and "Catch". He works as a stuntman for video games and at gala events and film premieres, once even to entertain action star Tom Cruise.
When Benni talks about parkour, it's immediately obvious that it's not just a way of earning lucre to him. It's so much more than that – his passion and a way of life. He speaks enthusiastically about being able to let off steam creatively and defying physical forces. Words like freedom and intuition keep cropping up. He is driven by exploring natural types of movement and teasing out what he is capable of. And this sport has shown him just how much he can do.
As a child, Benni tried out lots of sports (➜ Read more: Beginners' guide to canyoneering), including judo, karate and gymnastics. But there was one thing that always bothered him: "I always had to train toward a specific goal associated with the performance level. There was no room for ever doing any other exercises, and that just didn't suit me." Benni's urge to move couldn't be forced into lessons and performance levels, but wanted to be lived out as the mood took it. "Parkour is the exact opposite of that. I can move as I see fit, and I define my performance levels myself. Nobody tells me when I can do some training and when not. You can't get more freedom!" This has taught Benni a great deal of personal responsibility, but it has also shown him that he can do anything he sets his mind to. "Slowly approaching new challenges that initially seem impossible is the essence of parkour."
If you watch Benni as he uses all his might to make Barcelona his personal playground, he seems to interact with the architecture (➜ Read more: Cities of the future) almost effortlessly. His movements are dynamic, you could almost say inspired. He reacts quickly and alternates fluently between driving and experiencing the city. Where others would see obstacles, Benni sees new challenges. As soon as he spots a place with potential, he parks the vehicle and uses all his senses to work his way up to the walls, stairs and railings. His way of getting around opens up completely new perspectives on life in the city and urban transport (➜ Read more: 5 Urban mobility trends).
The BMW X4 appears to be the ideal partner for this. "I'm a fan of movement and energy, so I expect dynamic movements when driving," Benni explains. "Initially, the speed has no significant role to play in that. As with your own body, it's about assessing what is possible and how I get the best out of every maneuver. Precision and efficiency are the be-all and end-all."
Benni maneuvers the BMW X4 through the hectic city traffic with as much aplomb as he moves his body through the Barcelona cityscape. Anyone who's been to Barcelona knows that that is no easy task (➜ Read more: Scenic drives for a Spanish road trip). Loud honking of horns and lots of stopping and starting do not disturb him – the atmosphere inside the car remains relaxed, as he calmly continues his journey of discovery.
He clearly enjoys his time behind the wheel. Because Benni never really has a settled everyday life with lots of time to rest. He is mostly to be found traveling with his team for TV productions or parkour jams. In between, he consciously plans time for himself, like in Barcelona now.
"I enjoy this 'me time' the most," says Benni and explains how he finds it among the hustle and bustle of the city. "I love and need the tranquility of nature (➜Read more: What makes somewhere a favorite place?), but at the same time the city is also my playground. When I move around in the urban space (➜Read more: Last-mile micromobility solutions), a film of what I can try out next is constantly playing in my head. For me, the city means diversity, growth, and inspiration. If I only had nature, I'd probably be less creative," he says.
As he drives, again and again Benni points out various spots that would be good for training, sometimes even through the panoramic roof – such as a good tree for climbing. "The city is full of places to practice parkour. It could be a couple of walls that are well positioned toward each other, a banister for balancing on, a tree for climbing or buildings for jumping."
Benni's insights represent a clear call to see the familiar from new perspectives. "If you want to try parkour, you don't need any prior knowledge, but you do need lots of curiosity. For example, I always advise people with kids to join in with climbing on the playground. It may sound banal, but at first an 8-inch (20-cm) jump really is enough – you then slowly increase that."
Benni explains with infectious enthusiasm what a cat leap or arm jump is, and you can't help but let yourself be carried away by his passion. When he talks about his abilities, he does it almost modestly. Yet there's one thing that's clear to any observer: it clearly takes a lot of time and perseverance to get as good as he is (➜ Read more: Maximize your training). For Benni, this extraordinary outdoor sport was top of the priority list. "To really master parkour, you have to get the basics in place. It takes countless hours of training and I still practice the basics regularly," he confirms. He doesn't shy away from the fact that the sport also forces him to face his fears in order to get better.
Yet these fears have never held him back. On the contrary, this bundle of energy is already pursuing new goals that go beyond pure sport. Benni is currently developing an online parkour course, as his work inspires so many people. What he has so far mainly shared on social media, he would like to soon offer via structured courses as a tangible starting guide for anyone with no parkour experience. "And besides," he adds with a mischievous look, "I want to get trained as a stunt driver". That would make the world seen through the eyes of Benni Grams even more action-packed.
Photos: BMW/Tim Adorf; Author: Jelena Pecic; Video: BMW